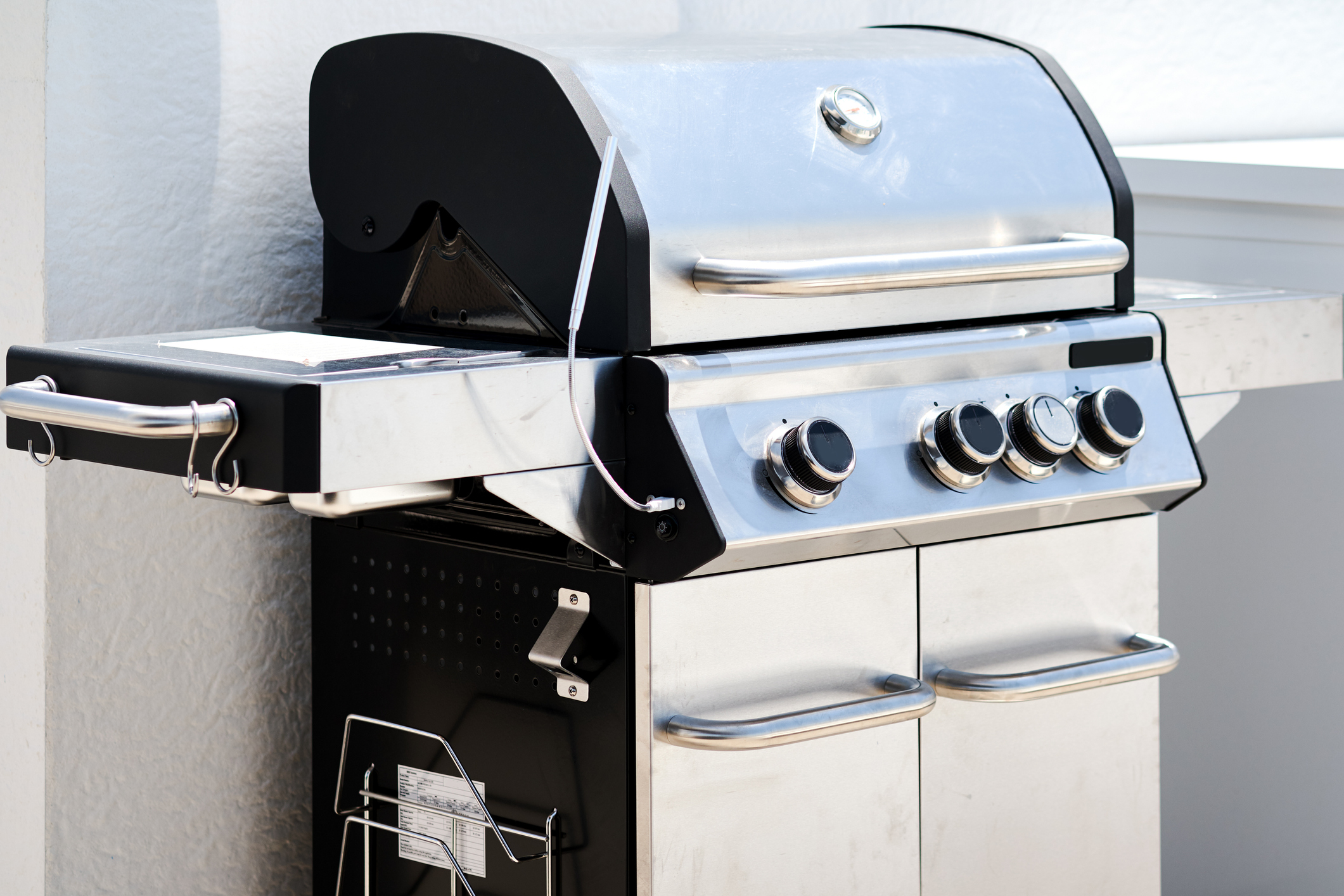 The weather is officially warming up and that means one thing! Yes! You guessed it right, the barbecue season is here! You can already smell those seared steaks and taste those savory hamburgers.
Are you longing to show off your grill skills at that backyard or tailgate party and still don't know which stainless steel gas grill will suit your needs the best? Worry not, for we have done in-depth research for you and rounded up the best stainless steel gas grills on the market right now.
If you love outdoor cooking but hate the inconvenience of grills which don't even last, then these stainless steel grills are a favorable option for you, as they have been made with high-quality steel that's meant to last a whole lifetime!
The combination of speed, reliability, and versatility of these stainless steel grills has made them a great grilling option.
Follow this review in order to optimize the value of your stainless steel grill purchase and you're sure to be the hit of the summer, with one of these best stainless steel grills!
---
---
Char-Broil 463377319 Performance Stainless Steel 4-Burner Cart Style Gas Grill.
Featuring a sleek stainless steel cart design for easy mobility, the Char-Broil Performance Series 4-Burner Gas Grill comes with a whole lot of grilling features.
The versatility of the Char-Broil grill cannot be overlooked as it offers ample cooking space (425 sq. in.) whether you are grilling for a few friends or at your backyard party.
In addition to the primary cooking space, the grill comes with an additional 150 sq. in. swing-away warming rack that provides a secondary cooking area, ideal for sides or toasting those buns!
Featuring porcelain-coated cast iron gates that are rust-resistant and easy to clean alongside four stainless steel burners, this unit was definitely built to last.
Moreover, the removable, porcelain-coated grease pan makes cleaning easy.
 The unit's push-to-start electric ignition makes it convenient and reliable for you to fire up your grill each and every time.
With the Char-Broil grill, temperature monitoring inside the grill has been made easy with the lid-mounted temperature gauge.
Coming with a 10, 000-BTU Lidded side burner, this makes it ideal for preparing sides while grilling and upon folding the lid when not in use, additional prep space is created, in addition to protecting the burner.

---
Weber 61004001, Stainless Steel.
Renowned as one of the big names in outdoor cooking, the Weber 61004001 Stainless Steel is based on the GS4 High-Performance Grilling System.
The innovative grilling system from Weber encompasses four main constituents: The infinity ignition which translates to ignition at any moment, high-performance burners which guarantee uniform heating of the grilling surface, porcelain-enameled flavorizer bars tailored to hold drippings and eliminate flare-ups and lastly a grease management system which streamlines cleaning, this grill boasts of impressive performance.
The Burners of the Weber grill are designed to ensure ignition every time, grilling your smoke-infused food evenly and consistently, regardless of where it's placed on the cooking grate.
In addition, the main burners produce 43, 500 BTU's while the side burner produces 12, 000 BTU's, the latter being useful for preparing side dishes and sauces.
Another exciting feature worth the Weber 61004001 grill is the 7mm stainless steel cooking grates that provide 513 sq. in. of cooking space with 156 sq. in. Tuck-Away warming rack overhead.
 The lid, side tables, control panel, flavorizer bars and cooking rates of this grill are made by stainless steel while the frame pieces are also painted stainless steel, and together, they create the strongest and durable grilling engine for the Weber 6100400.


---
Monument Grills 17842 Stainless Steel 4 Burner Propane Gas Grill with Rotisserie.
Still contemplating on how to perfectly grill that chicken, marinate that steak or charr those veggies? Then worry no more, for the Monument Grills 17842 Stainless Steel 4 Burner Propane Gas Grill with Rotisserie is your ultimate solution to that outdoor summer grilling blues!
Featuring 4 stainless steel main burners and 1 side burner, this Monument Grill's versatility and reliability cannot be overlooked!
Still, on matters stainless steel, the grill's flame tamers come in handy ensuring even heat distribution, for the great flavors that you crave! In addition, the porcelain-coated, cast iron cooking grates ensure even cooking.
The grill also comes with an electronic ignition system for easy starts of the burner. Its built-in center mounted thermometer helps in monitoring the temperature inside the grill, ensuring you are doing everything right!
Being propane compatible, cumbersome and hard-to-light charcoal is a thing of the past. Moreover, its attachable rotisserie allows for easy preparation of chicken, lamb and turkey delicacies.
At the backside, the Monument grill features an easy to clean zinc coated tray with a removable pan, alongside stainless steel painted enclosed steel cabinet, adding to its robustness.
With its 513.3 sq. in. of cooking space, the Monument grill 17842 can definitely handle all the savory dishes that you throw at it.
---
---
Pit Boss Grills 75275 Stainless Steel Two-Burner Portable Grill.
Featuring 430 stainless steel construction and 304 steel grid construction wrapped inside a sleek stainless steel exterior, the Pit Boss Grills 75275 is a grill on the go that was definitely made to last!
The tabletop's gas grill light-weight allows for easy portability of the grill.
The Pit Boss 75275 grill comes with two independently controllable burners, with a total cooking power of 10,000 BTUs.
As such, this gas grill delivers just the right amount of heat needed for searing or grilling. It also has a 38-inch hose for a propane tank.
The grill's folding legs and latching hood paves way for easy transportability, from one place to another.
Despite its size, this Pit Boss tabletop gas grill packs a big punch with 275 sq. inches of cooking surface, alongside a push-and-turn ignition for easy start-up and a dome thermometer for monitoring the heat during grilling in a bid to ensure that it's at its optimum.
This stainless steel grill is also easily cleanable, given its size. In addition, the grease tray on the bottom of the gas grill collects the excess oil during the grilling thus facilitating easy cleaning.
Take it along with you to tailgate celebrations or camping trips for a breathtaking grilling experience!
---
Weber-Stephen Products 60004001 Genesis II LX S-240 Liquid Propane Grill, Stainless Steel, Two-Burner.

The two-burner Weber Genesis 2 LX S-240 is a small grill, but it's a little bit more priced than most midsized gas grills on the market, and even many large gas grills, a price worth its innovative GS4 system.
The grill's GS4 system comes with four main components: The of infinity ignition which translates to hassle-free ignition at any moment, high-performance burners which guarantee uniform heating of the grilling surface thus ensuring your food grills uniformly and regularly anywhere on the cooking grate.
P
orcelain-enameled flavorizer bars tailored to hold drippings which vaporize and infuse into your food being grilled as well as eliminate flare-ups and lastly a grease management system which streamlines cleaning, this grill boasts of impressive performance.
Featuring two stainless steel burners that produce 29,000 BTUs of power alongside a 12,000 BTU side burner, these grills burners are powerful and distribute heat evenly over the 380 square-inches of cooking grates.
The compatible warming rack which can comfortably be tucked-away delivers an extra 114 square-inches for a great 494 square-inches of overall cooking space, enough for your grilling needs.
Other salient features of the Weber Genesis 11 LX S-240 include a glow-in-the-dark handle, lighter control knob, and an iGrill 3 Bluetooth ready digital thermometer.
---
Char-Broil Signature TRU-Infrared 325 2-Burner Cabinet Liquid Propane Gas Grill.
Looking for a high-performing gas grill with premium features? Then look no further, for the Char-Broil Signature TRU-Infrared 2-burner gas grill is your ultimate solution.
The grill's TRU-Infrared technology provides better performance with greater temperature range and control and allows for even cooking.
Coming with Char-Broil's Surefire Electronic Ignition system, the Signature 2-Burner starts up just by the push of a button.
For lasting and durable performance, this Char-Broil grill comes with porcelain-coated cast iron gates and top-ported 443 Stainless Steel burners, the latter with the ability to be modified to supply elevated heat or reduced temperatures uniformly across the cooking grate.
The grill also features a 325 square-inch cooking surface, alongside a 120 square-inch warming rack, which is ample for your grilling needs.
In addition, are metal side shelves which can be folded down for simple storage, with the cabinet also serving as an extra storage unit.
Being dual-fuel compatible, the grill allows for easy conversion from propane to natural gas. Moreover, the grill's four casters increase its mobility, with two of the casters being able to lock down, holding the grill in place whilst in use.
With these salient features, your grilling experience and satisfaction will be worth reliving!
---
---
Smoke Hollow 205 Stainless Steel Table-Top Propane Gas Grill.
Thinking of how to make that camping, tailgating or any other outdoor grilling experience memorable? The Smoke Hollow 205 stainless steel portable tabletop propane gas grill can do exactly that for you as it has been built for BBQ grillers on the go, with its 10, 000 BTUs stainless steel U-Burner.
Coming with 305 square-inches of cooking surface with a warming rack, this portable stainless steel table top gas grill allows you to enjoy outdoor cooking wherever you like it most!
The grill's compact design alongside its locking lid, folding legs, and large front carry handle make it very portable and easy to transport or store.
The grill's Grease pan prevents any flare-ups that may arise by collecting all the grease. In addition, the heat thermometer allows you to monitor the temperature inside the grill.
The grill operates on small, disposable one-pound propane cylinders (not included), which are available as a camping accessory item in any camping stores.
Whether you want a hot meal while you're camping or tailgating at the game of the year, the Smoke Hollow Gas Grill is the portable grill of your dreams.
It's affordable, lightweight and foldable, and can do everything you dream.
---
Napoleon Grills Prestige 500 Stainless Steel Propane Grill.
Similar in many ways to the Weber Genesis, Napoleon is a high-quality grill that has been built to last and cooks with high even heat.
With its infrared burners, reliable and heavy-duty rotisserie kit and quality construction, the Napoleon Prestige P500 is designed to provide a grilling experience that you have been yearning for.
Moreover, its smooth functionality makes operation a pleasure-ideal for your backyard entertainment.
Featuring 4 main burners, 1 infrared rear burner dedicated for rotisserie cooking and 1 infrared side burner all constructed of durable stainless steel, give the Prestige 500 its unique multiple cooking zones.
To accompany the burners is the Jet-fire Ignition system that starts each burner individually for reliable start-ups every time.
The Prestige's sear plates and cooking grate are also made of high-quality stainless steel.
The main grate offers 500 sq-inches of the cooking surface at 48,000 BTU with the rear infrared burner adding another 18,000 BTU and the infrared side burner adding another 14,000 BTU with an area of 140-square inches.
Moreover, the easy-to-clean 7 staggered sear plates let the drippings vaporize, infusing the flavor back to your delicacies.
Other features include a porcelain-coated warming rack, generously sized shelves, fully enclosed cabinet houses, a drip pan and a pedestal base with hidden locking casters.
---
A high-quality stainless steel grill is an investment that's worthwhile as it continues to bring you reliable results and tasty meals year in, year out, taking care of your grilling needs meal after meal.
When choosing the right stainless steel gas grill for your summer barbecue parties with your family and friends, there are a number of things to keep in mind. The number of people that you will need to feed a large BBQ feast requires a big grill so everyone can eat together and bond.
Where you will be setting up camp in your backyard or if you will be going out camping-as a portable grill that's easy to carry around would be convenient. And if you're on a budget, how much your choice of grill costs would definitely be a deciding factor.
With all these factors comprehensively highlighted in the best stainless steel grills review above, making that decision based on what you need should then be a walk in the park.
For exquisite and innovative healthy grilling options, easy cleanups, and durability, your best friend is a well-made stainless steel grill.
When well taken care of, then it can last a lifetime. Make that decision of getting one of the best stainless steel grills today!