If you are a fan of tailgating grill parties, you need to find and buy the best tailgate grill currently available on the market to have a perfect tail gate party.
A tailgate party is a social event held on and around the open tailgate of a vehicle and often involves consuming alcoholic beverages and grilling food.  Tailgate parties can be arranged in the parking lots, or open places stadiums. It's more of a guy's kind of event, and the designated guy manning the grill needs to know what he is doing!
Tailgating is so popular among men that it has become an actual part of American tradition by now. My friends and I enjoy tailgating in the parking areas of the stadiums before or after every important game – it is all the same to us, we just want to have fun. And it always is.
——————————————————————————————————
Five Best Options to Consider :
Coleman RoadTrip LXE Portable Propane Grill
Cuisinart Petit Gourmet Portable Tabletop Gas Grill
Smoke Hollow 205 Tabletop Propane Gas Grill
Blackstone Grills Tailgater Portable Gas Grill and Griddle Combo
——————————————————————————————————
Tailgate Rules
Tailgating is all about having fun and if someone gets hurt, the fun stops then and there. It will never be the same either. Therefore, there are rules to respect. So what are the tailgate rules? First, And Foremost, Always Stay Safe!
Choose the appropriate grill
Always make sure that the grill you choose complies with the rules of the stadium or the park you plan to visit and make sure that the grill must be suitable for tailgating and handle it with care. No matter what kind of grill you choose be it gas, charcoal or electric, it depends on your needs, safety must be into considered always.
Operate the grill safely
To avoid threatening your tailgate party, you should avoid open flames. You should also tried to limit your party to your parking space and respect the rules of the stadium or the park you are tailgating at. For example, almost all stadiums forbid the oil-based cooking and frying, especially the use of deep fryers as grease fires spread most quickly.
Dispose of the waste properly
It is especially important to dispose all your waste and fries in a good manner. Most stadiums and parks have pre-set instructions as regards the use of charcoal grills, so all you need to do is get familiar with them in a timely manner and honour them to the letter, and you will avoid dangerous positions that could endanger you or your friends.
How to Choose the Best Tailgating Grill?
Choosing the best tailgating grills that will fit your needs is necessary to have adequate. Things to consider goes thus.
How Big It Is
The size of the grilling surface is crucial as it will dictate how much food you can prepare at once. It is best to be able to cook food in bulk because the soon as the cooking part ends the fun part begins. Therefore, the more space you have to grill food, the better!
How Heavy It Is

Tailgating requires much equipment so try to keep your grill light if you can. A grill that is too heavy will be difficult to pack, transport, and set up.
How Easy To Carry It

Logically, tailgating grills need to be portable, easy to move around and manoeuvre. This makes them suitable for all your outdoor parties and picnics as well. Wheels are a good option but make sure that they can handle various types of terrains.
Maintenance
You will have to do a lot of cleaning after each tailgating party, so at least make sure to save up some time and effort by choosing a grill that will not require a lot of complex maintenance. Easy cleaning will allow for more time to enjoy your party as well.
Charcoal or Gas

As I have already said, you can use almost any kind of grill for your tailgating party depending on your needs and the provided rules you need to honour. Most of the time, people opt for a charcoal grill for their tailgate parties or picnics.
The best tailgate charcoal grills have an adjustable heat control system which allows you to monitor and control the level of heat for cooking your food. Gas grills are also a good option.
Make sure that you pay attention to all of these features before you buy your tailgate grill as that will be the only guarantee that all your needs and preferences are met and that you will be able to use your grill in many seasons of adventures to come.
——————————————————————————————————
——————————————————————————————————
Five Best Options to Consider ( Reviews) :

Coleman RoadTrip LXE Portable Propane Grill
Coleman is a well-known and appreciated brand throughout the country, and their RoadTrip LXE portable propane grill is designed particularly for outside use which makes it ideal for tailgating events as well.
It works with a 20-pound propane tank and it's a very good choice for your grilling adventures. His strength is as a result of the two fully adjustable and independent 20,000 BTU burners.
The grill is flexible and can be detached and assembled. You can collapse the detachable side tables for extra cooking space plus it offers mix-and-match cooking surfaces. It is highly portable and made from high-quality materials which makes it possible for it to withstand moisture and rust and can last you through many seasons. Besides its rugged build, this grill is very practical as well. griddle, grill, and a stove.
One major advantage here is that is also easy to clean due to the porcelain coated grills with brushed stainless-steel table inserts The setup is quick and easy due to the lift and lock system. It. Unfortunately, it is a bit expensive.
Pros
Compact and easy to transfer and manoeuvre
Easy to use and clean 
Insta Start matchless ignition
Fits into most car trunks
Cons
High price 
Tall people might have trouble wheeling it
——————————————————————————————————
Cuisinart Petit Gourmet Portable Tabletop Gas Grill
This grill is budget-friendly and flawless for tailgating as well as any other outdoor activity. It looks like a briefcase when fold up, and therefore it is very easy to transport and move around. The lockable handle guarantees safety while you are on the move.
The grilling area is heated by a potent 5,500 BTU stainless-steel burner and can handle up to four pounds of meat at one time. Super easy to set up, but the fold up legs could be a bit sturdier. The legs also do not fold flat which can be an issue in some situations. The porcelain-enamelled grate and a practical drip tray (that could have been a bit bigger though)
This grill might be on the smaller side, but it is big enough for a couple of your friends. It can be easily cleaned. Can be folds easily and the price is reasonable.
Pros
Very portable and compact
Even-heating
Briefcase-style carrying handle
Lid lock
Budget-friendly
Cons
Flimsy foldaway legs that do not fold completely flat
Low capacity drip tray
Not suitable for large gatherings
——————————————————————————————————
——————————————————————————————————
Weber Q 1000 Portable Grill
Weber Q 100 Portable Grill is another great option for your tailgating party. It is made of high-quality materials and extremely sturdy so you can take it out without fearing that weather elements will damage.
The grill is cast aluminium, and the cooking grates are made from stainless steel, as well as porcelain enamelled steel and cast-iron which makes them rather easy to clean. The grate can be split into two parts, and that makes it easier to remove and maintain as well. Even though it is small, it is also very compact ant ultra-portable too.
The heat control is very precise and the unit features one 8,500 BTU. The set-up is easy, and it is even easier to start the unit – you simply push the ignition button. If the cooking area of 189 square inches can satisfy your needs, you really should give the Weber Q 100 a chance as it is truly a barbecue magician and cooks the meat to perfection.
The price is a bit higher, but you receive a 5-year warranty if anything should go wrong – so it's not a bad deal at all.
Pros
Modern design
Glass-reinforced nylon frame
Removable grease pan for easy cleaning
Infinite control burner valve settings
Push-button for fast ignition 
Produces perfectly grilled meat
Cons
Small cooking surface
High price
——————————————————————————————————
Smoke Hollow 205 Tabletop Propane Gas Grill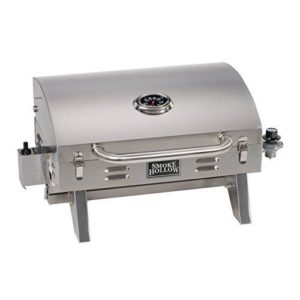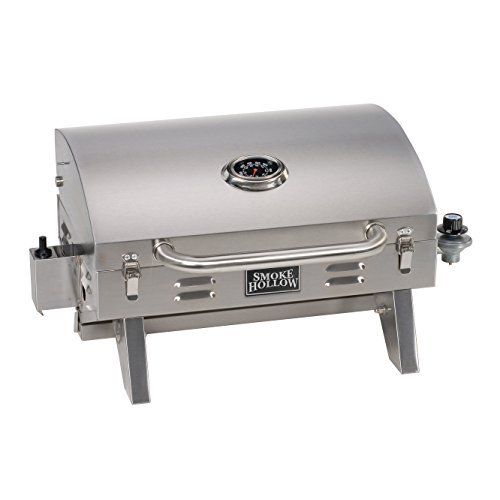 Smoke Hollow 205 tabletop propane gas grill is another small tailgating grill that will not break your wallet.
The first look at it will tell you that it is not a high-end unit, but for the price, you pay it is pretty satisfying. The stainless steel construction seems built for the outdoor adventures, but the quality of the steel itself seems questionable to me.
The unit measures 27″ L x 17″ W x 12″ H when assembled and is quite compact. The lid locks for safety and for easy transport there is a practical carry handle in front of the unit. The legs can fold down trouble-free, making the unit easy to store or place in your trunk.
The stainless steel cooking area available is 205 square inches, but you have additional space at your disposal – a chrome-plated warming rack (105 square inches).
The unit features a 10,000 BTU stainless steel "U" burner and operates on easy-to-acquire disposable one-pound propane cylinders. Unfortunately, you cannot quite control the temperature and have to be quite careful and experienced if you want to cook your meat evenly and avoid dangerous unwanted flare-ups. The frame and chassis are easy to clean, and there is a convenient stainless steel drip tray too.
Pros
Value for the money
Practical igniter and a thermometer on the hood
Easy to store
Portable and compact
305 Sq. inches of cooking surface thanks to the warming rack
Cons
Tends to overheat and does not cook evenly
The stainless steel used does not seem to be of the highest quality
——————————————————————————————————
——————————————————————————————————
Blackstone Grills Tailgater Portable Gas Grill and Griddle Combo
If you want a portable grill that does not feel like a portable grill at all you should choose Blackstone Grills Tailgater. Sounds confusing? Well, this unit is very solid and bigger than all the other units reviewed here, and can service quite a big crowd too!
Although a bit bulky and larger than most portable grills, it is easy to set up and requires only a few minutes of your time. The legs are adjustable and very stable, so you can position this grandiose grill on almost any kind of terrain.
If you can carry it there, that is, as it weighs whooping 78.7 pounds! As it features both a grill box and a griddle, the unit is quite versatile. Moreover, you can remove one of them or even both and use an open burner for pots.
The two burners are independent, one is a 15,000 BTU stainless steel H tube burner, and the other is a 20,000 BTU cast iron burner. The independent controls allow for a different style of cooking on each side.
The total cooking space measures 512 square inches which means you can feed quite a few people at once. Besides high price, you might be put off by the fact that the unit is very heavy and a bit hard to clean as well.
Pros
Easy setup
Durable, heavy-duty grill box with a vent
Strong powder coat finish
Two independently controlled burners 
Multi-purpose
Appropriate for large parties
Satisfaction guarantee
Cons
High price
Bulkiness and weight
——————————————————————————————————
Cuisinart Petit Gourmet Portable Tabletop Gas Grill is the best tailgate grill. Tailgating is most fun when surrounded by family and friends, and therefore, having 285 square inches of cooking surface offered by Cuisinart Petit Gourmet Portable Tabletop Gas Grill is more than enough to satisfy your needs. It is very easy to carry around, transport in any car and store where ever. Of course, the price range too – low price means more money to invest in tailgating parties and more fun too!
——————————————————————————————————


——————————————————————————————————