Overall First Impressions
The Dyna Glo Dual Zone Premium Charcoal Grill is an absolutely massive charcoal grill with over 816 in.² of cooking space. This is a charcoal grill that could service you well at any major restaurant, barbecue or event.
This Dyna Glo grill comes with heavy-duty porcelain enameled cast-iron cooking grates and is designed to last for many years.
Each of the four heavy-duty aluminum and enamel cast iron cooking grates is designed to create a safe cooking surface that is also reasonably easy to clean. Cast-iron is one of the heaviest materials that grills use and they hold the heat particularly well with the use of charcoal.
Many of the components inside the charcoal grill are designed to be quite heavy and long lasting. The grill even includes two different baskets for holding charcoal as well as an ashtray in the front to make cleaning  extremely simple.
Through the intelligent front ashtray design it's possible to simply scoop up the used components of the charcoal after grilling and dump it into a waste receptacle. No need for the extensive scraping or washing that might be required with other types of grills.
By having access to easy cleanup on both the grill coding as well as with the ash tray access, the process of using this grill is conventionally much simpler than with any other type of charcoal grill experience.
——————————————————————————————————
Basic Features and Ease of Use

As an added feature of this premium charcoal grill there is a warming rack also included to toast buns alongside the meat or other items that you might be enjoying. The warming rack makes it very simple to prepare a variety of foods or even let cooked meat settle and keep warm as you continue grilling.
Side shells as well as a wire basket included with this grill also deliver plenty of usable space for holding onto utensils, plates, grilling tools, sauces and more. All of this extra storage space makes this the perfect item to place out on your patio, your deck or even consider taking along with you on the road.
Temperature control is also made easy on the Dyna Glo Dual Zone Premium Charcoal Grill through sliding air vents on the bucket assembly. These vents make it easy to expose charcoal to air as well as easily relight and adjust charcoal during the cooking process.
Through this type of easy adjustment is possible to control temperature, flavor, heat and more. Of course the ideal connection for maintaining temperature with this device is definitely the cast-iron construction in the grill itself.
"Temperature control is also made easy on the Dyna Glo Dual Zone Premium Charcoal Grill through sliding air vents on the bucket assembly."

Cast-iron front access doors as well as the cooking grates will retain the best in seat as well as fuel efficiency for the entire cooking process. As cast-iron will retain the heat through cooking, you can use a minimal amount of charcoal and only restock when required. The grates on their own after they are heated up can easily cook meat and retain their heat over an extended period when the lid is kept closed.
Removable steel firebox dividers as well as the charcoal trade adjustment also makes it easy to completely fine tune temperature with this grill. There are dual cranks on the side to raise and lower the charcoal for the optimal grilling temperature and to heat up the grills to optimal love oils for searing or slow cooking meat.
For the precision of the temperature control a stainless steel thermometer is included with a high degree of accuracy to maintain temperature control and ensure that any food coming off of this grill is perfectly cooked and monitored for temperature throughout the entire cooking process.
An adjustable flu on the stainless steel smokestack also ensures that you can very easily control the temperature by maximizing or minimizing air flow. Adjustable flu also ensures that moving the side dampers can control the efficiency of the burn for greater flavor as well as change the temperature control by maximizing the oxygen in the environment.
These types of controls when paired with the cranks for lowering and lowering the charcoal really makes this a precision grill for all types of food that you could enjoy with charcoal. When you are cooking food where precision temperature control is required this is a grill that comes with many items to keep the ideal temperature focused on the items you are grilling.
The basket trays available for charcoal are designed in an extra-large format. This means that they can be stocked for easy grilling experiences and the chance for many types and sizes of charcoal to be included.
These bins can be stocked with not only charcoal but smoke chips, different types of briquettes and more. Basket trays of this type are usually available on grills quite this affordable and this can really make the process of stocking up your charcoal as well as keeping your grilling surface at a proper temperature, much easier.
There are many people that also suggest that the charcoal available in the larger trays makes it quite easy to heat up the grill and add extra flavor to some of your favorite recipes. This much charcoal and smoke included in one grill can really confuse the type of flavor that you are looking for with burgers, steaks and more.
——————————————————————————————————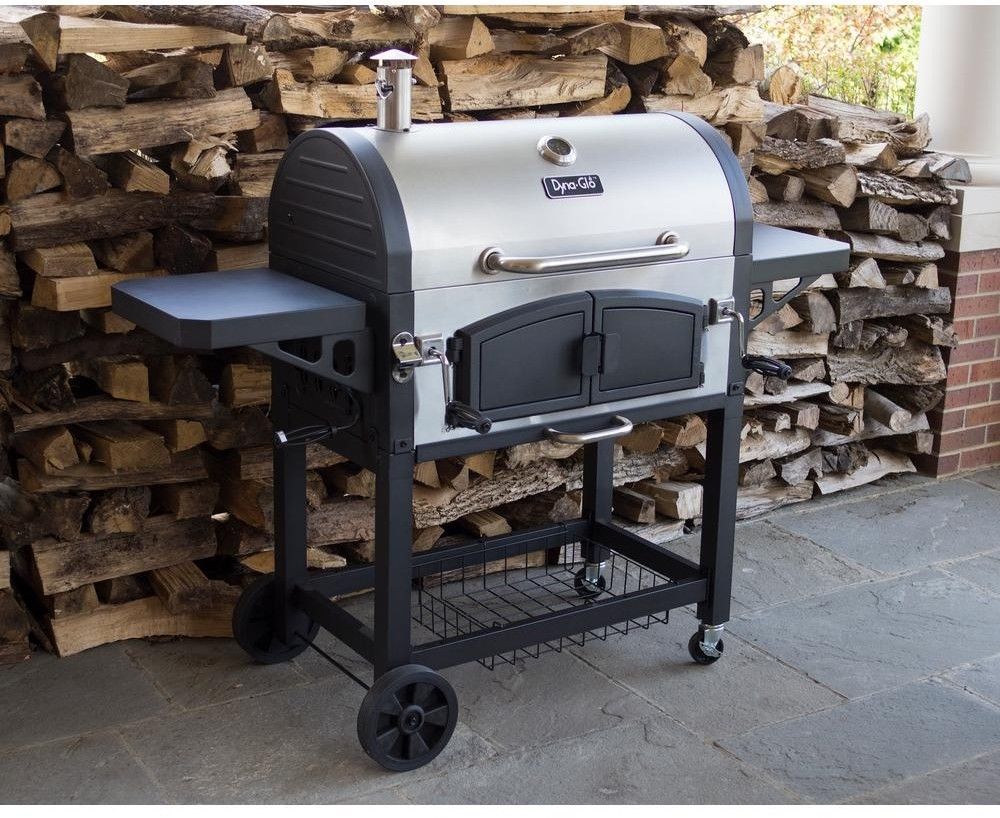 ——————————————————————————————————
Description and Construction Quality and Materials
The outside of the grill is designed for quality as well. Although the coating on the inside works to protect the cast-iron elements of the grill, the exterior including stainless steel construction for the smokestack, double wall exterior, adjustable flu And side vents work to reduce the signs of rust and to protect the grill over time.
Having this stainless steel construction ensures that the grill can remain uncovered and in pristine condition over an extensive amount of time. All of the components being stainless steel will ensure that this is a grill that retains its heat well and keeps the rain and signs of weather off.
The wheels on this premium charcoal grill are also designed for quality over time and maximum maneuverability. Although the entire grill can be quite weighty for moving around. Heavy-duty 8 inch resin wheels ensure that it can be easily maneuvered across any decking surface, patio or even directly on grass. 3 inch locking casters also ensure that the entire grill can be stopped in place and locked when required.
This grill is surprisingly light considering the materials that are involved in its construction and with the maneuverability of the large caster wheels it becomes easy to see why this is such a recommended large-scale travel grill for tailgating, camping and more.
Stoking the fire is made extremely easy with this model of grill as well. Two steel doors allow for very quick access to stoking coals, adding new brickbats and even relighting if necessary.
The two door access ensures that the brackets can be reached even through the firebox divider depending on the height that the charcoal is place that.
"This grill is surprisingly light considering the materials that are involved in its construction."
Cooking grates on either side ensure that you can easily make adjustments to two different types of charcoal or cooking temperatures as required. This is especially perfect if you are grilling vegetables on one side and meat on another.
With these types of solutions included the Dyna Glo Dual Zone Premium Charcoal  Grill really does think of everything when it comes to backyard grilling especially when considering the replacement of charcoal, relighting, adding flavoring and more. There are so many different elements that you can control through the charcoal and temperature you can truly create different products almost every time.
Cleaning is one of the biggest aspects of a charcoal grill in order to maintain the freshness of the food coming off of the grill as well as ensuring that all of the food you are grilling is safe to eat. Smoke and build up can really become a problem overtime with a charcoal grill and it can be especially difficult to clean out the base of the area where charcoal generally sits.
The good news is that with the extremely large capacity and removable pan underneath both of the charcoal bins, all of the ash, grease and byproduct can easily be filtered out of the grill for easy disposal after every grilling session.
Extra charcoal can simply be thrown out of the charcoal bins and finer products which would normally sit in the bottom of the grill causing the potential for fire or distaste in the next grilled items is easily removed through the automatic action that this grill takes on when cleaning.
The porcelain coating for cast-iron cooking grates are really easy to clean both before and after cooking. The enamel coating is designed for its durability and it virtually wipes clean with nothing more than a wet cloth before the process of cooking and after the process of cooking. As long as the coating is retained on the grill this can help to make sure that all of the future food you grill on the surface will not stick and that waste can be managed very quickly.
The grills are also completely removal so that you can clean them in the sink and wash them at your leisure. This offers a huge advantage over some types of grills which are designed with nonremovable components or grills that are made exclusively out of cast-iron.
Traditional cast-iron cooking grates do have a tendency to stick if they are not treated correctly. By enabling a specialty coating on the top of the grills it is possible to enjoy more enjoyment out of these grills with easier cleaning, non stick cooking and greater options available for cooking as well.
——————————————————————————————————

——————————————————————————————————
General Review
It's important to remember that even though the specifications on the box suggest over 816 in.² of total cooking space, this also includes the warming racks with 576 in.² of primary cooking space available on the grills. The three main heavy-duty porcelain enameled cast-iron cooking grates are the primary 576 in.² of cooking space that makes the entire grill a great buy.
As an additional bonus on top of the extra storage every grill comes with its own custom stainless steel auto opener built directly into the storage racks. This ensures that you can easily open up sauces, a beer or a wide array of different items while you are grilling.
This added touch is perfect for barbecues, grilling outside at parties and more. You will never forget a bottle opener when you have access to this grill at your location.
Another additional value that comes with this grill is the one year manufacturer's warranty. Dyna-Glo premium charcoal grill delivers a full one year manufacturer's warranty on all of the components of this grill ensuring that they can be easily replaced from the manufacturer with notice.
"The three main heavy-duty porcelain enameled cast-iron cooking grates are the primary 576 in.² of cooking space that makes the entire grill a great buy."
This protects all of the major components of this grill and ensures that it can work as efficiently as possible. If you are for some reason unsatisfied with this grill or you require the replacement of any parts, you should strongly consider the idea of contacting the manufacturer directly.
With full guaranteed replacement on any of the components this grill has you can have real peace of mind through the ordering process.
In order to get the most out of your grilling experience it's highly recommended that you consider purchasing the custom fit Dyna- Glo premium cover for your grill. While the stainless steel components can offer some protection against the weather, regularly covering your grill when it's not in use can really help to extend the lifespan of the grill and its components.
This custom fit cover is one of the best ways that you can protect your grill over time especially because it easily fits over the grill and is designed by the manufacturer. Generic grill covers may not fit a grill of this size or deliver the same degree of protection that is designed for the components within the grill itself.
The optional order of this grill with assembly or without assembly is also available. If you're going to be ordering the Dyna Glo Dual Zone Premium Charcoal Grill you can receive the grill with its own assembly package. This will include full delivery as well as expert assembly on the entire grill.
Other major retailers may offer the same service but it's extremely affordable on Amazon at just a small fee for a limited time only. While the grill is not particularly difficult to assemble with fairly simple components, the process for installing the items when done by a professional will ensure a longer lifespan for the grill as well as a much more efficient setup process.
With a shipping weight of over 125 pounds the steel construction of this grill is also best completed by at least two individuals in order to prevent injury. Once the grill is fully assembled and able to roll along the resin wheels, it can be moved easily but in the assembly process it essential that you have several people available and on hand to work with the components and get it together.
——————————————————————————————————
——————————————————————————————————
Final Thoughts and Recommendation
Overall the Dyna Glo Dual Zone Premium Charcoal Grill is an excellent choice if you are looking for a reliable charcoal grill.
With heavy components as well as an extremely precise temperature control it's possible to enjoy fantastic barbecuing experiences with this product. The components are extremely heavy and the overall design of this grill is made for creating a longstanding improvement for your grilling experiences.
Through advanced temperature control and a variety of different convenience items found on this grill, you can essentially change the way that you have been barbecuing with charcoal for good.
This is an extremely reasonable purchase especially for all of the features that are available with this product. With the one-year manufacturer's warranty you also have great peace of mind knowing that this grill will last you at least one full season of grilling !
——————————————————————————————————
——————————————————————————————————