Any time that you make a significant investment in something for your home, it's important that you get the best quality for your budget. When it comes to the best gas barbecue grills, it's not only important to get one that is the right size and has the features that you're looking for, but it's also essential that you choose one of the longest lasting grills.
Inexpensive grills can seem like good value, until they fall apart on you after just a few years of use. Spending more will usually mean that you'll get better quality, but there are some important considerations to make so that you can be absolutely sure you're making a long term investment.
How Long Should Gas Barbecue Grills Last?
The first question that you need to ask yourself, is how long you expect a grill to last. If you're only expecting a year or two of life from a grill, then even a budget-friendly coal or gas model would be suitable for your needs. However, if you're going to be spending $500, $1000, or even $3000 for a large standalone gas grill, you would reasonably expect to get five years of trouble free service from your grill, and it's not uncommon to have premium grills that will last for a decade or more.
The Longest Lasting Grills Are Made from Stainless Steel
You may have found a grill that has caught your eye because of the features that it has. Maybe it incorporates the infrared back burner that you've always wanted for rotisserie cooking, or maybe it has the side burner that you've been wanting so that you can cook all of your favorite dishes outdoors. Features are critically important to get the grill that you've been dreaming of, but you should never choose features alone over the material and construction quality of your grill.
The most important consideration is the material that your grill is made from. If you buy a grill that is made mostly from aluminum, then you'll probably find that the grill is relatively inexpensive. The grill will also be lightweight. Aluminum can be a good material for tabletop grill that doesn't spend all of its time outside, or even for a portable camping grill that will only be used a few times every year. However, once you start thinking about aluminum for your main grill at home, you're going to start running into problems. Low grade aluminum is a soft material that can easily bend or become dented or scratched. The presentation of an aluminum grill won't last for long, and even just after one grilling season you could be looking at a grill that you're no longer proud to use.
Aluminum isn't just an average structural material because of how prone it is to damage, but also because it will corrode over time. Corrosion on aluminum is not always structurally dangerous, because corrosion on aluminum can actually create a barrier against further decay. Unlike iron, aluminum won't completely rust and disintegrate, but it's still not going to look good after just a few months of being used. Another problem with aluminum is that it is usually coated with a heat treated powder to get the finish and color that is desired. This type of finishing is effective and resistant to scratching and chipping, but only when it is kept cool. Obviously, because a grill is exposed to high heat, the finish is eventually going to wear down. This creates the risk of flaking which can contaminate your food. There's a good reason why aluminum grills are relatively inexpensive – because they're cheap to manufacture and are considered disposable. They have a general usage cycle of one to two years before they are replaced, and in just five years you could spend as much on replacing your grill as you would on starting out with a grill made from higher quality materials. If you want gas barbecue grills that are the longest lasting grills, then you need to look for grills that are made using stainless steel.
Stainless steel is typically more expensive because there's more involved in the production process, and the material is harder to shape than aluminum. However, it's not so expensive that the price of a quality stainless steel grill would become prohibitive. Choosing stainless steel means that you'll get excellent resistance to corrosion, the grill won't be easily dented or scratched, and when covered it can last for many years. Because stainless steel can be left polished or even coated in heat resistant enamel, the high heat environment of a barbequing session will not be a problem.
Stainless Steel is Also the Best Material for the Cooking Grid
When looking for the longest lasting grills you'll need to consider more than just the assembly of the body. The cooking grid is critically important, because it's the part of the grill that receives the most heat (aside from sear plates and the burners themselves). Some inexpensive grills use cast iron cooking grids, which can be problematic for a number of reasons. Cast iron adds a lot of weight, because to create a good cooking surface it needs to be thicker than a steel cooking grid. Cast iron is also porous, so it will take in moisture and eventually rust. While it's possible to season cast iron with cooking oil to help it last longer, you'll still have a cooking surface that is less efficient than steel.
Other Points to Consider When Choosing Gas Barbecue Grills
While Steel will always be better than aluminum as a material for a grill, it won't always be practical or necessary. There are different grades of aluminum, and also treatments that can be performed to help parts last longer. Take Weber charcoal grills as an example. They use aluminum legs, but are well known to last for years or even decades when properly cared for. The same can apply to a gas grill, so it often depends on the manufacturer and the quality of the material that they have used. Likewise, not all steel is high grade steel, so if you want the longest lasting grills, make sure you research the type of metal that is used, and any kind of treatment that has been performed.
Some parts of a grill are more likely to wear out than others. Poor quality hinges can easily corrode and degrade over time, so stainless steel hinges should be preferred for any grill that has a hood. Temperature control knobs on a grill can also degrade, so look for a model that uses aluminum or stainless steel knobs, rather than plastic.
If you find a grill with the materials and features that you're looking for, make sure you check the warranty coverage before you make your purchase. A warranty period won't always indicate that you're looking at the longest lasting grills, but it can be a good gauge for the minimum expected lifetime. As an example, a grill that has a five-year warranty on the burners should have at least a five-year serviceable lifetime. When you keep the grill stored in a covered area, or use an outdoor cover, you'll be able to ensure that you get the most from your investment.
To get you started with some great ideas for long lasting grills, we've put together this quick suggestion list of five of the longest lasting grills.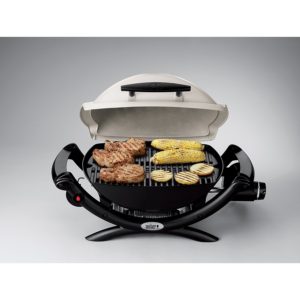 Weber 50060001 Q1000 Liquid Propane Grill
You'll find that when it comes to materials, there are always exceptions to be made. The Weber Q1000 uses a combination of aluminum and steel in its construction, but because it's a small grill that won't be stored in the most extreme weather conditions, there's not a lot to worry about in terms of future damage. The aluminum used is high grade cast aluminum, and the cooking grates are cast iron, but they've been porcelain enameled so that they are not susceptible to rust and degradation. This is a good option if you're looking for gas barbecue grills for use on a heat resistant countertop, or for outdoor tabletop cooking for a small family.
Char Broil Performance 474 4-Burner Cart Gas Grill
Here's an example of a good looking standalone cart style grill, with four burners, and that still comes in at a reasonable price point. The Char Broil Performance 475 uses aluminum and stainless steel parts, with steel being used in all of the most important places. The lid, handle, and the front control panel are all stainless steel. This model uses cast iron cooking grids, but like the Weber model, they are also porcelain coated. A porcelain treatment is far superior to a naked surface or powder coat, and there should be no problem getting 3 – 5 years out of the grill surface when using this grill regularly. The burners themselves are stainless steel, again, showing a good commitment to quality materials without blowing this grill out of the entry level price range. This is one of the longest lasting grills in the sub-$200 market segment, and it even comes backed with a 5-year warranty for the burners, and a 2-year warranty for the main firebox and the stainless steel lid.
Smoke Hollow 205 Stainless Steel Portable Tabletop Propane Gas Grill
This Smoke Hollow Grill is the perfect example of a portable grill that is inexpensive, but that still uses some of the best materials available. The construction is all stainless steel, including the grilling surface, and it incorporates a hood and even a warming rack. The best part thing about this grill is that it can usually be purchased in the sub-$100 price range. Although it's not going to replace your main standalone grill at home, it's a good option if you want one of the longest lasting gas barbecue grills for camping, picnics, or impromptu grilling at home for a small family.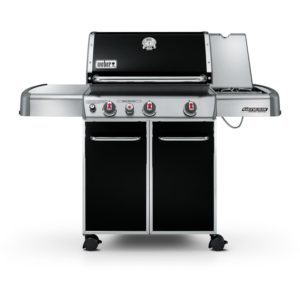 Weber Genesis E-330 Black Gas Grill
What happens when you start looking at price points in the upper mid-range and high end? You get options like the Weber Genesis E-330. This is an excellent family grill that would also be perfect for parties and cookouts. It has three burners and a side searing station, and, as you should expect at this price, the majority of the construction is stainless steel. Even the front doors for the inside storage compartment are made from stainless steel, which is a great move by Weber, especially considering that the doors are non-structural and have no bearing on the quality of the cooking surface. It shows that Weber has aimed for longevity of this product, which is something that the company has always been known for. The cooking grid on this grill is made from thick, solid, stainless steel, which will resist corrosion, it won't chip like an enameled surface, and it should last the lifetime of the grill. This is an example of a grill that could easily last for five years and beyond.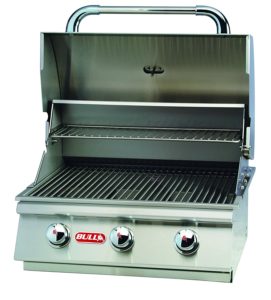 Bull Outdoor Products 69008 Premium Drop in Grill
If you're looking for a grill for a permanent outdoor installation, then a drop in grill will be your best option. This Bull Outdoor Products 69008 Premium grill has all the features of a standalone grill, with three burners that can provide heat up to 45,000 BTU, and stainless steel construction that will ensure long lifetime and durability. It's available in both a liquid propane or natural gas version, so it's suitable for connecting to your main home gas supply. In addition to stainless steel construction on the firebox and hood, it also uses a stainless steel cooking surface and stainless steel burners. Because a drop-in installation will typically remain for a number of years, an all-stainless steel model like the Bull 69008 makes a lot of sense.
Now that you know what to look for, it's time to start shopping for your next grill. Remember, stainless steel will always be the most durable material, but it's possible to get quality aluminum parts or iron parts that have been sealed in enamel, so you'll need to pay close attention to the complete product description whenever you want the longest lasting grills.
(Visited 664 times, 8 visits today)