Any time that you make a significant investment in something for your home, it's important that you get the best quality for your budget.
When it comes to the best gas barbecue grills, it's not only important to get one that is the right size and has the features that you're looking for, but it's also essential that you choose one of the longest lasting grills.
Inexpensive grills can seem like good value, until they fall apart on you after just a few years of use.
Spending more will usually mean that you'll get better quality, but there are some important considerations to make so that you can be absolutely sure you're making a long term investment.
How Long Should Gas Barbecue Grills Last?
The first question that you need to ask yourself, is how long you expect a grill to last.
If you're only expecting a year or two of life from a grill, then even a budget-friendly coal or gas model would be suitable for your needs.
However, if you're going to be spending $500, $1000, or even $3000 for a large standalone gas grill, you would reasonably expect to get five years of trouble free service from your grill, and it's not uncommon to have premium grills that will last for a decade or more.


Long Lasting Grills Are Made from Stainless Steel
You may have found a grill that has caught your eye because of the features that it has.
Maybe it incorporates the infrared back burner that you've always wanted for rotisserie cooking, or maybe it has the side burner that you've been wanting so that you can cook all of your favorite dishes outdoors.
Features are critically important to get the grill that you've been dreaming of, but you should never choose features alone over the material and construction quality of your grill.
The most important consideration is the material that your grill is made from.
If you buy a grill that is made mostly from aluminum, then you'll probably find that the grill is relatively inexpensive. The grill will also be lightweight.
Aluminum can be a good material for tabletop grill that doesn't spend all of its time outside, or even for a portable camping grill that will only be used a few times every year. However, once you start thinking about aluminum for your main grill at home, you're going to start running into problems.
Low grade aluminum is a soft material that can easily bend or become dented or scratched.
The presentation of an aluminum grill won't last for long, and even just after one grilling season you could be looking at a grill that you're no longer proud to use.
Aluminum isn't just an average structural material because of how prone it is to damage, but also because it will corrode over time. Corrosion on aluminum is not always structurally dangerous, because corrosion on aluminum can actually create a barrier against further decay.
Unlike iron, aluminum won't completely rust and disintegrate, but it's still not going to look good after just a few months of being used. Another problem with aluminum is that it is usually coated with a heat treated powder to get the finish and color that is desired.
This type of finishing is effective and resistant to scratching and chipping, but only when it is kept cool. Obviously, because a grill is exposed to high heat, the finish is eventually going to wear down. This creates the risk of flaking which can contaminate your food.
There's a good reason why aluminum grills are relatively inexpensive – because they're cheap to manufacture and are considered disposable.
They have a general usage cycle of one to two years before they are replaced, and in just five years you could spend as much on replacing your grill as you would on starting out with a grill made from higher quality materials.
Stainless steel is typically more expensive because there's more involved in the production process, and the material is harder to shape than aluminum.
However, it's not so expensive that the price of a quality stainless steel grill would become prohibitive.
Choosing stainless steel means that you'll get excellent resistance to corrosion, the grill won't be easily dented or scratched, and when covered it can last for many years.
Because stainless steel can be left polished or even coated in heat resistant enamel, the high heat environment of a barbequing session will not be a problem.
Stainless Steel is Also the Best Material for the Cooking Grid
When looking for the longest lasting grills you'll need to consider more than just the assembly of the body. The cooking grid is critically important, because it's the part of the grill that receives the most heat (aside from sear plates and the burners themselves).
Some inexpensive grills use cast iron cooking grids, which can be problematic for a number of reasons.
Cast iron adds a lot of weight, because to create a good cooking surface it needs to be thicker than a steel cooking grid.
Cast iron is also porous, so it will take in moisture and eventually rust. While it's possible to season cast iron with cooking oil to help it last longer, you'll still have a cooking surface that is less efficient than steel.
Other Points to Consider When Choosing Gas Barbecue Grills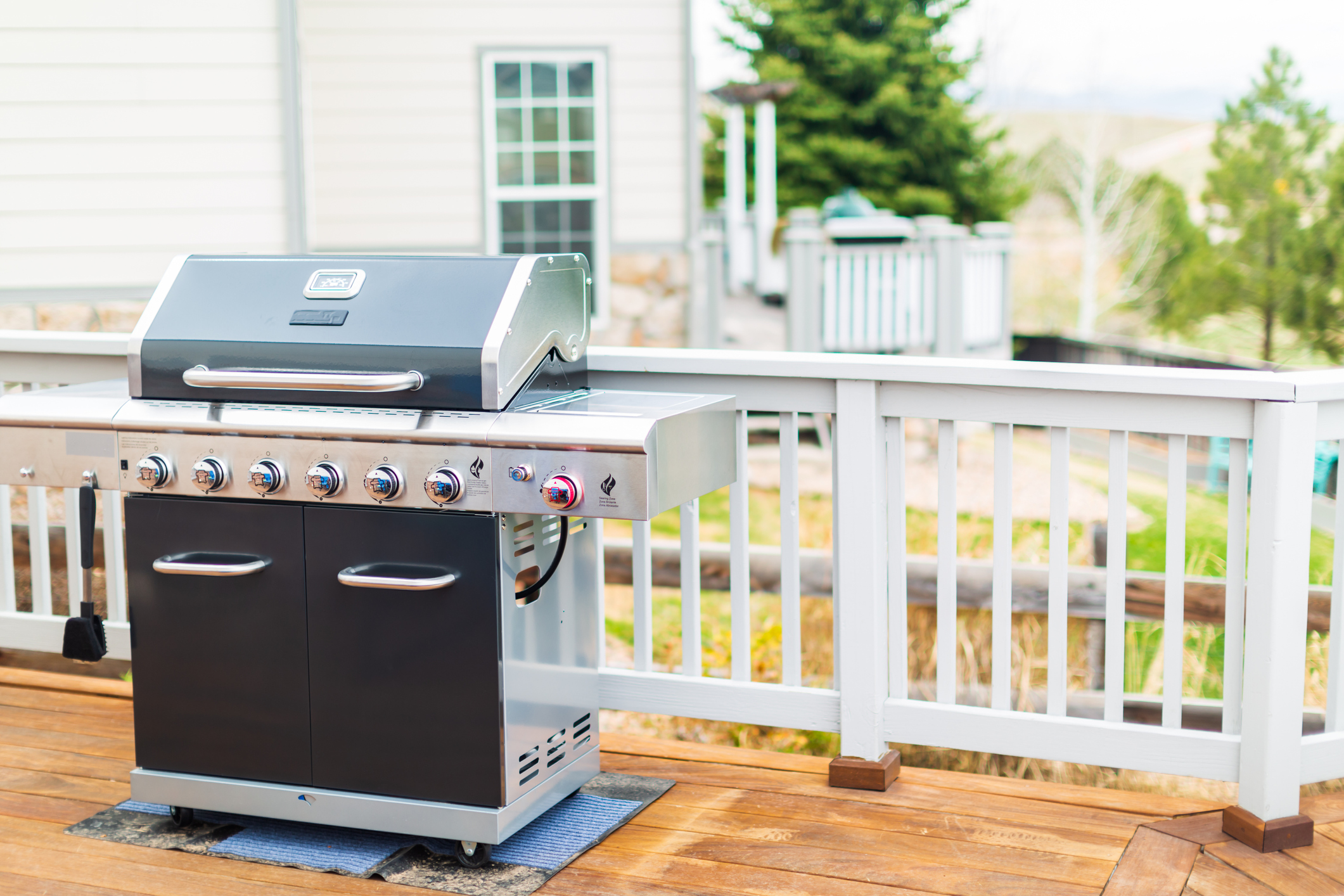 While Steel will always be better than aluminum as a material for a grill, it won't always be practical or necessary. There are different grades of aluminum, and also treatments that can be performed to help parts last longer.
Take Weber charcoal grills as an example. They use aluminum legs, but are well known to last for years or even decades when properly cared for. The same can apply to a gas grill, so it often depends on the manufacturer and the quality of the material that they have used.
Likewise, not all steel is high grade steel, so if you want the longest lasting grills, make sure you research the type of metal that is used, and any kind of treatment that has been performed.
Some parts of a grill are more likely to wear out than others. Poor quality hinges can easily corrode and degrade over time, so stainless steel hinges should be preferred for any grill that has a hood.
Temperature control knobs on a grill can also degrade, so look for a model that uses aluminum or stainless steel knobs, rather than plastic.
If you find a grill with the materials and features that you're looking for, make sure you check the warranty coverage before you make your purchase.
A warranty period won't always indicate that you're looking at the longest lasting grills, but it can be a good gauge for the minimum expected lifetime.
As an example, a grill that has a five-year warranty on the burners should have at least a five-year serviceable lifetime.
When you keep the grill stored in a covered area, or use an outdoor cover, you'll be able to ensure that you get the most from your investment.
To get you started with some great ideas for long lasting grills, we've put together this quick suggestion list of five of the longest lasting grills.
Smoke Hollow 205 Stainless Steel Tabletop Propane Gas Grill.

#Best Seller.

 
Thinking of how to make that camping, tailgating or any other outdoor grilling experience memorable?
The stainless steel construction not only makes the grill long lasting but also makes it look great.
It is easy to clean and it's practically rust-free.
Moreover, stainless steel is also pretty light, which makes it a perfect choice for a portable grill.
Weighing less than 20 lbs. and with its briefcase design, the Smoke Hollow 205 can literally go everywhere you want it to.
Coming with 305 square-inches of cooking surface with a warming rack, this portable stainless steel table top gas grill allows you to enjoy outdoor cooking wherever you like it most!
The grill's compact design alongside its locking lid, folding legs, and large front carry handle make it very portable and easy to transport or store.
The locking latches on the lid firmly secure the lid in place thus keeping all of the grill's innards in place while you travel.
The grill's Grease pan prevents any flare-ups that may arise by collecting all the grease.
This long lasting grill also  reaches optimal grilling temperatures quickly, with the capability of reaching 500F in as little as 5 minutes, which is suitable for grilling burgers and chicken quickly and rigorously.
In addition, the heat thermometer allows you to monitor the temperature inside the grill.
The grill operates on small, disposable one-pound propane cylinders (not included), which are available as a camping accessory item in any camping stores.
Whether you want a hot meal while you're camping or tailgating at the game of the year, the Smoke Hollow Gas Grill is the portable grill of your dreams.
It's affordable, lightweight, foldable and long lasting ! and can do everything you dream.

KENMORE ELITE 4 Burner Grill plus Side Burner , Metallic Gun Metal
Thisattractive home grill is made with high quality stainless steel surfaces, with unique gun metal grey accents.
A large cooking area and convenient side shelves and storage will keep you grilling on the Kenmore for seasons to come.
Flexibility is key with this model. It's ready for propane cooking and can be converted to natural gas to connect to your main line hookup.
An electric ignition allows for easy startup, making this one of the best grills to choose if you want something that is always ready to go in the summer months.
This grill has a large hooded design that makes it perfect for cooking steaks, burgers, vegetables, and even large cuts of meat and whole poultry selections like chicken, turkey, and duck.
There's provision for a rotisserie, which could make this your ultimate BBQ station over the warmer months.
The highest quality stainless steel will help to protect this grill for years of trouble-free use. It also comes ready to assemble with 90% of the parts and panels already in place.
580 square inches of primary cooking space make this grill competitive with much larger models.
Even though it features a relatively small frame, it can take care of all your family cooking needs while doubling as your primary cooking station when entertaining friends and family.
Kenmore has designed an excellent package that would please even the most demanding grilling enthusiast.
The added side burner is perfect for searing on a hotplate or adding a pot of your favorite sauce or stew.
Durability, professional features, and the highest quality fit and finish make the Kenmore one of the best long lasting grills on the market today.
---
Bull 69102 Steer Cart NG

Bull Outdoor has been a favorite of the most demanding grilling enthusiasts for more than 25 years.
The company is well known for its durable materials, efficient designs, and long lasting grills that require little maintenance.
The Bull 69102 Steer Cart NG lives up to the prestige of the brand.
Based around a similar design as Bull drop-in grills, this model is conveniently mounted on a stainless steel steer cart with heavy duty casters that are not typically found on home grills.
If you are searching for a commercial quality grill then this is a product that needs to be considered.
The quality exterior is matched by three commercial grade burners inside, combining for a total power output of 45,000 BTUs.
The cooking grates are solid stainless steel, allowing for long cooking sessions and picture-perfect sear marks.
An integrated temperature gauge will help you to cook even the most technical outdoor dishes, including large BBQ cuts of beef, pork, lamb, and whatever else you love to serve.
Bull brings unique innovations that are far ahead of what other manufacturers are offering. Piezo electric igniters are independent on each burner.
The hood is double lined and made from a single exterior piece, increasing durability and heat retention.
Bull's proprietary flame tamers will improve efficiency and allow for perfect heat distribution across the cooking surface. No more cool spots means perfectly cooked meals, with predictable results.
A 560 square inch cooking surface makes this ideal for home cooking and entertaining.
A real investment, Bull brings their no-nonsense approach to make one of the best long lasting grills available today.
---
4-Burner Propane Gas Grill in Stainless Steel with Side Burner and Stainless Steel Doors
Nexgrill may not be a household name in grilling, but if it keeps up the quality found on this 4-Burner Propane Gas Grill, it soon will be.
You'll find features on this model that are usually reserved for grills of much higher pedigree.
Stainless steel construction ensures that your investment is long lasting.
There are 4 individual burners that provide a total of 60,000 BTUs, and the total cooking area is over 640 square inches.
This is a grill that means business, and it's perfect for the budget-conscious grilling enthusiast who needs something for regular use and large gatherings.
Four main burners are complimented by a convenient side tray burner that can be used with skillets, hot plates, pots, and pans.
This makes it simple to keep a stew or pot of sauce ready on the side of your main grilling surface.
With the versatility that comes form the side burner, this could become your preferred cooking appliance over this summer and for many grilling seasons to come.
Stainless steel cooking grates cover a heat distribution system that maintains a constant temperature throughout the firebox.
Unlike many of the more affordable grills on the market, this one doesn't come with cold spots that could slow your cooking down.
You don't always need to invest in top-tier products to get long lasting grills and a great cooking experience.
The Nexgrill is a fitting example of how quality can exist at all price points, as long as you take the time to find the right products.
---
Broil King Regal S420 Pro – Stainless Steel – 4 Burner Propane Gas Grill

As one of the top long lasting grills available today, the Broil King Regal S420 Pro deserves your attention.
An appealing two-tone design, extensive use of stainless steel, and a large cooking surface all come together to make a compelling purchase.
Available as a propane or natural gas grill, this could be your next backyard or patio cooking station.
There's a lot that makes this grill unique, even at this crowded price point. The grill is made in North America, which is becoming rare with many products today.
This allows for strict quality control and the use of premium materials.
The cooking grid surface is made using solid rod (not wrapped) stainless steel that is 9mm thick.
The surface is heavier and more durable than most grills at this price point, and your recipes will benefit from the precision engineering.
Solid stainless steel offers better heat transfer, appetizing sear marks, and is easy to clean.
Even seemingly minor features like LED-lit control knobs will improve your cooking experience when grilling at night time.
They also help to give a very upmarket and premium feel to this grill.
The stainless steel body is made to stand up to seasons of use.
There's a limited lifetime warranty on the firebox, reminding you that this is one of the best long lasting grills on the market.
You'll also get a 10-year warranty on the commercial quality burners, giving you complete confidence in this large and capable home grill.
---
Char-Broil Performance 475 4-Burner Cabinet Liquid Propane Gas Grill- Stainless
A reliable home grill is essential during the summer months. If you want to entertain and enjoy great casual meals with family, you'll need a cooking appliance that won't let you down.
The best long lasting grills don't have to come in large packages, which is evident with the Char-Broil Performance 475 4-Burner Cabinet Grill.
This versatile cooking station has all the features that will make it easy to prepare your favorite meals.
In standard configuration, it features four main burners that provide up to 36,000 BTUs to take you from low and slow, right up to perfect searing temperatures for steak, burgers, and other grilled meats.
If you need the versatility of a side burner, then you can add it as an option for effortless pan frying, stews, or sauce warming.
There's a rotisserie cut out that is compatible with third party options or Char-Broil's own Universal Rotisserie Kit.
A built-in temperature gauge will ensure you can cook even the largest cuts of meat and poultry to perfection.
Total cooking area is 475 square inches, with a 175 square inch secondary rack for warming.
The porcelain-coated cooking grate keeps the price reasonable, without sacrificing too much in terms of durability.
The cooking grate is easy to clean and offers excellent heat retention that is ideal for slow cooking.
Main body components are made from stainless steel, and the quick-clean grease pan will speed up maintenance when you've finished grilling for the evening.
Although this grill is relatively affordable, it features high quality caster wheels which you would usually only find on more expensive options.
Megamaster 720-0982 Propane Gas Grill, Black
Polished and matte stainless steel finishes are popular on the modern grilling scene. However, your own patio or yard décor could call for something that takes a different approach.
The Megamaster 720-0982 Propane Gas Grill could fit the bill, with a unique black finish that makes it stand out.
It's not all about aesthetics here. This grill is designed to perform and it's an excellent choice for budget-conscious buyers.
It features 5 burners for versatility and full heat coverage over the grilling surface.
There's 656 square inches of total cooking area, making this a great choice for any home cook that loves to entertain guests.
Porcelain flame tamers are used to keep the cost reasonable, but the compromise is not one that you need to worry about.
Even heat distribution is easy to achieve on this grill. The
Megamaster includes all the features you need for simple cooking, without including anything that would ramp up the costs.
When you want something that simply performs, for a great price, this will not disappoint.
While there's no side burner included, the large primary cooking surface will help make up for this omission.
Assembly is simple, and the grill feels sturdy when all instructions are followed. This is a cooking appliance that inspires confidence.
Cook your favorite foods with no fuss and clean up in minutes with a single drip pan.
Body material is cast iron with a porcelain enamel finish that will resist corrosion over many seasons of grilling.
Great looks and excellent cooking make this a top choice amongst affordable long lasting grills.
---
Char-Broil 463377319 Performance Stainless Steel 4-Burner Cart Style Gas Grill
Char-Broil's Performance Stainless Steel 4-Burner grill is an excellent choice if you need a smaller option for your patio or outdoor entertainment area.
The size makes it highly portable, and there's still 425 square inches of primary cooking surface to take care of family or large group cooking.
You could easily fit eight burgers, two large steaks, and still have room for poultry cuts, sausages, or hot dogs.
If you're going all in on burgers, you could fit 20 in a single session.
The main burners provide up to 36,000 BTUs of heat, which is more than enough considering the compact design.
This grill is compatible with a universal rotisserie kit and the hood will easily accommodate a large sized whole chicken or small turkey.
It's also a great choice for slow cooking large beef, lamb, pork, and game cuts.
All the essential elements of the grill are made from quality stainless steel, including the body, burners, and heat spreaders.
Cooking surfaces are porcelain enamel to keep costs reasonable.
Overall construction quality is excellent, and dual side trays keep things convenient.
There's even a hidden 10,000 BTU side burner, giving you some extra versatility when you need it.
You don't need to spend a lot to get a high quality grill.
The char broil is a great investment and one of the top long lasting grills for your backyard.
---
Char-Broil Signature TRU-Infrared 325 2-Burner Cabinet Liquid Propane Gas Grill
For a compact design that compromises nothing, consider the Char-Broil Signature TRU-Infrared 325 Grill.
While small in size, this grill packs plenty of power for fast and efficient cooking of your favorite ingredients.
With two main burners and folding side shelves, the pedestal design will be perfect for use on a small patio, balcony, poolside, or anywhere in your backyard.
Even with such a compact design, Char-Broil has managed to include plenty of high quality materials.
It features stainless steel commercial quality tube burners that will last for many years of effortless grilling.
The quality caster wheels are also notable for a grill of this size and price.
The star of the show in this grill is the TRU-Infrared technology.
This system turns gas energy into infrared heat that thoroughly cooks food without cool spots on the grilling surface.
It helps to reduce gas usage and cooking times. The technology also eliminates flare ups, making for a safer cooking experience.
There's 325 square inches of primary cooking space, which is perfect for family cooking.
The grill can be used for larger gatherings, although longer sessions would be needed when compared to 3, 4, or 5 burner grills.
If your ideal outdoor cooking appliance is a compact, portable, and easy to use grill, then you'll love the Char-Broil Signature.
Excellent construction quality and easy assembly make this worthy of being called one of the best long lasting grills today.
---
Should The Type of Grill Have an Impact on Choosing the Longest Lasting Grill ?
From our list it will be evident that we haven't simply selected the largest and most expensive grills that are currently on the market. Grills come in all shapes and sizes, and they also come in different price categories. Does the type mean that a grill is going to last longer? Not necessarily…
There are some small grills that are still able to satisfy the requirements of being long lasting. Take the Smoke Hollow 205 Stainless Steel Grill
as the perfect example of a relatively affordable grill that is made entirely from stainless steel. It costs less than $100 but still features in our list of the longest lasting grills.
There are other small and affordable grills that are made to last for years of grilling. The Magma Marine Propane Grill
is another example of a small and portable grill. In this case, the grill is designed to be used on a boat. This particular model is made entirely from high quality stainless steel, which helps it to stand up to the challenging conditions in a marine environment.
Even the smallest portable grill can last a long time when properly cared for. The UCO Flatpack Portable Stainless Steel Grill
is obviously not the most feature-packed grill, but it is one that is made from stainless steel and that could be excellent for camping when you need to travel light.
With the right care, this is another grill that can potentially last for years. The low cost of this grill also makes it perfect as a backup grill for at home or even to be stowed in your camper.
It doesn't matter if you need a small grill for travel, or a large grill as your outdoor dining set piece – quality exists at every price point and in every category.
Stick to our advice of looking for premium materials and build quality, and you'll be sure of finding a long lasting grill that is perfect for your needs.





Does Higher Cost Mean That a Grill Will Last Longer?
Cost is often associated with quality, but this is not true in all situations. Many people shop with the idea of you get what you pay for. It makes sense in many scenarios, but it doesn't always apply to quality.Take grills as an example.
More expensive grills often feature the same quality as affordable grills, with the key difference being the features that they provide.
A larger grill uses more materials and components and is therefore more expensive to produce.
Manufacturers also need to recoup their investment in research and design. The cost of a grill is made up from a number of important factors, and this means that price doesn't always mean better quality.
We can use the example of the
Monument Grills 17842 Stainless Steel Propane Grill,
from a quality standpoint it features excellent construction and the same materials that are used on a larger grills such as

304 stainless steel burners and long-lasting porcelain coated cast iron cooking grids but is still in the sub $400.



While  premium ones get close to a $1000, it would be possible to maintain both type of grills over a similar period of time, with the right amount of care.
A  stainless steel grill that is properly cleaned and stored could potentially last a lifetime; even one that costs less than $400 !






How Important is Branding When It Comes to a Long Lasting Grill?
Brands are an important aspect of shopping, and there are a number of reasons why brand loyalty exists. Many people assume that brand loyalty is mostly blind, and does not actually translate to quality. As a discerning consumer, you probably already know that this is not true.
Brands develop a reputation (sometimes over decades of being on the market) through quality, affordability, and other factors like customer service and after sales support.
When people respect a brand for its quality, there is usually a valid reason behind it.
Take Weber grills as an example. Weber grills have been favourites for outdoor cooking for more than 60 years. The reputation of this company was built around affordability, quality, durability, and cooking ability.
If Weber was a brand that couldn't produce a long lasting grill, then you can guarantee that it wouldn't have the type of prestige that it has today.
The point here is that you can often trust a brand to create a long lasting grill if there is a long history of quality.
However, you still need to be responsible as a consumer for checking materials and other aspects like reviews and customer feedback.

A company with a strong reputation can still release a bad product from time to time, and taking the time to research a product will ensure that you end up with something that meets all of your requirements.
There are other examples of brands that have strong reputations for quality and durability in their grills.
Napoleon
and
Bull Outdoor
are two companies that are well known for long lasting grills.

Using Reviews to Determine Whether a Grill is Long Lasting
Online shopping has revolutionized the way that we buy things for our homes. A few decades ago it would have been unheard of to purchase a grill online without ever seeing it in person.
Today, there is enough information available online that you can make informed shopping decisions without even leaving the comfort of your home.
Of course, to get to the point of being well informed, you will have to do an adequate amount of research.
Finding a reliable review source is one way of ensuring that a grill is long lasting and that it has all of the features that you need. In fact, you're looking at one of those resources right now.
Another way to further your research is through the use of consumer reviews. Professional reviews go in-depth and can provide you with the key details and full analysis of a product. Consumer reviews are typically less detailed, but they are still valuable.
This is because they share information from owners who have needs and expectations that are similar to yours.
When you've read through the professional buying guides and reviews, make sure that you also browse customer reviews to find out what people like and don't like about the grill that you are considering.
Consumers often come back to update reviews, so you can find out a lot about durability and the grills that last the longest.
Keep in mind that every owner reviews a product from a different viewpoint. Some customers can negatively score products because of issues that are important to them, even if those same issues are not important to you.
Likewise, some positive reviews may overlook some problems that would be concerning to you. Always read more than one consumer review before forming an opinion about a product.
When you combine consumer feedback with the professional reviews found on Premium Grills, you will be able to form a solid idea of the longest lasting grills that are right for you.

What if a Grill Doesn't Have All of the Best Materials but Still Gets Good Review Scores?
There are exceptions to every rule, and this is true in the gas and charcoal grill market. We have gone into detail on why stainless steel is the best grill material, but does this mean that a grill made from other materials will not be long lasting?
This answer can be complicated and it does depend on the overall quality of the materials that are used.
The
Weber Q1000 Liquid Propane Grill
is made from heavy duty aluminium, but it still makes it into our list of the longest lasting grills.
This is because of the quality of the materials, as well as the overall design and function.
The aluminium is treated with a porcelain enamel so that it can resist high temperatures and corrosion.
The cooking grates are made from cast iron, which can be made to last for years with the right care and seasoning (look at any vintage cast iron skillet to see just how long this material can last).
Not every long lasting grill will be made from stainless steel, so don't be afraid to buy something different if it is within your price range and has good professional and consumer reviews.
Even if stainless steel is not the primary material, you can still find a grill that is durable and long lasting.





Be Realistic About What You're Buying
Unrealistic expectations can lead to short or long term buyer's remorse. When you are investing in a grill and want something long lasting, you have to be realistic about what you're buying and the use that it will be getting.
If you only use a grill a few times every year, then even the most affordable grill could become a long lasting grill.
If you're cooking regularly and leave your grill exposed to the elements, then even a high quality grill could be compromised and degrade over time.
Care is just as important as the materials used to manufacture a grill, so make sure that you are performing regular cleaning, and keep your grill covered when it's not in use.
If possible, store your portable grill in a garage or shed when there's inclement weather. This will help preserve it and ensure that you get the most return from your investment.
By being realistic about your expectations and taking care to protect your grill, you can enjoy it for many seasons to come.



It's Time to Find the Perfect Long Lasting Grill for You
Your ideal long lasting grill will come down to your desired features, size, and your budget. Now that you know what to look for, it's time to start shopping for your next grill.
Keep in mind what you have learned, and you can always come back to this resource before making your decision.
Remember, stainless steel will always be the most durable material, but it's possible to get quality aluminium parts or iron parts that have been sealed in enamel, so you'll need to pay close attention to the complete product description whenever you want the longest lasting grill.