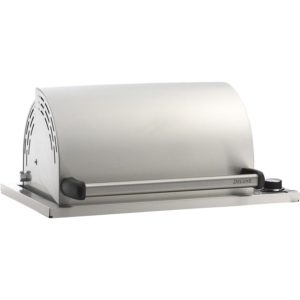 The Deluxe 3C-S1S1N-A Gourmet Countertop NG Grill by Fire Magic is a sleek design with classic edges that will instantly make you fall in love with it – love at first sight done right.
The founder of Fire Magic, Harold Keck, created his brand with a vision: he wanted to give people a modern means of outdoor entertainment.
Today, Fire Magic completes 80 years of providing grill lovers with products and accessories they require for creating the perfect steak at home.
Fire Magic has been manufacturing grills in the US since 1937.
Their innovative design, superior performance, and exceptional durability are what separate these countertop gas grills from the rest.
Fire Magic offers an extensive collection of premium grills and accessories.
Fire Magic offers more cooking space and BTUs per square inch of space for maximum performance.
Their grills' surface provides more heat for fast, even cooking and restaurant-style sear marks, which is what they capitalize on.
In terms of quality, the Deluxe 3C-S1S1N-A is not far behind larger grills.
Fire Magic is the right choice if you are willing to cough up some extra cash for a gourmet grill and setting.
This is a pretty simple grill with classic features.
You can operate it easily without reading the manual. Let's start with the basics and then move on to its features.
The Basics
Fire Magic has made it all possible.
Under the name RH Peterson products, this company has been providing people with grilling products made from high-quality material.
This countertop gas grill is no ordinary grill.
You may find it small but the way it will be positioned on the island will make everything worthwhile.
Yes, the price is too high for a small grill but that's because from the cooking grid to the burner to the housing, everything is made from 304 stainless steel.
The term "304 stainless steel" is used to denote the quality of the material with which the grill has been manufactured. I will explain this term later in the review when we come to the cooking grid.
The grill weighs 125 pounds, which is pretty lightweight compared to other grills I researched on the internet.
I believe that a lightweight countertop grill is always better than a heavy one because it is easy to assemble and maneuver.
Fire Magic does not just offer you grills; it offers you a promise of comfortable outdoor living.
This includes all kinds of products such as fireplaces, refrigerators, and grilling accessories.
What's amazing is that apart from its products, the company offers a great service: Custom Islands.
You can build an island from scratch and add as many accessories as you want.
A normal BBQ island has a countertop gas grill, two drawers, a cabinet, and a sink.
This gives you plenty of room to prepare food on the island and you have easy access to all the necessary utensils stored in the cabinet and the drawers.
The Deluxe 3CS1S1NA Gourmet Countertop NG Grill  Has
2 Cast Stainless Steel Burners.

Heavy-duty warming rack and Double-wall stainless steel hood.

stainless steel flavorizer bars.

electronic ignition button.

stainless steel knobs.

warming rack, stainless steel made.

stainless steel cooking grid and a grease tray.
Following are These Components Explained In Detail
Stainless Steel Cooking Grid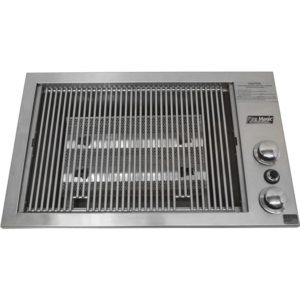 Cooking grids by Magic Fire are known to be legendary.
The company claims that it has a lifetime warranty and no matter what you cook, you can be assured that the food will not stick to it.
The main cooking area offers a space of 368 square inches and the warming rack above occupies a space of 184 square inches.
You can cook around 12 burgers on the cooking grid at a time.
Stainless steel is a great material but lacks the quality that a porcelain-enameled cooking grid offers.
However, the advantage of stainless steel is that it is self-cleaning and prevents rusting.
Stainless steel gets hot pretty fast, which is a great benefit in a grill.
It also gives you that picture-perfect food with lovely sear marks and retains heat evenly.
Moreover, the material can withstand salt and rain, which offers a non-stick surface
If you search on the internet about the quality of stainless steel in grills, you will come across two numbers: 304 and 430.
These two numbers are what define whether the grill is durable or not.
So, to help you understand why these numbers are extremely important, I will explain to you the difference between them:
403 has more steel in it and takes a lot of time to weld. Cooking grids with 403 stainless steel stick to the food and the surface corrodes fast

304 has more nickel and less stainless steel in it. This mixture of alloys is what makes it durable and strong
Our first pick would be a grill with 304 stainless steel, as it has a better chance of providing a lifetime warranty.
The number "304" is an indication that this is a high-quality and expensive grill.
You will mostly find this material in high-end brands like Weber, Lion, Napoleon, and Fire Magic.
This countertop gas grill is made from 304 stainless steel, which guarantees that it will last long.
Cast Stainless Steel Burners and Knobs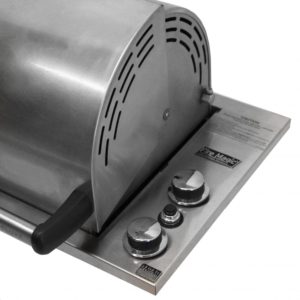 There are two stainless steel burners with a taper-like flame. Combined, the burners have a BTU of 42,000.
The burners maintain the heat once the temperature is set, which helps in cooking the meat evenly on both sides.
The stainless steel knobs are located on the right side of the grill on a panel. Both have various control settings and can be lighted individually.
One of the things that I felt should have been in the grill is a thermometer on the lid.
This is an extra purchase you will have to make.
You can buy temperature probes and download an app to keep track of the grill's temperature.
Then, there's the missing gas pressure valve, which should have also been included in the price.
As for the natural gas tank and the connection, you need to buy that too unless you are planning to get a customized island.
Then, you can work on a package and get everything in one place.
One of the grilling accessories that I liked the most was the charcoal smoker basket.
This basket is placed on the burner, which lights the wood chips placed in it.
This gives the food a nice flavor and that smoky aroma, which makes the meat even more appealing.
Electronic Ignition Button
The electronic ignition button is also located on the right side of the burner panel.
With a single push of a button, you can light the burners separately.
Since the side panel is also made of stainless steel you don't have to worry about the high temperature melting anything.
Stainless Steel Flavorizer Bars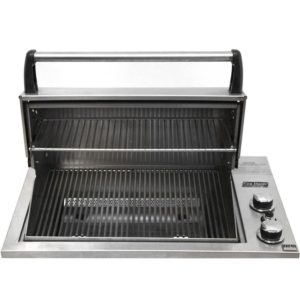 For those who know little about grilling, I would advise that you don't buy a countertop gas grill that does not come with flavorizer bars.
The flavorizer bars are V-shaped flat pieces of stainless steel that are located above the burners.
They cover the burners but do not affect the BTU.
One would say that these are magical pieces of stainless steel that make your food more delicious and save you time on the clean-up.
The flavorizer bars are connected and placed under the grate so that the drippings from the meat such as butter, marinade, or oil do not grease the inside.
The drippings fall onto the bars instead of the burner tubes and prevent flare-ups.
The drippings vaporize and circulate back to the food, adding more flavor to the meat.
Where the grid prevents the food from sticking and holds cooking oils and food juices for enhanced flavor, the flavorizer bars give you that delicious BBQ smoky flavor.
Grease Management
There is a drip-chute built-in grill, which you can have access to from the bottom.
Since this is a small grill; you need to clean it more often.
There are three things that you need to follow when cleaning this grill:
The cooking grid, warming rack, and flame tappers should only be washed with water and mild soap

The inside of the grill can be brushed with a stainless steel brush and can be wiped with a cloth dipped in warm water

Do not place any of the components in the dishwasher
With the help of the flavorizer bars, the grease is already minimized so, you don't have to worry about spending much time cleaning the grill.
The grease tray is located at the bottom of the grill to prevent any flare-ups.
The Cooking Grid
Wait for the countertop gas grill to cool down and when it is lukewarm, use a brass wire brush to scrape off the food residue.
Wipe the grid with a towel and turn the grill back on for five minutes to burn off any remaining grease.
If you feel that the grease stains are stubborn, remove the cooking grid and wash it directly underwater.
Wipe the grid with a towel before placing it back on the grill.
Don't let the water dry on the grill or else the meat will stick to it.
Note: You can clean the other parts the same way, except for the flame tapers. Clean them only with a warm cloth.
First Cleaning After Delivery
When the grill arrives, the cooking grid is already seasoned with oil and wrapped in a protective sheet to prevent any kind of damage.
Turn the griddle on the highest setting and burn off the residue.
Wash the griddle with soapy water and wipe it with a towel.
S

easoning Instructions
Seasoning must be done before and after every use.
Seasoning preserves the food's taste every time you cook and prevents the cooking grid from rusting. Here's how to season your cooking grid:
Allow the grill to cool down and begin only when the grill is lukewarm to touch

Follow the cleaning instructions mentioned above on how to clean the cooking grid

Dip a clean cooking brush in cooking oil and apply a thick and even layer of it onto the griddle (You can also use shortening for this process)

Cover the countertop gas grill with a wrap to keep out dust
Note: If you find rust on your cooking grid, use low grain sandpaper and gently rub it down. Avoid putting too much pressure or you might scratch the cooking grid.
Warranty
Here's a rundown of Deluxe 3CS1S1NA Gourmet Countertop NG Grill parts' warranty:
Housing (Lifetime)

Lid Assembly (Lifetime)

Cast Stainless Steel Burners (Lifetime)

Stainless Steel Cooking Grates (Lifetime)

Flame Tapers (5 Years)

Flavorizer Bars (3 Years)

Ignition System (1 Year)

Grease Management System (3 Years)

Remaining Parts (1 Year)
One of the things that most people forego doing when buying a grill is research.
How do you expect to buy a grill that is worth the price, has a long warranty, and is made of high-quality material compared to other grills when you have no idea about the brands that exist?
I can safely say that Fire Magic is a great option that you should look into.
They have several countertop gas grills, as well as bigger ones that you will surely love.
Combined with their customized island service, you can be assured that they will deliver a quality product and service.
If you have the budget, then I would advise that you buy this grill.