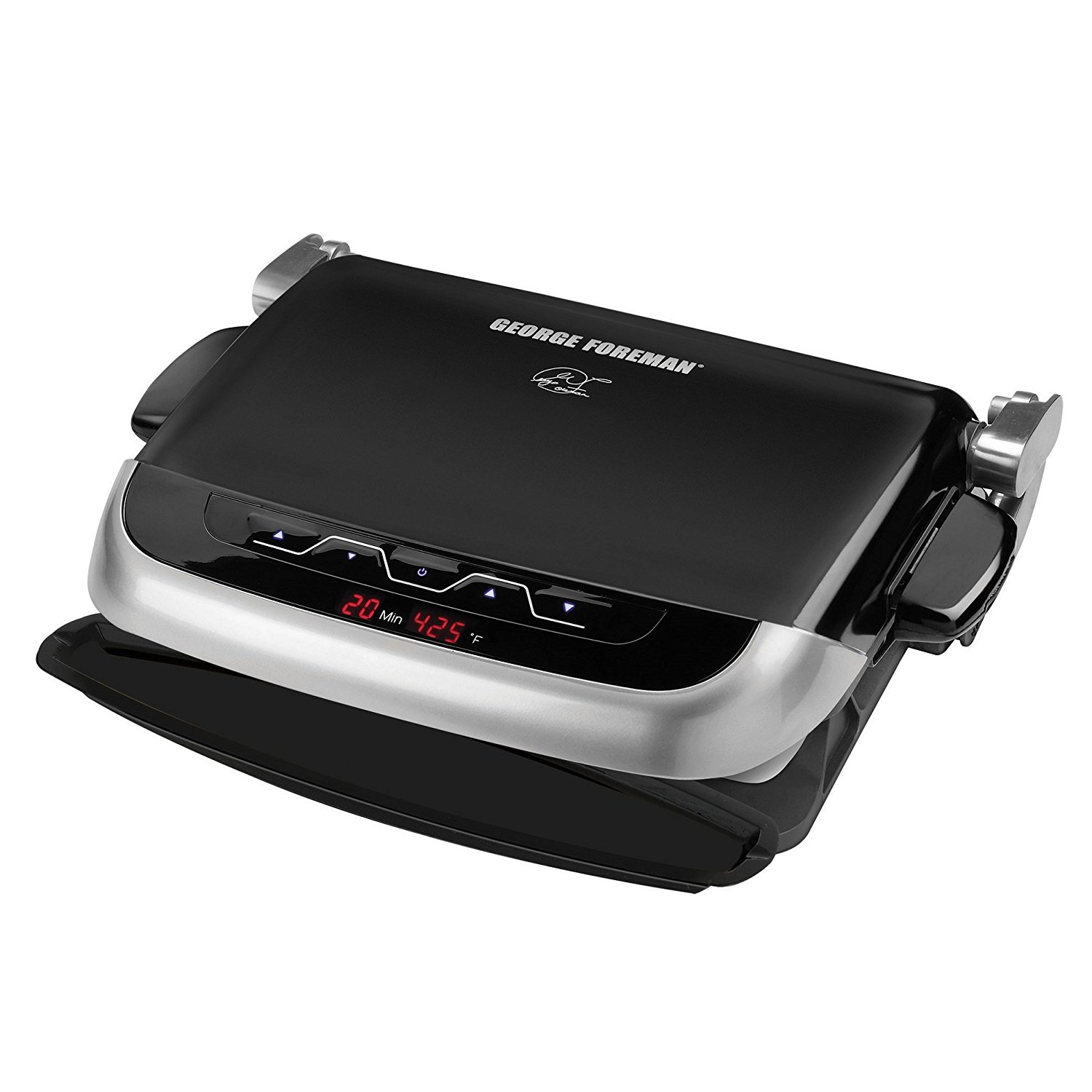 Multi function cooking appliances can save you a lot of time and space in your kitchen.
Whether you need something for small meals for one or two people, or even if you simply want a convenient way to make breakfast or afternoon snacks.
The George Foreman GRP4EMB Multi-Plate Evolve Grill : one appliance that aims to take care of a number of cooking tasks.
More than just a grill, this innovative appliance can deep-dish bake, or even cook muffins with an included accessory. It's relatively affordable and simple to use, so let's take a look if this should be the next purchase for your kitchen.
George Foreman GRP4EMB Multi-Plate Evolve Grill Key Product Features
4 included cooking plates for multi-function cooking.

Timer controls for simple cooking.

Detachable, dishwasher safe cooking plates.

84 Square Inch cooking surface.

Compact design for easy storage.
Unboxing and First Impressions
As a small cooking appliance, the George Foreman GRP4EMB doesn't require any assembly, and is ready to go with the cooking plate of your choice once you take it out of the box.
It is advisable to give the plates a quick clean with soap and water, before using the appliance.
First impressions are good with the GRP4EMB. It features an attractive design, and the hardware feels of high quality.
The cooking plates are solid without being too heavy, and they easily attach to the grill so that there's no time wasted getting it set up for cooking.
Construction is a combination of metal and plastic, and overall this feels like this is an appliance that has been made to last.
The generous three-year warranty is further indication that this is a good investment that you're not likely to have trouble with.
What are the Benefits of Owning the GRP4EMB Multi-Plate Evolve Grill?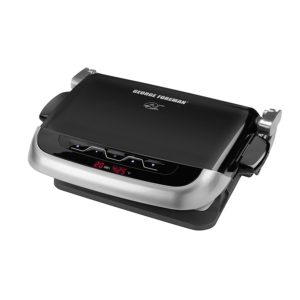 If you've ever used one of the original George Foreman grills, then you will know that they were innovative, of high quality, and excellent at grilling.
The problem for some people is that for one appliance, simply being able to grill is not enough.
The GRP4EMB aims to grill just as well as the original George Foreman, while adding the benefit of having interchangeable plates that can be used for cooking different types of food.
The standard grill plate does just as you would expect it to. It slants down on a slight angle so that when cooking meat like steaks, chops, sausages, and chicken, excess fat finds its way down to the dripping tray.
The George Foreman company claims that their original cooking method can reduce the fat content of grilled food by up to 42%, so owning this grill is an excellent way to reduce your overall caloric intake.
It's also perfect if you're on a low fat diet for any reason.
If this was the sole function of the grill, then it would still be a great product.
It can cook meat to perfection, and the high temperature heating surface allows food to retain moisture so that it doesn't completely dry out during cooking.
However, this isn't where the GRP4EMB stops, and the other cooking functions are where it truly begins to shine.Included in the package are interchangeable plates that can be used for different recipes and cooking styles.
In addition to the two grill plates, you'll also get a deep-dish baking pan, and a cupcake and muffin pan insert.
When cooking with the additional plates, the George foreman becomes more like a tabletop baking oven, or it can even be used similarly to an electric frying pan.
The deep dish tray can be used for flatbread, mini pizzas, vegetables, or essentially anything that you want to put in there.
The grill is designed in a way that there's floating hinge between the top and the bottom of the grill, so you have quite a lot of interior space to work with.
Whether you want to heat up some dinner rolls or even press a burrito, you'll find plenty of use for the deep dish function.
The muffin and cupcake attachment is similar to what you would use in your own oven, with the difference being that it is specially designed to fit right into the George Foreman grill. You can cook six muffins or cupcakes at a time, and with the timer that is built into the unit, it's easy to achieve perfect results.
This makes the grill ideal if you want to make a small batch of muffins or cupcakes, and don't want to go through the process of preheating your oven and using a large muffin baking tray.
It's obvious that this appliance has been designed with convenience in mind, and it would be of real benefit to students, singles, professional couples, or even parents who want a quick and easy way to prepare after-school snacks.
How Well Does It Actually Cook?
A multi-function grill would be of no benefit if the cooking results weren't up to par, so you'll be happy to learn that the George Foreman performs well with everything that it sets out to do.
Grilling in standard mode is simple, there's less mess thanks to the grease drip tray, and cleanup is easy with paper towels when the grill is still warm.
The cooking plate is detachable so you could also run it through the dishwasher or hand wash it. You likely won't need to do this every time, but it's a good option to have.
The grill heats up rapidly and on the highest setting it can create an excellent barbecue sear on steaks, pork chops, hot dogs, sausages, or whatever it is that you are cooking. Skewered meats and vegetables are also ideal for cooking in the standard grilling mode.
It takes around 5 minutes for the grill to reach full temperature, and after that it will maintain whatever setting you select.
As mentioned, there's a timer so that you can ensure perfect cooking times for meat like pork, chicken, and fish.
Some people swear that fat adds flavor to food, but it's a well-known fact that excess animal fat can cause complications like high blood pressure and heart disease, and the high caloric content of fat will also contribute to weight gain and obesity.
Because the George Foreman GRP4EMB Multi-Plate Evolve Grill traps moisture in food by creating an outer seal, you can ensure that the loss of fat doesn't negatively impact the flavor of your food.
The less-fat cooking process of the George Foreman could easily become one of your favorite ways to cook meat, especially considering how easy it is to use this appliance.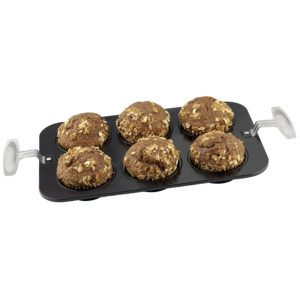 Muffin and cupcake baking is also easy and the results are just as good as you could do in a large oven.
Because you'll only be cooking small batches at a time, the cooking process is much more efficient and you could even cut down on your energy bills.
Using the timer, you can ensure that muffins are fully cooked through, without being dry in the center.
Rich and moist muffins and cupcakes are sometimes hard to achieve in a conventional oven, so if you've ever struggled with baking then you will appreciate the simplicity and good performance of the George Foreman GRP4EMB.
The deep dish tray is perhaps the highlight of the whole package. It creates a whole new way to use a George Foreman grill.
You could scramble eggs in here with the grill on the open flat setting, or you could make toasted sandwiches or flatbreads filled with your favorite ingredients.
The benefits of the controllable temperature and timer are particularly useful when you use the deep dish tray, and you'll love the custom creations that you come up with, like pizza or even homemade calzones.
One thing that you do need to be careful about is the amount of ingredients that you put into the dish when you're cooking.
If you're cooking with wet ingredients like eggs or batter, then there's a risk of it overflowing around the edge of the pan, which would make for some difficult cleanup.
This is not a fault of the grill as such, but it's something that you need to be careful of, and you may want to experiment with portion sizes and ingredients as you figure out what works best.
Construction Quality of the George Foreman GRP4EMB
The first impression of this grill is that it is well made and designed to last. After testing, there's nothing to suggest that it would be at risk of malfunction, and all of the hardware is well put together.
Although it is relatively affordable, it's still not the cheapest benchtop grill on the market, so it should be expected that this is made to a high standard.
The long warranty period will cover you from defects and malfunctions, so there's not a lot of risk involved in buying this multi-function grill, especially when compared to some of the other grills on the market that only come with 12 month warranties.
The cooking trays are of high quality and the release handles feel sturdy. This is important because you'll regularly be removing, cleaning, and changing the trays, depending on what kind of function you're looking for.
The non-stick coating is well applied to the metal, and using plastic utensils will help to ensure that the coating lasts throughout many years of ownership.
Even the best non-stick coating will start to degrade over time, but the good news is that trays can be purchased separately, so you'll always have the option to replace them in the future.
George Foreman sells burger inserts, a griddle pan, and omelet and waffle trays separately, so if you purchase this grill you will have the chance to make it even more versatile in the future.
Pros and Cons of the George Foreman Evolve Grill
This is an impressive grill, and a great evolution of the original George Foreman model. It does most things well, but there is still some room for improvement. Here are the most important pros and cons of the Evolve Grill.
Pros
Removable plates for cleaning are a great innovation over the original George Foreman.

Interchangeable plates make this much more than just a standard grill.

Good solid construction throughout.

Can replace a number of appliances/pans for singles or couples in small homes.

Fast heat up time.

Adjustable temperature and timer setting.

The non-stick coating feels reliable.

3-year warranty period.
Cons
Cleanup of the unit is messy if food overflows from the deep dish pan.

Not large enough when cooking for a full family.

Plates sometimes need oiling for the best nonstick results.
Customer Feedback
Owners have been highly positive about their George Foreman GRP4EMB Multi-Plate Evolve Grills, and this model currently has a 4.2 / 5 Star rating from verified online reviews.
As can be expected, customers have had a lot of praise for the versatility of this device.
The deep dish pan is often mentioned as a favorite accessory in reviews, and customers also like the fact that the grill includes a timer and fully electronic temperature control.
Some customers have experienced defective units within the warranty period, but the examples are not widespread enough to suggest that there is any major quality control or manufacturing issue.
A small percentage of faulty units can be expected, even with the best products on the market.
Final Thoughts and Recommendation
This multi-plate grill is priced below $100, which makes it great value. Considering that it can perform a number of cooking functions, it could even replace other appliances for someone who lives alone, or for couples.
The cooking results with it are fantastic, and the versatility is unlike most grills on the market. It does exactly what the original George Foreman did, and then offers much more with the muffin tray and deep dish tray.
It's easy to recommend if you're looking for a small cooking appliance that does what has been described in the review, however, if you're going to be cooking for a large family, then you'll find that this is not suitable for full meals.
If you're happy with the size and are interested in the versatility that it offers, then this is a highly recommended accessory for your home.
There is a newer model of this item.