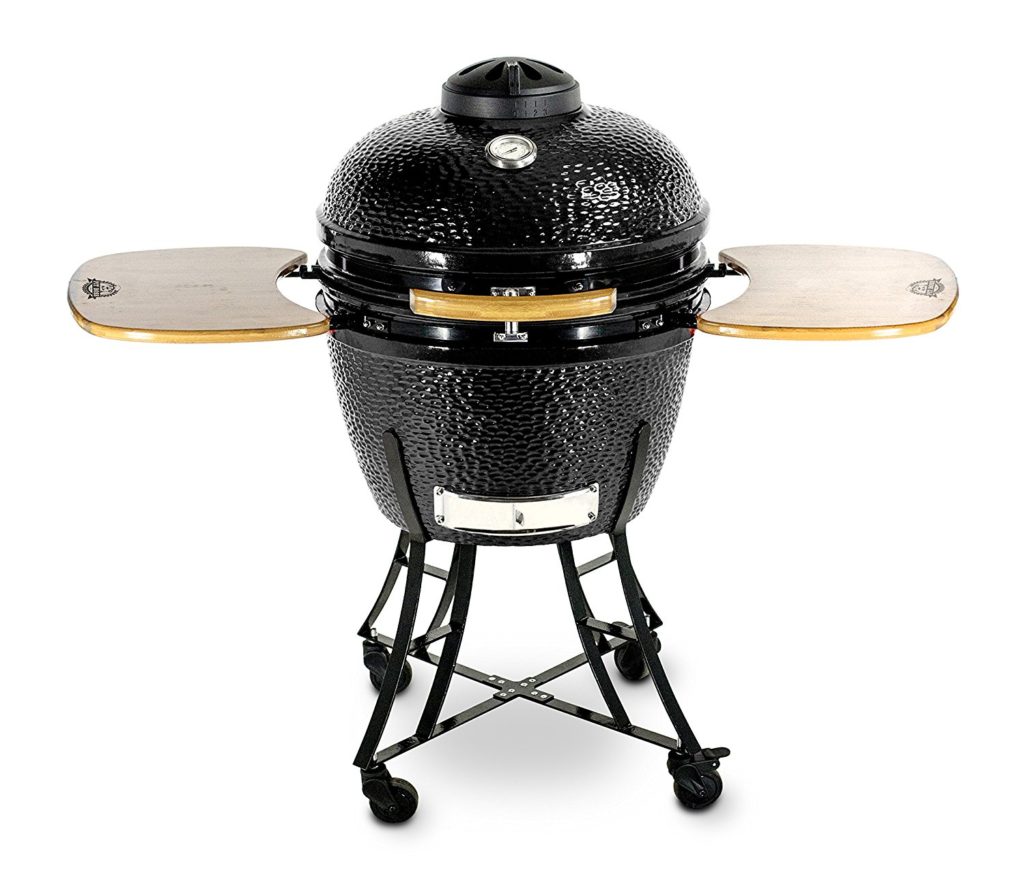 As we all know, putting on an awesome BBQ means having the right equipment.
You wouldn't put on a car show and fill it with old bangers, so why invite people to a BBQ  and then 'treat' them to sub-standard firepower?
No, we all know that is rather poor BBQ etiquette.
What you should be doing, then, is looking to invest in the best grill cooker that you can find.
Well, for some people, that has become the Pit Boss  Kamado BBQ Ceramic Grill 24".
Made by the rather brilliant Pit Boss, this name has become a bit of a household name in the BBQ industry.
Whether you are new to the game or have been enjoying garden parties for some time, the 24" Pit Boss 71240 Kamado Ceramic BBQ is one of the most impressive out there.
Spacious, sizable, reliable, and very sturdy indeed, few models on the market can make it budge.
However, given the extensive price of the model, some people are unsure if paying out such a fee is worth their time.
The Pit Boss 71240 Kamado Ceramic BBQ, though, is something that has more than just a few obvious uses.
It's not only one of the most impressive BBQ platforms on the market, but it's exceptionally versatile.
Out of all the options we have covered here, we believe that the Kamado might just be one of the best ceramic BBQs on the market.
If you are looking for something with no shortage of power, authority, precision, and variety, then this is 100% the perfect place to start with.
If you are looking to enjoy something a bit different, then, we fully recommend that you think about investing in this renegade.
Some people might be put off by moving to a lesser-known brand like Pit Boss, but you shouldn't be.
As we showcase below, this is a brand that you can most certainly trust to deliver.
Let's take a look at why so many choose Pit Boss.




About Pit Boss Grills
So, the company itself is a bit of an anomaly.
With the most well-spoken of names, they set an extremely high level of expectation for what you should be getting for your money.
The Pit Boss 71240 Kamado Ceramic BBQ, though, is one of their most powerful and reliable names.
Ever since they formed, though, the Pit Boss team – owned by Dansons, the masterminds behind Louisiana Pellet Smokers – has made a name for itself for all the right reasons.
Based in Alberta, Canada, they tend to do most of their US work from Minnesota.
Wherever your model is coming from, though, you can be sure it's an authentic and engaging piece of kit.
They take huge amounts of pride in their work and do everything they can to make each investment that you make a worthwhile one.
For years, they've been a go-to option for those looking for something a bit different.
This is a major part of the Dansons line today, as they have created some of the finest forms of pellet smokers on the market.
Now, with this, they can proudly point to a much more impressive grill option at the same time.
According to most market experts, this has landed itself as a premium name in the industry and is only a short second behind Traeger.
Indeed, they even outsell their own Louisiana grill models thanks to models like the Pit Boss 71240 Kamado Ceramic BBQ.
What makes this so investable for BBQers and grill-heads, though?




The Pit Boss 71240 Kamado Ceramic BBQ
So, as one of the most impressive models of its kind on the market today, what makes this form of ceramic BBQ grill so useful?
What should see you invest in this over some of the other models you could pick from?
It makes use of two very powerful, very effective stainless steel grates. All of the grates make it very easy for you to make a nice mixture of foods up without too much hassle or difficulty. With plenty of space across that 24", you can more or less guarantee that you can manage your cooking experience so much simpler.
The little upper flip grate makes it much faster and easier to put together versatile cooking configurations. If you are looking for a more extensive and detailed form of cooking with enough to get everyone at the party well-fed, this is a good place to start.
Not only that, but the Pit Boss 71240 Kamado Ceramic BBQ makes smart use of a good, accurate thermometer. While other systems come with thermometers, they are nowhere near as reliable or as accurate as this. It's easy to read due to its large size, meaning that you can have no problems in making sure the temperature is just right.
This also allows you to better manage the safety of the cooking experience. The thermometer here is far more reliable than it tends to be on some of the other models out there, so this makes a big change if you actually rely upon this thermometer to give you the right response.
It also makes use of a strong and effective cast-iron damper. If you are worried about foods getting charred and expensive ingredients ruined, fear not. The Pit Boss 71240 Kamado Ceramic BBQ has included as many features as it can to negate this possibility as much as they realistically can.
For that reason, most people can find using this piece of kit to be a bit of a dream journey. It's strong, sturdy, effective and incredibly reliable from just about every perspective in terms of safety. Now, you can enjoy far more balanced and professional cooking finishes.
Add in those awesome little folding side shelves, too, and you have a great option for storing and serving food on. Instead of trying to run from BBQ to table with plates, you can just lay it out here and get someone else to carry it all along for you. This makes it much easier for you to concentrate on the prep while someone else can manage and care for the cleaning experience, vastly improving the accuracy and consistency of the various foods you make.
As you can see, there is a lot of reasons to love using this piece of kit.
It's got very easy-to-use features and with so much versatility and management options it's got to be up there.
How, though, can you utilize its features to maximum effect?




How to Use  Kamado BBQ Ceramic Grill
Really, using this piece of kit couldn't be any easier to work with.
All you need to do is assemble it or assemble it in store.
However, make sure that whatever you do that you assemble it right.
If you can feel that the handles are easy to move, too loose, or that the hinges seem to move a little too easily, start again.
If you paid for assembly and it arrives feeling rickety and loose, then take it back – this thing is supposed to be solid.
Sadly, many people report getting flimsy styles of it arriving: it's not the Pit Boss 71240 Kamado Ceramic BBQ, it's the assembly.
When put together just right, it's more or less impregnable!
Make sure you secure the locking wheels on the stand, too: they can be a bit easy to move if they are not locked in place.
The last thing you want is the grill falling over and a big fiery pit opening up on the ground.
For the first usage, be sure to do a pre-burn to help get it started – usually hold the temperature at around 250 degrees for an hour, then 350, 450, then 550.
This gives it more than enough chance to ensure it's working right.
Once you do this, you are more or less good to go with using the thing.
Loading charcoal in is very easy, which is obviously a nice touch.
Some can be a bit challenging to go charcoal in and out of, but this is all very easy to work with.
Fill it up with lump charcoal and it's good to go.
Just be aware that while the dampers and the insulation are good, they aren't the best on the market.
Unfortunately, for something at such an extensive price, it should probably be a little better.
We'd recommend that you hang around during cooking to ensure that it is being well looked after.
The insulation and the dampers aren't the best, but they do a good job if you don't mind having to go and do a bit of management.
When the food is ready, just have some plates on the little bamboo shelving units and place your foods on there.
They are strong enough to hold a plate up with ease, making it nice and easy to serve and get back to cooking without missing a beat.
Why, then, is investing in this worthwhile?




Why You Should Invest in The Pit Boss 71240 KAMADO CERAMIC BBQ
There are many reasons why using this should be on your things-to-buy list.
For one, the use of some pretty strong heavy ceramic on the body makes sure that this offers efficient and safe burning. Yes, as mentioned above, the dampers could be better, but the actual quality of the ceramics is pretty damn impressive. This allows for easy management of the charcoal in an environment that is more or less good enough for what you need it for.
Thanks to the two-tier nature of the cooking grates, you can get lots of smaller meats on the go relatively quickly. So long as you aren't trying to cook a feast all at once, you should have (relatively) few problems getting this to work and move into action.
The cast iron top also makes sure you have more or less complete control of the flow. Many people struggle with airflow issues and can find that their package does not really flow too well thanks to this – it's a bit of an issue, in truth, at least in other models. This should allow you to manage the cooking temperature a bit better than other models allow. While we still think they could have done a bit more with the build of the model, it's good enough for sure.
Thanks to those nice little bamboo shelving units, you can make sure that storage is safe. Other models have shelves that are nowhere near as sturdy and wind up seeing your plates of delightful foods lying on the floor when the shelf buckles under its own weight. No such problems here, though, which makes it very easy to work with a piece of kit.
Overall, this is a model with a lot of impressive features and, for veteran or pro, works excellently.




Pros and Cons of  Kamado BBQ Ceramic Grill
The body is thick and strong, meaning you can have very little reason to doubt or worry about the structural integrity of the Pit Boss 71240 Kamado Ceramic BBQ. It's well-made and has plenty of depth and strength to it, creating a much more comfortable and easy to work with a solution in general.
Easy to fill up with charcoal, unlike other – less friendly – models. An easy-to-work-with solution that should allow you to get more or less consistent charcoal management without too many problems. Large enough to fill up and does not make any issue of using lumped charcoal.
Strong and steady damper (to a point) that allows for modest air control and management of the airflow.
Dual-tier stainless steel cooking racks are a great choice for a more radical and robust cooking solution. A great pick for socialites and party animals looking for something a bit more impressive than your average BBQ.
With a whopping 24" of cooking space, one thing you do not need to worry about is the size open to you. You can get lots of cooking going on, ensuring that your natural and healthy charcoal-cooked foods can all be cooked at once.
A little bit on the cheap side in terms of some of the hardware added in.

The model itself tends to have a habit of turning up poorly assembled, and is easy to find problems with when you are doing a DIY set-up. If you notice that the handles are loose then it might require re-assembly.

Some parts could have been more carefully put together, such as the insulation and the dampers. Although they are good enough, for the price that you pay you would be expecting something with a bit more consistency and reliability than this provides you presently.
xxxxxxxxxxxxxxxxxxxxxxx
Final Thoughts
Overall? The Pit Boss 71240 Kamado Ceramic BBQ is a very reliable and effective grill system.
However, it does carry a rather Marmite feel to it.
For some, it's one of the best on the market.
For others, it's a waste of time.
It does depend on the quality it arrives in, how well it was assembled and how you tend to like to cook.
If you are used to more high-end dampers and the like, then this might be a bit off-putting for you.
However, in general, it's pretty well managed and makes a rather effective and easy piece of kit to get used to.
If you are looking for a reliable BBQ grill that you can work with and use without much worry, this is a good place to start.
Should you be looking for something that does everything and more, then this might not be the perfect program for you – sorry.
It's not a Goldilocks piece of kit, but it's got a lot of redeemable qualities that make it worth using.
Yes, there are more impressive models are on the market.
However, the Pit Boss 71240 Kamado Ceramic BBQ is by no means a waste of money or not good enough.
A bit time spent on getting the right assembly, and it can be spot on.