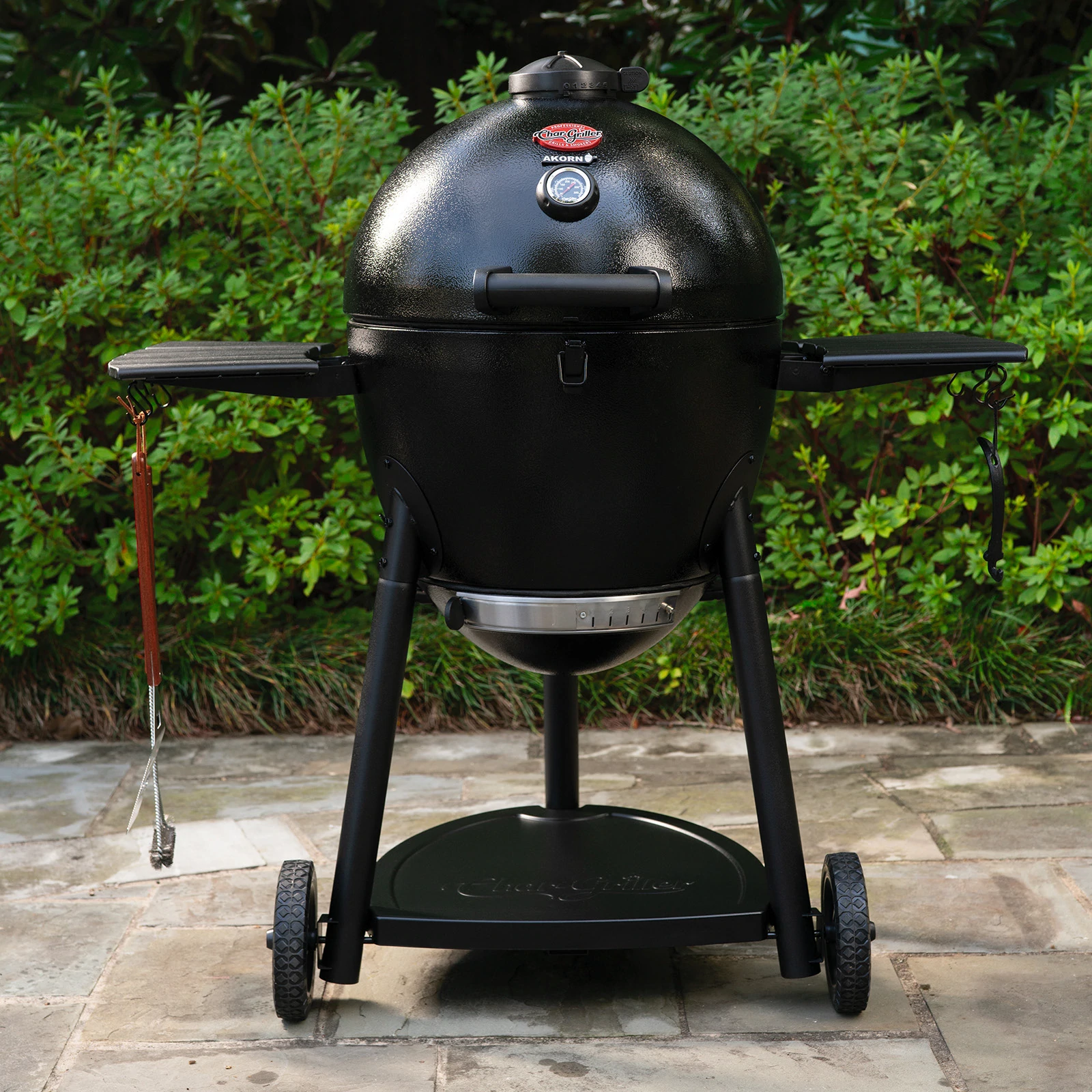 Grilling outdoors with the best grill smoker combo is one of the best ways to enjoy the summer, and many grill enthusiasts also love to smoke BBQ meat and fish during the warmer season.
For many, a separate smoker is seen as a necessity, but in recent years it has become more common to see grill and smoker combos.
The problem with some models on the market is that there are too many compromises between the main functions.
Some models are excellent smokers but substandard grillers, whereas other models have the opposite problem.
Some models do both well but come at the expense of size and convenience.
The Char-Griller Akorn Kamado Kooker Charcoal Barbecue Grill and Smoker is one solution that aims to do both main functions without compromises.
It comes in a relatively compact package and promises strong construction with excellent versatility.
It's time to take a look at this model and find out whether it's the best grill smoker combo that you can buy today.
Char-Griller Akorn Kamado Kooker Key Product Features
The Akorn Kamado Kooker is competitively priced and comes with standard features that already suggest it's one of the best grill smoker combos on the market.
Attractive kettle design that saves space without compromising cooking surface size.

314 square inches main cooking surface.

133 square inches of warming rack.

Insulated outer shell which traps heat and moisture.

Tubular steel cart with wheels for portability.

Underside tray.

Folding side shelves.

Steel construction with powder coating.

Integrated heat gauge.
First Impressions
One of the first things that you will notice about this best grill smoker combo is its design.
It's an attractive grill and follows a similar design philosophy to Weber grills.
The difference is that the shape is ultimately more rounded and the result is something that looks quite appealing and novel.
Despite it being novel, the design is no gimmick, and it helps with the cooking and smoking ability of this grill.
The construction is all steel and that's something that can be appreciated from the moment the grill is unpacked.
22-gauge steel is used and it helps the grill to feel solid and long-lasting.
The powder-coated finish is well applied, and it's a grill that will look great in your backyard, or on your deck or patio.
Wherever you choose to use this grill; it will gain attention without being garish.
It's important to note that the best grill smoker combo comes in several colors.
Black is the sleekest and the most conservative of the choices, but you can also purchase it in powder-coated blue, brown/copper, and red.
The color will depend on your unique sense of style and your outdoor area.
It's nice to know that there are options if your home would benefit from something with a little more color than a standard grill.
If you have used a budget grill with a tubular stand then you will appreciate the extra heft that comes with this model.
The legs are made from the same high-quality steel that is used on the grill body, and this helps to give the impression that it will last for many seasons of grilling and smoking.
The plastic wheels are the only points where you might expect a failure in the future, but these are easy to replace, and many owners will choose to do so as an extra insurance policy against future damage.
Overall the first impressions are positive, and it's one of the most unique and best grill smoker combos that you can buy today.
Cooking Ability
Looks don't matter if a grill can't cook, so it's time to find out just how well this grill works for everyday grilling.
The first thing to note is that this best grill smoker combo uses charcoal as a fuel source.
Charcoal has been a favorite of grilling enthusiasts for many years, even as gas grills have become the standard choice for most families.
While gas is arguably more convenient, using charcoal gives a feeling of tradition, and it also benefits flavor.
Charcoal gives grilled food a unique smokiness, even without using wood chips.
It's a flavor that will be familiar to owners that grew up with summertime cookouts spent around a kettle grill.
Charcoal will also be more readily available for some people (depending on where you live) and can offer better value as gas prices go up.
Another benefit of charcoal, and it relates directly to cooking, is its ability to reach high temperatures when you need rapid searing of barbequed meat and other ingredients.
With the help of the temperature gauge, you can ensure interior temperatures that range from 200° to 700° Fahrenheit.
This makes it perfect whether you are grilling meat and vegetables, slow-cooking a large cut of meat, or even baking bread or a pizza inside your grill.
The cooking area is 314 square inches on the main surface, which is plenty for family cooking or larger sessions with friends and family.
You can cook any of your favorite foods on this grill with no real limitations.
Whether you want burgers, steaks, or even larger cuts of meat or a whole chicken, you will find that there's plenty of room to work with.
Although it's not the largest grill on the market, the rounded design offers much more versatility and usable space than the average square or rectangular grill that uses gas burners.
The kettle design of this particular best grill smoker combo offers more than just a unique aesthetic.
Kettle grills have remained popular throughout the years because they can provide convection cooking which is not possible with standard rectangular grills.
The kettle tapers at the bottom where the cooking fuel is stored.
As heat rises, it is pushed up through food and then back down towards the bottom before rising again.
This cycle continues throughout cooking which allows for both direct radiant heat, as well as convection through the movement of air.
When you cook with the hood down, you can ensure thoroughly cooked food that won't lose moisture.
If you only want direct heat for searing, then you can simply cook with the hood raised.
This passive convection system is one of the best advantages of a kettle grill, and it could change your cooking style and inspire you to try new recipes with roasted or baked food.
See Related : How do I choose a Kamado Grill
Smoking Capabilities
The Char-Griller Akorn Kamado Kooker is efficient and highly capable when cooking with charcoal, but how does it perform as a smoker?
To be the best grill smoker combo it needs to do both cooking styles well, and we can say right away that it's, without a doubt, one of the best combos on the market.
It works well as a smoker for all of the same reasons that it works well as a charcoal grill.
Heat is continuously moved through natural convection, and the kettle style allows the smoke flavor to be infused throughout whatever it is that you are cooking.
You can use this grill for a long smoking session, or you can simply combine wood chips and charcoal for a grilling session that also provides a smoky flavor to your food.
It's convenient to be able to do everything within one main cooking chamber, and this is something that standalone units cannot do well.
It's best to look at this as a grill that can perform just as well as a small to mid-sized smoker while recognizing that it is still primarily a grill.
If you need something for smoking only, then you will be able to find more affordable options.
The key here is that most people want something that works great for family cooking but can also be used as a smoker when needed.
If you're like the majority of the market, then this is one of the best grill smoker combos to go for.
Construction Quality and Materials
We've touched on the construction quality and the materials used, but it's hard to give this grill justice without seeing it up close.
Steel is used throughout the construction and there is no low-grade aluminum used.
The cooking grid is cast iron, which allows for excellent heat retention and transfer, and is ideal for a grill that will be used for both smoking and standard grilling.
Again, the only parts which might not live up to frequent use are the plastic wheels, however, these can be swapped out for replacement parts or even upgrade parts that will be available at major local hardware retailers.
This is not to say that the wheels are of low quality, but only that they may not last as long as the grill itself.
The insulated design of this grill means that there is extra protection against corrosion, and there is plenty of consumer feedback to suggest that this grill will last for many years to come.
Overall, the design, fit, and finish are of high quality and it's impressive to see what Char-Griller has been able to do within this price range.
When compared to some other grills on the market, this is a step up, helping it to be considered one of the best grill smoker combos available today.
Pros and Cons of the Char-Griller Akorn Kamado Kooker
There are many advantages to this grill and only a few drawbacks of this best grill smoker combo.
When it comes to the pros, they are quite obvious and are part of what makes using this grill so enjoyable.
The cooking grids are cast iron, so they can heat up quickly and transfer heat to the food well.
The design allows for convection cooking which is great for larger cuts of meat, or even for grilling/baking/smoking food like pizza and specialty breads.
The grill is easy to clean with a simple ash release tray.
Construction quality is high with no major complaints or quality control issues.
The grill is stylish yet understated in black and is available in colors for those who want something that stands out.