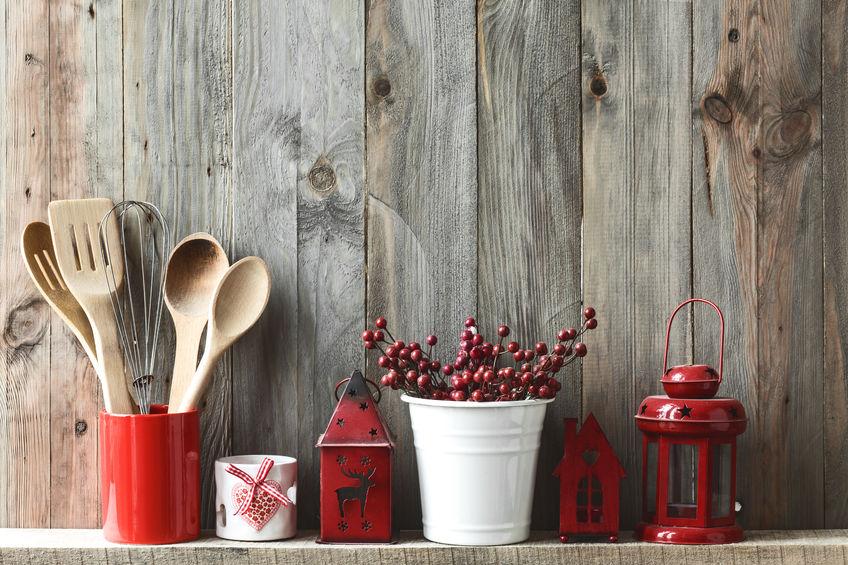 Wooden kitchen utensils were once the standard in American homes.
Today, these elegant and simple tools are making a comeback.
Wood is exceptionally durable, resists scratching, will never bend, and you'll love the natural look.
Wood is preferred by many home cooks because the material is non-reactive and will never contaminate food with undesirable flavors.
Upgrade your kitchen today with high-quality wooden kitchen utensils that are made to last. Compare the best sets on the market and find the perfect fit for your home.
Wooden Silicone Cooking Utensils 12 Pieces Set



This gorgeous set of wooden kitchen utensils combines natural wood handles with modern silicone ends.
You get the best of both worlds, with a classic look suited to any home, and the performance of silicone.
Silicone is ideal for the kitchen because it provides maximum heat resistance, right up to temperatures of 446°F in this set.
These utensils are safe for your non-stick cookware, whether you prefer Teflon, stone, ceramic, or even cast iron and high-carbon steel.
This set includes everything a beginner or experienced home cook could need, from spoons and spatulas to tongs, a whisk, and a basting brush.
Top Features of This Set
Beautiful modern design with silicone-tipped wooden kitchen utensil

All of the basic utensils with some specialty tools as well.

Includes a storage container and hooks so you can choose how to display the set.

High quality with impressive heat resistance.
Love your kitchen even more and master your favorite recipes with this affordable set.
---
Wooden Silicone Cooking Utensils 30 Pieces Set


Do you love the combination of silicone and wood, but want more tools for complex recipes and cooking styles? If so, this is the set for you.
This multifunctional wooden kitchen utensil set includes 30 unique pieces to take you from simple stir-fries, all the way to complex restaurant-quality meals, and even baked goods.
In addition to standard items like spatulas and spoons, this set also includes bake tools like an icing spatula, a whisk, a pasta server, and a basting brush.
This set is perfect for the aspiring home chef or even a student looking to hone their craft.
Included in the set are storage hooks for displaying on a kitchen wall, or a simple cup-style organizer to keep everything together with a minimal footprint.
This set also includes a silicone washing pad, which is perfect for cleaning non-stick cookware without damage.
Top Features of This Set
Elegant modern design.

Combines the beauty of wood with the convenience of silicone.

Every accessory a home cook could need.

Convenient storage cup or hooks.
Great for a new home or to replace an older set, this is one of the best affordable utensil sets you can buy today.
---
RIVeiRA Wooden Spoons for Cooking 6 Pieces Bamboo Utensil Set


These are some of the most affordable wooden kitchen utensils available today, making them perfect for starter homes, a backup set, or something to hold you over between more expensive sets.
Made from bamboo, these wooden utensils are organic and sourced from sustainable forests. Bamboo is the ideal wood for non-stick surfaces.
It's completely inert, so food will taste just as you intend. Bamboo is super easy to clean and the light color and natural wood grain are great for modern kitchens.
Included in the set are solid and slotted spatulas, solid and slotted spoons, and an oversized spork that is perfect for serving.
Top Features of This Set
One of the most affordable wooden kitchen utensils sets available.

Great quality for the price.

All of the essentials for basic cooking.

Made from sustainable bamboo.
These organic utensils are the perfect budget-priced option for any family.
---
Wooden Cooking Utensils 5 Pieces in Teak


If you're looking for a simple set but want exceptional quality and a beautiful look and feel, these teak wooden kitchen utensils are worth considering.
Made from exquisite organic teak wood, these will look great in any home, especially in modern designer kitchens.
The wood grain is the star of the show, with rich lines and eye-catching color variation. On the hand, these utensils feel premium and they're easy to work with.
This set is suitable for both cooking and serving.
Top Features of This Set
Beautiful natural teak construction.

5 basic pieces for serving and cooking.

Includes a large ladle for stews, soups, and more.

Excellent heat resistance without discoloration.
Choose these utensils if you want a small set but don't want to make any compromise on looks or overall quality.
Libosa Wooden Spatula Bamboo Utensil Set 6 Pieces



Here's another simple bamboo set that is ideal for students, apartments, and families on a strict budget.
The price is right with this set, offering six versatile pieces to be used for mixing, stirring, flipping, frying, and even serving.
Each piece is made from organic beech bamboo, using a one-piece construction technique to prevent breakage and deterioration.
Perfect for non-stick cookware or even for use on a portable grill, this set is as versatile as it is affordable.
All of the essentials are included here, making this set ideal for any home cook who simply needs the basics for a low price, but without compromising performance.
Top Features of This Set
Impressively low price.

Great one-piece construction quality.

Includes essentials for cooking and serving.

Ideal as a backup set or for outdoor or portable use.
The Libosa wooden kitchen utensils are proof that you can enjoy quality on a budget.
---
Bamber 4 Pieces Wooden Kitchen Utensils


This set of 4 wooden kitchen utensils aims for a discerning customer that wants something simple but of exceptional quality.
Included in the set are a serving spoon, slotted spoon, wooden spatula, and a standard wooden spoon.
Bamber has coated each piece three times, in a special process that keeps the wood smooth, while also preventing any sticking or discoloration after long-term use.
The result is a set of utensils that simply feel better in the hand. This could inspire you to do your best cooking yet.
The exceptional quality carries right through to the overall design. These simple utensils are perfectly weighted and even professionals would love them.
Top Features of This Set
Flawless construction and finishing.

Unique rounded look and feel.

Four basic utensils you can use every day.
Everybody has their 'favorite' kitchen utensils. These Bamber spoons and spatula could soon become yours.
---
Healthy Cooking Utensils Set Tmkit Wooden Cooking Tools


You might not be familiar with the Tmkit brand, but you will remember it forever if you decide to invest in these beautiful wooden kitchen utensils.
This set contains just six pieces, but the craftsmanship is so impressive that you will want to use them every day. Included in the set are solid and slotted spatulas, solid and slotted spoons, and a handcrafted ladle.
Great for all cooking styles, this set is naturally non-stick and safe for all of your cookware.
Although more expensive than some other sets, the construction quality and finishing stand out.
There's also a natural wooden storage barrel to keep your countertop clean and looking great when you aren't using these.
Top Features of This Set
Beautiful wood grain, coloring, and design.

Includes a wooden storage barrel.

All of the essentials for everyday cooking.
Exceptional quality and effortless style come together in this wooden kitchen utensil set.
---
Riveira Wooden Cooking Utensils Set 5 Pieces with Silicone


Here's another great set from Riveira, this time with silicone handles to improve comfort and heat resistance. This set is designed for smaller homes where space is at a premium.
The colorful utensils will bring some life and style to the kitchen.
The silicone handles are designed to prop the utensils up when setting them down, which is ideal if you use these for serving.
If you're cooking, you can place these down quickly on a countertop without making a mess.
These utensils use lightweight yet durable natural wood that will last longer and retain its color for longer than most bamboo sets.
Top Features of This Set
Innovative 15mm elevated handles.

Fun and colorful.

Silicone handles add grip and heat resistance.

Affordable for every home.
This set stands out with bright and bold colors. The good news is that the utensils perform just as impressively as they look.
---
 

Luxury Tramanto Olive Wood Utensil Set 5 Pieces Spatula and Spoon

Some kitchens call for a luxury designer set of utensils. This Tramanto Olive Wood set can fill that niche.
Made from the highest quality natural wood, this set will bring life and a touch of distinction to any kitchen.
The angled heads of each utensil add both style and practicality, making it easier to flip, mix, stir, or take care of any of your cooking needs.
The luxury wood used for this set requires some extra care, so handwashing is a necessity.
They will last for years, justifying the higher price paid for something truly unique.
Top Features of This Set
Beautiful woodgrain finishing that will stand out in any kitchen.

Essential spoons and spatulas for any cooking style.

Designed to last, this is a true investment-quality set.
Great for upmarket kitchens, these wooden kitchen utensils look great and perform even better.
---
27 Pieces Silicone Kitchen Utensil Set in Grey


If your kitchen needs a complete set of utensils for all cooking styles and even baking, this 27 piece package will have everything that you need.
Nothing is left out in this set, with pieces ranging from spatulas and turners to slotted spoons, servers, and mixers.
The set also includes extras like silicone mitts, measuring spoons, a scrubber, tongs, and even a baster.
Ideal for a gift or to stock up the kitchen in your new home, this set combines the feel of wooden handles with high-end silicone ends that resist heat and protect your non-stick cookware.
Top Features of This Set
Packed with every utensil you would need for simple and complex recipes.

Quality construction designed to last.

Included storage cup.

Great for gifts or new homes.
With everything in one box, this set contains all the wooden kitchen utensils you could ever need.
---
WOODEN HOUSE Utensils for Cooking Set of 12



Wooden kitchen utensils add beauty and distinction to any kitchen. This set is designed to last a lifetime, with quality that surpasses the average set.
Paying slightly more will offer you a longer return on your investment, with beautiful spoons and spatulas that you can use anytime that you cook.
This set includes two spatulas/turners, a soup ladle, a slotted spoon, and a spork server.
Great for non-stick cookware and expensive pots and pans, these utensils are easy to clean and store.
They look great, thanks to a beautiful natural wood grain that will stand out on your countertop.
The set includes hanging hooks as well as a storage barrel to proudly display your high-end utensils.
Top Features of This Set
Outstanding craftsmanship and wood quality.

5 essential cooking utensils for all of your favorite recipes.

100% lifetime satisfaction guarantee.
Make a lasting investment in your kitchen with these wooden kitchen utensils.
Sansheng 20PCS Mini Wooden Spoon Set

This set is something a little different, with 20 mini wooden spoons for serving and cooking.
These wooden kitchen utensils are designed for use with your kitchen storage containers, for serving smaller ingredients at dinner parties, or for any time when you want beautiful small wooden serving or scooping spoons.
Great for candy, spice jars, and dry goods stored in bulk, these spoons will add some class and distinction to your kitchen.
Top Features of This Set
Quality natural wood construction.

Durable serving and scooping spoons for herbs, spices, tea, and more.

Beautifully handcrafted construction.
Buy this set of three-inch spoons if you're looking for the finishing touches in a unique kitchen utensil set.

---
Buy Wooden Kitchen Utensils From the Comfort of Your Home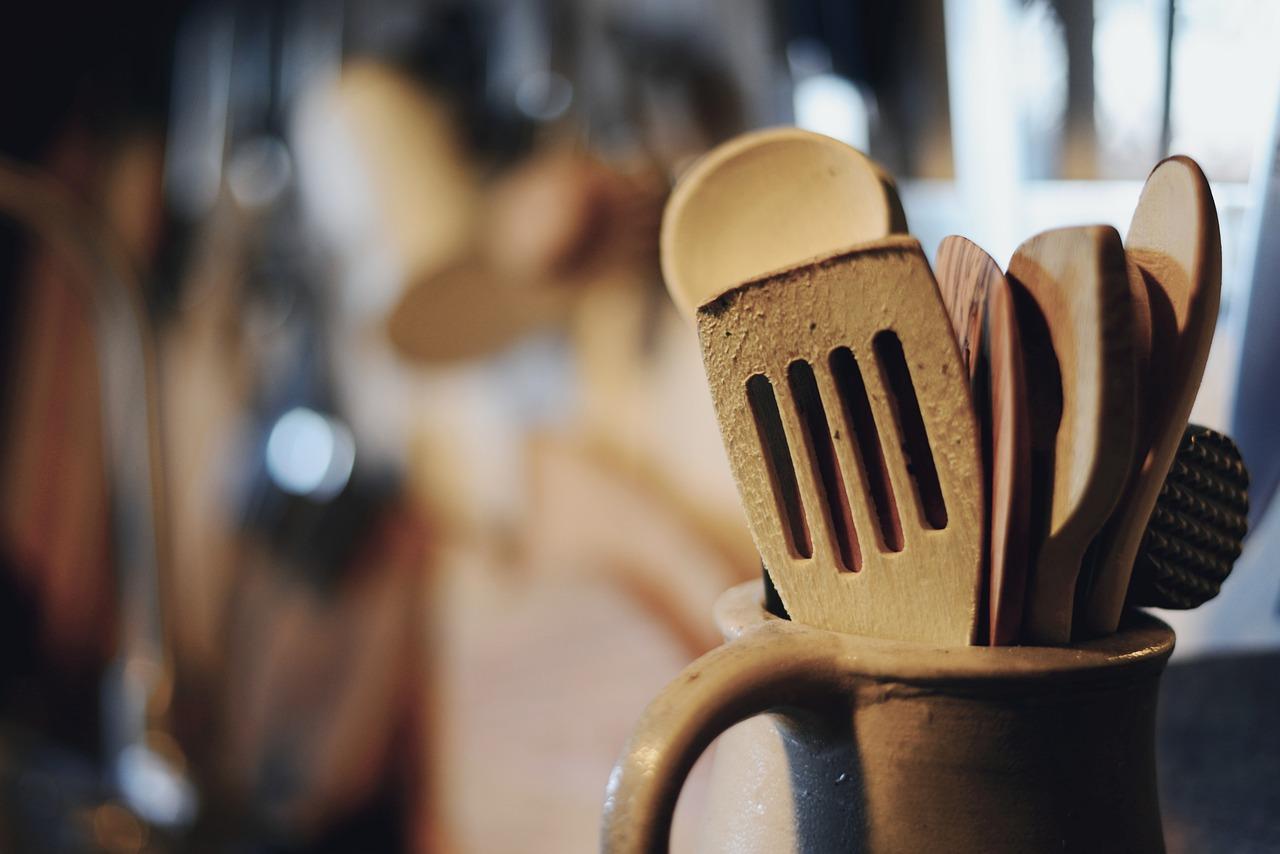 You don't even need to leave your home to buy any of the utensils we've talked about today.
Whether you want to purchase a gift for an aspiring chef, or if you're ready to upgrade your kitchen, you can buy online with confidence.
The convenience and cost savings of buying online can't be overlooked. You deserve the best utensils in your kitchen. Now you know exactly where to find them.