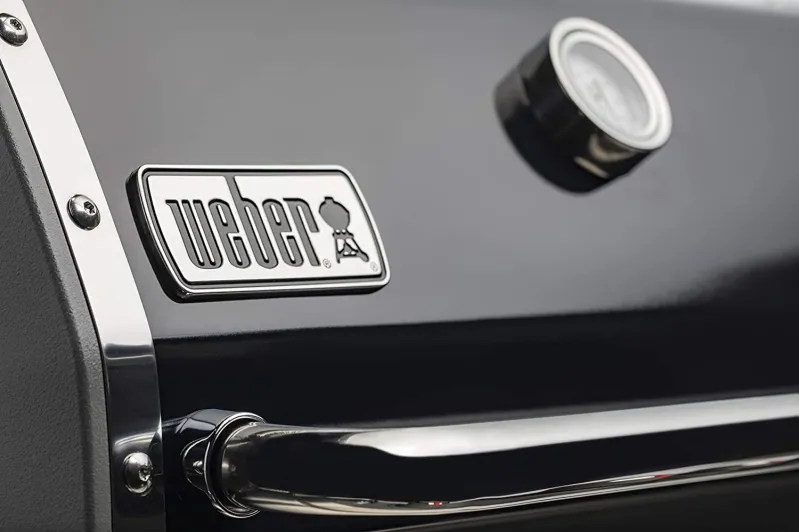 Whether you're the proud new owner of a Weber grill, or you're still deciding on the right one to buy, having the right accessories will be critical to getting the most out of your grill.
Accessories aren't just optional extras but can increase the versatility of your grill and offer you new ways to cook.
Here are all of the most useful Weber Gas Grill Accessories, and the reasons why they could benefit you.
Weber Racks for Cooking Ribs and Roasts
If you love cooking ribs, then you're going to need the right accessory to hold them inside your grill.
When cooking ribs, things can easily get messy and many grilling enthusiasts prefer not to lay their ribs directly onto the cooking surface.
With a rib rack, you'll be able to keep all of your ribs upright, while ensuring that they are perfectly cooked on all sides.
The 7648 Stainless Steel Rib Rack is one of the best Weber grill accessories. It has a simple design that is easy to clean, and because it's stainless steel, you won't need to worry about it getting damaged by high heat.
Weber makes another version of their popular rack, the Weber 6727 Stainless Steel Barbecue Rack.
This model is not just great for ribs, but it can also be used as a roast holder for cooking your favorite gourmet cuts of meat, without using a rotisserie.
Turning Your Grill into a Smoker with Weber Grill Accessories
Gas grills sometimes receive some unfair criticism, especially from enthusiasts who want the taste of food cooked with charcoal and wood chips.
What many people don't realize is, that almost any gas grill can become a smoker, just with a simple accessory:  Weber Smoker.
The box is essential for anyone who loves smoked meat, or even someone who is yet to try smoking and has recently purchased a Weber grill.
The Weber 7576 Universal Stainless Steel Smoker Box is a simple accessory that you can add to any hooded grill.
It allows you to infuse your food with flavor.
Not only wood chips can provide, and there's no learning curve at all when you first use the smoker box.
It allows you to easily add wood chips while you're smoking, and it's made from high-grade stainless steel that is the perfect match for the searing hot temperatures inside of a Weber grill.
Some smoker boxes on the market use closed-cylinder designs.
These can work to quickly add a smoky flavor to your food but they are all but useless when it comes to longer smoking sessions where you need to continuously check and top up your wood chips.
Because the Weber 7576 has a simple box design with a hinged lid, you can easily open it safely with a pair of tongs, and add new chips during your smoking session.
If you'll be using a smoker box with your grill, then you'll also need to make sure that you've got the best wood chips to get the authentic smoked flavor.
Weber produces thein smoker chips and being one of the top names in grilling and smoking you can be sure that you're getting some of the best chips that are available on the market.
Weber Hickory Wood Chunks are perfect to be used with your smoker box and add a classic smoky flavor that will be loved by any barbeque enthusiast.
These chunks have been specially selected and dried so that they already have the perfect moisture content to be used for smoking.
They're also highly affordable and can be easily broken down into smaller convenient pieces. Hickory is one of the richest flavors for smoking, and pairs well with poultry, beef, and pork.
If you are looking for a smoky flavor but want something rarer and more unique than hickory, then Weber Apple Wood Chips are a great place to start.
The flavor of applewood chips is subtle and has an element of sweetness.
These are not only great for red meat and game meat, but they can even add a unique element to grilled chicken and even grilled fish.

Premium Versions of Weber Grill Accessories
A successful grilling session is not just about the ingredients you use but also relies on the utensils that you have to perform the cooking.
Without the right utensils, you will find that grilling becomes frustrating, and in some cases, it can even be dangerous if you don't have the right tools.
There's an extensive line of premium Weber grill accessories that will be perfectly matched to your Weber grill, as well as any other charcoal or gas grill.
The best pack to start with is the Weber 6707 Stainless Steel 2-Piece Barbecue Tool Set. This pack includes two of the most important gas grill accessories, which you will use almost every time you fire up your grill.
The first accessory is a pair of stainless steel tongs, with a heat-resistant handle.
The second accessory is a high-quality stainless steel spatula.
Although these might seem like absolute basics, many people would be surprised at how many barbeque owners use incorrect or inadequate utensils.
The utensils that you would typically use in the kitchen would not be suitable for use on a grill, particularly if they are made from wood, silicon, or plastic.
In the case of silicon and plastic, the tools would quickly deform and possibly even melt when used over a hot grill.
With wooden accessories, the high temperatures can burn and discolor the accessories, making them unpresentable and unable to be cleaned, even after just one grilling session.
Quality Stainless Steel Accessoriemean means that heat will never be a problem, and the accessories will be easy to clean, even after a long grilling session.
Stainless steel accessories can last for many years, and they can be stored inside your grill cabinet after cleaning, just as long as you keep your grill covered and in a sheltered area.
Keeping your grilling accessories separate from your normal kitchen utensils makes sense, and because these Weber Grill Accessories are so affordable, there's no reason not to buy this pack for your new or existing Weber grill.
Rotisserie Accessories for Perfect Chicken and Roasts
If you're the owner of a mid to large-sized gas grill, then you would be doing yourself a disservice if you did not invest in a rotisserie kit.
With a rotisserie, you can cook your favorite premium cuts of meat and poultry over a hot grill.
With a rotisserie kit, you won't need to worry about manual turning, and you can let your food slow cook so that you can lock in all of the flavors while achieving a perfect barbecue char around the outside.
You could even use a rotisserie in conjunction with the Weber smoking box, providing you with all new flavors infused into your favorite food.
If you own a Weber grill, then the best way to cook rotisserie style is with an official Weber kit.
There are three different kits available to suit various models, so make sure you select the right one to match your grill.
The Weber 7652 is a rotisserie kit that suits models in the Genesis range, including the Genesis II 200 and 300 series models.
If you're the owner of a Spirit series Weber model, then the Weber 7614 will be the perfect fit for your grill.
It suits Spirit 200 and 300 models. For the larger Genesis 400 and 600 models, the Weber 7653 is the ideal rotisserie kit.
Each one of these Weber grill accessories comes come with electronic motors, so your cooking will be fully automated.
Simply control the temperature and add smoking chips if desired.
Temperature Monitoring for Your Weber Grill
Temperature is a critical aspect of cooking.
Temperature is not just about food safety but can also influence the flavor and texture of your food.
While many of the premium Weber gas grills do come with hood thermometers, these will only tell you about the temperature inside the grill, but not the temperature inside of your meat.
If you want to check the temperature of the whole roasting chicken, roast pork, beef, or whatever it is that you're cooking, then you'll need a BBQ Meat Probe.
If you're looking for a thermometer that is simple to use, but that also provides more features than any other meat thermometer you've used in the past, then the Weber iGrill 2 Thermometer is an excellent option and one of the best thermometers currently on the market.
The iGrill 2 can connect to smartphones via Bluetooth, to quickly allow you to check temperatures, even if you're not right next to the grill.
The great thing about using a wireless probe is that you won't need to open the hood of your grill to check up on things.
This stops heat from escaping and allows you to closely regulate your temperatures.
It's perfect for slow roasting, and for smoking.
This Weber iGrill 2 Thermometer package comes with four compatible meat probes.
Weber 675INSTANT-READ Thermometer
If you simply need a reliable thermometer but don't need the flexibility or the features that come from a smart device, then you can simply use the classic Weber 6750 Original Instant-Read Thermometer.
This is one of the most popular Weber grill accessories and has been positively reviewed by thousands of satisfied customers since it was first released.
It has a clear day and as the name implies, it displays temperatures immediately after the meat has been probed.
Keeping Your Grill Covered
A gas grill represents a significant investment, and it's one that you will want to protect.
The advantage of buying a quality grill like a Weber is that you won't need to think about replacing it every grilling season.
Weber grills are made from high-quality materials and are designed to last for years when properly cared for.
If you are unable to store your grill in a shed or garage, then the best way to store it is in a sheltered area, while using a weatherproof grill cover.
To get the perfect fit for your grill, make sure that you purchase original Weber accessories.
The Weber 7138 Premium Grill Cover has been designed especially for Spirit 200 series gas grills but would also be suitable for other grills with similar dimensions.
The fabric protects your grill from rain, humid air, and debris, and it will help to prevent corrosion and staining of your grill when it is not in use.
Even though the material is water-resistant, it's still breathable so condensation won't be a problem.
The material is also UV protected so you won't need to worry about sunlight ruining the look of your original Weber grill accessories.
If you have one of the larger Weber 220 or 300 series grills, then the Weber 7106 has been designed to fit your grill.
For the larger Genesis series grills, you can choose the Weber 7107 Grill Cover.
All covers use the same high-quality materials and are fitted to match Weber's products.
You'll Love Your Grill Even More with the Right Accessories
Owning a Weber grill means that you'll have one of the best grills for outdoor cooking.
If you want to protect your investment while also getting the most out of it with Weber grill accessories like smoker boxes and rotisserie kits, then you should always aim to purchase original Weber Accessories.
Quality and compatibility are guaranteed, and you'll have peace of mind knowing that you're using the best accessories that have been designed specifically for your favorite grill.