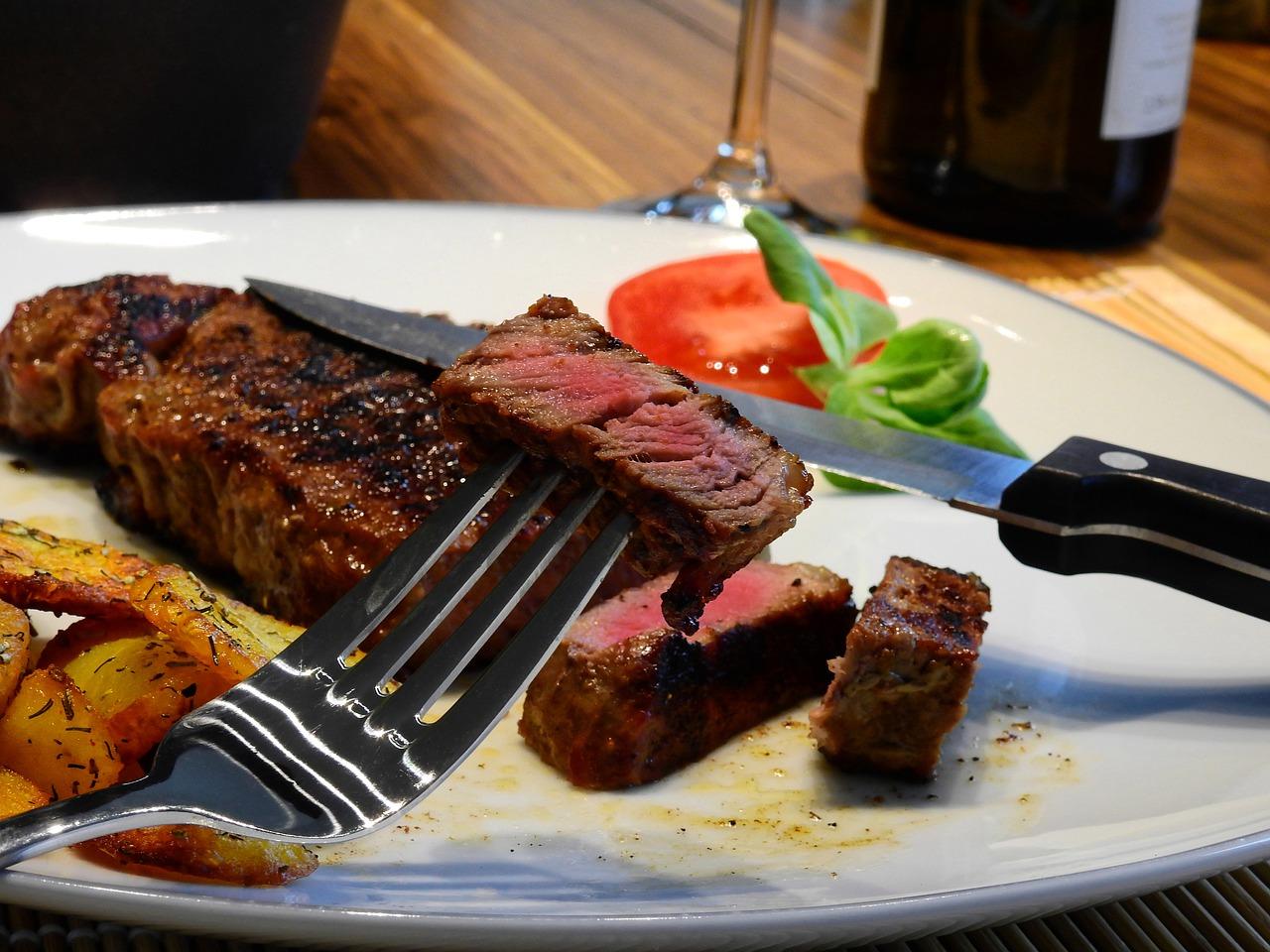 If your home is without a set of steak knives, then you are missing out on the best possible dining experience.
A set of the best steak knives can make it much easier to enjoy the foods that you love, and this includes more than just steak.
Serrated or straight-sharpened steak knives can be used for any kind of meat, including BBQ and game meat, poultry, and even fish.
They can also be used for vegetables to make life easier.
If you want to elevate your dining experience, give your guests something special to use, or simply have the best knives for enjoying your favorite grilled food, then you will need to know about the best steak knives that you can buy today.
We've compiled this list of suggestions based on price, quality, and overall aesthetic appeal.
If you've been looking for steak knives but have found it difficult to settle on a set that would work for you, then this list will narrow down the selection and help you to decide today.
Utopia Kitchen 8-Piece Stainless Steel Steak Knife Set

The Utopia Kitchen 8-Piece Stainless Steel Steak Knife Set is one of the most affordable sets of eight knives that you will be able to find for sale today.
Even so, they are still amongst the best steak knives when you are shopping on a budget.
The knives in this set are made from high-quality 42420-gradetainless steel with a 13% chromium content.
They are also high cain rbon, allowing for increased strength and durability.
The knives are polished to a high sheen and would look excellent when used in an elegant and modern home.
The knives use a full tang design, just like what you would find on more expensive knives.
The handle is formed from the same piece of stainless steel so there are no rivets to fail, and no synthetic material to wear down over time.
These knives feature a compound serration that becomes wider towards the tip of the blade.
This is unique in this price range and it allows each knife to be more versatile.
You could purchase this set for use as a replacement toforour everyday table knives.
The low price means that there's very little risk in this purchase, and you will be surprised by the exceptional quality, materials, and cutting abilities.
If you need your first set of steak knives, then this set is an excellent place to start.
---
IsheTao 6-Piece Stainless Steel Steak Knife Set
Full tang, 420J2 grade high carbon stainless steel, a one-piece design, and a high-quality full blade serration, the IsheTao 6-Piece Stainless Steel Steak Knife Set is another one to consider when you want the best steak knives today.
These knives have an ergonomic handle, and excellent balance, and the micro-serration is perfect for all kinds of meat and other standard ingredients.
When you need affordable knives, this set is a great option, and they are even dishwasher safe as long as they are thoroughly dried by hand afterward.
Not every set of affordable steak knives is offered with a lifetime warranty, which is one of the reasons why the IsheTao knives are so competitive.
If you want the confidence of knowing that you are always covered for defects, but still want a set for under $20, then this is the one for you.
Mozzbi Premium Serrated Steak Knives
Aside from the premium set that you will find at the end of this list, none of the other best steak knives come with a presentation box.
The Mozzbi Premium Serrated Steak Knives Set does, which makes it ideal for gift giving, or you can simply use the box for storage at home.
These are some of the best steak knives under $30, featuring a full tang design, triple-riveted handle, and a classic aesthetic that could look great in homes of any style.
These are perfect for steak and all types of meat and poultry, and they can even be used to cut bread rolls and buns.
Mozzbi knives use a standard hollow serration which runs the full length of the blade. This makes them ideal for larger pieces of meat, particularly grilled and BBQ meat.
If you are unsatisfied with the partial serration that is found on some steak knives, then this could be the perfect set for you.
The only downside to this set is that the knives only come with a 1-year warranty, which doesn't compare to the warranty from some manufacturers (J.A. Henckels being a prime example).
Even so, the knives are made to a high standard of quality, most consumers will never find the need for warranty service with this set of modern steak knives.

---
J.A. Henckels International 8-Piece Steak Knife Set

Henckels is a brand that you may be familiar with if you have purchased or researched the best steak knives.
This brand produces some of the highest quality knives that are available on the market today, however, they are also known to be particularly pricey.
Knives marketed under the 'J.A.' Henckels brand are more affordable but still have the backing and all of the knifemaking knowledge that comes from the parent company.
If you want a set of knives that has real pedigree and tradition, then this set is worth a closer look.
All knives in the J.A. Henckels International 8-Piece Steak Knife Set are made from a single piece of stainless steel, with the handle being made from the same material.
This is a modern design and while it may not be the most elegant, it is one of the most practical and hard-wearing.
Because there is no additional handle material, you won't need to worry about the knives coming apart or otherwise failing in the future.
These knives have a micro-serrated edge that will work as well in ten years as it does today. If you simply want quality for a great price, then this set is an easy decision.
The Henckels brand inspires confidence and these knives come with a highly competitive lifetime warranty.
Amazon Basics Premium 8-Piece Steak Knife Set
If you are looking for the essentials for your home and still want great quality then the Amazon Basics prPremium-Piece Steak Knife Set is a great starting point.
These knives are forged rather than stamped, and they use a full tang design to eliminate breaking and failure where the handle meets the blade.
These knives have a classic aesthetic that would look good for home use, or they could even be used in commercial scenarios.
The design of these knives offers exan cellent balance that can compare with even some of the more expensive best steak knives on the market.
If you want quality but aren't quite ready to pay the price premium, then this set is one of the obvious choices.
The mimicro-serrateddges will last a lifetime with normal use, and the blades will never discolor or stain when they are properly cleaned and cared for.
Whereas some knives use a fufullytainless steel design, including the handle, the Amazon Basics knives use a traditional riveted handle that will be more appealing to some people.
If you prefer a classic knife over some of the more modern designs, then this set would be perfect.
Amazon knives come with the backing of the world's largest ecommerce company, and they have been favorably reviewed by consumers.
From more than 1,300 online reviews this set can boast an average 4.2/5 star rating.
Comfort and elegance isarehere these knives excel, making this the ideal sesettingor your first steak knives.
They could also be used as everyday knives if you regularly serve meat and solid vegetables that would benefit from the cutting power of a hihigh-qualityerrated blade.
---
Wusthof 8-Piece Stainless Steel Steak Knife Set with Wooden Gift Box
When you want exceptional quality and presentation, Wusthof is a brand that you can trust.
This Wusthof 8-Piece Stainless Steel Steak Knife Set with Wooden Gift Box is a significant jump in price from all the other sets that we've considered, but it is also undoubtedly the very best steak knife set that you will find on this list.
If you are going to be spending more on knives, then you should know what you will be getting.
Price is determined not only by materials but also by design and construction quality.
The knives in this set have been forged from high carbon 18/10 stainless steel.
This in itself is not unique, and you will find many budget knives that use a similar gauge of stainless steel.
The big difference here is that the knives are forged, rather than stamped.
The majority of all budget steak knives are stamped to keep the production cost low.
Stamped steel is cut from larger sheets before the knives are shaped and hardened. Stamped steel is an
OK solution for cutlery, but it is not as strong or as good looking as forged steel.
Because the Wusthof best steak knives are forged, they will easily last for a lifetime, there is no chance of breakage, and defects are virtually eliminated.
You pay quite a premium for this set, but the peace of mind would be worth it.
The Wusthof knives have a better balance than most steak knives in the budget range, and this is immediately noticeable when you pick up and use the knives.
They simply feel better in hand and have a more premium heft to them.
Balance refers to the weight distribution between the handle and blade, and an unbalanced knife could cause fatigue and would simply be uncomfortable for longer dining sessions.
The micro-serration on these best steak knives is much finer than what you would find on more affordable sets, and this results in easier cutting for any type of meat.
Even rarer stake and game meat will be no challenge for the Wusthof best steak knives.
This set also comes in a gorgeous gift/presentation box.
The box is stained with a beautiful mahogany finish, and would be perfect for weddings or as a high-quality gift on any occasion.
The box can also be used as permanent storage for the knives and opening it will remind you of the premium quality of the set.
At the end of the day, not everybody needs the quality that can be found in this set.
If you need to stick to the lowest possible budget, then you will find some of the best steak knives in the sets that we've already covered.
If, however, you want a premium set that can be taken out on special occasions, and that will never need replacing, then the Wusthof 8-Piece set would be an excellent investment and would provide excellent dining and superior cutting for a lifetime.

A Great Selection to Find the Best Steak Knives for Your Home
Any of the knives on this list would be great for home use, and they could even be used for commercial restaurants and bars when purchased in sufficient quantities.
All the knives featured have a similar level of quality, but they can differ in overall design and aesthetic appeal.
To find the perfect set for you, it's important to consider the price and then your styling needs.
We've included a set of premium knives to give you an idea of how things change when you start moving into the higher end of the market, but keep in mind that you don't necessarily need to spend a lot to get knives for everyday usage.
Adding steak knives to your home will give you effortless cutting with your favorite meat, and if you've been living without steak knives up to this point, then you will find that dining becomes much more convenient, even when you make just a small investment in the best steak knives.