Perfect Flame is a manufacturer of propane and natural gas grills that are distributed online and by several large outdoor appliance centers throughout North America.
Perfect Flame grills offer competitive pricing with attractive designs that compete with more expensive grills on the market.
If you're the owner of a Perfect Flame grill, then it could be coming around the time that you need to start replacing your Perfect Flame grill parts.
The components on a grill are key to longevity, and replacing some of the most important parts can make your grill safer, more reliable, and ready for another long summer of outdoor grilling.
We've put together a guide of some of the most common Perfect Flame grill parts, along with some other useful accessories that will help you to get the most out of your investment.
The Most Common Grill parts and Finding Replacements
No matter what kind of grill you own, there will come a time when components will fail.
All grills operate under high temperatures, and this can put a strain on even top-quality stainless steel parts.
Some parts like the burners and burner guards are more likely to deteriorate because these are under constant heat stress when the grill is being used.
Cooking grates and support brackets can also deteriorate and can require replacement after a few cooking seasons.
You can explore a complete range of Perfect Flame grill parts available to buy today, and we'll be taking a look at some of the ones that are often replaced by grilling enthusiasts just like you.
Replacement Cooking Grates
The cooking grates, also known as cooking grids, are the key to achieving perfect results on your barbeque.
The grids are the direct surface for heat transfer, and a quality grid design will prevent food from falling through into the grilling chamber.
A grid should be long-lasting and made from high-quality steel or cast iron to ensure that it can withstand the stress of a hot firebox.
There have been numerous Perfect Flame models released on the market in recent years, and it would be impossible to cover all of them in a single guide.
Instead, we will offer a selection of parts that are available so that you can get an idea of the product, and have some guidance when you are performing a search for your exact model.
Like many manufacturers, Perfect Flame offers a mostly standard system that can be used across several different models.
To save on manufacturing costs, the grid designs are typically modular and can be interchanged with different grills in the range.
Due to the factory of origin, you will find that Perfect Flame grill parts are also suitable for similar models from Broil Chef, Master Chef, BBQ Tek, and Great Outdoor.
If you need replacement cooking grids, then you will likely be looking for the 17-3/4 inch x 10-7/16 inch design.
If you want to confirm your sizing, simply remove and measure one of the cooking grids that you are looking to replace.
This Perfect Flame SLG2006C cooking grid replacement part comes in a set of three and is suitable for other models including the 14103, SLG2006CN, SLG2007DN, and SLG2007D.
This is an iron cooking grid part that offers excellent heat retention and transfer and can create an attractive sear pattern when you are cooking both meats and vegetables.
The grids are easy to clean and you can do so by using any barbecue scraper and cleaning brush.
A set of three can allow you to replace all of your grids at the same time, or you could simply replace the damaged or deteriorated grid and keep the remaining grids as spares.
If you are storing these grids for use as spare parts, make sure you keep them in a dry environment where they won't be damaged by humidity.
Keeping them wrapped in a towel or even newspaper will help to prevent any corrosion from developing while they are not being used.
If you have a 5 burner model with the larger 19-1/4 x 15-1/2 inch cooking grids, then you can use these cast iron Perfect Flame grill parts.
These are authentic replacements that can be directly swapped out.
Again, be sure to measure your current cooking grids so that you can order the correct replacement size.
Replacement Perfect Flame Gas Burners
Just like the cooking grids, the gas burners on your grill are essential for a great cooking experience.
No matter how well you clean or maintain your grill, the gas burners can become worn and may fail over time.
Even when you are using covers, the burners can collect grease that spits from the bottom of the grill, and this will cause blockages and uneven flame across the grill.
An uneven flame will lead to a poor cooking experience, which is why most regular grillers will replace their burners every 3 to 5 years.
Depending on how often you use your grill, replacement time could come earlier.
When buying Perfect Flame grill parts, you should always insist on high-quality replacement burners. Low-quality burners can provide poor flame that uses gas inefficiently.
They could even be dangerous, leading to flare-ups or even damage to your grill.
Always check your Perfect Flame model number against any gas burners that you are considering.
Perfect Flame grill parts like the gas burners were originally made from stainless steel to ensure quality and long life.
When buying replacements, don't settle for any other material.
This pack of 5 stainless steel gas grill burners has been designed for almost all Perfect Flame models, ranging from the 24137 model, right up to the SLG 2008 A.
In total, this set is compatible with 28 different Perfect Flame gas grill models.
The burners have been reviewed favorably by consumers, with some noting that they perform better than the original units installed when the grill was new.
Whether you need to replace a single burner or all five on your grill, it makes sense to buy a five-piece pack.
The price is reasonable and even if you don't use them all you will be able to keep spares.
Make sure you keep any unused burners wrapped and stored in a dry location where they won't be damaged by direct moisture or humidity.
The burners measure 16-1/2 inches by 1 inch, and you could compare the measurements to your grill to be sure of their suitability.
The same burners are also available in this four-pack from Zljoint, although we recommend purchasing the set of five, simply because the price difference is minimal, and it would make more sense to have extra spares in the future.
Buying Packages That Include Heat Plates as Well as Burners
If you need to replace Perfect Flame grill parts including both your heat plates and burners, then you could choose a pack that has both.
This will save on shipping costs and overall price when buying separately.
Keep in mind that heat plates are not as interchangeable as the burners themselves, so you'll need to check your model against the dimensions and model numbers of any replacement parts that your order.
This BBQ Factory Replacement Perfect Flame package includes five burners and five matching heat plates.
The heat plates are made from steel and are finished in porcelain enamel, and the burners are made from high-quality stainless steel.
Burners are the standard 16-1/2 x 1-inch sizing that is common to most natural gas and propane grills, and the heat plates measure 16-1/8 x 3-7.8 inches.
Manufacturers of Perfect Flame grill parts use model codes as a guide, so always measure your parts.
This replacement part set of four burners and heat plates is another option suitable for models like the 24137, 24138, 2518SLN, and 2518SL-NG.
A Complete Set of the Most Common Perfect Flame Grill Parts
Burners, heat plates, and cooking grids are the parts that are most commonly replaced, and you may find it more convenient to get everything in a single package.
This replacement kit from Direct Store is a great example that includes all of the most commonly replaced Perfect Flame grill parts, and it comes in at a reasonable price that would be ideal if you are looking to save money by ordering everything at the same time.
The kit includes stainless steel burners, coated plates, and cast iron cooking grids.
This particular kit is suitable for the Perfect Flame 720-0522 5 Burner model, although the parts can be interchanged with several different Perfect Flame models and even models from other manufacturers like Charmglow.
Main Burner Support Brackets
The main burners need to be supported by brackets to ensure safe operation.
If your brackets are corroded, bent, or otherwise damaged, then it's time to replace them.
Three Products That Every Grill Owner Should Have
With Perfect Flame grill parts, you can ensure that your grill is always running at its best.
With the right accessories, you can make cleaning and grilling easier, and you'll get much more out of the upcoming grilling season.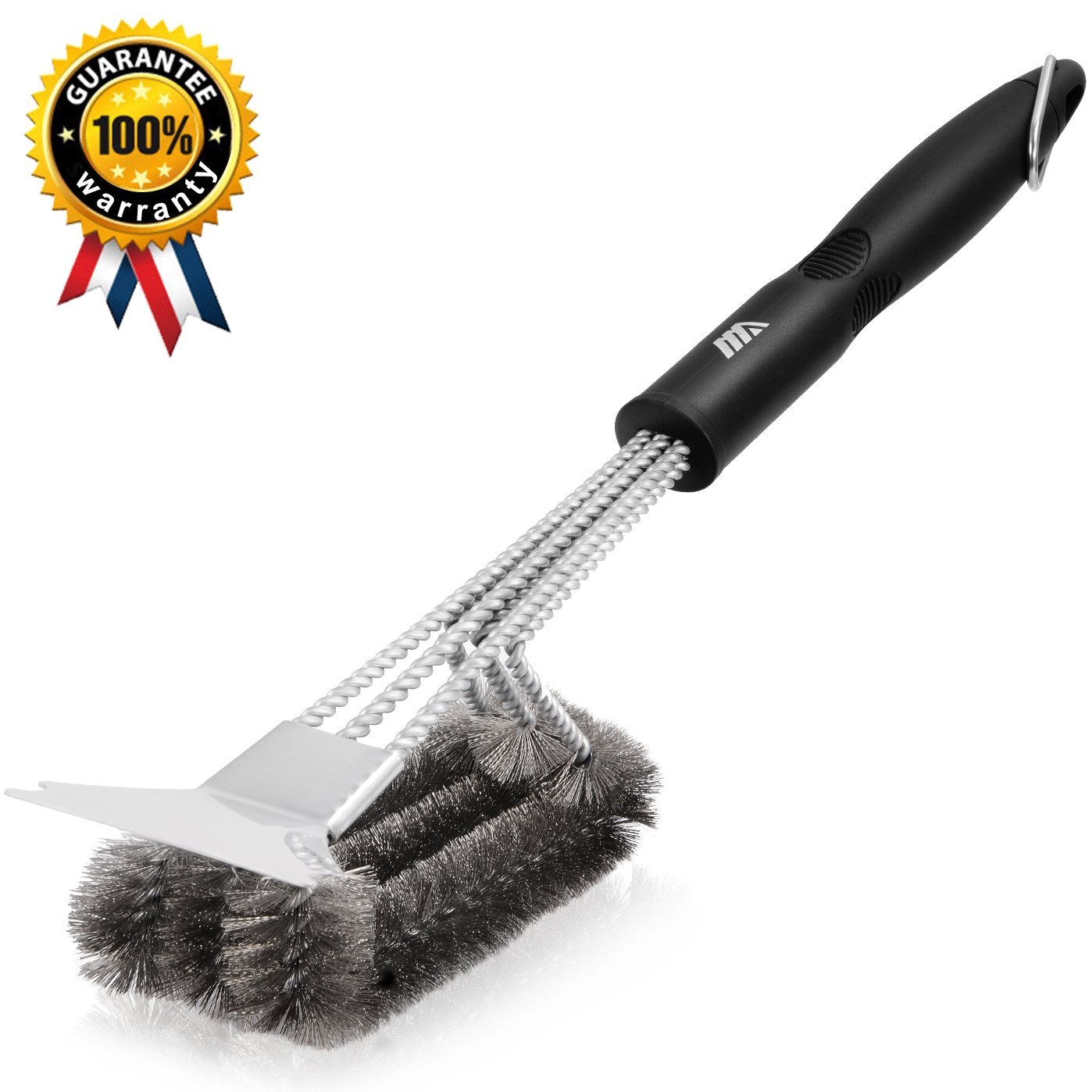 Keeping your grill clean is the best way to preserve the metal parts, and you should perform a deep clean at least twice every season.
Parts like the cooking grids should be cleaned after every grilling session to stop any degrading of the material.
A grill scraper and brush are an essential accessories to have, and this Adoric Life Clean Grill Brush with Scraper is one of the most affordable options that perform scraping and scrubbing in a single tool.
Highly recommended by users, this is one of the best brushes that you can buy for a Perfect Flame gas grill.
Keeping exterior and interior surfaces free of grease is the best way to prevent flare-ups. Wiping away grease will also keep your grill looking its best.
A strong degreaser is something that you should always keep on hand to make cleaning easier.
It can eliminate the need for washing with soap and water after most grilling sessions.
Weber makes a quality grill degreaser designed for their models, and it will also be suitable for your Perfect Flame grill.
This option is nontoxic and is one of the highest-rated grill grate cleaners available today.
This product can also be used to remove stubborn grease residue from exterior grill surfaces.
For exterior stainless steel surfaces, a polish can make your grill stand out. If you want your outdoor living area to look great this summer, then you can try the Weiman Gas Range Cleaner & Degreaser.
Although designed with Weber Products in mind, the formulation will work on any stainless steel surface, including your Perfect Flame grill.
Explore The Complete Range of Perfect Flame Grill Parts Today
We've covered just a few of the available parts for your Perfect Flame grill.
Always remember that slight variances in models can mean different sizing requirements, so take your measurements before placing an order for Perfect Flame grill parts.
You can view the complete range of Perfect Flame replacement parts here today, and order online from the convenience of your home.
With regular maintenance, you can extend the life of your grill far beyond the manufacturer's warranty.
The small amount of work needed to replace grill parts will potentially save you hundreds of dollars and leave you ready for a stress-free grilling season this year.