If you're looking for a safer and more convenient way to grill on weekends and holidays, then you should take a look at the various electric grills that are available on the market.
The technology has advanced significantly in recent years, as we can see with the Char-Broil Grill. It offers a large grilling surface and a striking design that would look perfect on any deck or patio.
It uses advanced infrared technology to ensure perfect cooking temperatures so you can grill just like you would on a traditional barbecue.
If this sounds like something that you could use at your home, then it's time to take a look at the full review.
Char-Broil TRU Infrared Electric Grill Product Features
Grill uses infrared heating technology for even heat.

Large grilling area of 320 square inches.

High-quality hardware including porcelain coated grates.

The grill stand uses wheels for easy portability.

Low carbon footprint with no gas or charcoal required.

Can be used in areas where gas or charcoal cooking is not permitted.
Unboxing, First Impressions, and Setup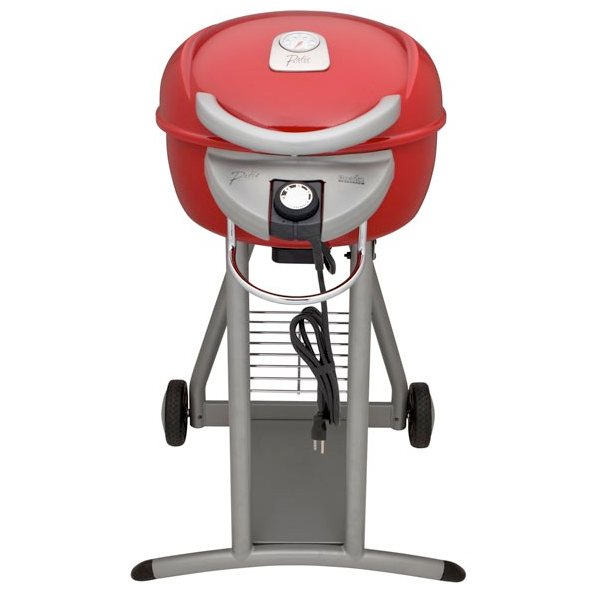 The Char-Broil TRU-Infrared Patio Bistro Electric Grill can be ordered online and is designed to be set up at home with a little effort.
Everything that you need to get started comes in the box (barring some small tools), including the grill itself, an operating manual, and a complete guide for assembly.
Compared to some other electric grills on the market, this model can take a little longer to assemble, but you'll still be looking at around 30 – 45 minutes before you're all set up and ready to go.
Compared to a gas or charcoal grill, this is less time than it takes to prep for cooking, and you'll only need to do the assembly once.
When you take this grill out of the box and get it all set up, you'll be impressed by how good it looks and feels.
Even the screws and hardware are of top quality, and you'll feel as if you're handling a far more expensive piece of equipment.
The special coating on the surface of the grill helps to make it feel premium, and you'll get a good sense that this is a grill that's going to last.
Even compared to more expensive gas and propane grills, it can hold its own, and it's a great feeling to get something out of the box and set up when it feels as good as the Char-Broil electric grill does.
You'll need to give the grilling surfaces a quick clean before you cook for the first time, and you can do this in your kitchen with some soapy water and a non-abrasive kitchen sponge.
After that, you're ready to start cooking.
The ease of setup is definitely a huge benefit of owning a grill like this, and we'll get into some of the other benefits in the next section.
Overall, first impressions are very positive. You'll feel that your purchase is a real investment and the overall look and feel of quality is outstanding.




What are the Benefits of Owning an Electric Grill like the Char-Broil TRU-Infrared?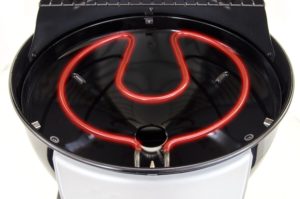 Whether you want to cook outdoors for yourself, the family, or for a small gathering of friends for some al-fresco dining, a grill is an excellent cooking appliance to own.
The problem with traditional grills is that they can be hard to maintain, and actually cooking on them can be a laborious process.
You'll need to use either gas or charcoal, you'll need to carefully maintain the temperature while cooking, and there's usually quite a lot of messy cleanup involved.
With the Char-Broil electric grill, you won't need to worry about fuel when you're cooking. It can run from any standard household power outlet, and you simply plug it in, wait for the heat uptime, and you're ready to start with your favorite barbecue food.
The Char-Broil TRU-Infrared Patio Bistro Electric Grill isn't just an ordinary electric appliance, because it uses infrared technology for the heating surface.
This allows for better application of heat and eliminates the flare-ups that are common with traditional grills.
Infrared technology also means that the food is heated in a way where it is not easily burnt on the outside, so you'll lock in moisture and flavor.
Infrared heating also allows for heat to penetrate inside of the food easily, so food like steaks, chops, and sausages, are cooked thoroughly, and rare or medium-rare cooking temperatures are achieved more consistently.
If you live in a condo or a townhouse, then you may have restrictions regarding outdoor cooking appliances.
Gas and charcoal can be hazardous when used in small outdoor areas, so an electric grill is an ideal alternative.
Apartment cooking on a deck or balcony is also much easier with an electric grill.
Even winter cooking is easier if you're cooking in a covered area, so you could grill during the autumn and winter when most people wouldn't want to go to the effort of priming their charcoal or firing up a gas burner.
Because this grill incorporates a dome lid, you could even slow cook some larger cuts of meat or even a whole chicken.
It's possible to use woodchips in this grill, or you could even use smoker pellets inside a barbecue smoking cylinder.
There's plenty of versatility for different cooking styles and ingredients.




How Well Does It Perform When It Comes to Cooking Classic Barbecue Food?
With the easy setup and versatility, you'll still be wondering how this grill can actually perform when it comes to cooking the food that you love.
You should be happy to learn that it does a great job with all of the different types of food that are cooked in a traditional barbecue.
The domed lid is an important part of the design, allowing for radiant heat to be kept inside the grill for food that is perfect both inside and out.
There are two cooking racks inside the grill, so you could cook food like meat and baked potatoes on the bottom rack while leaving skewered vegetables or even bread rolls on the upper rack.
The upper rack can also be used to keep cooked food warm while you're cooking raw food on the main cooking surface.
The technology that is used in this electric grill is a large part of what makes it so effective at cooking.
As we've mentioned, infrared heat allows food to be penetrated without charring or burning the outside surface.
This allows for thorough cooking without taking too much moisture out of the food. If you're someone who likes to eat food with less grease, then the Char-Broil electric grill will be your new favorite appliance.
It collects excess grease into a built-in tray, so your final results will be leaner when compared to cooking in a pan or on a solid hotplate.
You'll still be able to achieve a nice sear on all of your meat cuts, and the temperature is adjustable so you can get the exact conditions for anything that you want to cook.
One thing that this grill has over some of the entry-level electric grills, is the incorporated thermostat on the dome lid.
This allows you to get the inside up to the perfect temperature before putting your food items on the grill, and it's also essential if you're cooking something larger like bone-in chicken, or even a grilled pizza or whole chicken.
The lack of a thermostat can be a deal-breaker on some other grills on the market, so if this is one of your requirements then you'll appreciate the Char-Broil electric grill even more.
While it offers a lot and performs well with its strengths, there is a downside to using a grill of this design.
Because the heating comes from below the cooking grate, it's not ideal for cooking with the top opened.
Overall heat can reduce quickly, and can sometimes mean longer cooking times.
If you do want to be able to cook without the top, then there are other alternative electric grills that can do a better job.




Construction Quality and Product Appearance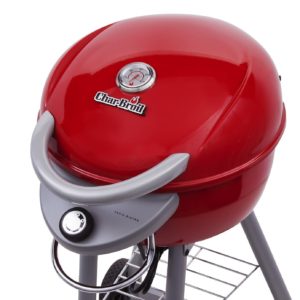 In the unboxing, it was mentioned just how good this grill looks and feels, and that's an important part of the whole package.
If you're going to be investing any amount of money into a cooking appliance, then you would rightly expect something that is made to last.
The quality is apparent as soon as you start taking the individual pieces out of the box, and once it's fully assembled you will see just how well this has been designed and constructed.
There are no flimsy pieces on the stand, the wheels on the base make it more convenient and presentable, and the feel of the cooking dome and underside of the grill is premium in every sense of the word.
You won't mistake this for a $300 or $400 grill, but the quality does go beyond the price that you pay and is much higher than what the average consumer would expect.
Because it's a significant step up from a snap-together indoor/outdoor electric grill, you will need a few basic tools during assembly.
A Philips screwdriver, 3/8-inch, and 5/16-inch nut driver, and a small adjustable wrench will be used during the assembly.
Pros and Cons of the Char-Broil Electric Grill
There's plenty to love with the Char-Broil grill, however, not everything is perfect. T
hese are the best and the not-so-great features that you'll need to consider before purchasing.
Pros
The built-in thermostat allows you to easily maintain the temperature with the lid closed.

The infrared technology does a good job of cooking food thoroughly without burning the surface of the food.

It's an open grill so it collects excess grease for healthier cooking.

Construction is of high quality and the entire grill feels very premium.

The grill heats up quickly with the lid closed.
Cons
Opening the lid can result in a rapid temperature drop in cold conditions.

Cooking with the lid open is not ideal for this style of grill.

If you are looking for the flavor of flame barbecued food, then you won't achieve that with an electric grill.

Cleaning around the inside of the grill can be cumbersome, as the heating element is not removable.
What do Owners Have to Say About this Electric Grill?
There are more than 1200 verified customer testimonials available online, and the average rating is 4 / 5 stars.
Overall the feedback has been positive, with owners appreciating the build quality and design, the integrated thermostat, and the ability for this grill to cook food thoroughly with the lid closed.
More than half of all reviews are 5-star reviews, and 75% of all reviews are above 4 stars.
Some users were disappointed that the grill cools too quickly when the lid is opened, and some found the initial assembly to be time-consuming.
The overall positive response from consumers is further evidence that this is a quality grill, even if it has some flaws.
It can replace a traditional grill in a small home and is suitable for condos, apartments, and townhouses.
Conclusion and Final Recommendation
It's difficult to find the perfect grill, but if you're looking for something that can be used where other grills are not practical or not allowed, or even if you want to eliminate propane and charcoal from your cooking, then the Char-Broil TRU-Infrared Patio Bistro Electric Grill is a compelling option.
Cooking quality with the lid closed is excellent, it features great build quality, and it's simple to use and will work anywhere that you have electricity
.If it doesn't concern you that you won't be able to cook on an open grill as easily as you could with a directly heated grill plate, then the Char-Broil Patio Bistro is good value for money and will be a purchase that you'll appreciate more as time goes on.