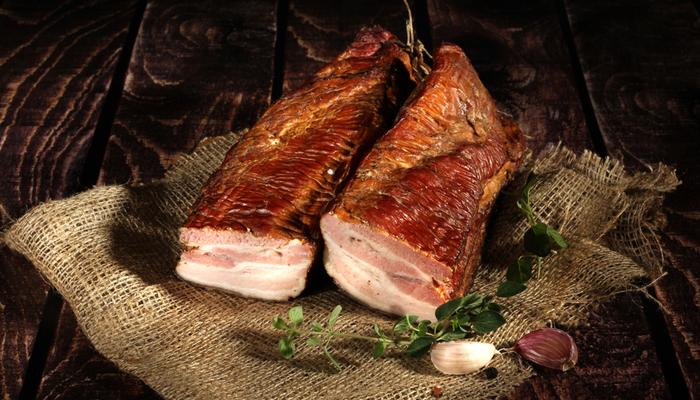 Smoking is coming back in a big way, and of course we're talking about smoked meats and BBQ here!Smoking in the past has been difficult, time intensive, and only the hardcore BBQ enthusiasts have typically performed this unique cooking method.
Today, with more products on the market, it's possible to start smoking your own food at home, giving you the authentic smoky flavor that is enjoyed by outdoor cooking lovers around the world.
If you are choosing a smoker then there are a number of options that you could consider.
Most recently, we've seen the best electric smokers appear on the market.
Simple to use, these are often marketed as being the best choice for modern families.
The other options include wood and charcoal smokers, which are more traditional but are sometimes seen as more difficult.
The fact is that the best electric smokers and best charcoal smokers do the same thing in different ways, and with different results in terms of flavor.
If you're someone who believes that charcoal is the only way to cook good food outdoors, then you're going to want to consider the Weber Smokey Mountain Cooker over even the best electric smokers on the market.
This charcoal fired smoker is relatively compact, simple to use, and it's made by one of the most famous companies in outdoor grilling.
Let's get into some of the benefits and comparisons between electric and charcoal smoking, followed by our review and recommendation for the Weber Smokey Mountain Cooker.
For The Beginners: What is Smoking?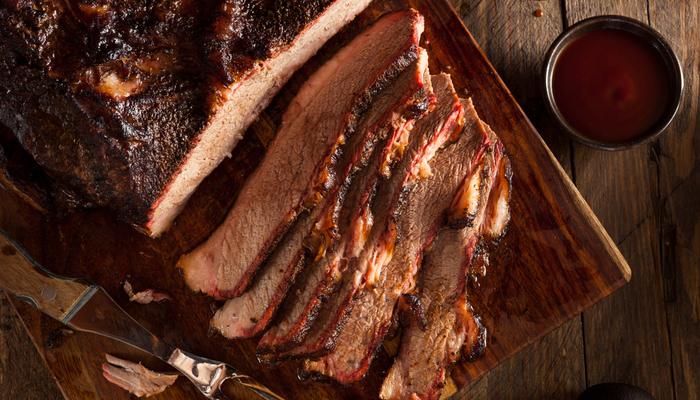 Homemade Smoked Barbecue Beef Brisket with Sauce
If you're relatively new to outdoor cooking, or if your knowledge stops at traditional grilling, then you might be wondering about why there is even an argument between the best electric smokers and the best charcoal smokers.
Smoked foods are not as common as they once were, although they are coming back in popularity, thanks to the availability of affordable and user-friendly smoking appliances.
Just like grilling, smoking is a cooking process that is used primarily for meats, but can also be used for other grilled food like potatoes and other vegetables.
Smoking is not just used to safely cook food; it is also used because of the flavor that it can provide.
The process is literally thousands of years old, and it can even be used to create smoked meat that has a long shelf life.
The goal is to cook low and slow, giving plenty of time for the food to take on the flavor characteristics of the smoker and the fuel materials.
Wood chips are added to smokers to create the smoke and provide flavor.
Some of the most popular are Hickory, Apple wood, Maple, and Mesquite.
With a charcoal smoker, there's also an element of classic charcoal flavoring.
If you haven't tried smoked BBQ then you are missing out on something quite delicious, and the Weber Smokey Mountain Cooker 22 Inch Charcoal Smoker could change all of that for you.
The Differences Between Electric and Charcoal Smoking
Different fuel sources can be used to burn smoker chips.
Some smokers use gas, some electricity, and some a solid fuel source like charcoal.
Although all smokers carry out the primary function of burning wood and cooking food, the results can vary greatly.
The best electric smokers are highly praised, and this praise is well deserved. The benefit of an electric smoker is convenience and ease of use.
Electric smokers use heating elements to burn wood chips or pellets, which then create the smoke to cook and flavor food.
Electric smokers can be used on timers and they're generally considered the easiest for beginners.
While the best electric smokers do provide some clear advantages, they also have inherent disadvantages.
Electric smokers can be costly, the electronics can fail over time, and they can use a significant amount of power.
Even smoking once a weekend would create a significant power draw that would be noticeable on an electric bill.
The main alternative to the best electric smokers is charcoal.
Charcoal has long been a preferred solid fuel for cooking outdoors, with grills like the Weber Kettle being one of the bestselling of all time.
Traditional grills are primarily used to cook food quickly over hot coals, with the direct heat being used.
The best charcoal smokers work quite differently, by combining smoke with convection cooking.
Charcoal provides a unique flavor to food, and many prefer it over gas and electric cooking.
By combining a charcoal fuel source with smoker wood, it's possible to achieve what many consider to be the best BBQ flavor.
Charcoal can have downsides. It needs to be tended to maintain heat, and it can create a mess when it's time to clean up.
Specific designs can reduce mess and make charcoal more user friendly, which is exactly what the Weber Smokey Mountain Cooker does.
While there are arguments for both the best electric smokers and the best charcoal smokers, this review will focus on the charcoal variety.
This Weber model is one of the best on the market and it can easily hold its own against electric models.
If you need something simple and effective with a reasonable price, then this is one review that you don't want to miss.
Weber Smokey Mountain Cooker 22" Key Specifications
This Weber charcoal smoker has a simple yet effective design, with all of the right features that ensure successful smoking sessions.
Rounded 'pill' design that maximizes smoke exposure and creates convection heat.

Charcoal fired for authentic flavor.

Two cooking grates with 726 square inches of total cooking surface.

Bowl and lid vents for close control of temperature.

Included water pan for controlling humidity.

Built-in thermometer.

Classic black Weber Styling and high quality steel construction.
First Impressions and Construction Quality
The first thing that you will notice about this smoker is the way that it looks.
Some of the best electric smokers have fairly standard rectangular designs that are more functional than they are aesthetically pleasing.
As one of the best charcoal smokers, the Weber Smokey Mountain Cooker is also one of the best looking.
The unique design is a combination of a barrel and a kettle grill, and it will look familiar to anyone who knows Weber's products.
The smoker is finished in a black porcelain enamel coating which gives it a high-end luster and it will protect the smoker from rust and other damage.
Due to the lack of any need for gas fittings or electrical elements, the design is simple and solid.
You immediately gain the impression that this is a quality cooking appliance that is made to last.
Nothing about it is overly garish, yet it's not so basic that you wouldn't want to display it while guests are around.
If you love the look, feel, and quality of Weber Kettle grills, then you will be right at home with the Weber Smokey Mountain Cooker.
How User Friendly Is the Smokey Mountain Cooker?
We've talked about how charcoal can require more effort than electric or even gas cooking.
If you want authentic flavor, then it is true that you will have to put a little extra work in.
Charcoal can burn strong and long, and there's a convenient access door on the front if you do need to replace charcoal or smoker wood while you are cooking.
With the addition of a simple product like a charcoal starter, you will find that there's nothing too hard for a beginner to learn.
Yes, the fact remains that charcoal requires a little more effort than the best electric smokers, but the difference is negligible and for many people it will be worth it by the time that the cooking is done.
Cleaning is another consideration in terms of usability. Charcoal creates ash, which means that there will be some additional cleaning required after cooking.
Weber has thought about this and has included a system which makes it easy to empty the charcoal from the cooker.
Even electric smokers produce some ash/dust, because the electrical element will be heating solid material in the form of smoker pellets.
The difference between the two is again negligible, and the cleaning/maintenance requirements are no more extreme than a regular charcoal or gas grill.
What Kind of Results Does The Smoker Produce?
Having confirmed that user friendliness is not a major problem, it's time to talk about the results of cooking with the Weber Smokey Mountain Cooker.
Even the best electric smokers can produce excellent results, however the purists would believe that a charcoal smoker can go one step further.
If you choose to invest in one of these smokers, then you would probably agree.
The rounded design allows Weber to do something unique.
The shape of the cooking chamber allows air and smoke to circulate inside the cooker.
This process, known as convection, will continually heat and cook food thoroughly.
The process also ensures that food is fully flavored by the fragrant smoke.
There are two cooking racks inside the Weber, which allow for a total of 726 square inches of cooking space.
This is impressive by any standard, and the space to price ratio of this cooker is impressive.
You can cook any kind of smoked meat that you can think of inside the Weber.
Whether you prefer fresh game, large birds, classic beef or pork BBQ cuts, or even specialist homemade sausages and other delicacies, the Weber can take care of them all.
It's also a great fish smoker if you want to cook your catch in the best way possible.
The ability to flavor food with the richness of smoke and charcoal will result in smoked dishes like you've never tasted before.
You can create quality results like you would find at the very best roadhouse BBQ.
If you want nothing but the best food and grilling is no longer doing it for you, then a product like the Weber Smokey Mountain Cooker is what you're looking for.
Pros and Cons of the Weber Smokey Mountain Cooker
There's a lot to love and very little to complain about with the Weber Smoke Mountain Cooker
Pros
Excellent construction quality, materials, and design.

Large cooking area more than enough for most families.

Simple to use despite being charcoal fired.

Cleaning is similar to a charcoal grill.

Could be more cost effective than the best electric smokers (depending how much you use it).

Cooks food thoroughly with long smoke exposure due to the rounded design.
Cons
If ease of use is your bottom line, then an electric smoker would make more sense.

May be too large for some families who only smoke occasionally.

Weber smokers cost more than some similar brands.
Final Thoughts and Recommendation
The Weber Smokey Mountain Cooker can easily hold its own against the best electric smokers on the market.
It is large, cooks well, and results in some of the most flavorful smoked food and BBQ that you will ever taste.
There's nothing extreme about maintenance or operation, so anybody new to smoking should not shy away from this charcoal smoker.
If you want the best possible outdoor cooking and don't mind the extra effort for a greater reward, then this is one of the best charcoal smokers you can buy today.