Having the right knives in your kitchen can make life so much easier. Whether you love to grill outdoors, smoke BBQ meat, or bake or fry, the right knives will ensure that all your prep goes through without frustration.
If you've ever picked up a dull knife or a poorly designed generic knife, then you will know just how much of a struggle it can be to get into an inspired cooking mood.
Many people think of knives only in the context of preparing and sometimes carving food for serving.
If you're a steak connoisseur or a lover of any quality cooked meat, then you will know that knives are also critically important for the dining experience.
If you don't have the right knife next to your plate, then it can be nothing short of a struggle to enjoy your food.
Whether you are eating alone or entertaining guests, your cooked meats deserve to have high quality J.A. Henckels steak knives.
Why Should You Choose J.A. Henckels Steak Knives ?
It's important to consider all your options on the market, so it wouldn't be right to insist that J.A. Henckels are the only steak knives that you should consider.
There are quality choices from brands like Wusthof, and in many cases you may even find that you prefer the knives of another manufacturer.
However, there is one area where J.A. Henckels steak knives can beat the competition, and that is in the level of quality that they are able to provide for an affordable price.
If you are spending $100 or more for a set of steak knives, then you would reasonably expect to get something of very high quality.
However, if you are spending under $100, and sometimes even under $50 for a set of knives, then you might assume that there would be quality issues.
This is where J.A. Henckels steak knives get interesting.
The company offers some knife sets for as low as $19.95, and those knives are high quality high carbon steel knives with many of the features that you would find on more expensive options.
J.A. Henckels is undoubtedly one of the value kings in the knife market, and for this reason alone you should consider the brand if you need new knives at home.
Why Are J.A. Henckels Knives More Affordable Than the Competition ?
You may be familiar with the Henckels name, particularly if you've purchased steak knives or knife sets in the past.
The company originates from Solingen in Germany, and it's one of the largest knife manufacturers in the world.
They also make some of the highest quality knives in the world.
While the company offers premium (and highly priced) knives that originate from Europe, they also offer more affordable versions that are distributed under the J.A. Henckels brand.
J.A. Henckels steak knives and other knife sets are more affordable because for the most part they are manufactured in China.
It is well known throughout most industries that manufacturing in China is very affordable, which is why so many of the world's largest companies choose to run their manufacturing operations there.
Look at brands like Apple, Nike, Adidas, and even luxury brands like Prada, Armani, and Coach, and every one of them manufactures or sources some of their product lines from Chinese factories.
(Note that some lines of J.A. Henckels are manufactured in other countries outside of China, but only the 'Henckels' brand is manufactured in Germany.)
Some people see the Made in China label as a negative, but that is an incredibly outdated viewpoint.
The country operates some of the most advanced factories in the world producing some of the most complex consumer goods, and for the last 20 years, low quality has not been a major problem.
The key is whether the brand wants to produce a quality product, and in the case of J.A. Henckels, the product is above the average benchmark.
By producing in China and other countries outside of Europe, J.A. Henckels ensures that you can get some of the highest quality European designed knives for a fraction of the cost of other brands.
Knives by J.A. Henckels can compare to some more expensive counterparts made in Europe or the USA, and the fact that they do it for a lower price is simply amazing and creates a huge advantage for you, the consumer.
In this overview we will be looking at the features and benefits of some sets of J.A. Henckels steak knives, as well as a knife block set that could be the perfect solution if you need an affordable and complete knife set for your kitchen
---
J.A. Henckels International Prime 4-Piece Steak Knife Set
This 4-piece knife set is the most affordable set of J.A. Henckels steak knives that you will find on the market today.
The knives are regularly discounted, and it is sometimes possible to pick up a set for less than $20.
For that kind of price, you might assume that you would receive sub-par quality, but you would most definitely be wrong.
The first thing to note is that these knives are made with a full tang riveted design.
Full tang is a term that means the steel of the blade runs right through from the tip to the end of the handle.
This type of design increases durability and is a mark of quality. Even if the handle breaks on this type of knife, it could be replaced, and the key component would still be intact.
With J.A. Henckels steak knives being the budget division of Henckels, the knives do not reach the sharpness levels of their European counterparts.
This is not a problem with the design of these knives, because they have micro serrated edges that allow for swift and easy cutting through any meat.
These are the knives for you if you're on a tight budget but don't want to pick up the low quality unbranded knives from a local retailer.
The quality for the price will surprise you, and the average 4.3/5 star customer review rating should reassure you of just how good these knives are.
J.A. Henckels Steak Knives 8-Piece Set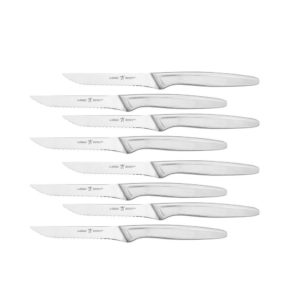 Another option to consider is this J.A. Henckels International Stainless Steel 8-Piece Knife Set.
It's similar in quality to the previous set, and similar in value per dollar.
This is the set for you if you want something with a more modern design for your home.
These knives use a single piece manufacturing system which makes the handle and the blade all part of the same unit.
This means that these knives will never break under normal use, and that is backed up by the lifetime warranty.
The knives are serrated and will NEVER require sharpening, meaning that you will get excellent cutting ability for as long as you need a set of steak knives.

---
J.A. Henckels International Eversharp Pro Stainless-Steel Steak Knives
The next set that could end up in your shopping basket is the J.A. Henckels International Eversharp Pro Set of 4 Steak Knives.
These knives return to the familiar full tang design with a riveted handle.
It's a more classic look and one that you might appreciate, depending on the rest of the knives in your collection.
These knives feature serrated blades, just like the previous two sets, however the serration on these blades is finer and offers slightly better cutting ability.
These are a step up in quality and that is reflected in the price.
Even so, they're still highly affordable, and would be the ideal option of you're looking for a small set of steak knives.
These knives come with a lifetime guarantee, and are also available in a set of 8 Henckels steak knives if you need a larger collection for serving family and other guests.
Zwilling J.A. Henckels Steak Knives Twin Gourmet Set of 4
These knives are as close as you will get to "premium" quality when choosing Henckels steak knives that are made outside of Germany.
They are made from higher quality steel than the average set, and they feature a hardened edge that helps to keep them sharp for many uses.
They are dishwasher safe and are perfect for mains like steak, pork chops, roast beef, and any of your other favorite meat-based recipes.
These knives are unique among st the other models that we've looked at, because they feature only a partially serrated blade.
The shaper inner edge combines perfectly with the serrated area, so that you can simply alter your cutting technique depending on the texture of the meat that you are enjoying.
They are full tang knives and like all J.A. Henckels steak knives, they come with a lifetime warranty against defects.
These knives approach the price of some more expensive brands, and the quality is enough to justify the jump.
The Henckels Steak Knives Twin Gourmet High-Carbon Stainless Steel Set is the one to choose if you want to step up from the basic entry level Henckels knives to some that are more satisfying to use.
---
Complete J.A. Henckels International Forged Premio 19-Piece Knife Set with Cherry Block

We've looked at some of the most affordable steak knives that you can buy without sacrificing quality, but steak knives are not the only utensils that you need in your kitchen.
If you don't have a quality knife set then you will have a hard time preparing all of the recipes that you love.
If you need quality knives but don't have a large budget, then the J.A. Henckels International Forged Premio 19-Piece Knife Block Set will be well worth your consideration.
This set includes forged knives which are made to the same quality standards as many European, American, and Japanese knives.
This set is the perfect addition to your home if you are buying your first ever knife block, and it even comes with a complete set of 8 J.A. Henckels steak knives.
Here's what you can expect in the package if you buy this set:
3-inch paring knife.

3-inch hollow edge paring knife.

5-inch serrated utility knife.

5-inch boning knife.

6-inch utility knife.

7-inch hollow edge Santoku knife.

8-inch serrated bread knife.

8-inch chef's knife.

9-inch sharpening steel.

Kitchen shears.

8x J.A. Henckels steak knives

All of these knives are kept in a quality cherry wood knife block that will last for years in your home.
Although these knives are priced to be purchased on a budget, they have similar quality to some more expensive knives.
They have full tang construction and long lasting synthetic handles, and all knives are forged rather than being made from stamped stainless steel.
While not quite on the level of professional quality, this is an excellent starter or budget knife set and you will find every possible knife tool that you would need in a modern kitchen.
Customer reviews of this set have been extremely positive, with owners awarding an average 4.6/5 stars for the set.
---
It's Clear That J.A. Henckels Steak Knives and Knife Sets Represent Great Value for Money
J.A. Henckels knives may not match the quality as some of the handmade knives from Germany, Japan, or the United States, but the simple fact is that they do not need to.
These knives are not intended to be top of the line but are instead supposed to be used by home cooks in situations where quality is demanded for a reasonable price.
If you want top quality but you don't want to pay big prices for a knife set, then J.A. Henckels steak knives will be perfect for you.
The knives come with a lifetime warranty so there is absolutely no risk in buying, and the existing customer feedback proves that these are some of, if not the best knives that you can buy within a similar price range.