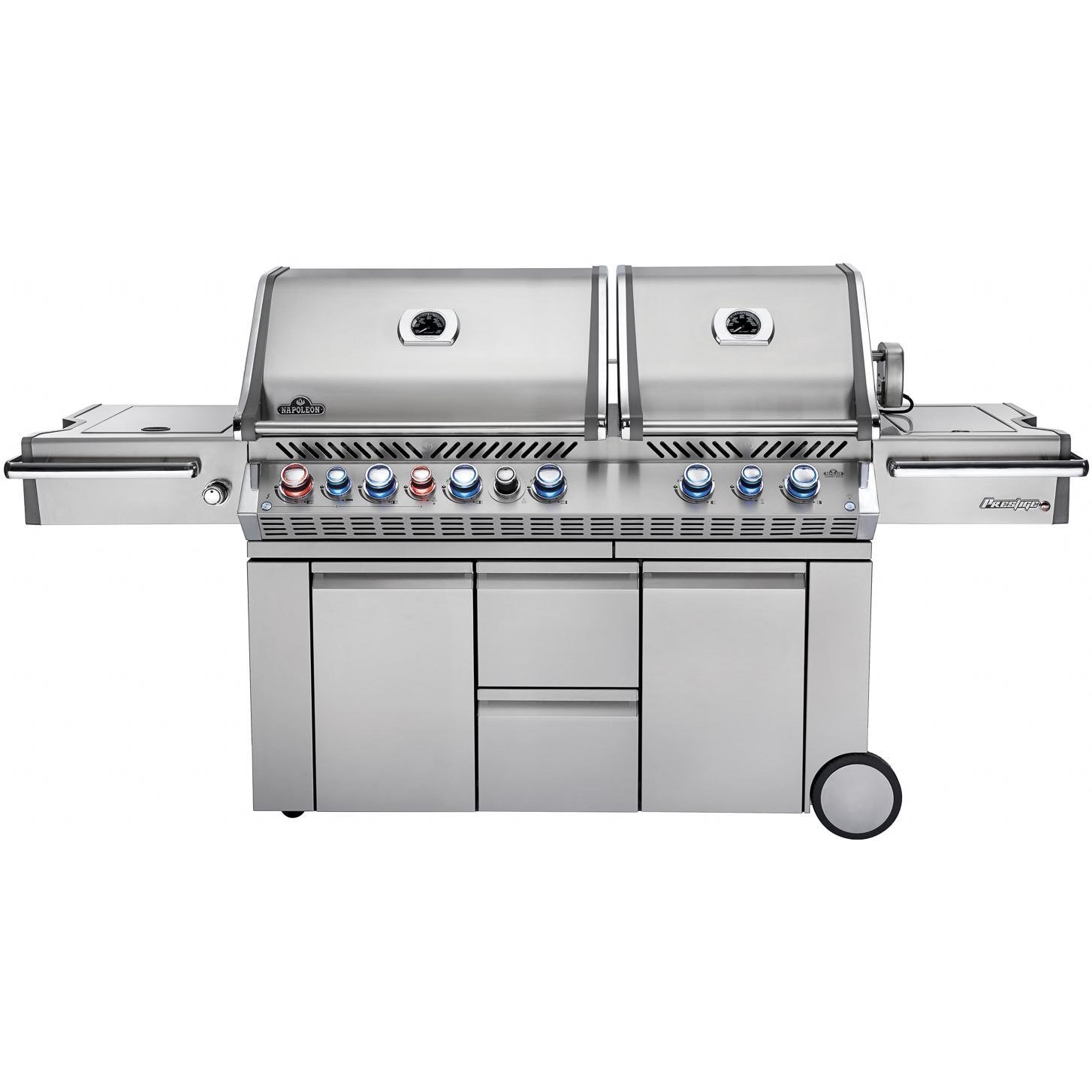 A quality grill is the heart of any outdoor dining area, and in some situations, nothing but the best will do.
If you've been looking for the perfect addition to your patio or deck area, then Napoleon Grills may be a brand that you are familiar with.
Known for high quality and durable designs, Napoleon is also famous for the stylish aesthetic of its grills.
When you want something that looks just as good as it cooks, and that can allow for cooking when entertaining large groups, then the Napoleon Grills Prestige PRO 825 is a model that you'll want to take a closer look at.
A large grill that can cover almost any outdoor cooking situation, this is one model that will appeal when you want nothing but the best.
Read on for this in-depth and detailed Napoleon Prestige Pro 825 Review.
Key Product Features of the Napoleon Grills Prestige PRO 825
Designed for homeowners who need a showpiece portable grill that is as capable as it is beautiful, the PRO 825 model features an expansive cooking surface and plenty of features that could make it perfect for your home.
High heat rating with 123,000 total BTUs.

An impressive 1235-inch cooking area with all grills and cooking surfaces combined.

Powered by natural gas.

Total of 10 high-quality stainless steel burners for long and large cooking sessions.

Stainless steel-wheeled design.

Double hood design.

Infrared burners and side burner.

Dual side trays.
First Impressions of the Napoleon Grills Prestige Pro 825
The first thing that is noticed on the Napoleon Grills Prestige Pro 825 is its presence.
This is a large grill that is perfect for a family that often entertains outdoors.
The stainless steel design is familiar to several Napoleon Grills models, and in this case, you simply get more of it.
Large cabinets, two hoods, and impressive side shelves give the PRO 825 a look that means business.
This grill wouldn't look out of place outside of any luxury home, whether it's placed poolside or on a secluded deck or patio.
The high-quality appearance is accented by some impressive features like the LED burner controls and the built-in thermostats.
With wheels incorporated into the cabinet, it's obvious that this grill is meant to be moved around or stored for security, which is important for a grill of this size and cost.
When you purchase a ten-burner grill you are making a long-term investment, so it's reassuring to know that this can be locked in a secure shed or garage.
If you are looking for something that draws attention then the Napoleon Grills Prestige PRO 825 ticks the right boxes, but it is in no way overly ostentatious.
It's classic in the layout yet the stainless steel and polished accents give it a modern touch that can allow it to work with any outdoor décor.
The quality metals give you confidence that it's built to last, everything feels well-made and the assembly is of the highest quality.
Of course, first impressions of this napoleon prestige pro 825 review can only tell us so much, so it's time to take a closer look to make sure that this large grill is worth the price tag.
Cooking Experience with a Large FULL-FEATURED Grill
Looks and first impressions aside, it's the functionality that matters.
The Napoleon Grills Prestige PRO 825 is a large grill, but it doesn't come with any complex operating requirements or a large learning curve.
If you have cooked on a smaller grill, then you will feel right at home on this model, with the key difference being that you will have more space and options.
Although this is a natural gas grill and the main feature is the ten burner design, you can still use it as a charcoal grill.
Many enthusiasts prefer using charcoal and even smoker chips to bring out the best flavors in grilled meat.
With this model, you will have that option when you need it. 
it can be used for high heat charcoal cooking, or even as a slow burn smoker.
With the dual hood design, you can even use it as a gas grill while having something smoking off to the side.
Versatility is something that not all small grills can offer.
You usually have to stick with a single fuel source or cooking method.
For its ability to cover all of the basis, the Napoleon Grills Prestige PRO 825 deserves some credit.
You'll likely be cooking with gas most of the time, and the ten burners ensure that you can do so with ease.
Steel wave cooking rods are a design feature of all premium Napoleon Grills, and you'll find the ones on the PRO 825 to be of exceptionally high quality.
The wave pattern makes it easier to cook different kinds of meat and vegetables over an open flame, without the risk of food falling into the body of the grill.
It's something seemingly small that you will soon take for granted when cooking on the Napoleon.
The Infrared SIZZLE ZONE™ is also something present in this model, and you will quickly appreciate what this addition can do for your cooking.
An infrared heat source allows you to quickly sear either meat or vegetables without needing to turn on the gas.
For steaks and burgers this is a great addition, or, you could use the sizzle zone to seal the outside of large cuts of meat before cooking them thoroughly at lower temperatures using gas or charcoal.
A rear infrared burner is also included which is perfect when you have meat cooking on the rotisserie bar.
There's also a side burner with a cast iron cooking grid which is perfect for adding a potted stew, cooking sauces, or simply frying in a pan or skillet when you don't want to use all of the main grilling areas.
It's hard not to look at this model as a full outdoor kitchen, it can do almost everything, even oven-style baking, thanks to the large hoods and integrated thermometers.
You won't just impress your guests when you are hosting friends or family; you will also have fun cooking on this grill.
None of the cooking features are gimmicks and you can find a use for each different one.
From adding wood chips in the smoker tray to grilling with charcoal while you cook vegetables over the gas burners, the cooking abilities of the Napoleon Grills Prestige PRO 825 are extensive.
It's not every day that you see a grill that can do so much, and none of the options on the PRO 825 feel unnecessary or underdeveloped.
Usability for Any Scenario
We've mentioned that the PRO 825 can take care of any of your grilling needs, but it wouldn't be a great experience if it wasn't easy to use.
Thankfully, the controls are laid out logically and it won't take long before you are comfortable with firing up the natural gas burners, using the infrared sizzle zone, or operating the side burner.
Controls all feel of high quality and the LED lighting accents make this grill stand out at night time.
There are very few negatives to this grill, however, cleaning can be one of them.
Although Napoleon Grills has gone to great effort to make cleaning as pain-free as possible, the fact is that cleaning a grill of this size is going to take much longer than your average backyard grill.
Although not a negative of the product design, it is something that potential owners will need to be aware of.
The grill is low maintenance in terms of the actual burners and other features, however, cleaning up after a long grilling session is going to be time-consuming.
The good news is that removable surfaces are easy to take out and replace, and almost all of the common surfaces (heat spreaders, grids, etc.) can be taken out and thoroughly cleaned.



Construction Quality
We've touched on the construction quality and it continues to be something that impresses when looking at this grill.
There's no area of complaint and this is a piece of hardware that will last.
With that said, it still needs to be kept in mind that the grill will need to be covered or stored indoors if it won't be used for long periods.
A ventilated cover will be necessary to prevent moisture buildup and tarnishing of any of the metal surfaces.
If you plan to purchase this grill, then you will also need to know that stainless steel surfaces will discolor over time, due to the high heat levels.
This is something inherent to all stainless steel appliances and should not be seen as a negative of the Napoleon Grills Prestige PRO 825.
Pros and Cons of the Prestige PRO 825
It should come as no surprise that the downsides to this grill are more like warnings to potential buyers.

The biggest pros can be summarized as:

A large surface area for cooking.

All cooking options you would require in a large grill, including charcoal and smoking.

Attractive design is suitable for luxury homes.

Long-lasting materials and excellent construction quality.

Separate cooking areas for versatility.

Plenty of storage within the sealed cabinet area.
What you might not like:
A large grill means a significant amount of cleaning.

The quality stainless steel will eventually discolor around some hotspots.

Although on wheels, it's a heavy grill that typically requires two people to move safely.

Expensive.

Burns more fuel than the average grill.
Is the Napoleon Grills Prestige PRO 825 Worth the Money?

Value is subjective with most products, and the Napoleon Grills Prestige PRO 825 is no exception.
There's no getting around the fact that this is one of the most expensive grills that you can buy in this category.
However, if a large grill is what you've been looking for, then there is exceptional value to be found.
The build quality is something that cannot be overstated.
Napoleon Grills have a reputation for quality and this particular model continues along the lines of some of the smaller models in the range.
It's not just the premium stainless steel, but also the way that the unit has been designed and assembled.
Some grills impress because they feel like they will last for years.
With the 825, it's hard not to see it as an investment quality appliance that could last the lifetime of your home when properly cared for.
Parts that could degrade are all replaceable, but even then it doesn't feel like anything on this model is likely to fail in the future.
There's a significant heft to the unit (it's almost 270 pounds when fully assembled), but it's the weight that makes it feel solid and durable.
A quality grill should be one that not only looks and feels great but also one that can perform well when you are cooking for any occasion.
The design of the grill means that it can be used for small cooking sessions, right up to the largest gatherings of family or friends.
If you love to entertain, then the huge surface area of this grill will impress you.
The gas cooking areas, as well as added technology like infrared, ensure that food is cooked thoroughly at the temperature you desire.
Two independent cooking areas mean that you can use them for small family meals as well as large parties.
Final Thoughts about this NAPOLEON PRESTIGE PRO 825 REVIEW
Because of everything that it offers, the price is in no way unreasonable.
If you need a grill this large, then you're not going to have any complaints about the price or the capability.
However, if you don't need a ten burner grill, then the value won't be appreciated as much.
The asking price is steep when compared to a smaller grill, but the reality is that this model does everything that a smaller grill does and more.
It's easy to recommend to the most demanding grill enthusiasts, and its durability will mean that in the long term, the price becomes much less of an issue.
Napoleon put all of its technology and design expertise into the Napoleon Grills Prestige PRO 825, and if it's a top range grill that you're looking for, then this one is not going to disappoint.