Camping is a great outdoor activity that always brings us fantastic memories with a lot of positive emotions.
From star observing to waking up to the chirping of birds, spending moments appreciating the beauty of nature, immersing yourself in it, and marveling at the magnificence of it.
Nothing can compare the fun and relaxation of camping, with the urban hustle and bustle and all the stress it brings along with it.
If you're planning to head outdoors this summer, you'll need the best camp kitchen utensil set.
If your old best camping cooking utensil set is starting to wear out, or if you are yet to buy one, the following options are the perfect place to start.
We've selected the best utensil packs and accessories to help you get the most out of your next camping trip!

Ka-Bar Tactical Spork Tool

When it comes to camping cooking utensils, space-saving is key.
This Ka-Bar Tactical Spork Tool combines a spoon and fork and a hidden serrated knife in one lightweight and convenient package.
Measuring just 6.894 inches in length, it's the perfect accessory to carry when camping, hiking, hunting, or exploring the wilderness in any capacity.
A spork is a great tool to have while camping because it makes it easy to enjoy solid food as well as soups and stews.
The included knife can cut meat and even be used for survival cooking in a pinch.
Made from sturdy polymer plastic, this utensil will stay sharp and intact, even after years of usage.
It's also incredibly affordable, making it a great addition to any camping or survival kit.
Top Features
Multifunction spoon, fork, and serrated knife.

The sturdy material is lightweight and convenient to carry.

Will stay sharp over many uses.

Suitable for all types of food.
---
Camp Kitchen Utensil Organizer Travel Set with Stainless Steel Cookware
In a camping or survival situation, every inch of space saved can make way for food and other essentials.
This compact camping cooking utensils set does a great job of packing several key items into a small and convenient package.
Inside the package is everything that is needed to prepare and cook food in the great outdoors.
A soup ladle, spatula, tongs, scissors, and rice paddle are all included.
There's also a stainless steel chef knife with a safety cover, which is perfect for cutting meat, cheese, bread, fruit, vegetables, and more.
The set also includes a bottle opener and a compact cutting board.
The utensils are all high quality, but the value of this camping cooking utensils set doesn't end there.
It's all provided in a convenient zip-up carry bag that can easily be strapped to a backpack or stored in a car, truck, or RV. It keeps things organized and helps to prevent loss.
Top Features
Quality stainless steel utensils.

Included with a convenient carry bag.

Compact and lightweight.

Includes all the essentials for outdoor cooking.
Portable Camping Kitchen Utensil Set 27 Piece
Here's another great set that is ideal for family use when camping.
This set includes all necessary cooking utensils, as well as knives, forks, and spoons for serving and eating.
When camping with groups, it can be useful to carry all of the utensils in a single pack.
This camping cooking utensils set makes it easy.
It includes a stainless steel knife, chopping board, corkscrew and bottle openers, scissors, tongs, cooking spoon, slotted spatula, meat fork, skewers, paring knife, and even a scraper for the campsite grill.
In addition, there are four knives, forks, and spoons for enjoying meals outdoors.
The included bag keeps things organized and protected.
This is one of the best camp kitchen utensils set for camping and is also suitable for outdoor grilling at home.
Top Features
High-quality stainless steel construction.

All necessary cooking and serving utensils.

Included carry bag/organizer.
---
Extendable Rotating Marshmallow Roasting Sticks

There's nothing quite like sitting around a campfire and roasting some marshmallows on a clear night.
This is a camping tradition for kids and adults alike.
This Extendable Rotating Marshmallow Roasting Sticks set is the perfect lightweight addition for safe and easy roasting over an open fire.
There are five roasters included in this set. They feature a telescoping design to make it easy and safe to roast smores on a campsite.
The skewer is made from high-quality steel, while the handle is natural wood, which helps to manage heat.
Because the skewers retract, these won't take up a lot of space in an RV, car, truck, or camping backpack.
Designed to be safe for children, these Roast'Em sticks will be a hit with kids.
Try them on the next trip for smores, hotdogs, or any other open-roasted campfire food.
Top Features
Stainless steel and wood construction.

Telescoping design to save space.

Included travel bag.

Fully adjusting and rotating design (extends up to 34 inches).
Jetboil Jetset Stowable Camping Cooking Utensils Set
Designed to save space without compromising performance, this Jetboil Jetset Stowable Camping Utensil Set is a great addition to any camping kit or backpack.
Made from high-quality nylon material, this set can withstand the heat over a portable camping stove. Included in the set are a spoon, fork, and cooking spatula.
When fully packed, the set measures just 5.2 inches and weighs just a little over an ounce.
All of the utensils are collapsible and have telescoping handles, making them ideal for soup mugs, pots, plates, or whatever the food is cooked and served on.
At such an affordable price, this is a convenient kit for every camper, even if it is only kept as a backup.
Top Features
Telescoping and folding design saves space.

Nylon material withstands the heat of a camping stove.

Includes only the essentials to keep the price low.
---
Gerber ComplEAT Camp Cooking Tool in Burnt Bronze
Preparing and enjoying food on a campsite can be nearly impossible without the right camping cooking utensils set.
This ComplEAT cooking tool from Gerber is designed to provide essential functions in a lightweight package.
This set is highly innovative. It incorporates several components into one convenient design.
There's a spoon, fork, dual-sided spatula, and a multi-tool for opening bottles, peeling vegetables, opening cans, and unsealing packages.
By connecting the fork or spoon with the spatula, this set also becomes a set of efficient cooking tongs.
In a survival situation, this would be the perfect lightweight tool to have in a backpack or pocket.
For regular camping trips, it's a great alternative to bulky camping cooking utensils.
The attractive burnt bronze finish completes the whole package with a hardcore survivalist aesthetic.
Top Features
The innovative compacting design includes four tools and tongs in one set.

Lightweight and low profile.

No complex parts. All utensils snap together.

Nylon and metal construction.
Carpathen Campfire Roasting Sticks
Here's another campfire roasting set that makes it easy to cook smores and hotdogs over an open fire.
Made from stainless steel and with durable wooden handles, these are perfect for kids, adults, or the whole family.
These camping cooking utensils immediately stand out, thanks to their bright and cheerful appearance.
They will appeal to children but are also suited to glamping and even outdoor party events.
The colorful design also makes them perfect for gifts over the holiday season.
The telescoping design allows extension up to 34 inches and works just like a radio antenna.
Simple in design but infinitely fun and functional, these affordable skewers are a must for marshmallow lovers.
Top Features
Efficient telescoping design.

Quality metal and wood construction.

Fun colors for kids and parties.

6 sticks for group roasting.
---
Gold Armour 8 Pieces Camping Cookware Set
All-in-one camping cooking utensil sets are incredibly popular today, and this one from Gold Armour is another option to consider.
This set includes the necessary tools like a spatula, ladle spoon, tongs, scissors, rice spoon, bottle/wine opener, a chef's knife, and a chopping board.
Everything is presented in a durable carry bag that can easily be stowed or strapped to a backpack.
This set is of great quality and perfect for travel. It is also suited for home use and could easily be stored in a cabinet or shelf under a gas or charcoal grill.
Top Features
All of the camping essentials in one set.

Durable stainless steel utensils.

A woven cotton bag that will last for many seasons.
 

Tapirus Marshmallow Roasting Sticks – Set of 4
There's a big demand for telescoping marshmallow roasters today, and this set from Tapirus is another one worth considering.
With four telescoping sticks, this is ideal for small groups or even solo roasting.
A telescoping antenna design extends up to 33.9 inches, ensuring safety, even if kids are around the campfire.
The handles are made from soft PVC insulation which prevents burning and any noticeable heat while these sticks are in use.
There are even safety tips on the skewers, ensuring that these don't damage bags or other equipment during transit or hiking.
Simple yet impressive in their function, these affordable roasting sticks are ideal for camping and backyard parties.
Top Features
Reliable telescoping design.

Insulated handle.

Safety covers included.
---
Bisgear 14-PIECE Backpacking Camping Cookware
This is another great utensil set that can be used for camping trips, home grilling, or even boating and kayaking trips.
This set stands out with its solid stainless steel utensils and folding forks, spoon, and knife.
The design is intended to save weight and space.
Inside the package is a folding fork, knife, spoon, wine opener, rice paddle, cutting board, tongs, ladle, spatula, serving fork, scissors, and a covered utility knife.
All of the camping cooking utensils are high quality and designed to last for many seasons.
Like many similar sets, this one comes with a high-quality woven carry bag that also serves as an organizer.
Small additions like the folding fork, knife, moon, and alloy carabiner help this set to stand out in the market.
Top Features
Additional 3-in-1 fork, knife, and spoon.

Carabiner for hanging on a backpack.

High-quality stainless steel.

All basic camping utensils in one set.
GSI Outdoors Destination Kitchen Set


GSI Outdoors has designed one of the best camping cooking utensil sets with this Destination Kitchen Superior Backcountry Cookware.
Inside the package is a set of four forks, knives, and spoons, a whisk, pivot spoon, pivot spatula, spice shaker, condiment containers, cheese grater, cutting board, and utility knife.
There's even a scrubber and camp towel to aid in cleanup.
All of this comes in a set that weighs under two pounds.
This is designed for campers who don't want to make compromises.
The material quality is similar to that found in most home kitchens.
The case is also a step above the competition.
It's made from ballistic cloth to keep everything protected and ready for the next outdoor meal.
Top Features
Impressive ballistic fabric case.

Above-average utensil quality.

Includes eating utensils.

Unique condiment containers and spice shaker.
---
Gatling Co 21-PIECE Camping Cookware Set
Gatling is yet another company offering a camping cooking utensils set, and there are some compelling additions in this one that could make it perfect for many adventurers.
This best camp kitchen utensil set includes the expected utensils like scissors, a knife, a spatula and ladle, tongs, a rice spoon, and d bottle/wine opener.
In addition, it also includes a chopping board, flint, can opener, marshmallow/hotdog roasting sticks, carabiner, headlamp (perfect for night cooking), and fouspork-eatingng utensils.
The extra utensils won't be for everyone, but any avid camper who finds other sets to be lacking will see value in this pack.
Top Features
Includes utensils that other sets don't have.

Flint is ideal for survival situations.

A headlamp is a perfect addition for night cooking.
Delicac10-PIECEce Camping Cooking Utensil Set
Packaged in an attractive brown carry bag, this set includes everything necessary to cook and eat a meal at a camp stove or grilling station.
It includes the basics, such as a spatula and ladle, chef's knife, and cutting board. T
here's also a rice paddle, scissors, bottle opener, and corkscrew.
Many sets forget the eating utensils, but this one doesn't.
There's a multi-use folding fork, spoon, and knife made from high-quality stainless steel.
Great for camping, this set can also be used for cookouts, sporting events, fishing, boating, or any other outdoor cooking situation.
Top Features
Long-lasting stainless steel utensils.

Durable organizer/carry bag.

Multi-use fork, spoon, and knife.

All of the outdoor cooking essentials in one convenient pack.
---
Cooking Outdoors is Made Easy With These Camping Cooking Utensils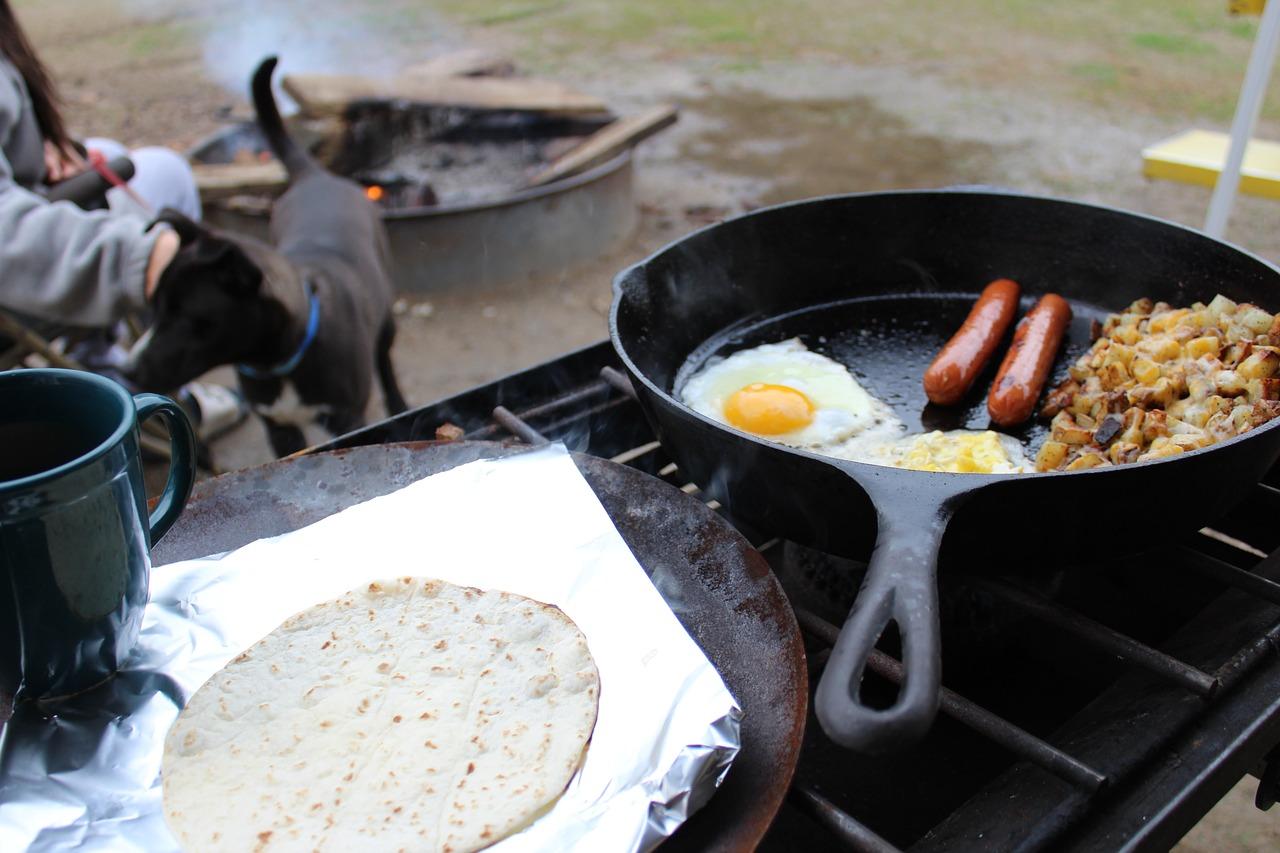 Food on the campsite can be just as good as what you enjoy at home. With best camp kitchen utensil set, roasters, and accessories can make your life easier when you're on the trail, campsite, boat, or anywhere else where you love to relax.
Choose the set that best meets your needs, and you'll enjoy convenient, high-quality cooking in the great outdoors.