When you want nothing but the best grill for your home, you should ideally be looking at the best stainless steel grills.
Material is important in grill construction, particularly if you want something that is both durable and highly presentable.
Stainless steel can last for many years, or even decades when properly cared for.
The material resists corrosion and can be polished to a highly attractive finish that would look great outside your home.
If you're in the market for a premium grill today, then the Weber Summit  S-470 Natural Gas Grill is one of the best stainless steel grills that you can consider.
It offers several compelling features and a design that would look fantastic in your outdoor entertainment area.
Before you commit to this purchase, you'll need to look at our complete review to find out if this is the grill for you.
Key Features of the Weber Summit S-470 Best Stainless Steel Grill
The Weber Summit S-470 is a feature-packed grill, with design choices that make it one of the best stainless steel grills that you can purchase today.
Natural gas-powered.

Four stainless steel burners with simple front panel controls.

Electronic ignition system with separate control for each burner.

Side burner for increased versatility.

infrared rotisserie burner.

Stainless steel construction with a stunning look.

Large hood for cooking any BBQ ingredient.

10ft flexible natural gas hose included.

468 square inch cooking surface.

Stainless steel cooking grates.
Construction Quality and First Impressions

The construction is something that immediately stands out with this grill.
With an outer shell that is made almost entirely from stainless steel, this is one of the most premium-looking grills on the market.
If you need something to complement outdoor landscaping and a designer home, then this is easily one of the best choices.
Simply using stainless steel does not make a grill amazing.
How the parts are put together is also important.
There is some self-assembly required, but the individual components have been precision-engineered and everything fits together to make a solid and highly durable unit.
When you want to make an investment that will last for many years, this best stainless steel grill is an ideal choice.
Weber even backs the grill with a 10-year warranty that covers all parts and components, so you will have absolute confidence knowing that you're making a good decision
Of course, this grill is priced at the upper end of the market, with an MSRP of just over $2000.
This means that you should expect nothing but the best quality.
The grill delivers and even over-delivers in some areas, especially with the smaller things like the design and quality of the controls and cooking grates.
This is not the grill for you if you are on a budget but as an investment.
It will make you feel satisfied with your purchase and the price is reasonable considering the level of engineering, the quality of each part, and the final presentation when the grill is fully assembled.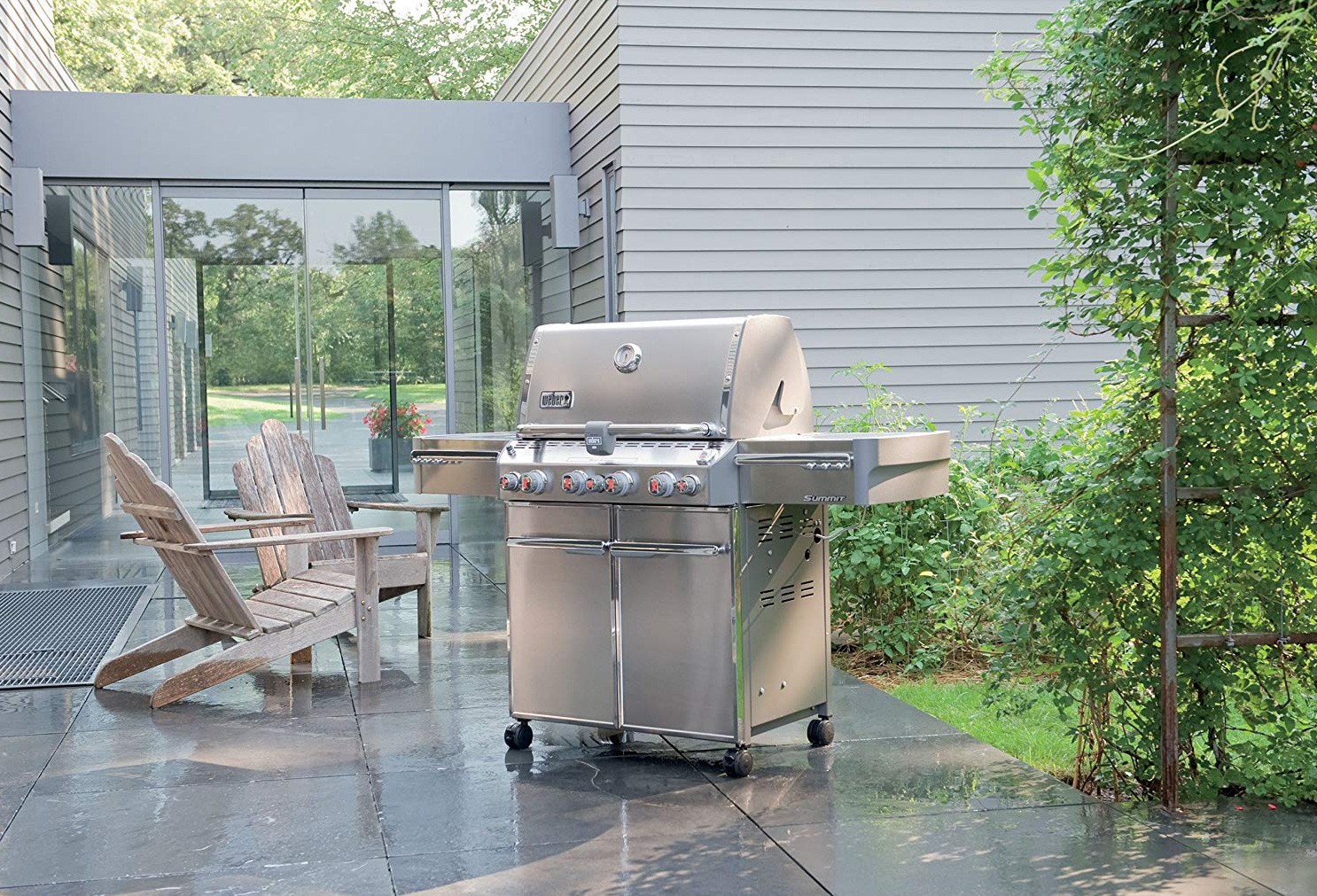 Cooking Quality and Features
With construction and design of the highest standard, you'll need to know if this grill can perform when it comes to cooking.
This is quite simply one of the most feature-packed grills in its price range, which is why it is considered one of the best stainless steel grills that you can buy today.
For all of your basic grilling needs, this will perform without question.
The surface area is more than enough for family use, and it provides plenty of extra space for entertaining on holidays and other special occasions.
If you love to have people around for perfectly cooked grilled food, then this will become your cooking station of choice.
The hood is large with plenty of clearance, so you won't feel as limited as you might with smaller grills.
From the main gas burners, you will get a total of 48,800 BTU of power, which is more than enough for any kind of cooking style.
Whether you choose classic steaks and burgers, or even baking and roasting, you will never feel like you need more heat than what this grill can provide.
As a standard grill, this Weber grill can perform as well, if not better than anything in the competition.
However, it is the extra features that make it stand out.
The grill is perfect out of the box for rotisserie cooking, which is great if you love to cook your BBQ meat, or if you want to roast whole turkey or chicken.
The rotisserie can work with the standard gas burners, but there's also a rear-mounted infrared burner for efficient cooking.
This allows for more thorough cooking with perfectly finished skin-on poultry or a perfect sear on large BBQ cuts.
There's also a side burner which is ideal for using a pan, skillet, or even a pot for sauces and stews.
Whereas some grills will require that you combine your kitchen stove with an outdoor grill, this one lets you do everything in one place.
For convenience alone, this is one of the best stainless steel grills currently available.
The grill also features a smoker box and burner which allows you to infuse your food with authentic smoke flavor.
Load your favorite pellets or wood chips and enjoy the flavors of mesquite, hickory, applewood, or whatever you choose.
This is a huge advantage and it eliminates the need for a separate smoker at home.
This feature alone can drastically increase the value, making the high price tag much more reasonable when you consider how much you can do from a single appliance.
Ease of Use

Although the grill can seem intimidating at first, it's surprisingly easy to use, which will be a relief for most owners.
If you are relatively new to outdoor cooking but want something that does it all, then this is one of the easiest ways to get everything that you need.
The basic grill itself is all controlled from the front panel, as are the additional features like the rotisserie, infrared burner, smoker, and side burner.
After a few uses (or a simple read of the manual) you will be comfortable with all of the different settings, and you'll be able to let your creativity flow with all of the different possibilities that are available on this best stainless steel grill.
Cleaning and maintenance are also easy, thanks to the design and the construction material.
Unlike coated materials, stainless steel won't tarnish or chip (although there can be some discoloration inside the firebox due to exposure to high temperatures).
There's an efficient grease collection system and the main cooking surface can easily be removed for cleaning on the inside.
The cooking grates are made from commercial-quality stainless steel, so they won't wear, flake, or otherwise become damaged like cast iron.
The ease of use and maintenance of this model is exceptional, and it's one of the most significant advantages of choosing to go with a premium grill.
This model also features a large cabinet undertray with closing doors, along with six premium hooks mounted to the front of the side shelves.
Pros and Cons of the WEBER SUMMIT S-470 BEST STAINLESS STEEL GRILL
There's plenty to get excited about and only a few negatives with the Weber Summit S-470.
Pros
Excellent construction quality, parts are precision-engineered, and stainless steel is of high quality.

The firebox has a thick gauge that will increase lifetime.

Gas burners light on the first try.

Exceptional versatility with the main surface, smoker, rotisserie, and side burner.

The attractive design is suitable for luxury outdoor areas.

Grilling light and illuminated soft-touch controls.

Even heat spread with individual zone control.

Simple and easy clean-up.

Hanging hooks and side trays make long cooking sessions more convenient.

10-year warranty from Weber.
Cons
Rotisserie burner doesn't always ignite the first time, which can become tedious if you use this often.

Inserting the rotisserie rod into the pop-up housing can require some trial and error until you become comfortable with the process.

The battery compartment uses a screw system which makes replacement less convenient.

The warming tray could be higher, especially considering the high clearance from the hood.
Final Thoughts and Recommendation
There are only some minor complaints with the Weber Summit S-470, and these are easily overcome when you become comfortable with the operation of this grill.
Although this grill is pricey, it offers a lot and is one of the most versatile models on the market.
If you want a grill that does everything and reduces the need for other appliances, then this is undoubtedly one of the best stainless steel grills currently available.
The fact that it can smoke, cook rotisserie meat, and has a side burner, means that this could be the last outdoor cooking station that you ever need.
If you have the budget for a premium grill, then you won't find much to compete with this one at the same price point.
The Weber Summit S-470 is one of the best-looking and best-performing grills that you can buy today.