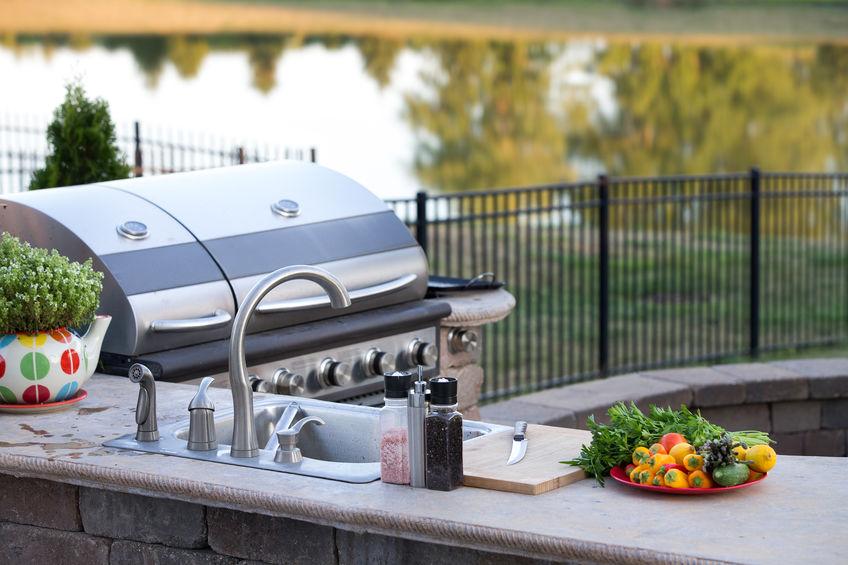 If you're ready to invest in a beautiful outdoor kitchen, the built-in grill will be the center of attention.
More than just an eye-catching feature, a built-in grill will be your primary workstation whether you're preparing family meals or cooking for guests on holidays and special occasions.
Built-in gas grills are typically more expensive than their freestanding counterparts, and they don't come with the same kind of price diversity.
For instance, you wouldn't find an entry-level built-in grill like you would most gas or charcoal grills on carts or legs.
Why are built-in gas grills so expensive?
Let's see what makes them unique, and why the price is justified in the long run. 




The Price Shock is Unavoidable
Be prepared for some shock when you begin your search for a built-in gas grill.
In the sections that follow, we'll provide you with an in-depth understanding of why these grills come with a high price tag.
First and foremost, it's important to note that a built-in grill typically costs the same as a top-of-the-line freestanding grill, sometimes with fewer features.
But what you're paying for is the sleek, seamless integration of the grill into your outdoor kitchen or patio, providing a custom look that cannot be achieved with a freestanding grill.
Additionally, built-in grills are constructed with premium materials such as stainless steel, ensuring durability and longevity in your investment.
The grilling components are also of the highest quality, providing precise temperature control, even heat distribution, and superior cooking performance.
When you purchase a built-in gas grill, you're not just buying a piece of equipment; you're investing in a luxurious outdoor cooking experience that will impress your family and friends for years to come.




Materials Make the Difference
Why are built-in gas grills so expensive?
The high cost of built-in gas grills can be attributed to the quality of materials used in their construction.
While freestanding grills may contain a mixture of metals and plastics, built-in grills typically feature top-of-the-line stainless steel with plastic components used only for aesthetic or practical purposes, such as LED-lit knobs or soft-touch handles.
The main advantage of using stainless steel in built-in grills is its durability, making it ideal for outdoor cooking stations that will remain exposed to the elements year-round.
Stainless steel is highly resistant to corrosion, which is crucial in ensuring that the grill maintains its quality over time.
Furthermore, stainless steel's non-absorbent nature means that it's easy to clean between cooking sessions, reducing maintenance time while keeping the grill looking its best.
In summary, the use of high-quality materials such as stainless steel in built-in gas grills drives up their cost, but it also ensures greater durability, ease of maintenance, and an impressive appearance that can enhance any outdoor kitchen.




Superior Fit and Finish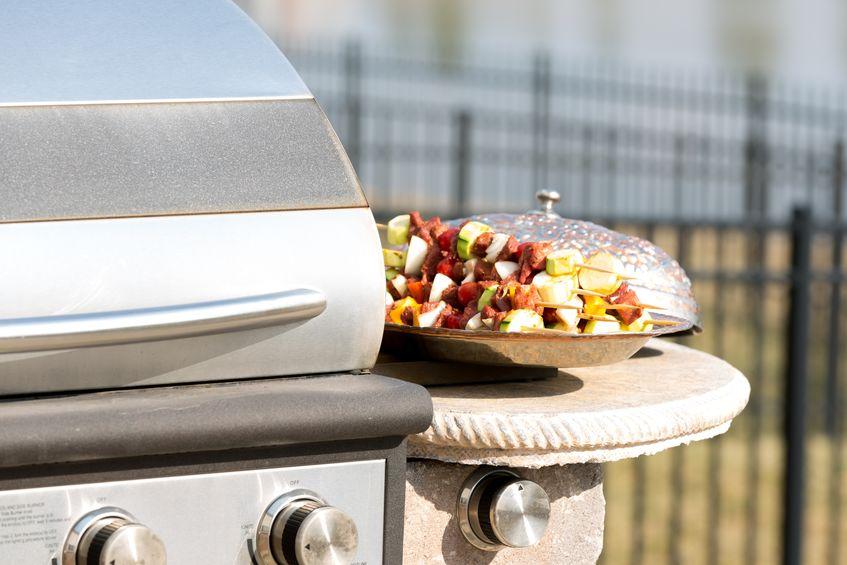 Overall, a built-in grill needs to have a superior level of fit and finish when compared to standalone grills.
When installed in a luxurious outdoor kitchen, the grill needs to stand out.
It also needs to last for years.
The quality of construction is impressive when it comes to the best built-in grills.
Manufacturers take extra care to ensure that all parts are carefully formed and assembled.
Dimensions are exact, and they need to be. If a grill has any small variance in manufacturing, it won't fit into the outdoor kitchen it was intended for.
This would be inconvenient and costly for buyers and would quickly erode the trust in any brand that failed to keep its manufacturing tolerances strict.
Small things like the quality of polished and brushed stainless steel surfaces, how the knobs feel, and how well the ignition works, etc. are all important for buyers.
Built-in grill manufacturers go to great lengths to ensure that their customers feel a sense of premium quality every time a grill is fired up.
Superior fit and finish improve the quality and durability.
Individual parts are of the highest standard, whether considering stainless steel burners, cooking grates, or something as simple as an ignition system.




What are the Best Built-in Grills You Can Buy Today?
Several of the world's best grill brands make built-in grills.
Here are four of the most impressive on the market today…
Blaze is another pillar in the outdoor cooking industry. The Blaze team has a combined 45 years of experience in outdoor appliances. This Blaze LTE 32-inch 4-burner Built-in Propane Gas Grill

is made out of industry-leading heavy-gauge stainless steel that makes it the finest in luxury outdoor cooking appliances. Provides a total of 56,000 BTUs, and another

10,000 BTU for the infrared rear rotisserie burner. Its four steel burners are made out of commercial quality 304 cast stainless steel. Also has interior lights to help you navigate the grilling surface at night. This grill also comes with an impressive lifetime warranty.
Simplicity and reliability come together in the Bull Outdoor Products Drop-In Grill. This model is available in propane. With welded stainless steel burners, piezo igniters, up to 45,000 BTU of heat potential,

and made of

304-16 gauge stainless steel

construction, it's a built-in grill made to last, and also comes with a smoker box.
Napoleon is one of the most popular grill manufacturers in North America. This Prestige 500 Natural Gas Grill

head is made from stainless steel, provides up to 66,000 BTU of heat potential, and includes a rotisserie system and a rear rotisserie burner. Comes in both propane and natural gas.

Coyote is another trusted brand

that produces excellent stainless steel grills. This Coyote 18-inch Built-In Grill is a portable electric grill that has the option to switch from built-in to pedestal thanks to an easily removable frame. Made out of 18 gauge 304 stainless steel, this good-looking grill will last for years to come. Has a 156 " Teflon-coated cooking area that reaches a maximum temperature of 550ºF. A versatile grill that gives the option to either grill inside or outside.
Are Built-in Grills Worth the Price?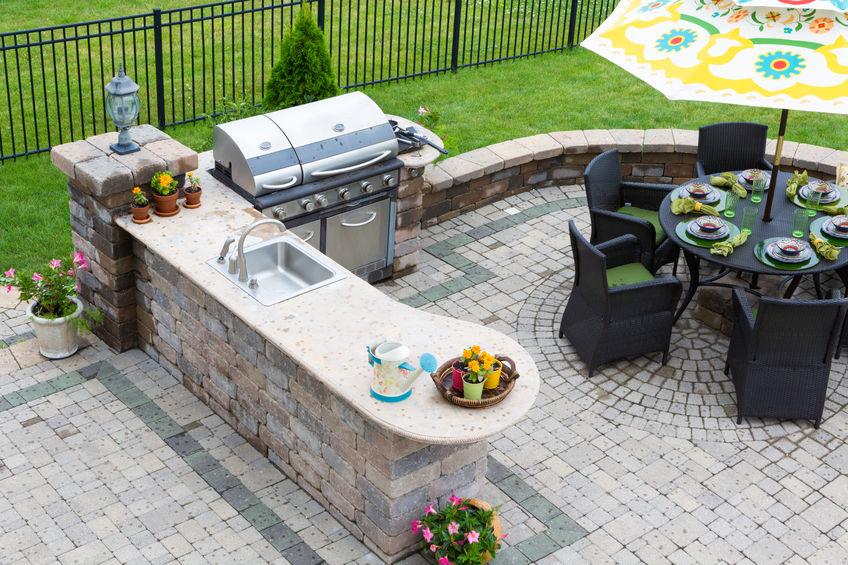 We started by asking: why are built-in gas grills so expensive?
We've answered this by exploring how the quality of materials, construction, fit, and finish are all at the highest possible level.
If you buy a built-in grill, you're paying for reliability and impressive cooking performance.
Are these grills worth the price?
If you're building an outdoor kitchen, then the answer is a clear yes.
Although you'll pay more for built-in grills, you'll be making a long-term investment that allows for trouble-free cooking in the years to come.
Knowing that your grill is made from the highest quality parts and materials will give you all the confidence you need to elevate your grilling game.