With tools being so central to a great grilling experience, you need to take care of them.
This means having somewhere to put them during grilling sessions and when they aren't in use.
So where do you put grill tools if you want to protect them from damage?
We have some suggestions that will keep things convenient.




Buy Grill Tools in a Pouch or Container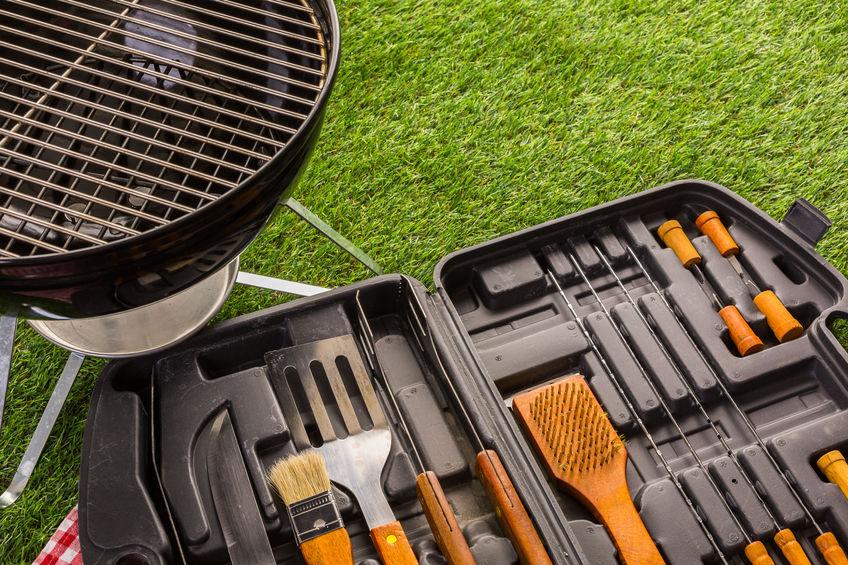 Unless you have a very well-designed outdoor kitchen, you probably don't have access to the same drawer and shelf storage that you have in your main kitchen.
This can become problematic when storing your tools between cooking sessions.
If you're tired of storing loose tools on a shelf underneath your grill, or even on the grilling surface itself, you can purchase an entire kit that keeps your tools well organized and protected from dust and moisture.
This is the best option if it's time to replace your old tools or if you are buying a grill and tools for the first time.
Most kits include essentials like tongs, spatulas, and scrapers.
The best kits also include accessories like forks and skewers, and sometimes even cooking thermometers.
The Olarhike Grilling Tools Set is arguably the best on the market, simply because it includes every high-quality tool that you would need for home grilling.
With heavy-duty gloves and tongs, a multi-function spatula/turner, grill fork and knife, and even specialty skewers and corn holders, this kit has everything you'd ever need to cook outdoors.
It also includes a cleaning brush and scraper, as well as a meat injector for marinades, and a probe thermometer.
Best of all, every item is conveniently stored in a water-resistant pouch.
If you would prefer a kit with a hard case, you could consider the Poligo Outdoor Grill Set.
It doesn't have some of the extras that the OlarHike Set has, but still includes all of the essentials for outdoor cooking.




Use Storage Hooks While Cooking
Keeping tools stored is important, and you should always wash, dry, and store your tools after you've finished cooking.
But where do you put grill tools while you are cooking?
It's not a good idea to put dirty tools back into their pouches or boxes, and simply laying them on a side shelf or table is inconvenient and messy.
Tool hooks are the obvious solution.
While some premium grills come with integrated hooks, many don't.
You can easily fix this by retrofitting magnetic tool hooks.
For an all-in-one tool holder, consider this Magnetic Tool and Accessories Holder.

It provides a stable hanging solution for up to four utensils and five probes. It's affordable and simple and preferred by many buyers who need a tool holder for a low cost.

If you want more flexibility to hold up to ten tools, you'll prefer these Magnetic Hooks.

Sold in packs of ten, these can be placed anywhere that's convenient on a metal grill body or side shelves. Because each hook is separate, you'll enjoy more convenience in placement. Standard hooks support up to 22 lbs. of weight, and there are 35 lbs. and 100 lbs. versions available.
Protect Your Grill Tools by Storing Them Properly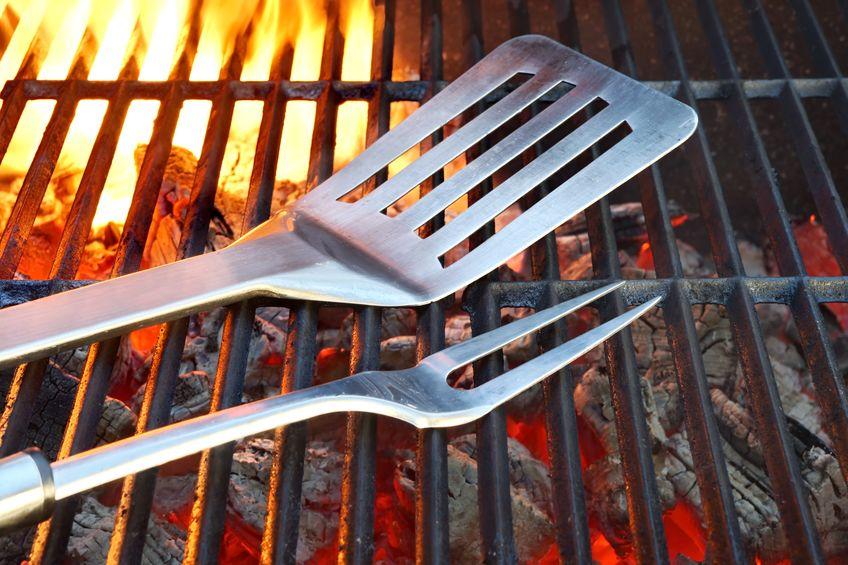 Where do you put grill tools at your home?
If you're still laying them on surfaces and leaving them on a grill shelf when not in use, then it's time to upgrade with the affordable tool storage suggestions above.