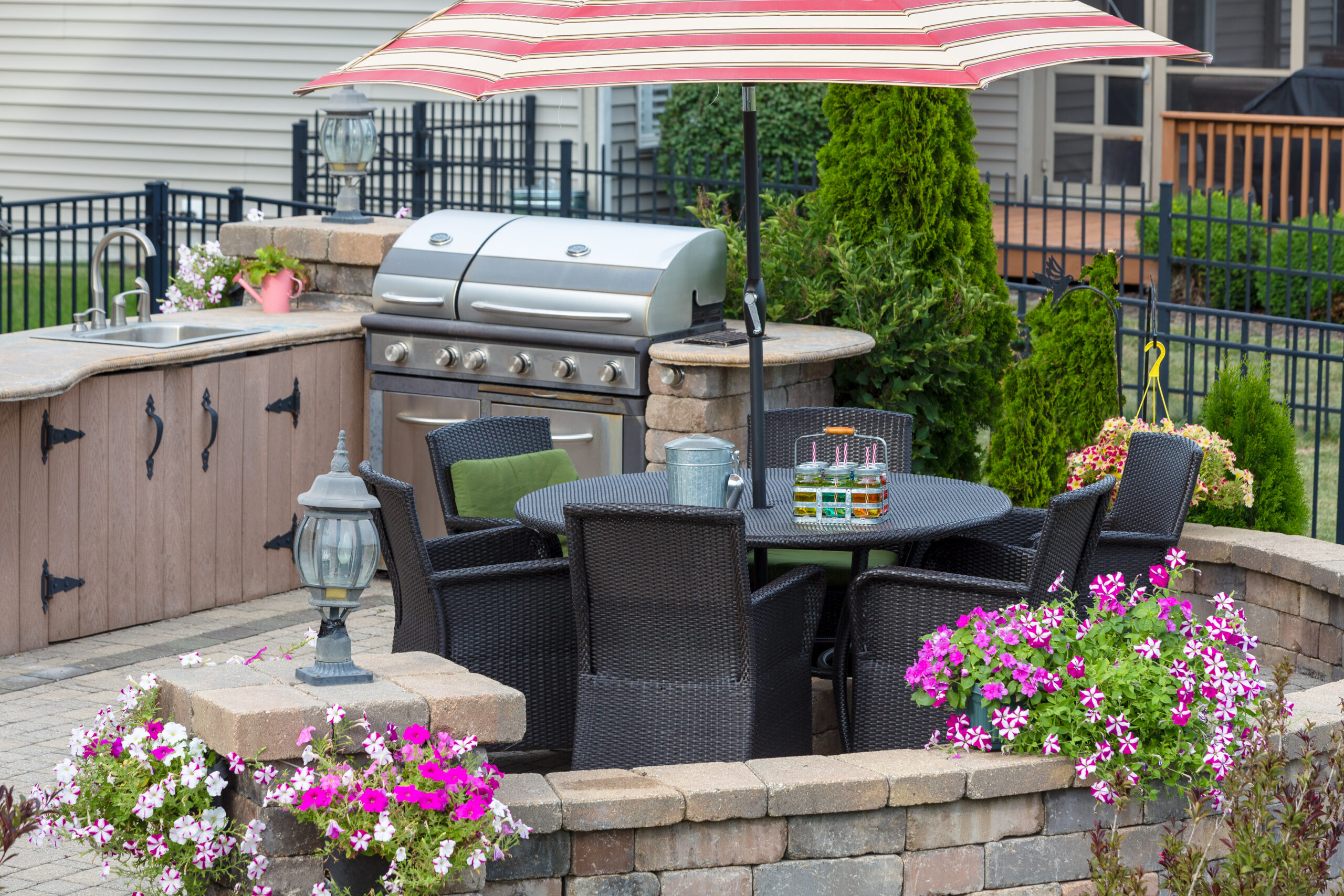 When it comes to buying a high end grills there is no shortage of selection.
Between the different gas, pellet, and charcoal grills, you will find different models across the price range, with some similar and some vastly different features.
A grill is an extension of your kitchen, and if you're someone who likes to cook and entertain, then a grill could become the most used cooking appliance you have at home.
It goes without saying that you should always aim to get the best possible grill that fits within your budget.
While it's possible to cook many of your favorite foods on an inexpensive grill, you may want to consider high end grills if you want to make a real investment that will last for many years to come.
High end grills come with a number of advantages that you simply won't get with more affordable models.
In this detailed article we will take a look at what differentiates high end grills from the competition, along with some recommendations for the best grills that are currently on the market.
In part one, we will start with an introduction of the key differences, as well as some tips on what to look for when you start comparing the individual models.
Size Matters – One of the Most Obvious Benefits of Highend Grills
Spend more money and you will get more cooking space, and if this is something that you require, then there's absolutely no way around it.
If you're just cooking for yourself or a small family, then sometimes a tabletop grill will be more than enough. Portable grills are compact and easy to use, but they can become limiting quite quickly.
As you start to look up to the $500 – $1000 range, you will find that grills come with generous surface area and multiple gas burners.
There's no real standard on how many burners you need, but more is definitely better.
A larger grill means that you can cook more at the same time, which means that you'll be ready to go when you need to entertain guests.
If you are hosting a party, having a cookout on a holiday, or if you have unexpected visitors, a larger grill will be appreciated.
Some of the grills on the market can get surprisingly large, with some offering more than 1,200 square inches of cooking area.
Compare this to a relatively small grill of just 300 square inches, and it's easy to see just how flexible high end grills can be.
A larger surface area will mean that you can cook different types of food, including whole chickens, large turkeys, or even specialty game like duck.
With a larger grill you won't have to worry that your beef brisket is too big to cook, or that you ribs won't fit on the grill.
A larger grill will also make it easier to cook different types of food at the same time, because you'll have more control over different temperature zones.
Size is all about convenience and flexibility, and sometimes there's nothing better than highend grills for your home.
Think of it this way: with a smaller grill, you will almost certainly come to a point where you wish you had more space.
By choosing from the range of high end grills, you will have confidence knowing that there's plenty of backup space for any situation.
Quality of Gas Burners
Gas grills are not all created equal, and this is true right down to the individual components.
Inexpensive gas grills use basic burners that can wear out, block, or completely fail over time.
Budget models are made to be disposable rather than having interchangeable parts, and some people are willing to accept this for the low price that they are paying.
The problem with this kind of approach is that, eventually, you will be replacing so many grills that you end up spending just as much as you would for mid or highend grills.
Why not start out with the very best possible, and then you will have confidence knowing that your investment will continue to pay off for many years to come.
Highend grills use commercial grade stainless steel burners.
They will resist corrosion, they provide even flame across the entire burner, and they are individually controlled by separate temperature knobs.
This is a huge difference to smaller and inexpensive grills where sometimes a shared burner is used to heat the whole surface.
Inferior burners lead to hot and cool spots across the grilling surface, which makes for inconsistent cooking and ruined food.
There are some exceptions where high end grills will use cast iron burners, but these are becoming rarer with each passing year.
Cast iron burners can last just as long as stainless steel, but they require much more care and maintenance.
The parts can begin to breakdown if they aren't properly cared for.
Stainless steel burners don't require any extra effort to be seasoned and protected from both heat and moisture.
If you want the most convenient option, then always insist on stainless steel burners when you are considering high end grills.
How do you know if you're getting quality burners?
Look for stainless steel in the description, and pay special attention if the manufacturer notes "304 Stainless Steel".
This is a particular gauge of steel that is considered the best available for cooking appliances.
Commercial burners and the highest quality consumer burners are made from this type of stainless steel.
Additional Features on High End Grills
Paying more for highend grills doesn't just mean that you get better gas burners and a larger cooking area.
The extra cost also covers additional features and the research and development that goes into making them possible.
Many of the most recent innovations in outdoor grilling have come about from the intense competition in the high end segment of the market.
Take infrared cooking as an example. Infrared heat is intense and allows for a high quality sear that can't be achieved with standard charcoal or gas grills.
Infrared is coveted by many enthusiasts because it can quickly seal large cuts of meat, locking in moisture and flavor.
Some affordable grills incorporate infrared systems, but they're not as effective as those that are found on the best high end grills.
High end models use infrared heat in unique ways, such as on grills that offer rear infrared burners for rotisserie cooking.
You will pay a premium for infrared technology in most cases, but it's well worth it if you want the very best cooking options.
Some other features don't impact cooking, but instead, make a grill more convenient to use.
Some inexpensive grills use basic grease trays and cleaning systems, making the upkeep much more involved.
Highend grills feature special designs that make cleaning more convenient, and some grills are even designed in ways to reduce the total mess that is created.
Take Napoleon grills as an example.
The company uses a grease vaporizing system that aids cooking while eliminating much of the mess. This type of system also reduces flare-ups, which results in safer and more consistent cooking.
To the average person, these kinds of features might seem unimportant, however, if you're someone who loves cooking and especially grilling, then you will know that even the smallest improvements help to make the experience so much better.
Better Designs and Appearance When You Choose High End Grills
Let's face it, if you're going to be spending anything more than $1000 on a grill, then you will expect the hardware to look impressive on your deck, patio, or next to your pool.
Inexpensive grills follow standard designs that many would consider being boring.
Sure, the grills might be functional, but they don't look impressive.
If you are going to spend a lot of money on additional features and better cooking functionality, then you can rightfully expect that the grill would also look good while you're using it.
Because stainless steel is the primary material used on high end grills, you will already see a difference in aesthetic.
Inexpensive grills can use some stainless steel mixed with other materials, which can detract from the overall look and feel.
More stainless steel indicates a premium product, and stainless steel works with any kind of home, no matter what your outdoor décor choices are.
Other aesthetic improvements can include LED lighting on control knobs. LEDs look great when you are cooking in the evening, and they are sometimes used by manufacturers to add ambiance.
LED lighting can be more than just aesthetic because it also allows you to quickly observe the controls and the individual heat settings.
Additional Cooking Surfaces
High end grills often include extra cooking surfaces to make things more convenient when you are cooking outdoors.
Side tray cookers are relatively rare on inexpensive grills, but they are common on mid-tier and high end models.
The best grills will feature more than just the standard side burner.
Some incorporate infrared side burners that can be used to quickly sear meat and other BBQ ingredients.
Some high end grills even include side burners that can be used for charcoal or wood pellets.
This will greatly expand your cooking options so that you will have almost no limitations next time that you grill.
Again, what we are talking about here are features that offer convenience as well as value.
Paying more doesn't just get you an exclusive type of grill, it also ensures that you have improved functionality.
Value is always important, no matter how much you are spending on a grill.
The largest and most trusted manufacturers offer features that make you feel good about what you have purchased because you will get an experience that is simply not possible on more affordable models.
Choosing the Right High End Grill for Your Needs
When you move on through this article you will notice that we have covered a good selection of grills from different manufacturers.
Just like any price point, high end grills can be vastly different from each other.
Often, you will need to choose not only based on your budget, but on the features that you need.
Even if you have no limitation on what you can spend, it's still critically important to choose a grill that offers everything that you need, as well as the extra features that you might come to appreciate in the future.
If you want to be able to easily cook large cuts of BBQ meat, or whole birds, then look for high end grills that incorporate rotisserie features.
If you often entertain outdoors and in the evenings, then it would be a good idea to choose a grill that features LED lighting.
If you are regularly serving and enjoying cold drinks while grilling, then you could even look for high end grills that have integrated ice buckets or refrigerators.
There's a lot of variation in this segment of the market, and the range of choice goes far beyond what is available at the lower price points.
When you keep your current needs in mind, you'll have the best starting point to choose the high end grill that will be best for you.
More than Just a Status Symbol
Some consider high end grills to be excessive and unnecessary. 
The truth is that high end grills can elevate your experience while offering size, cooking ability, and features that greatly exceed entry level and mid-tier options.
Be sure to check out our continued additions to this series, where we will cover premium grills from the top manufacturers in the industry.
When it comes to high end grills then you will know that the top end of the market can offer some superior quality grills with unique features.
Whether it's LED lighting or the high quality stainless steel that is used, high end grills offer a unique experience with durability that is made to last.
The high end of the market also offers choice in terms of fuel used and the type of installation.
From charcoal to drop-in gas grills, these are five of the best high end grills that you can buy today:
Viking 5 Series 36-Inch Stainless Steel Built-In Grill 
If you are designing an exterior space with a complete outdoor cooking station, then a permanent built-in grill will make much more sense than a standalone model.
Viking makes some of the highest quality premium grills that are on the market today.
The Viking 5 Series 36-Inch Stainless Steel Built-In Grill with Pro Sear Burner & Rotisserie offers a clean and understated modern design that will complement your outdoor dining and cooking area.
This is a propane gas grill so there's no need to worry about charcoal fuel or a dedicated gas line hook up.
Simply create the space where the grill will be installed, and you'll be able to connect this to any standard propane gas tank.
Convenience in cooking fuel continues to the convenience in cooking abilities, with this grill offering three individual 304 gauge stainless steel burners that each produce 25,000 BTUs of heat.
This is more than enough for family cooking and larger events, and the 935 square inch cooking surface will provide the perfect amount of cooking area for all of your grilling needs.
The Viking 5 Series 36-Inch offers advanced features that you wouldn't find on a budget or mid-tier grill.
The grill has also been designed to use less gas than a conventional model, so it works out to be more economical than other grills of similar size.
Aesthetic is key to getting the best outdoor installation, and this model does not disappoint.
A stainless steel body can work in any installation, whether you choose to go for a modern outdoor cooking station, or something more traditional using stone or brickwork.
There's LED ambient lighting so this grill will look particularly impressive in low light or night time cooking conditions.
Like most of the high end grills currently available on the market, the Viking grill uses stainless steel cooking grates.
These are heavy grades so that they can provide similar heat retention properties to cast iron.
However, unlike cast iron, they don't require extensive seasoning and maintenance.
This understated grill is elegant while offering all of the features that you would expect from a modern outdoor grill.
It's worth a closer look if you like minimalist design, full stainless steel construction, and clean lines on the exterior grill casing.
---
Kenyon Floridian Portable Stainless Steel Electric Grill




Some of the very best high end grills are large and designed for use at home.
However, there are still some smaller models that are designed to be used on a tabletop, or even for portable cooking.
The Kenyon Floridian Portable Stainless Steel Electric Grill is an example of a premium grill that can be used on the go.
Whether you set it up at home when cooking for the family, or outside of your RV, you will find that this is one of the most unique and most capable portable grills that you've ever seen.
Because this grill is electric it can be safely used indoors, and has actually been designed with both indoor and outdoor use in mind.
The electronic design means that 600F is reached in just 10 minutes, and the heating element is in direct contact with the cooking surface.
This allows for an experience that is similar to a conventional charcoal or natural gas grill, and you will notice a massive difference between this model and some of the more affordable electric grills that are available.
The stainless steel construction makes this grill highly presentable, and it also helps to protect the grill from bumps and scrapes.
You'll be able to use this grill anywhere that you have a power source, with no worry for the grill becoming damaged from regular setting up and packing down.
The electronic controls are extremely helpful for when you want to set an exact temperature.
The touch panel controls feel futuristic, and they help the grill to stand out from the competition.
Because the grill doesn't use any gas or solid fuel, it's ideal for marine use, and could be the perfect option if you are considering high end grills for use on your boat or yacht.
The cooking surface measures 120 square inches, making it perfect for cooking solo, or for a group of two to four people.
One unique use case for this grill would be setting it up on a table for a dinner party and allowing guests to choose and grill their own ingredients.
The elegant design means that this grill won't look out of place, even in your architecturally designed home.
Portable grills can often leave something to be desired in terms of style and features.
This grill from Kenyon combines the best of high end grill design with an efficient electronic heating element, making it the very best portable grill to choose if you want something that is both unique and exclusive.
Primo Ceramic Charcoal Smoker Grill On Cart With Side Tables
So far we've seen overviews of a built-in gas grill, and a unique portable electric grill.
Some enthusiasts still insist on charcoal for authentic flavor, which is where a model like the Primo Ceramic Charcoal Smoker Grill can stand out.
Although this fits in with highend grills in terms of design and build quality, it is still relatively affordable.
If charcoal is your thing then you could find that this is the best option to go for when you want to make a real statement with your outdoor cooking appliances.
The first thing you will notice about this grill is the design.
It's similar to a classic Weber kettle, but it's obvious that some extra thought has been taken to make it stand out.
The uneven beaten texture of the grill body is unique, and it makes this grill look and feels like a real handcrafted cooking appliance.
The total cooking surface area is 400 square inches and up to 680 square inches with rack extensions, which is just enough for a small family, and could be used for longer cooking sessions when you are entertaining guests on a special occasion.
The Primo grill is based on the Kamado design, which means that you will be able to use it both for direct and indirect convection cooking.
Ceramic is used instead of the steel that you would find on inexpensive Kamado, and this helps to ensure that the grill will last for many years without suffering corrosion, heat damage, or other problems.
Despite this grill is quite pricey for a charcoal grill, the ceramic means that this could potentially last for a lifetime and even beyond.
The glazed body will resist scratches, but you do have to be careful of impacts when moving the grill.
To help keep things in control, it is mounted on a sturdy cradle with high-quality caster wheels.
These are a step above the usual cheap wheels found on other grills.
This type of grill is not for everyone.
Charcoal can be messy at times, it requires some skill to get the charcoal burning properly, and there needs to be continued maintenance of the coals for longer cooking sessions.
If you are a charcoal enthusiast and won't settle for gas or anything else, then this could become your new favorite grill.
It's quite unique among high end grills, and it could become a real talking point at your next gathering with family and friends.
---
Blaze Professional Natural Gas Grill

With the Blaze Professional 3-Burner Natural Gas Grill, we move onto a more familiar design.
This is a standalone grill mounted on caster wheels, but it offers some high end grills features that you won't find on inexpensive grills with similar designs.
The first thing you will notice is the impressive finish of the grill, with generous amounts of stainless steel used throughout the construction.
As a centerpiece of your outdoor entertainment area, this grill would be both eye-catching and highly impressive.
The touch of quality is apparent in every element of this grill.
Even starting with the cabinet area, this model is a cut above the rest. There are fully enclosed cabinet doors that are mounted on high-quality hinges.
Nothing feels cheap or flimsy, which is exactly what you would expect from something in this price range.
The design is clean and almost utilitarian, but it gives off a clear sense of quality that simply doesn't exist with many of the lower range grills.
In terms of cooking features, the Blaze Professional manages to differentiate itself from even some of the best grills on the market.
The three gas burners are commercial grade and made from cast stainless steel.
Individual soft-touch controls are offered for each burner, and there's also an infrared burner on the rear of the grill.
To add convenience and flexibility to the package, there's an electronic rotisserie kit included.
If you want to cook a large brisket, chicken, turkey, or even some exotic game meat, you will find that the rotisserie becomes your new best friend.
The large double walled hood allows you to cook with convection which means you can cook custom grilled pizza and anything else that requires hood down cooking.
The 615 square inches of cooking space will exceed the needs of most families and will provide plenty of additional space for when you have guests around for lunch or dinner.
Unique features include a special stainless steel cooking grid that eliminates flare-ups, making for safer cooking on what is one of the best high end grills in its price range.
Lynx Sedona By 30-Inch Built-In Natural Gas Grill
We are again looking at a Built-In grilling station, the Lynx Natural Gas Grill has similar features to the Viking grill, although it doesn't get quite as hot and doesn't have as large of a cooking area.
It's a smaller model for a smaller installation, and would obviously make sense when used at a smaller home.
Going smaller doesn't mean losing out on some of the best high end grills features, which is obvious when you see that this grill has LED lighting, ceramic briquettes for fast heating and reduced gas usage, and a special searing burner that utilizes infrared heat waves to get perfectly cooked meat.
If you need a high-quality permanent grill for your home but need something that is relatively compact in size, then the Lynx makes a lot of sense.
Stainless steel construction and the highest quality components ensure that this will be an investment that lasts for years.
This model even has a smoker box so that you can add your favorite wood chips or pellets to get authentic traditional BBQ flavors.
With five of the best high end grills covered, you will already have a good idea of how spending more can give you a better cooking experience, as well as a higher quality cooking appliance that is suited to your home and lifestyle.
If you haven't quite found a model that suits your needs, then make sure you check Part 3 of this guide, where we will look at five more compelling high end grills for discerning buyers .
We will now take a look at another five more highend grills.
If you're looking for something that stands out, completes your outdoor aesthetic, and provides superior cooking performance, then any grill on this list would be able to satisfy those requirements.
---
Cal Flame G Series 4-Burner Grill
Do you need a built-in grill to complete your outdoor cooking station?
A permanent grill installation adds class and convenience to any home, and there are a number of quality drop-in grills available on the market.
Cal Flame is a trusted brand that makes high quality stainless steel cooking appliances, and their high end grills come in at competitive price points.
If you like the luxury segment of the grilling market, but want to remain within a reasonable budget, then this could be the ideal option for you.
The grill features four burners that have individual controls as well as individual ignition systems. Stainless steel construction is used throughout the firebox, hood, and cooking surface.
The surface is a generous 800 square inches, which will mean that you have all of the space that you need for both family cooking and entertaining.
Premium quality burners, vaporizers, and a wave grid cooking surface all give a unique aesthetic of quality, but there's no hint of over-engineering or excessive design.
Everything on this grill is purely functional, which will be seen as a benefit by many potential owners.
If you are someone who appreciates clean design without any major embellishments, then you will want to take a closer look at this grill.
The downside to such a basic design is that you don't get some of the features that can be found on some of the more exclusive built-in gas grills.
There is no infrared burner, no ceramic briquettes for efficient heating, and there's no lighting on the front panel. Minimalism is key here, and quality is never compromised.
When you need understated and elegant, with nothing but gas cooking, the Cal Flame G Series easily earns its place amongst the best high end grills.
Napoleon Prestige PRO 825 Built-in Gas Grill

This next grill is the complete opposite to the Cal Flame G Series.
Designed and manufactured by Napoleon Grills, the Prestige Pro 825 Built-In Natural Gas Grill is one of the most impressive drop-in style grills that we have ever seen.
It features nine stainless steel burners and a cooking area of just over 1,200 square inches.
As far as size and cooking capabilities go, very few high end grills can come close to this one.
The nine burners combine to produce a total of 106,000 BTUs, which is a serious amount of heat for any home chef.
To keep things practical, Napoleon has used a split hood system with two completely separate cooking areas.
This makes it easier to cook completely separate meals, or, you can simple use the smaller side of the grill for family cooking, and then fire up the main grilling surface when you are cooking a large meal or entertaining guests at your next special event.
Napoleon is known as one of the top manufactures in the mid and high end grills market, and this one lives up to their reputation.
The stainless steel finish, quality burners, stainless steel cooking surface, and soft touch knobs all combine to make a grill that looks and feels great.
Napoleon also has a tendency to design hoods that have plenty of clearance, and you will find this especially useful if you are baking, or cooking with a rotisserie attachment.
This model has been designed for use with natural gas, which makes sense considering that it is intended for permanent installation.
Unfortunately, it cannot be converted to propane, so you will need to look at other options on our list if you don't have a natural gas hookup.
The value of this grill is incredible considering the price that you pay.
Some competing high end grills can cost twice as much, while offering less than half of the features that the Napoleon has.
This company has done an excellent job of reducing production costs without sacrificing quality, and they pass the savings directly to consumers.
LED lighting, infrared cooking, and a massive heat rating make this grill an easy recommendation.
It also includes the rotisserie hardware, so that's one less thing you will need to buy if you choose this grill as your next purchase.

---
Summerset Alturi Freestanding Propane Gas Grill
Offering a similarly sized cooking area to the Napoleon, the Summerset Alturi Freestanding Propane Gas Grill would be the obvious choice if you want a large grill but don't have a permanent installation to put it in.
There are no wheels on the Alturi, which is not surprising considering that it is too heavy for a single person to move.
Noteworthy is the fact that Summerset has used 304-grade stainless steel throughout all of the construction.
This is not just on the firebox and hood, but also on the cabinet doors, walls, and side shelves.
This is a grill that is made to last, and the quality can be felt throughout.
For many grill enthusiasts, the feel of a grill is just as important as the cooking quality.
There's something unique about touching a piece of hardware that has heft and high-quality craftsmanship.
This grill offers that unique feeling, and when you are using it, you will definitely know that you are working with one of the best high end grills.
One specific feature that may not be loved by everyone is the fact that this grill uses U-shaped burners instead of linear burners.
While this might be a problem on some grills, it is offset with this model because Summerset has installed ceramic briquettes.
These absorb, retain, and radiate heat to ensure a smooth distribution of energy across the entire grilling surface.
The system is so efficient that it can reduce your gas usage, and it's something that a number of high end grills manufacturers are using in their designs.
If you want a permanent grill but prefer the pedestal style, then the Summerset Alturi could be exactly what you're looking for.
Fire Magic Grills Echelon Diamond Portable Standalone Grill
With an attractive design and great cooking capabilities, the Fire Magic Grills Echelon Diamond is another one of the best high end grills that thoroughly deserves its place on this list.
All stainless steel construction, high-quality caster wheels, and a large cooking surface with additional prep surfaces make this a great outdoor kitchen when you need something big that is also easy to store.
There are some unique features on this grill that help differentiate it from the crowd.
Halogen lamps are used on the internal oven, which adds yet another heat source to be combined with the propane burners.
The total BTU rating for the main cooking unit is 90,000.
The rotisserie kit comes with the package, which should be expected at this price point.
The kit uses a pure stainless steel rod, which will keep you grilling without problems for years to come.
Consistency and separation is key to a multi-burner grill, and Fire Magic has taken the concept to the next level.
There are individual heat zones on the grill, allowing you to have completely different grilling temperatures for ingredients that are almost right next to each other.
This is perfect for when you are preparing different cuts of meat, different types of meat, or for when you are combining meat with vegetables or even a grilled pizza.
The grill can be connected to your 110V power supply to use electric burners in place of the gas burners, and there's also a charcoal/smoker basket for when you want the authentic flavor of classic BBQ.
Even in the premium segment of the market, there are few grills that can do as much as the Fire Magic Grills Echelon Diamond.
Feature packed and made to the highest quality standards, this grill would be a real investment and an asset to your outdoor entertainment area.
---
Cal Flame 3 Piece Outdoor Kitchen Island With Built-In Grill
A permanent cooking station or cooking island can turn the ordinary outdoor space into a real chef's kitchen.
If you have always wanted the luxury of cooking outside with all of the space and accessories that you need to create impressive meals, then this Cal Flame E3100 Kitchen Island Set might just be the perfect highend grills station.
Some people might look at this setup and say that it's excessive. For the discerning buyer, the reaction will be much more positive.
It offers everything that you could dream of in an outdoor kitchen, which starts with a quality Cal Flame grill with four individual 15,000 BTU stainless steel burners.
In total, there are 800 square inches of cooking space, which is enough for any grilling enthusiast or professional chef at home.
The cooking surface is made up from the main grill, as well as the deluxe side burner system.
You could cook in a pan or pot while grilling on the main surface, allowing you to come up with recipes and combinations that simply wouldn't be possible with an ordinary grill.
While the grill itself is the centerpiece of this package, the rest of what is included cannot be ignored.
The large island assembly will make you feel like you're working in a professional open-air kitchen.
There is plenty of storage with hinged drawers and cabinets, allowing you to store all of your cooking accessories between grilling sessions.
For the entertainers, there's even a built-in mini bar fridge for keeping drinks and ingredients cold. As if all of that wasn't enough, there's also a drinks dispensing system.
This station will impress your guests next time when you're entertaining, and it's a great way to get the family outside during the summer.
The grill itself is made from high quality stainless steel, and it features an infrared back burner for high sear cooking.
Included in the set is a rotisserie attachment, which can hold whole birds or large cuts of meat up to 35 lbs.
This outdoor kitchen is more than just a grill, and is suited to a very unique segment of the market.
If you find yourself needing a grilling station that goes beyond anything that you've previously seen, then you will want to take a closer look at this option.
It helps that the high quality kitchen island is combined with one of the best high end grills currently on the market.
High End Grills Can Turn Your Cooking Experience into Something Special
We've looked at some of the benefits of choosing high end grills, the advantages they have over standard grills, and we've looked at overviews of ten of the best high end grills on the market.
It should be clear at this point that most high end grills offer superior construction quality, the best materials, and features that you won't find on budget or mid-range grills.
If you want something special, exclusive, and long-lasting for your home, then any one of these grills would be worth considering.
Always choose a grill with your needs in mind, and consider the future as your tastes and cooking skills may develop.
It's always better to buy slightly more than you need today, rather than being stuck with a grill that you could outgrow tomorrow.