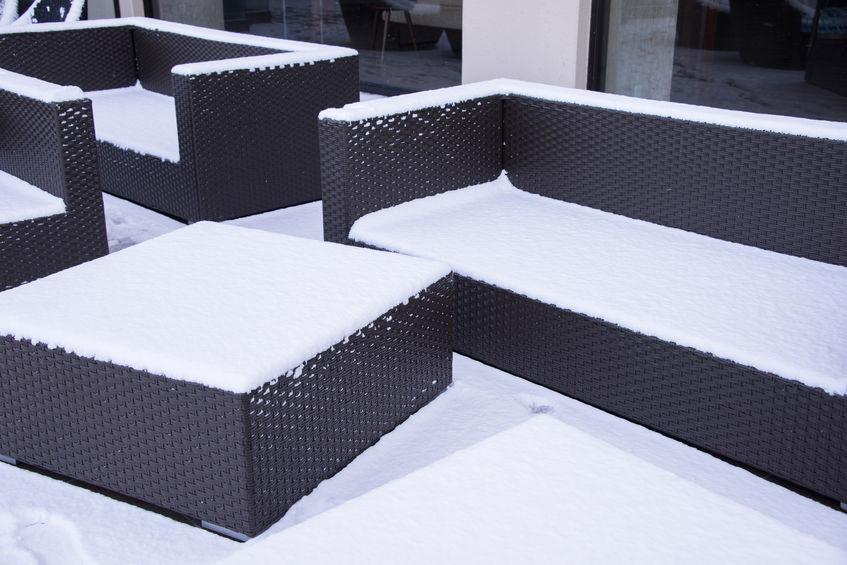 If you're expecting poor weather or if you're preparing for the winter, covering your patio furniture is an obvious thing to do. 
A natural question will come to mind: can I use a tarp to cover patio furniture?
The answer is yes. Not only is it possible, but it's also recommended if you want your furniture to last longer.
Specialized patio covers are available and they are relatively inexpensive.
In this guide, we'll see why and also offer two recommendations.




Using a Tarp to Cover Patio Furniture
Many destructive elements can damage patio furniture.
Blowing leaves and other debris can collect on furniture and begin to decompose, leaving stains and damaging the material.
Rain and snow can cause rust, while harsh sunlight can cause discoloration.
A tarp or any similar patio furniture cover will offer big benefits:
Patio furniture will be protected from sunlight when not in use, preventing fading and discoloration.
Seating, tables, and other items will remain clean, dry, and ready for you to use when the weather is right. Weather staining can be eliminated.
If debris blows around during a storm, it won't collect on your furniture.
The risk of mold and mildew will be significantly reduced when you keep your furniture protected from wind, rain, the sun, critters, and organic materials.
The key to enjoying all of the benefits is to buy a tarp or purpose-designed patio furniture cover that is water, wind, and UV resistant.
It's a bonus if you choose a cover that is also mold resistant.




Tarps and Patio Furniture Covers
A standard tarp cover can be tied down with ropes or weights like sandbags to protect your patio furniture during the winter or when you won't be using it. 
Securing a tarp takes a little more effort than simply using a special patio furniture cover.
This Heavy Duty Poly Tarp Cover

is available in a variety of colors and is made from thick waterproof material that will keep your patio furniture protected. It's a plain tarpaulin sheet so there's no custom fitting for chairs and tables. If you don't mind tying or weighing down the tarp, then this could be the perfect solution to protect your furniture.

If you want something that works just like a tarp but is better suited to patio furniture, you can consider this ULT COVER Heavy Duty Table and Chair Cover.

It's custom formed to suit patio furniture and is made from 600D material that is wind, rain, snow, and UV resistant. It is designed with vents to release air pressure (stop things from blowing away), eliminate condensation, and reduce the risk of mold inside.
Always Keep Your Furniture Protected
Now you know that you can use a tarp to cover patio furniture, although it's better to use a purpose-built patio furniture cover for your convenience and peace of mind.
Whichever solution you go with, covering your furniture will keep it protected and looking its best whenever you're ready to use it.