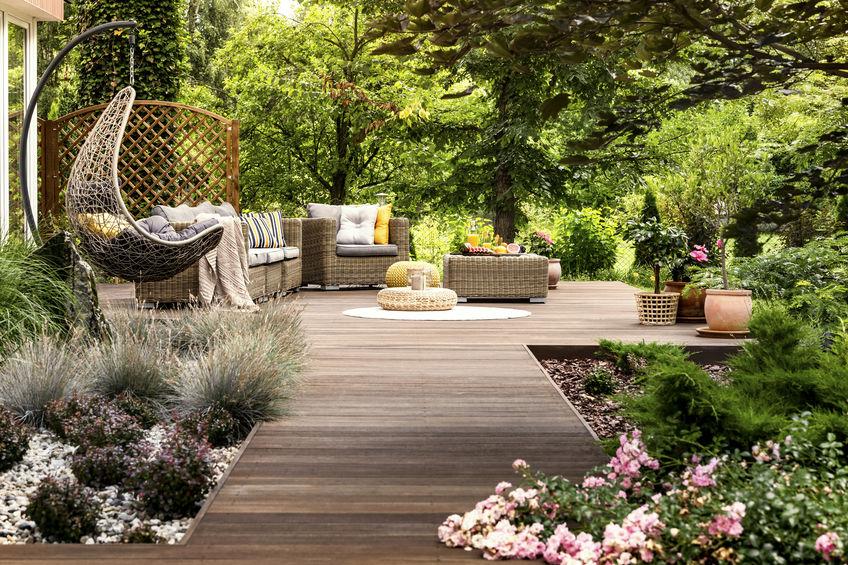 Outdoor furniture should be made to stay outdoors, but some materials and brands come up short.
Low-quality furniture can quickly deteriorate in the sun and rain, leaving you out of pocket and without chairs and tables for relaxation and special occasions.
If you want furniture that will last, and that can stay outdoors, you might have considered rattan garden furniture.
Can rattan garden furniture stay outside?
Let's consider the benefits of this popular furniture and find out.




What Makes Rattan Furniture Suitable for Your Garden or Patio?
Modern rattan furniture is a type of wicker furniture made from synthetic strands.
Polyethylene (PE) is used instead of traditional rattan palm, due to its increased durability and resistance to moisture and rot.
Rattan furniture comes with plenty of impressive benefits that you can enjoy, including:
Relative low cost compared to solid wood garden furniture.

Low cost compared to solid stainless steel or wrought iron furniture.

A range of styles from traditional to contemporary.

UV resistance to prevent fading.

Resistance to temperature extremes.

Wind resistance.

Synthetic PE rattan is impervious to water and moisture.

Rattan furniture is relatively lightweight and can be easily moved around, yet it is heavy enough to resist wind.
Outdoor rattan furniture is designed to be left outdoors.




The Bottom Line – Can Rattan Garden Furniture Stay Outside?
If you're asking can rattan garden furniture stay outside, you'll be pleased to learn that the answer is yes.
The benefits listed above hint at the outdoor nature of rattan furniture.
With UV resistance, your rattan furniture can stay outside for most of the year with little risk of fading.
Synthetic rattan is impervious to moisture and rain, so that means you'll never have to deal with rot.
As a synthetic material, there's no risk of insect infestation.
This Valita Outdoor Wicker Furniture Set is ideal for small garden settings, patios, and any corner of your outdoor living space that needs some seating and style.
This UV-resistant set is a great example of rattan garden furniture that can stay outside.
Rattan furniture is also low maintenance.
You will typically only need to wipe any dust and debris from your furniture before using it.
Cushion covers are washable.
Rattan furniture is made using coated steel or aluminum frames.
Aluminum is the longer-lasting of the two options because it will never rust.
Stainless steel and coated steel will resist rust but can corrode over long periods of exposure to rain and humidity in the air.
You can invest in a premium rattan garden furniture set like the SunHaven Resin Wicker 7 Piece Conversation Set.
It is made from exceptionally durable rattan and has a powder-coated aluminum frame that will never rust.
You could leave it outside year-round without any risk of damage.
Rattan garden furniture can stay outside. In fact, it was designed specifically for this.
For outdoor furniture made to last, nothing offers the combination of value, comfort, and durability that synthetic rattan does.