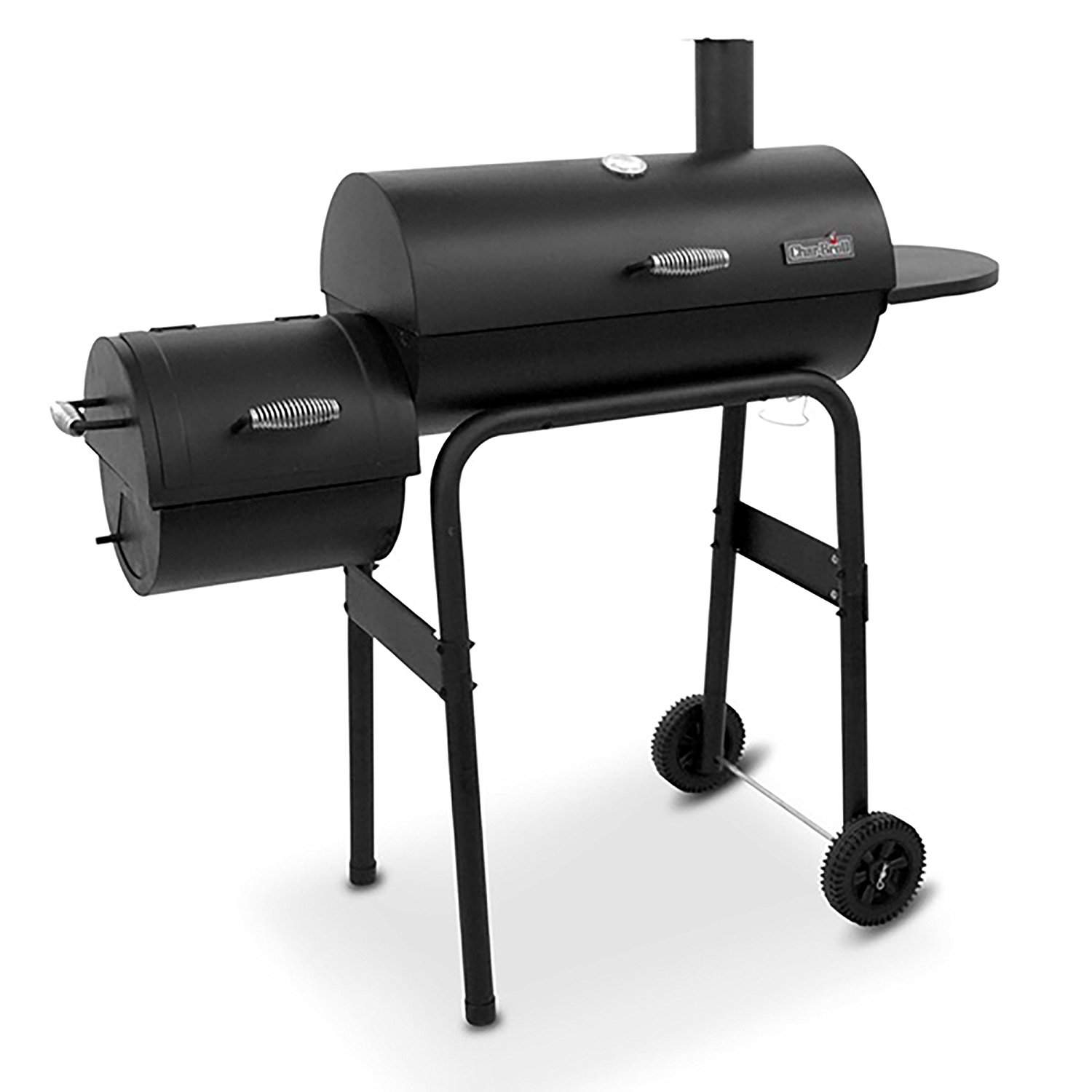 When looking for the best offset smoker you will find plenty of choice on the market.
The problem with a lot of choice is that it can actually become confusing to find something that meets your needs.
If you need a smoker that is small and easy to use, and also highly affordable, then you'll want to look in the under $100 price range.
This can narrow down your options but you will still have to choose from a few competing models.
In this review we will be looking at the features and benefits of one of the most popular small smokers on the market, the Char-Broil American Gourmet Smoker Standard.
This smoker doesn't offer a lot of bells and whistles, but what it lacks in features it makes up in quality and price.
If you need the best offset smoker on a budget, then this is one review that you don't want to miss.
Key Features of the Char-Broil American Gourmet Offset Smoker
This smoker has a number of features that make it versatile for anyone on a budget.
Can be used as a smoker or as a charcoal grill.

290 square inches of surface area in the smoking chamber.

140 square inch grilling surface in the firebox.

Air intake adjustment to control temperature and smoking.

Steel construction with tubular legs.

Plastic replaceable wheels.

Porcelain cooking grates.

The temperature gauge on the main smoking chamber.
First Glance Impressions
If design alone made a great product, then this would definitely be the best offset smoker on the market.
Of course, there's much more that goes into a quality product, but it is still worth noting that this is one of the most unique looking offset smokers you can buy today.
It looks like an industrial machine that has stepped out of time, and if you want a unique aesthetic then this is one smoker that you will love.
The design is finished completely in black, with a larger cylindrical chamber taking up the bulk of the space and the offset smoker to the left side.
There's also a smokestack mounted on top of the smoker, which completes the look.
The aesthetic first impression is positive, and this continues to the overall construction quality.
While this is not the sturdiest or heftiest smoker/grill that you will ever see, it still doesn't feel overly cheap considering the price.
Sure, there are areas where improvements could be made, particularly with the stand and the wheels, but we feel that there is enough here to suit the price.
With all things considered it's still of good construction quality that should last beyond a single season.
When properly cared for and stored either in a shed or garage or inside a cover, this grill could last for many seasons to come.
There are some concerns with the quality of the metals, but these are not deal-breaking and will be covered in the construction quality section.
How Does the American Gourmet Smoker Perform?
When you are looking for the best offset smoker that is affordable, you can expect that you will get only the basics for your money.
This smoker is limited in capability but it still performs its main functions well.
As an offset smoker, it can cook through cuts of meat, ribs, fish, and anything else that you want to smoke or preserve.
Sausages would work well with the slightly shallow smoker box, and you could even lay a couple of smaller chickens inside here to be smoked to perfection.
The limitations will ultimately come from the size, which is something that's not apparent when you are only looking at pictures of the smoker.
The cooking area is 290 square inches, which is comparable to a small grill.
The difference is that this cooking surface is spread across a long frame that measures 48.03" x 17.5".
That's not a lot of depth which makes it more difficult to smoke larger cuts of meat, or even larger birds like turkey.
This is definitely an entry-level smoker and you will feel the limitations in that respect. Whether those limitations are a bad thing is subjective.
Considering the price, you get good value for what you pay.
If you need a larger smoker then you would obviously want to consider other options, and you will pay more for them.
This one does the job well at a great price point, and that's the biggest advantage that cannot be overlooked.
How Does It Perform as a Grill?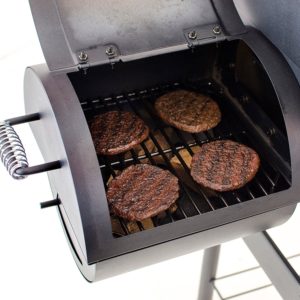 This is a multi-function smoker that can also be used as a grill, however, it's not used in the way that most would assume.
While you can technically use the main smoking chamber as a charcoal grill, this is not how the unit has been designed.
This would leave cooking residue and grease inside the chamber which would then negatively impact your food when you are using this model solely as a smoker.
When used as a grill, you would ideally be doing your cooking in the main firebox.
This leaves you with a relatively small area that is comparable to a portable tabletop grill.
If you need this for full-size family grilling, then this is likely not going to be the best option.
However, if you primarily want to use it as a smoker while simply having the option to use the firebox for infrequent grilling, then you will appreciate the additional functionality.
Some might consider this an unnecessary compromise.
The reality is that some smokers of this size don't include any grilling capability at all, so it's nice to see that Char-Broil has given us this option.
The 140 square inch cooking surface in the firebox is enough for a large steak or two, four burgers, or for skewered meats and vegetables that you want to be grilled at high temperatures.
If you need anything more than that then there are better options on the market, but you will lose the main smoking chamber and ultimately end up with something that is probably not suited to your needs.
If smoking is your priority, then you'll find the small grill to be a nice addition.
What is the Construction Quality Like?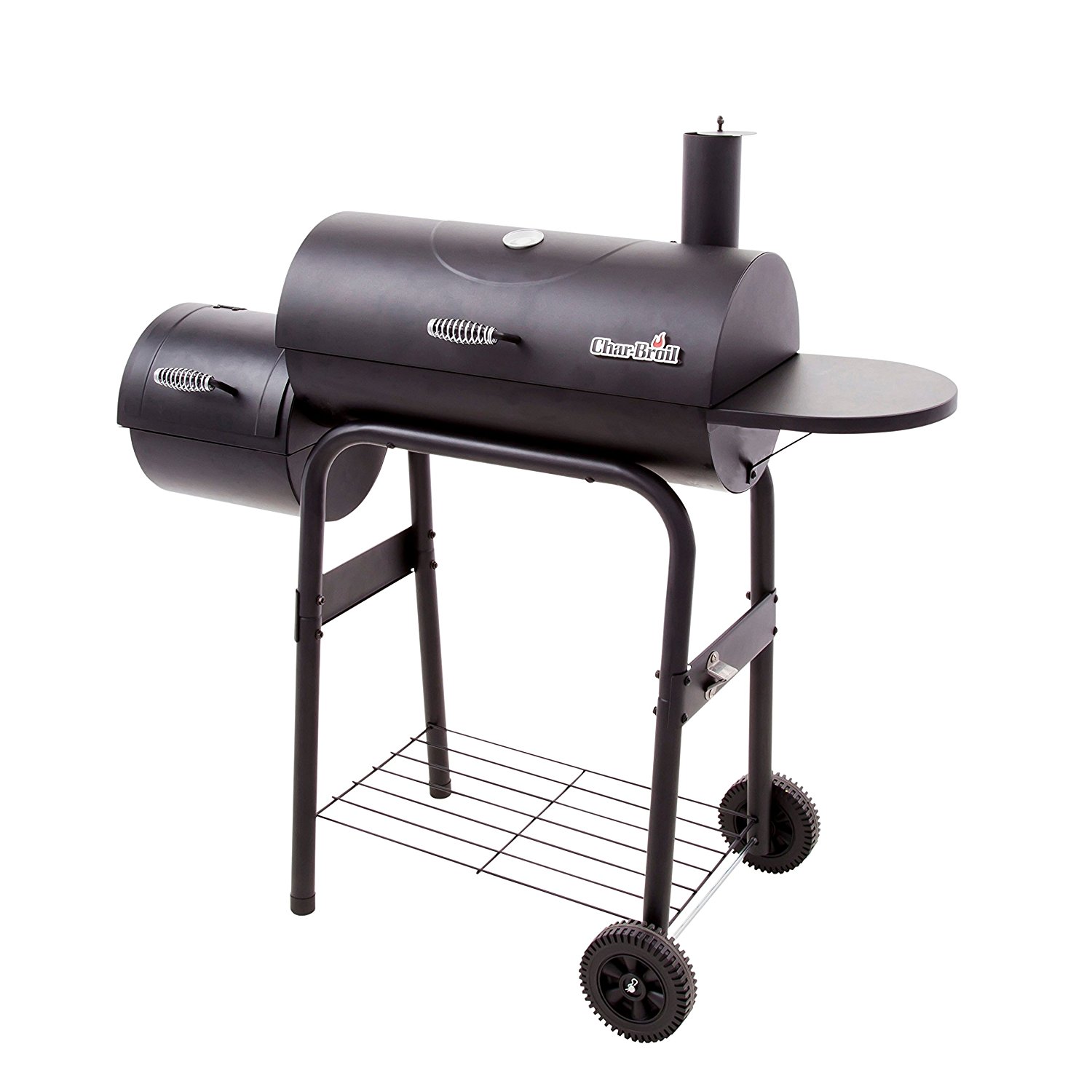 As mentioned, the construction quality is excellent considering the price.
At the same time, it's important to keep expectations realistic, because this is not an investment quality smoker.
This means that while the smoker could last for a number of seasons, it's not the type of hardware that you are going to be able to maintain for much longer than five years.
For some owners who use the smoker regularly, there has been a significant amount of rust buildup within the first year.
This is fairly normal for a smoker in this price range, and surface rust can easily be cleaned and removed.
However, over time, you will need to replace the smoker for a similar model or even an upgrade if you find that your smoking needs increase.
To keep this in context, you need to again look at the price and think about the value that you are getting in this package.
The Standard version is designed to be the most budget friendly in this line of smokers.
If you can step up in price, then you can get a smoker that is almost identical, but with higher quality construction materials.
The price would be double of this model, but it could be ideal if you want something more long lasting.
Pros and Cons of the Best Offset Smoker On a Budget
Although there are definitely some downsides to buying a smoker at this price point, there are still more than enough positive aspects to make it a good purchase.
The key advantages are that it performs well as a smoker when being used solely for that purposes.
Although the main smoking chamber is narrow and doesn't provide the largest surface area, it still has plenty of room for the average family or smoking/grilling enthusiast.
Although the construction quality is not up to the standard of more expensive smokers, it is still more than acceptable for this price point.
You won't need to worry about this smoker falling apart in a hurry, and it could last for a few years with the right care.
The key is to keep the smoker clean and covered, or stored in a sheltered or indoor area.
Moisture will be the biggest enemy of the steel on this smoker, so making sure it is dry and ventilated will be key to making the most of your purchase.
The addition of a small grilling surface is also a positive, and it's something that even some more expensive smokers don't offer.
It makes this model versatile, and it's one of the reasons why we still believe this is one of the best offset smokers in this price category.
When it comes to the negatives, they relate to the size and longevity of the product.
The size will limit more experienced smokers or anyone who wants to smoke and preserve large quantities of meat.
If you are a hunter and regularly want to smoke your own meat products, then you will find the size to be very limiting.
Even if you don't hunt and simply want to smoke large meat cuts and birds that you can purchase locally, you could find that you quickly run out of space.
At the end of the day you need to weigh up these positives and negatives.
For the average owner, size is likely not going to be a problem, and this has been reflected in the popularity of this smoker during its time on the market.
There will always be bigger models available for when you need to step up.
When you need something affordable in a hurry, the Char-Broil Standard Offset Smoker will not disappoint.
Customer Feedback for This Smoker
Perhaps the best way to sum things up is by looking at the reviews that this smoker has been given by current owners.
From more than 1,200 online reviews, the smoker has a respectable 3.5 out of 5 Star rating. 76% of reviewers have awarded a score over 3 Stars.
Customers who loved this smoker were impressed by the affordability and also the smoking capabilities.
Although the smoking chamber is relatively small, the actual quality of the smoking/cooking is as good as any larger and more expensive model.
Owners also liked the relative ease of use when getting the firebox going, and the fact that it is offset means that the temperature can be closely controlled without having to continuously open the main smoking chamber while losing heat in the process.
Owners also liked the fact that the assembly was simple with minimal steps and pieces to put together.
This is a simple smoker with a basic design, and that makes it more user friendly.
There have also been numerous reviews from customers who have found the build quality to be a pleasant surprise, considering the low price of the smoker.
Being able to grill in the fire box was also noted as a bonus by a number of reviewers.
Final Thoughts and Conclusion
This smoker is not the biggest on the market, and it's not going to last as long as some more expensive models.
It is charcoal powered so there are no advanced electronic features, which means that you will need to manage your smoking sessions the old fashioned way, by keeping the firebox burning manually.
As far as being the best offset smoker in its price range; the statement is true.
There is simply nothing better that you will get for this price, and you actually get more than what you pay for.
This makes for a simple and fairly obvious recommendation.
If you have a limited budget or even limited smoking needs, then this is going to be a great buy.
If you will feel limited by the size or even the functionality, then we have covered plenty of more capable smokers, which you will have the pleasure of enjoying as long as you are willing to step up into the broader under-$300 category.