Grilling is one of the best ways to cook your food, particularly in the summer months when you're entertaining guests or just enjoying some time outside with your family.
However, for many people, cooking with a charcoal or gas grill is not always an option.
These grills can be messy, they take a lot of effort to maintain the ideal cooking temperature, and in homes like condos and apartments, gas and coal grilling may not be permitted.
This George Foreman Grill is a convenient solution for anyone who cannot or does not want to use a traditional grill at home. It has all of the the benefits of a traditional grill, while offering much more in the way of convenience and cooking ability.
If you've been considering an affordable grill for your home, then this best seller is one option that you need to take a closer look at.
George Foreman GGR5OB Grill Product Features
Non-stick grilling surface.

240 sq. in. cooking surface.

Can be used as a stand up grill or a table top grill.

Sloping grate allows fat to be drawn away from food.

Electrically operated with five temperature settings.

Fully compliant with North American electrical standards.

Easy to assemble and store.
What You Get in the Box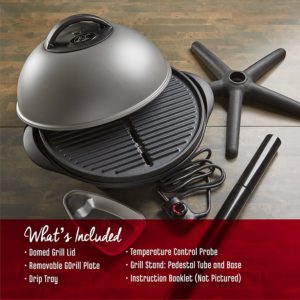 The George Foreman Grill comes packaged for shipping, making it perfect for online buyers.
Inside the box, you'll find the grill itself, a removable grilling plate, the grill base and grease tray, a domed lid with an adjustable vent, a power cord with a temperature control probe, and a stand for use in standing grill mode.
Setting up this grill is incredibly easy, and takes only minutes.
In fact, most will find that it takes more time to get everything out of the box, than it does to actually assemble the product. When completely dismantled, the grill is made up of ten individual pieces.
You'll want to get started with the stand first. It's made from sturdy plastic and aluminum, and there's a base section with five individual stabilizing legs.
All of the parts clip together, so there's no need for tools during assembly. With the stand assembled, you can then connect the grill base and the grease tray, followed by the grilling plate itself.
Assembling the domed lid is simple, and you'll only need to thread a rubber-ringed fastener through the dome top, before screwing and tightening the handle, which also incorporates the vent.
All in all, you'll be looking at about five minutes before you've got everything assembled.
As far as ease of assembly goes, this is one of the most compelling options on the market, and everything feels sturdy and stable once it's set up.
Why Should You Buy an Electric Grill?
There are a number of benefits to owning an electric grill like the George Foreman Grill, and many will find that this can completely replace a conventional gas or charcoal grill.
One of the biggest benefits is that you'll no longer have to worry about fuel. As long as you have electricity, you'll be able to run this grill in any weather.
You won't have to worry about running out of gas or charcoal in the middle of a grilling session, and in many cases, an electric grill will turn out to be more economical.
It's highly efficient, and you'll only need to heat the cooking surface for the exact time that you're cooking. There's no waiting for coals to reach their optimum temperature, and there's no long cool-down period before it can be safely stored.
Ease of cleaning is another benefit of an electric grill, particularly in the case of this George Foreman model. The cleaning plate is designed to channel the grease from your food into a collection tray inside the grill base.
When you're finished cooking, the plate can be easily removed and cleaned with soap and water and a non-abrasive kitchen sponge.
Surfaces of the George Foreman Grill can be easily wiped down, and you can empty the collection tray to dispose of any excess fat.
Compared to gas and charcoal grills, clean-up takes only minutes, and there's no difficult scrubbing of fat and food particles that can fall inside of the average barbecue.
There's also little risk of fire because you won't have any fat dripping directly onto hot coals or gas burners.
The George Foreman Grill is impressive not just because it's more convenient, but because it's also a much safer way to cook.




How Well Does It Actually Cook?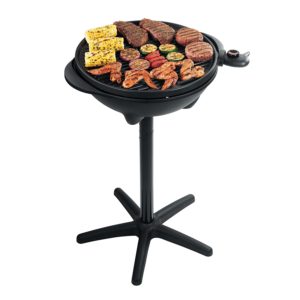 Ignoring convenience and ease of use, if a grill doesn't get its primary function right, then it would have no value at all.
In the case of the George Foreman Grill, cooking performance is exceptional and helps to make this package the real deal.
With five individual heat settings, you can cook with anything from a slow heat, right up to the searing temperatures that you would expect from the flame on a propane grill.
Being able to instantly control the temperature using the probe/adjustment wheel means that the George Foreman will feel familiar to anyone who has used a gas grill in the past.
For those who are used to charcoal grills, having precise temperature control will be a whole new experience and one that will be greatly appreciated. It can allow for slower cooking of ribs and bone-in chicken pieces, or even a whole chicken.
When the temperature is controlled along with the domed lid and steam vent, the grill will work just like an outdoor oven.
If you want to cook vegetables, cuts of meat, sausages, hot dogs, kebabs, or even pizza, you'll find the perfect temperature setting with the GGR50B.
You can even bake potatoes using this grill, making it a seriously versatile cooking appliance.
Heat is maintained perfectly, thanks to the electronic control, and itself regulates by turning the element off or on to maintain an optimal temperature range.
You don't need to think about what the grill is doing, you simply set the temperature, and start cooking.
If you're grilling while taking care of guests or preparing side dishes, then you'll definitely appreciate the way that this grill is able to cook consistently, without regular changes in settings.
One thing that would have been appreciated is a thermometer on the dome lid. While grilling can usually be done easily with some guesswork and experience, a built-in thermometer would have made things even easier when cooking chicken or other large cuts of meat over long periods.
Considering the price, however, this is not enough to detract from the overall value, and serious grillers may prefer to use a handheld cooking thermometer to check the surface temperature or temperature of their meat.




It Cooks Indoors and Outdoors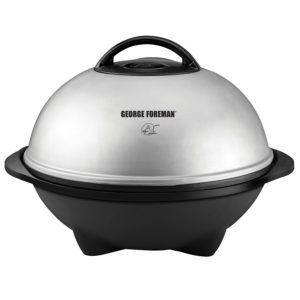 If you want the versatility of grilling indoors and outdoors, then this George Foreman grill will probably be perfect for you.
If you remove it from the stand, it can be used on a heat resistant counter-top or table, or you could even grill inside while using the stand.
You could also use it in tabletop mode outdoors, placing it on a picnic table or other surface.
There are feet integrated into the underside of the grill, so it's simple to set it up for however you want to use it.
Construction Quality of the George Foreman Grill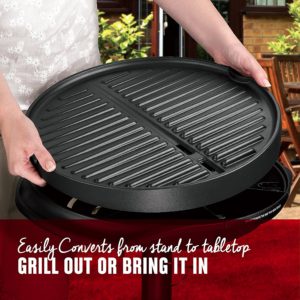 When you're buying a grill in the sub-$100 price range, you can expect a certain level of quality, but you should also be aware that some compromises will be made.
There are electric grills on the market that cost upward of $300 (sometimes more), which are made almost entirely of steel and aluminum.
In the case of this grill, you're not going to see the same materials as a $300 grill, but you will still enjoy the excellent construction and design of the product.
The stand is a combination of aluminum and plastic, whereas the grill combines the two materials again. Aluminum is used where it is appropriate, such as for the actual cooking surface and for the dome lid.
The cooking surface is coated in high-quality Teflon, which resists scratches and should offer years of performance when you are sure to use only wooden and plastic utensils.
Metal utensils will scratch even the highest quality non-stick coating, so don't use these when grilling with the George Foreman.
Everything fits together well and it feels solid, aside from the fact that the base is lightweight compared to the actual cooking area.
In heavy winds, it will easily topple over, but that's unlikely to be a problem considering the scenarios that this grill has been designed for.
The stand could easily be stabilized with sandbag weights or even paving stones. If you have a universal umbrella/canopy stand base, then you could even try attaching your grill to that for added stability.
Overall, construction quality and the materials feel appropriate for, or even slightly beyond the price range.




Pros and Cons – What You'll Love and Things That Could Be Improved
You'll never find a perfect cooking appliance on the market, and this George Foreman Grill is no exception. However, the pros do easily outweigh the cons, and there's very little to dislike about this particular model.
Pros
The large dome lid allows for slower cooking/steaming, which is useful if you want to grill a whole chicken or other foods that need additional cooking time.

With most grease being removed from the cooking surface, your food will be better for you.

It's easy to assemble.

This grill can be used indoors on a flat, heat resistant surface.

More affordable and economical to run when compared to other grills.

No need for fuel.

Easy cleanup.

Perfect for apartments or homes with small patios.

Breaks down for easy storage.

Highly affordable.
Cons
Not as heavy as a traditional grill, so it won't be stable in windy conditions.

Cannot emulate the charred smoky flavor that you'll get from a charcoal grill.

Can become extremely messy if the grease tray is not emptied after cooking.

It's well made, but the materials aren't 'lifetime' quality.
What Do Owners Say About the George Foreman Grill?
Customer testimonials are a great way to learn more about any product, especially for something that will be used in the home.
If you like the sound of the George Foreman Grill so far, then you'll be further impressed at just how positive the customer feedback has been.
From more than 2000 online reviews, this grill boasts an average consumer rating of 4.5/5. More than 73% of all reviews are 5-star reviews, and that speaks volumes about the quality and convenience of this product.
Customers have praised how easy it is to use and assemble, how well it is able to cook traditional BBQ foods without using propane or charcoal, and owners also love the dome lid.
Many have commented that using the dome for food like burgers and steaks will lock in much of the moisture that is usually lost from cooking over coal or flame, making for food that tastes and presents much better than with a normal grill.
A number of customers have also commented on how the George Foreman Grill has the ability to cook food through, without burning the outside.
While you can still achieve a good sear on burgers, steaks, and even grilled vegetables, you'll never be left with the blackened mess that some traditional grills are notorious for.
With such a huge amount of positive customer feedback, you can have confidence knowing that this grill will be a purchase that you won't regret it.
Conclusion and Final Rating
Despite having some minor drawbacks, the value offered by this grill is impossible to argue with. It can cook just as well as grills that are more expensive, and the only real downside is the fact that some of the construction is plastic.
Cooking performance is excellent, it's versatile, and it's easy to clean, and requires no maintenance beyond that.
Looking for an indoor grill? a replacement for a cumbersome gas or charcoal grill?
Even if you just want a more convenient grilling option for family meals or small gatherings with friends, then the George Foreman Grill would be an excellent purchase, and the price makes it incredibly easy to recommend.