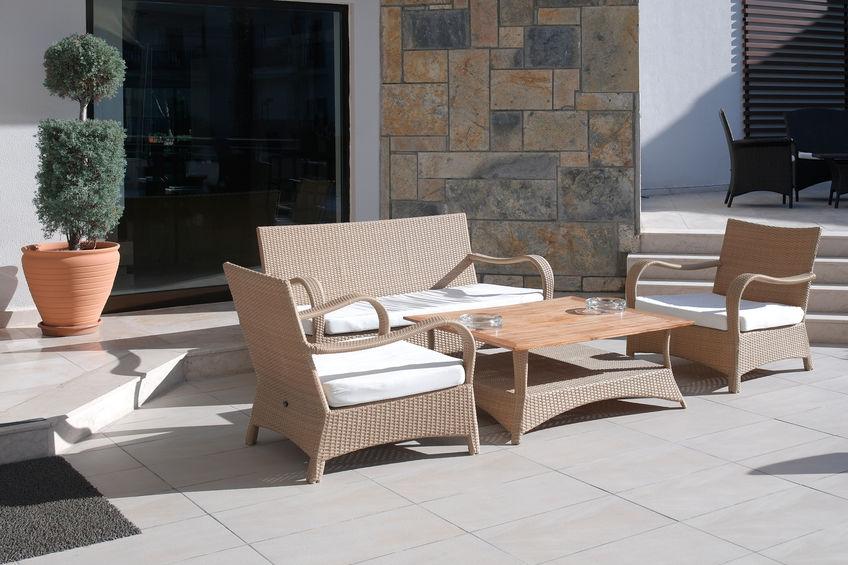 Wicker furniture offers a beautiful look and feel, with added durability from a hidden steel frame.
Modern wicker furniture looks contemporary while still nodding to the past.
If you love the look of this unique furniture, you'll be excited to start exploring your options.
Before you choose a set for your patio, you'll also need to consider, how long will wicker furniture last outside.




What is Wicker Furniture Made From?
Modern wicker furniture is more durable than the wicker of the past.
Traditionally, wicker patio furniture was made from natural materials.
Cane, bamboo, reed, willow, and other natural fibers were woven together to create the unique look of wicker and rattan.
Today, making wicker with the traditional method is cost-prohibitive and environmentally destructive.
That's why manufacturers make their wicker strands from thermoplastic materials.
Flexible resins combine the properties of rubber and plastic to create an extremely durable wicker weave.
The best products are still handwoven, with the difference being that the strands are made in a factory rather than harvested from nature.
Synthetic strands offer several key properties to make them more suitable than organic ones. They are:
Able to resist fading and discoloration in the sun because the color pigment is injected throughout the material.

Able to resist stiffening, fraying, and snapping.

Suitable for all temperatures.

Impervious to water damage, insect infestation, and rot.
With all of these advantages, the wicker furniture of today lasts much longer than classic examples.
But how long will wicker furniture last outside?
It's a question that depends on the specific furniture you choose.
Just like any type of product on the market, not all wicker furniture is created equal.
Low-cost wicker furniture can break down easily.
Cheap wooden frames and poor quality plastic materials could mean a chair or sofa lasts little more than a year.
It's best to go for a set that's at least priced at the entry point of the mid-range.
For a full table and chair set of wicker furniture, you could expect to spend around $600 – $700 before you see some real quality and durability.
For a smaller set with an outdoor coffee table, $300 would be the ideal starting point.
Quality wicker furniture will last five to ten years, sometimes much longer, depending on the brand.




Affordable and Durable Wicker Furniture to Consider
So we've learned that wicker furniture can last ten years or even longer when you buy a quality set.
Now it's time to start exploring what's available.
For great wicker furniture on a budget, consider this Homall Patio Set.

With a sofa, two chairs, and a tempered glass coffee table, it could form the heart of your outdoor entertaining and relaxation area.

Available in two color options to suit your décor, this set uses durable synthetic wicker material with steel frames for support.

If you want to dine outdoors in a slightly more formal setting, consider this 7 Seat Conversation Dining Table Set.

It also uses durable steel frames, and resin wicker, and has fabric cushion covers that can be washed and replaced. The chairs are rated for loads of up to 300 lbs., giving you confidence in the quality.

If you're willing to spend much more for a premium set, you could consider this SunHaven Resin Wicker Set.

It includes two large open chairs, two armchairs, a sofa, and a coffee table. The unique wicker pattern is a step above average and the powder-coated aluminum frames inside will never rust.
Wicker furniture can create a beautiful outdoor space for you, your family, and frienyour ds to enjoy.
With wicker furniture lasting so long thanks to modern materials, it's worth the investment.