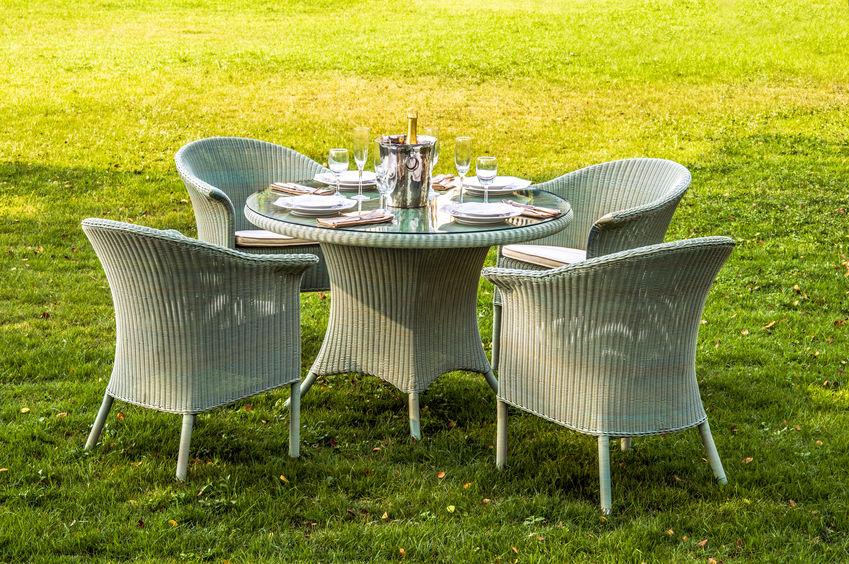 Wicker rattan furniture is popular for the unique look and durability that most brands offer.
Modern rattan is made from synthetic fibers that are impervious to moisture and resistant to UV damage.
Does rattan furniture fade in the sun?
It's a question many buyers ask, and we're going to answer it in this helpful guide.




Avoiding Faded Patio Furniture
To avoid faded patio furniture you should insist on quality products that are UV stable.
Color choice also matters.
Bright primary colors are more likely to fade than earth tones in most cases.
One of the best ways to get patio furniture that won't fade is to buy synthetic rattan furniture.
Many buyers ask: does rattan furniture fade in the sun?
The answer is usually a simple no, at least for the first five or so years of ownership.
Synthetic rattan is made from polyethylene (PE), a durable plastic that is used extensively in manufacturing.
The color on quality rattan runs throughout the material. This means that if you were to scratch a part of the rattan, it would be the same color underneath. This helps to prevent fading.
Rattan used to make wicker furniture is also UV treated to resist harsh sunlight and ensure beautiful furniture for years to come.
If you left rattan furniture outside for years at a time, without any shade, then chances are that the furniture would fade at least a little over the years.
But, because of the material, the fade would be consistent which would be more esthetically pleasing.
Some people would compare it to aluminum developing a patina, or natural teak woodturning silver over time.




Insist on Products That are Fade Resistant
No material is truly fade-proof, but many are fade-resistant.
Synthetic rattan is one of them.
When buying rattan furniture, insist on a brand that advertises fade-resistant material for your peace of mind.
This bold and vibrant Patio Wicker Furniture Set

is made from synthetic rattan and is UV treated so that even the vibrant cushions will look their best for many years to come.

The cushions are filled with a thick high resilience sponge and are four inches wide for extreme comfort. Comes with an anti-rust steel frame that also makes it sturdy.

For a premium sofa, consider this Outdoor Rattan Couch with Steel frames and Blue Cushions.

It's UV resistant to limit fading throughout the lifetime of the furniture.

Also comes with an anti-rust steel frame. Its cushions are also filled with a

thick high resilience sponge

.
If you're looking for a set of rattan furniture for a small deck, balcony, or patio, consider this 3 Piece Rattan Porch Set from Devoko.

The darker rattan chairs and table, with tan cushions, will resist UV fading.
You don't need to spend a lot of money to get fade-resistant wicker rattan furniture.
Just be careful when buying and insist on products that are either marketed as UV resistant or fade resistant.
Rattan furniture resists fading like some of the best-coated steel and aluminum furniture, making it a great choice for your home.