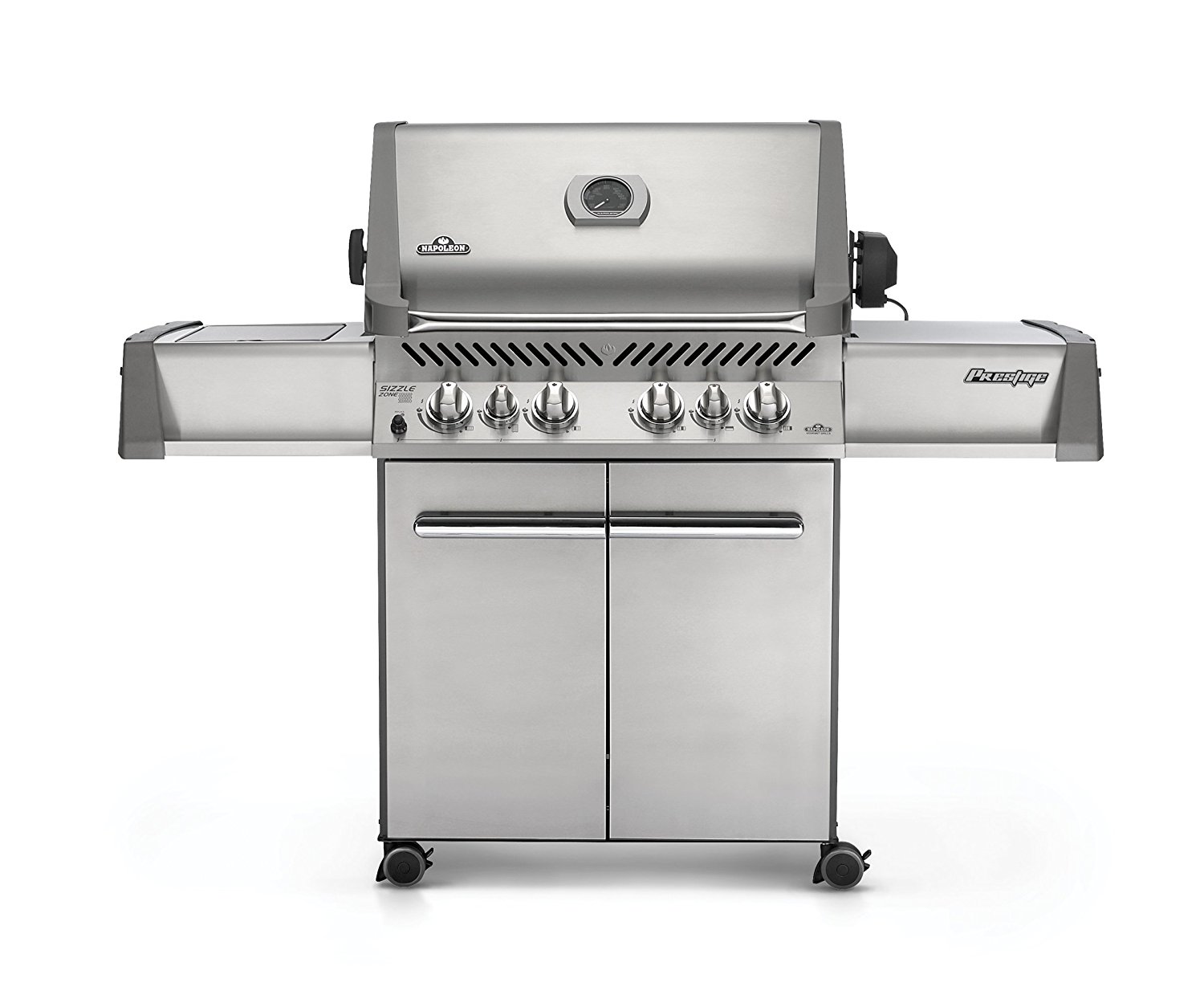 A freestanding portable grill can become the highlight of your outdoor entertainment area, and will be perfect for entertaining family and friends during holidays, cookouts, and sports events.
If you're going to get a grill that is used for both general family grilling and also for entertaining larger groups, then you're going to need something of significant size and with all of the best cooking features.
Napoleon is a trusted name in outdoor grilling, and they design and manufacture some of the highest quality grills that you can buy today.
The Napoleon P500RSIB is one of their affordable models, but the company has managed to keep the price reasonable without omitting any of the most important features, and without sacrificing quality.
If you're looking for something that is larger and more capable than the average grill, then this one is worth considering.
Napoleon P500RSIB Key Product Features
Four stainless steel gas burners.

900 square inches total cooking area.

Wave stainless steel grids.

Compatible with a charcoal/smoker tray

Infrared side burner.

Infrared rear burner.

Full grill cabinet and side shelves.
Assembly and First Impressions
Any time that you buy a larger grill like the Napoleon P500RSIB, you're going to need to perform some assembly before you can fire it up for the first time.
This model comes partially assembled, but you will need to mount the main grill to the stand, attach the shelves and the doors, and you'll also need to mount the side shelves.
Overall, assembly is fairly straightforward and it can take some time.
Most people will be able to complete the assembly in one hour with the help of a second person.
Customer feedback has shown that assembly can take up to three hours, but this will depend entirely on how familiar you are with assembling a large appliance like this.
While assembling the grill, you will start to get a feel for the overall quality.
The material used is mostly stainless steel, although there are some plastic parts that don't feel as good as the rest of the unit.
Thankfully, the use of plastic is minimized and is chrome-covered. Both the door handles and the control knobs are made from plastic.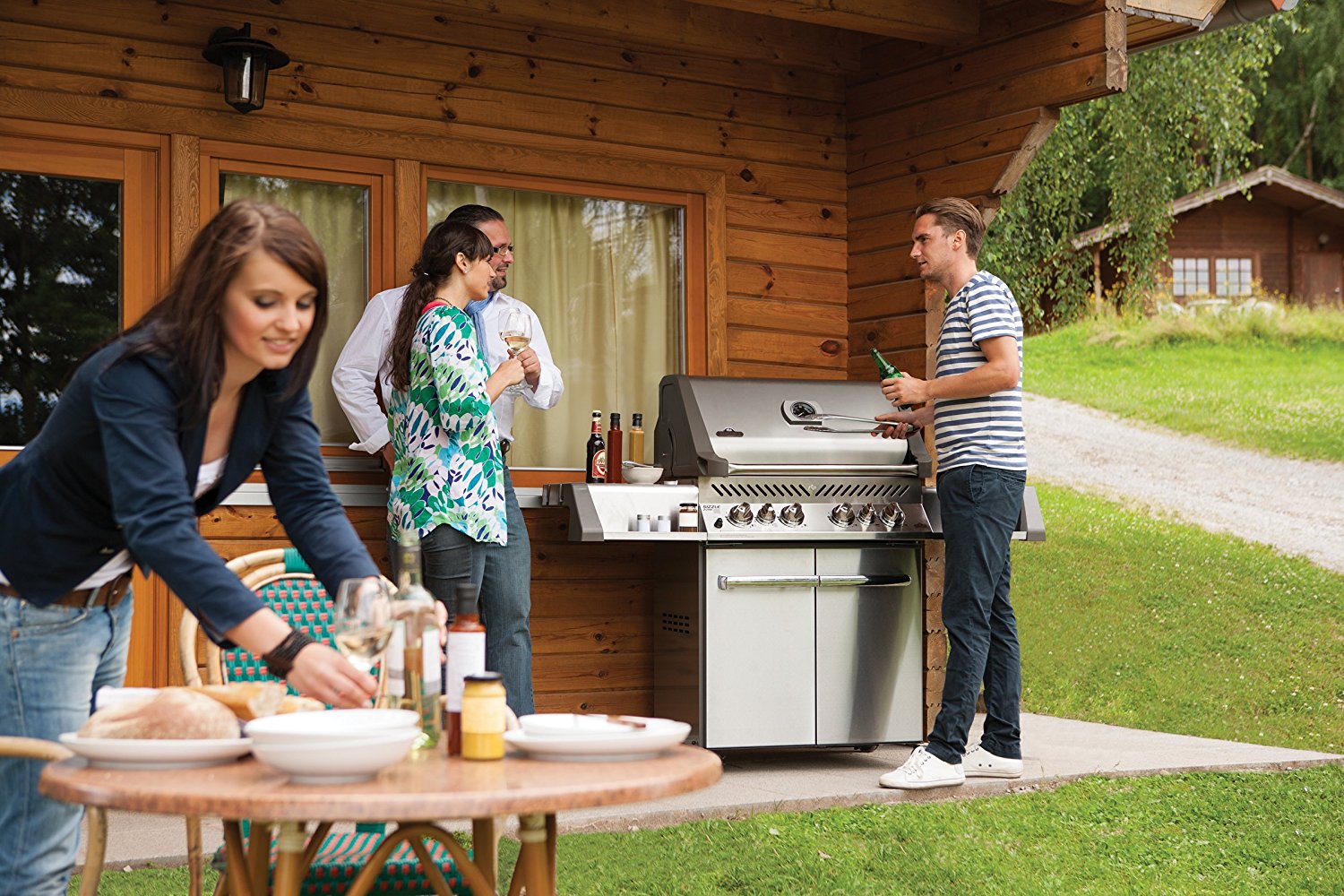 When all set up, this grill looks impressive.
This is due to the liberal use of steel parts, and also because of the large imposing nature of the grill.
If you've always wanted a grill that looked like a serious professional cooking appliance, then the Napoleon P500RSIB is definitely going to satisfy.
It looks great on any patio or deck, and you'll be proud to display this when you have friends and family around for your next cookout.
Cooking on the Napoleon P500RSIB: Feature Overview
With a large grill you're always going to have plenty of options when it comes to cooking.
If you've previously been using a smaller grill like a kettle grill or even a tabletop grill, then you will be impressed by the total 900 square inches of available cooking space.
A larger grill means that you can cook almost anything that you can dream of.
Cook a whole roast chicken or gourmet cut of meat, and you'll still have room for vegetables and bread.
It will cook up to 31 burgers simultaneously, and these will be large gourmet handmade burgers.
The warming rack will allow you to toast bread or simply keep your meat warm, and there's a side burner to add versatility.
As an all-in-one outdoor kitchen, this model definitely ticks all of the right boxes, the side burner is one feature that will provide plenty of value over the lifetime of the grill. Instead of using gas, it incorporates a large infrared burner.
The use of infrared technology makes the side burner highly efficient, and it heats up rapidly.
It's useful for using a skillet for searing, or you can add a pot for a stew or even for your own barbecue sauce.
Some owners like to use the side burner to pre-cook vegetables before finishing them off on the grill with a nice charred finish.
On the inside of the grill there's another infrared burner that runs along the back of the cooking box.
While you won't necessarily use this all of the time for food like burgers, steaks, or vegetables, it's a great addition to have when you are roasting, baking, or grilling larger cuts of meat.
Infrared creates a high amount of radiant heat without the effect of a naked flame.
It can be useful for slow cooking, or it can simply be used to help speed up the heating process while the hood is closed.
Infrared heating technology is becoming more common in different grills that are on the market today, and it's impressive to see that the Napoleon P500RSIB uses two of them for different functions on this unit.
For conventional grilling, there are four stainless steel gas burners within the firebox.
These are covered stainless steel plates that help to evenly disperse the heat, and they are also used to vaporize drippings from your food to add humidity and infuse additional flavor into your meals.
The majority of the time you'll be using the gas burners, but the versatility of having the rear infrared burner cannot be overstated.
With a simple rotisserie attachment, you'll be able to cook a leg of ham, roast beef, a whole chicken, or anything that you think would be perfect for your next cookout.
The addition of a rotisserie is particularly impressive when you consider that there are more expensive grills on the market that don't include this feature as standard.
The rotisserie kit is not hand-cranked like you will find in some of the most basic grills, and instead uses an electric motor.
You'll get perfect hands-free rotisserie cooking, and many current owners find that this is one of the best features of the grill.
The inclusion of a hood is a standard for home cooking at this point.
In the past it was fairly common to see griddle style grills that didn't include full hoods, and these can severely limit your cooking options.
The hood on the Napoleon P500RSIB is deep and allows for larger gourmet cuts to be cooked inside.
When you are cooking with the hood down, you'll get a convection oven effect, so food is cooked all the way through, from all sides.
You could even bake bread, cakes, and muffins in this grill.
For some families, this grill can be a complete kitchen replacement, and after discovering just how versatile it is, you will struggle to get back into your kitchen to cook during the warmer months of the year.
Construction Quality and Materials Used
With plenty of features and excellent cooking ability, construction quality should be your next consideration.
Before purchasing any grill, it's essential to determine whether the materials and build quality are good enough to ensure that the appliance will last for many years.
Stainless steel is the best material to use for an outdoor grill, and it's not something that you will find on budget models.
The Napoleon P500RSIB uses stainless steel throughout the chassis, the cooking box, the hood, and the side shelves.
The burners are also made from stainless steel, which will allow them to easily last for five years, and even longer if you keep the grill stored or covered in a dry place.
As mentioned, there is some plastic used, but it is not on any of the critical parts of the grill.
The plastic knobs and handles are a compromise for the price, but most owners will be willing to overlook this, especially considering that the grill manages to pack all of the most important features in, while still remaining relatively affordable.
The cooking grid is also made from stainless steel, which is excellent to see on a model in this price range.
It's unfortunate that some manufacturers still use enameled cast iron in around the $1000 – $1400 range because enamel will eventually crack and chip and the cast iron will deteriorate.
By using stainless steel, it shows that Napoleon has a strong commitment to quality, and you can be confident of getting two to five years of trouble-free use from a stainless steel grid.
Even if the grid does eventually start to deteriorate, it's one of the easiest and most affordable components to replace.
The Napoleon P500RSIB is not a budget grill, and it's not quite in the high end price range.
However, the quality of construction and the materials go beyond what you would expect from its price.
Even with some small cost saving measures, such as the plastic handles and knobs, the overall feel is solid and no owner would be disappointed in this grill.
Pros and Cons of the Napoleon P500RSIB
There's very little to fault on this grill, and a number of features and design choices to praise.
Here's the best and worst of the Napoleon P500RSIB.
Pros
Large cooking area suitable for any family, and big enough for large gatherings.

Plenty of cooking options thanks to a rear burner, rotisserie kit, and side burner.

The unit feels solid and well made, even with home assembly.

The interior cabinet is fully enclosed (with vents).

The hood is large and accommodates full roasts and gourmet cuts of meat.

The design is impressive and it looks more expensive than it is.

Stainless steel materials are used in all of the places that matter.
Cons
Knobs are plastic, despite appearing to be steel in the product images.

An electric outlet is required for the automatic rotisserie feature.

No interior light.

The drip tray opens to the rear, which can be inconvenient for some owners who place the barbeque adjacent to a wall, fence, railing, etc.
Consumer Feedback for the Napoleon P500RSIB
An average 4.1/5 rating from consumers makes this one of the most positively reviewed grills in its class.
From all reviews, 82% of them are 4/5 and 5/5 ratings.
This suggests a strong amount of customer satisfaction, and that assumption is backed up by viewing some customer testimonials.
We have found that owners have been impressed by the features of the grill, including the rear and side infrared burner.
Many have commented that the size is perfect, even when cooking for large groups.
This is particularly important because you should never make an investment in a grill that you will outgrow in the future.
Customers have also praised the high overall heat output, and how the grill is able to heat up quickly.
One reason why this heats up quicker than most gas grills is due to the use of an infrared rear burner.
Other features that customers have enjoyed are the rotisserie kit and the fact that the cabinet includes storage shelves, rather than just being an open space.
Final Thoughts and Recommendation
The Napoleon P500RSIB represents a significant financial investment, despite being nowhere near the most expensive grill on the market.
In this price range, you can reasonably expect something that will last for a number of years, and that includes a large cooking surface with a number of highly reliable burners.
The Napoleon can satisfy all of these requirements, and the fact that it uses not only four stainless steel burners, but an infrared rear and side burner, means that it is more versatile than many of the other grills in this price range.
For a good-looking grill that will be reliable and that will provide you with versatility when you're grilling or roasting, the Napoleon P500RSIB is a great choice that we can easily recommend.