Stainless steel is the best material to choose if you're looking for a durable grill.
This material resists corrosion and heat and can provide rust-free performance throughout the seasons.
Stainless steel comes with a price premium when buying a gas grill, but if you think in terms of making a long-term investment, the price difference is worth it.
Before you buy your next grill, take a look at three of the best premium gas grills in stainless steel.




Victory 3-Burner Propane Gas Grill – Best Value option
When it comes to total value, it's hard to beat a Victory grill.
With the Victory 3-Burner Propane Gas Grill, you get a grill made entirely from stainless steel with solid construction and a price that completely undercuts the competition.
Victory grills are made in China to keep production costs competitive, although the actual fit and finish are close to some of the world's most established grill brands.
This model includes three main burners and one searing station, a feature that is usually reserved for grills that cost much more.
The stainless steel tube burners can produce heat up to 700°F, which is comparable with some of the best charcoal Kamado grills.
The total cooking area of 626 square inches makes this grill ideal for serving guests on holidays and other special occasions.
The grill has two side shelves, one with an integrated searing station.
Four caster wheels make it easy to move the grill around your patio or deck so it can be stored and covered when not in use.
Overall, this three-burner gas grill offers a lot for the money that you pay.
And with 100% stainless steel construction, it will last for years without requiring any major maintenance.
It also comes with a limited lifetime warranty to give you peace of mind.
Choose a Victory premium stainless steel gas grill for:
Excellent construction at a reasonable price.
Powerful burners and solid construction.
A large main cooking area that gives you versatility.
Weber Genesis S-335 – The Best Mainstream Choice
Weber is known for making some of the most reliable grills on the market.
The Weber Genesis S-335 is an excellent choice if you want uncompromising quality and don't mind paying a premium price.
While it's much more expensive than the Victory grill, it also comes with a level of quality, fit, and finish that is above what most people expect.
Weber offers a 10 Year warranty on Genesis grills, although in many cases the grill will last much longer due to the excellent construction.
Because Weber is a well-established brand, finding parts and getting service isn't a problem.
The S-335 has three main burners plus a side burner for your pot, skillet, or pan.
There's also a searing station so you can perfectly grill steaks, sausages, burgers, and other ingredients that call for a crispy sear.
This impressively large grill has all the space that you need for serving large groups of guests.
With 513 square inches of primary cooking area, there are no limitations on the ingredients that you can cook.
The main cooking area has enough space to cook up to 28 burgers simultaneously.
There's a lot to love about the S-335 gas grill stainless steel:
Excellent construction quality.
Solid stainless steel and coated steel surfaces.
Powerful main burners with even heat distribution.
Searing station and side burner.
Beautiful modern design that will suit any home.
Weber Summit S-670 – The Best Ultra-Premium Stainless Steel Grill
For our final choice, we're going right up in the price range.
This Summit S-670 has all of Weber's famous quality with all the features that a serious home cook could need.
This model goes all out with the features, which is important if you're going to spend money on one of the very best stainless steel gas grills.
It has 769 square inches of main cooking area, six stainless steel burners, a side burner, a searing station, a smoker burner, and even a rotisserie burner.
The rotisserie system is built right into the grill, so this is a great choice if you want to slowly BBQ chicken, turkey, game meat, or large cuts of beef and pork.
The versatility of this grill is unparalleled at the lower end of the market.
Each burner has its ignition system, so you can control heating zones or cook using indirect heat with complete freedom.
The Weber Summit S-670 impresses with its features:
All the burners that a serious home cook could use.
Included rotisserie system.
Reliable ignition system.
100% heavy-grade stainless steel construction.
Premium fit and finish that goes above and beyond the competition.
A Premium Stainless Steel Gas Grill is a Great Investment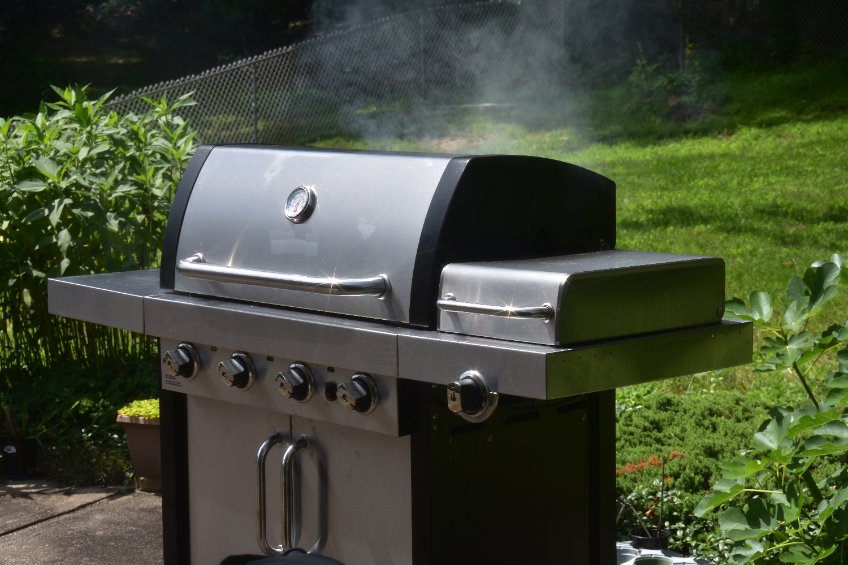 We've covered three of the best premium gas grills in stainless steel, offering different choices throughout the price range.
Whether you want to save money with the Victory grill or step up to a Weber Summit, a stainless steel grill will give you durability for years of trouble-free outdoor grilling.