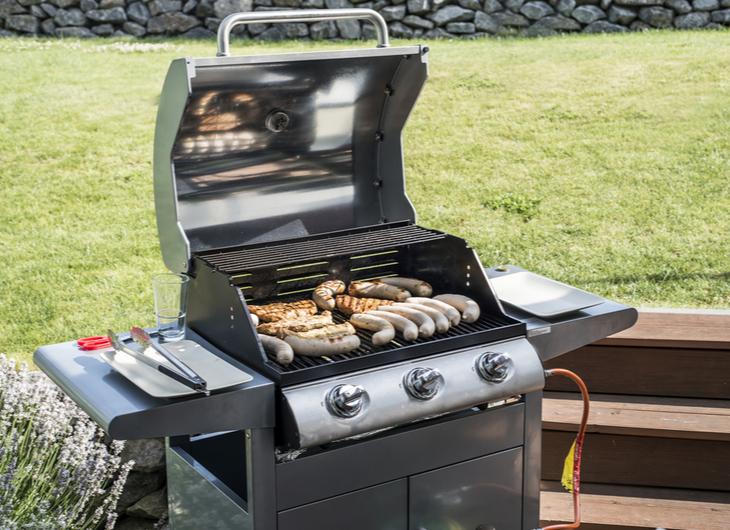 Outdoor cooking of your favorite meats, vegetables, and even baked goods is easy when you have an efficient and reliable gas grill.
The options today range from single burner camping stoves, right up to large outdoor cooking stations with 10 burners and all the extras that you could imagine.
Finding the sweet spot of cooking performance and features is important.
With a few versatile models to consider, you will discover that home grilling can be relatively affordable, with the potential to create all your favorite summer meals.
3 burner gas grills sit at a point right in the middle of the market.
They're more than enough for everyday family grilling.
These models are also great for entertaining when you have visitors over the weekends and holidays.
If it's time for a replacement grill or even your very first one, these 3 burner gas grills will get you excited about the warm months ahead.




Top Features to Consider When Buying a 3 Burner Gas Grill
When it comes to outdoor cooking, there's nothing quite like the convenience and versatility of a gas grill.
And if you're in the market for a new grill, a 3 burner gas grill is a great option.
With three burners, you have more control over the heat distribution and can cook a larger variety of foods simultaneously.
But with so many options on the market, it can be overwhelming to choose the right one for your needs. Here are the top features to consider when buying a 3 burner gas grill:
Size and Cooking Area. The first thing you should consider is the size of the grill and the cooking area it offers. Think about how much space you have in your backyard or on your patio, and how many people you typically cook for. A 3 burner gas grill can range in size from compact and portable to large and expansive, so make sure you choose a grill that fits your space and cooking needs.
Material and Build Quality. You want your gas grill to last for years, so it's important to consider the materials and build quality. Stainless steel is a popular choice for its durability and resistance to rust and corrosion. Look for a grill with a sturdy frame, solid construction, and well-designed components that are built to withstand the elements.
Heat Output and Temperature Range. The heat output and temperature range of a grill are crucial for achieving the perfect sear, char, or smoke. Check the BTUs (British Thermal Units) of each burner and the maximum temperature the grill can reach. A good 3 burner gas grill should provide even heat distribution and a wide range of temperature settings to accommodate different cooking methods.
Burner Design. The design of the burners can affect the grill's performance and efficiency. Look for burners with a tapered shape, which can prevent flare-ups and distribute heat evenly across the cooking surface. Some grills also have infrared burners, which can provide intense heat for searing.
Ignition System. A reliable ignition system is essential for hassle-free grilling. Some grills have a push-button ignition, while others use electronic or battery-powered ignition. Look for a grill with a reliable ignition system that's easy to use.
Grate Material. The material of the grates can affect the flavor, texture, and ease of cleaning. Cast iron grates are great for searing and retaining heat, but they require more maintenance to prevent rust. Stainless steel grates are easy to clean and maintain, but they don't retain heat as well as cast iron.
Fuel Source and Efficiency. Gas grills can use propane or natural gas as a fuel source. Propane is more portable and convenient, while natural gas is more cost-effective and environmentally friendly. Look for a grill that's fuel-efficient and doesn't waste gas.
Additional Features and Accessories. Many grills come with additional features and accessories, such as side burners, warming racks, rotisserie kits, and built-in thermometers. Think about which features you'll actually use and which ones are just nice to have.
Brand Reputation and Customer Service. When you invest in a gas grill, you want to know that the manufacturer has a good reputation for quality and customer service. Look for brands with a proven track record of producing high-quality grills and providing excellent customer support.
Price and Value for Money. Finally, consider your budget and the value for money. A 3 burner gas grill can range in price from a few hundred dollars to several thousand dollars. Think about how much you're willing to spend and which features are most important to you.
By considering these top features, you'll be able to choose the best 3 burner gas grill for your needs and preferences.
Whether you're a seasoned grill master or a beginner, a high-quality gas grill can provide endless outdoor cooking possibilities and enhance your backyard entertainment.
Remember to think about size, material and build quality, heat output and temperature range, burner design, ignition system, grate material, fuel source and efficiency, additional features and accessories, brand reputation and customer service, and price and value for money.
With these factors in mind, you'll be well on your way to enjoying delicious grilled meals all season long.




Some of the Best 3 Burner Gas Grills
Kenmore 3 Burner Outdoor Patio Gas BBQ Propane Grill

Impressive presentation and practicality come together in the Kenmore 3 Burner Gas Grill.
Designed for homeowners who want an attractive outdoor cooking station, this is one of the best-looking grills at an affordable price tag that you can buy today.
The grill features stainless steel accents, coated steel, and beautiful mocha brown panels that will blend in with any outdoor setting.
If brown isn't quite your color, you can go for the more traditional black and stainless steel option.
Looks are important, but cooking performance should always be your top priority.
With 408 square inches of primary cooking area and three burners that produce up to 30,000 BTU, this grill is ideal for up to six people when working with a variety of ingredients.
If you love to entertain, you could cook for larger groups when sticking to the classics like steaks, hot dogs, specialty sausages, and burgers.
The easy-start ignition on this model is reliable, and the cast iron cooking grates are coated in porcelain enamel so they will never need to be seasoned to prevent rust.
Pros
Corrosion-resistant powder coated and stainless steel construction.

Cast iron cooking grates offer excellent heat retention and spread.

Reliable ignition system.

Large hood and accurate temperature gauge.
Cons
Color won't appeal to everyone (a black version is available).

No front cabinet storage for utensils and accessories.

You could bring out the best of your outdoor entertaining area with this stylish 3 burner gas grill.
With excellent cooking performance, it will become one of your favorite ways to cook over the summer months.




Dyna-Glo Premier 3 Burner Natural Gas Grill

You can enjoy premium features and construction quality in a mid-sized grill, and this Dyna-Glo Premier 3 Burner Gas Grill is one of the best examples.
This model uses your existing natural gas hookup to provide reliable and consistent grilling at any time of the year.
It features 396 square inches of primary cooking space, or up to 550 square inches when including the warming rack.
The body is made from stainless steel with some powder-coated panels.
The materials will resist corrosion, giving you a grill that will last for years when properly cared for and covered when not in use.
The cooking grates are made from porcelain-coated cast iron.
This material allows for consistent heat across the cooking surface, and it helps to prevent rust and sticking.
With 36,000 BTU of total power, this grill can reach searing hot temperatures for steaks, burgers, hot dogs, and other similar ingredients.
The large hood and temperature gauge make it easy to cook with the hood down, which is perfect for poultry or low and slow BBQ cooking.
Pros
Excellent stainless steel construction.

Attractive pedestal design.

Folding side shelves and a large cabinet.

High-quality caster wheels.

Three unique heat zones for all your favorite ingredients.
Cons
Powder-coated side shelves are not as sturdy as the rest of the grill.

Stainless steel cooking grates would be a better option for fast, high heat cooking.

Durable construction and an attractive modern design make this one of the best 3 burner gas grills you can choose today.




Weber Spirit II E-310 3-Burner Liquid Propane Grill

As one of America's most trusted grilling brands, Weber is a good choice for a 3 burner gas grill.
The Spirit II E-310 is a durable option for demanding home cooks.
Weber offers its unique GS4 grilling system, which includes a highly reliable ignition, commercial quality burners, porcelain-enamel flavor bars, and a convenient grease management system.
While most grills use a rectangular firebox, this one tapers down to a kettle-style curve at the bottom.
This helps with grease collection and cleaning, and it also creates natural heat convection for top-down cooking.
There are 529 square inches of cooking space and the burners produce up to 30,000 BTU at full power. Construction quality is impressive with mostly powder coated and enameled steel.
Stainless steel panels would be preferred, but Weber has done a commendable job of creating a durable grill that is still reasonably priced.
Pros
Reliable GS4 grilling system.

Porcelain flavor bars and cooking grates.

Large and sturdy side shelves.

Excellent grease management system.

Great convection design for low and slow cooking or cooking away from direct heat.
Cons
No storage cabinet.

Could use more stainless steel for a premium appearance.

The extremely stable cart design will be appreciated if you regularly move or store your grill throughout the year.
Despite some shortcomings, the benefits of this model make it one of the best 3 burner gas grills for cooking at home.




Megamaster Propane Gas Grill

This Megamaster 3 burner gas grill is reasonably priced and offers a unique aesthetic that will work well outside of a modern home.
The all-black design with red accents is striking, and its monolithic appearance helps it to stand out from the competition.
Sharp angular lines are used here, giving the impression that this grill means business.
The appearance implies power, and that's exactly what you will get with this propane grill.
The three stainless steel burners are connected to a reliable electric ignition. With all the burners running at full power, this grill produces up to 40,500 BTU.
This is notably higher than most grills of this size.
The high power output allows for extremely hot searing temperatures and the perfect roasting conditions when the hood is down.
A temperature gauge in the hood makes it easy to maintain the ideal heat level, and simple extras like the large side shelves and tool hooks improve your grilling experience.
Pros
Attractive black design with red accents.

Generous hood clearance.

More powerful than similar 3 burner gas grill

Porcelain flame tamers and cooking grates.
Cons
No cabinet door or storage trays.

Coated steel is rust-resistant but not as durable as stainless steel.

Despite first impressions, this grill isn't made to the same standards as top models from Weber and Dyna-Glo.
However, it is still durable enough for years of use, and the high-powered cooking performance is unrivaled at this price point.




Summerset Sizzler Series Gas Grill On Cart

Stainless steel is considered the best material for outdoor cooking appliances, thanks to its classic aesthetic and ability to resist rust.
This Summerset Sizzler Series 3 Burner Gas Grill is made entirely from solid stainless steel.
It is one of the most durable grills on the market and offers all the performance you would need for family cooking or entertaining your guests.
Inside the grill, you will find 560 square inches of cooking area, making it easy to work with your favorite ingredients.
These can range from simple burgers and hot dogs to whole chickens, smaller turkeys, game meat, and large BBQ cuts.
Cooking grids are also made from stainless steel to ensure rapid heat for searing and locking in flavor.
Three commercial stainless steel burners provide a combined 36,000 BTU for searing high heat.
With briquette trays, radiant heat is ensured for consistent results, no matter the temperature you set.
A large hood makes it easy to cook with the top down, and the temperature gauge is accurate, so you'll get fantastic results every time.
Pros
Solid stainless steel construction.

Commercial quality burners.

Best in class cooking performance.

Large enclosed cabinet.

Industrial caster wheels.
Cons
Priced at the top end of the 3 burner gas grill

Could include more special features for the price, such as a side burner, or rotisserie burner.
The only real downside to this grill is its price.
This is justified with the premium materials, fit, and finish.
Some extras could have added value, but, even as it is, this is one of the best 3 burner gas grills on sale.




Weber SE-310 Natural Gas Grill


This Weber Genesis II SE-310 Natural Gas Grill is designed for demanding home cooks who want an efficient grilling station without any unnecessary features or design quirks.
Upon first inspection, this grill might appear to be overly simple or even underwhelming.
However, it's important to consider the market that it's designed for.
It uses premium coated steel and a classic cart design.
It is focused on performance with looks coming in second.
This is obvious when considering it lacks an enclosed cabinet or any significant stainless steel elements.
This 3 burner gas grill produces 37,000 BTU of cooking power with Weber's famous GS4 grilling system. The hood is large and insulated.
Combined with the temperature gauge, it's easy to get consistent temperatures no matter your cooking style.
The tapering firebox creates the easiest grease catch system in the industry and enhances radiant heat for thoroughly cooking larger cuts of meat and poultry.
Pros
High-quality GS4 system with reliable burners and porcelain cooking grids.

Well-insulated hood and tapered firebox for efficient top-down cooking.

The best grease management system in the industry.

Durable coated surfaces.
Cons
Fully open cart design.

Designed only for a natural gas hookup.
If you have natural gas at home and value performance over aesthetics, this could be your ideal 3 burner gas grill this summer.




Napoleon Rogue XT 365 Natural Gas Grill

The final 3 burner gas grill to consider is also one of the most impressive.
This Napoleon Rogue XT 365 Natural Gas Grill is designed for home cooks that want versatility in an attractive package.
Napoleon is a popular brand that is known for its quality and innovation.
This grill is made from stainless steel with some coated steel panels, and the pedestal design is convenient and suited to smaller outdoor areas.
This three-burner design is a little different from other options on this list.
There are two main burners inside the firebox, paired with a single infrared side searing station for convenience.
The total grilling area is 590 square inches, and this model produces up to 41,000 BTU of heat with all burners operating.
The main cooking area and hood are slightly smaller than the typical 3 burner gas grill, but having the flexibility to sear steaks and other ingredients on the side will be a big advantage for many owners.
If you've always wanted a grill that could become a more versatile outdoor kitchen appliance, then this is one of the best options to consider.
Pros
Side infrared burner adds versatility over standard 3 burner gas grill

Quality Napoleon construction and materials.

Porcelain cooking grids for excellent heat retention.

Large side shelves.

Enclosed cabinet design.
Cons
Smaller main cooking area than similarly priced grills.

Only two heating zones inside the hood.
Sacrificing one main burner for a side searing station won't be an option for every buyer.
However, if you want to lock in flavors by searing steak, chops, and even BBQ cuts, you'll find value in making this compromise.




Bottom Line – Which 3 Burner Gas Grill is Right for You?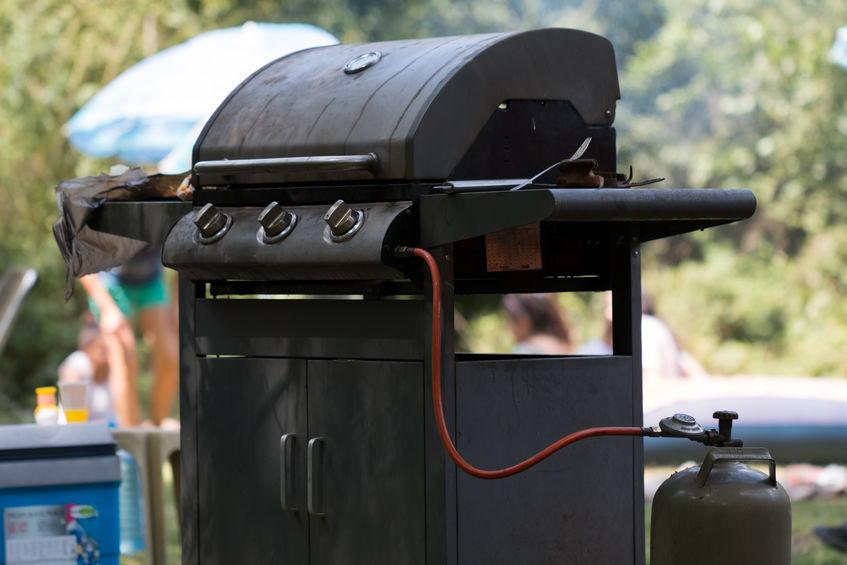 Choosing the right 3 burner gas grill depends on your individual needs and preferences.
With so many options available, it's important to consider factors such as size, material and build quality, heat output and temperature range, burner design, ignition system, grate material, fuel source and efficiency, additional features and accessories, brand reputation and customer service, and price and value for money.
If you're looking for a high-end, premium option, the Weber Genesis II E-315 is a great choice.
It's built to last and offers excellent heat output and temperature control, along with a range of features such as a sear station and built-in thermometer.
For a more budget-friendly option, the Char-Broil Performance 300 is a great choice.
It offers solid construction and heat output, along with a range of convenient features such as folding side shelves and a built-in thermometer.
Ultimately, the best 3 burner gas grill for you will depend on your individual needs and budget.
Consider your cooking style, the size of your outdoor space, and the features you value most in a gas grill. With the right grill, you can enjoy delicious grilled meals and outdoor entertainment all season long.