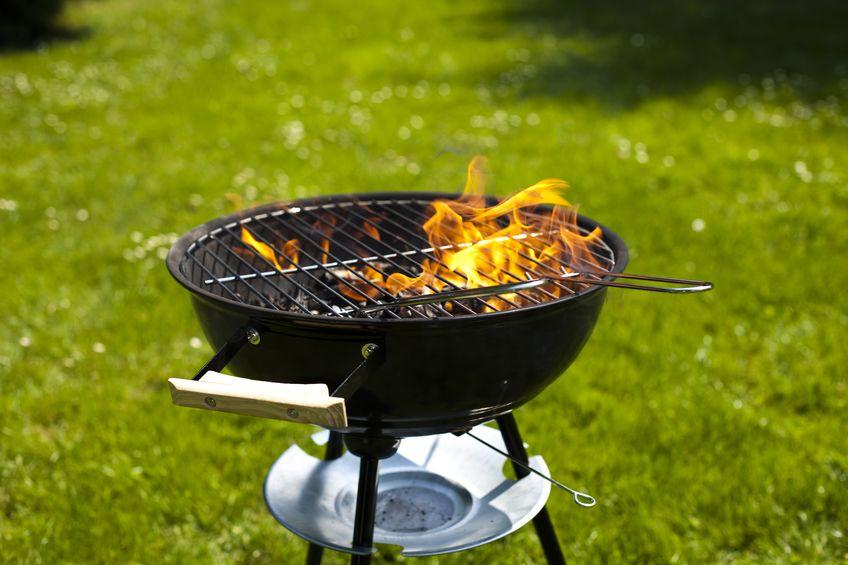 For discerning enthusiasts who demand authentic grill flavors, charcoal is the fuel of choice.
Charcoal gets hotter than gas, it's easier to store and transport, and it's incredibly affordable.
It creates impressive flavors no matter the ingredients being used, which is why it's becoming more common to see charcoal grills at homes.
For use on the road, charcoal is also popular.
If you want to cook with ease anywhere you go, you can start by looking at two of the best mobile charcoal grills for your money.




Cuisinart 15" Portable Charcoal Grill – The Best Budget Mobile Charcoal Grill
If you're on a tight budget and want something that delivers impressive performance with very few compromises, the Cuisinart CCG190RB 15" Charcoal Grill is one to consider.
This grill is perfectly sized for camping, picnics, fishing trips, and any of your other favorite outdoor activities.
With a classic kettle design, it's easy to use and performs well, providing everything from searing heat to low-and-slow grilling.
With 150 square inches of cooking area, this grill will take care of simple ingredients for groups of up to four people.
Cooking for longer in batches will accommodate even more diners in one session.
The grill is enamel coated to provide resistance against corrosion, and it has a classic kettle lid to cook with the top down.
It packs up into a convenient size which makes it ideal for mobile grilling.
One of the biggest advantages of this Cuisinart grill is its relatively low price.
It's more affordable than most other portable charcoal grills on the market, yet there are no major shortcuts when it comes to quality or design.
It could even be used at home on a patio if you simply need something small for occasional grilling.
Key Features:
Quality construction with enamel coating.

Venting system to control heat and smoke.

Secured locks for transport.

Weighs just 2lbs.

Simple tray-style ash catcher.
For a simple and affordable solution, this is the best mobile charcoal grill for your money.




Stepping Up to the Weber Jumbo Joe – A Premium Mobile Charcoal Grill
Weber is the most trusted name in outdoor grilling.
Gas and charcoal models under the brand offer the best combination of performance, durability, and competitive pricing.
Weber is famous for its Kettle grills.
The Weber Jumbo Joe takes inspiration from the Kettle range, with a portable twist.
This 18" grill offers extra space so it's perfect for a family campsite, a picnic with friends, tailgating, or any other situation where flavorful charcoal-grilled food is called for.
The larger surface area allows for up to eight standard burgers.
The hooded design is perfect for chops, dogs, vegetables, or even steaks.
The enamel surface creates additional insulation for high searing temperatures, maintaining lower temperatures, and protecting against damage.
The grill is made from steel, it has an innovative tilting top lid, and it incorporates Weber's famous cone ash catcher that is still seen on some larger Kettle grills.
You could consider the Weber Original Kettle Premium Grill if you're looking for a full-sized and durable charcoal grill option to use at home.
Key Features:
Impressive Weber design and construction quality.

Classic black porcelain enamel for durability and heat insulation.

Small and compact for travel.

Large cooking surface.

Steel-plated cooking grate.
Stepping up to the Weber will give you one of the best portable charcoal grills for your money, with all the quality and performance that the company is known for.




Enjoy Cooking Outdoors with Charcoal
Delicious grilled foods aren't just for the home.
You can take the best mobile charcoal grills anywhere that your adventure leads you.
Whether you choose the budget-friendly Cuisinart, or the slightly costlier (but still relatively affordable) Weber Jumbo Joe, you'll enjoy the classic charcoal flavor from a conveniently sized cooking station.