Your patio is set within a beautiful garden and the space deserves to be used to its full potential.
Rattan furniture is perfectly suited to your outdoor living and entertaining area.
Modern rattan furniture is based on tradition, yet the designs are suited to the lifestyles that we're accustomed to.
You've asked, what is the best rattan garden furniture?
This guide will tell you how to find it.




Choosing the Best Rattan Garden Furniture
Wicker rattan is a furniture style that has been around for generations.
Traditional rattan used natural strands harvested from palms unique to East Asia.
Today, natural rattan isn't used for outdoor furniture because it's expensive and destructive to harvest, and it doesn't stand up well to the elements.
furniture made from natural fibers will rot, attract insects, and is likely to fall apart quickly when it gets left in the rain or a humid environment.
So, when you want the best rattan garden furniture, you need to go for a modern solution.
Today, the industry has moved to the use of synthetic rattan.
Synthetic rattan, also known as PE rattan, is made from polyethylene, a plastic compound that is resilient to damage and environmental effects.
It is completely waterproof, it resists fading even in the harshest sunlight, and it is perfectly suited to the wicker style of weave that natural rattan is known for.
When you buy rattan garden furniture, it needs to be synthetic.
The best rattan garden furniture will last for up to fifteen years before showing signs that it's time to replace the set.
Most importantly, when you choose synthetic PE rattan garden furniture, you won't need to bring your chairs and tables into a garage or shed when it rains.
PE rattan is suited to all weather conditions, even snow.




The Best Rattan Furniture Has Aluminum Frames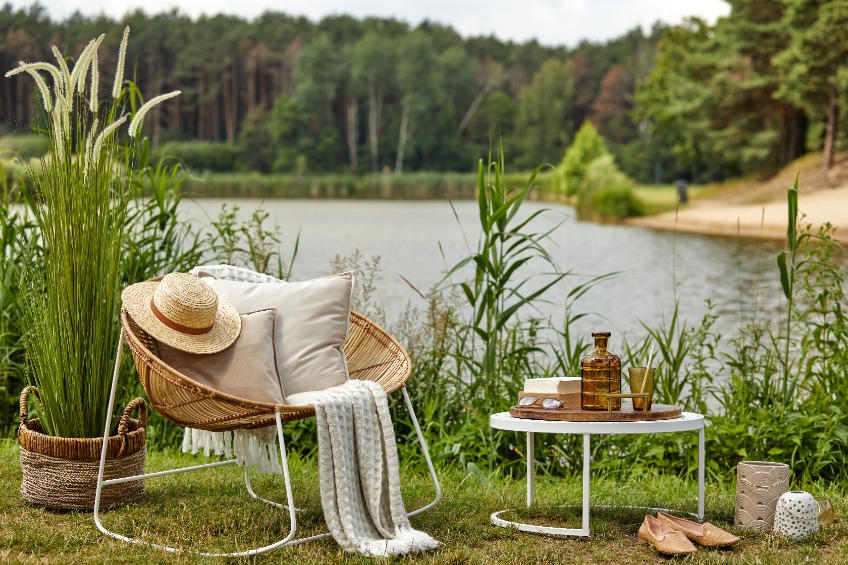 Some inexpensive rattan furniture uses tubular steel frames that are powder coated to prevent corrosion.
However, over time, this powder coating will wear down, and the frames will start to rust.
This can cause failure and the furniture will start to fall apart.
You want to make a long-term investment.
That's why you've asked the question: what is the best rattan garden furniture?
To make sure you get the most from your money.
Choose furniture that has aluminum underneath the rattan weave.
Aluminum is impervious to moisture.
Even when exposed, it develops an oxidation layer that prevents further damage.
In a technical sense, aluminum can't rust as steel and iron can.
This means that aluminum frames will never fail, even when the furniture is left outside throughout the year.




Optional Things to Consider
Other elements of your furniture come down entirely to personal preference.
Deciding what is the best rattan garden furniture is as much about style as it is about quality.
Choose a set that you like based on its looks, and then confirm that it has the features (PE rattan and aluminum frames) to give it durability.
Large plush cushions are also a bonus when buying chairs and sofas.
Cushions should be at least three inches thick to ensure comfort when sitting for long periods.




An Example of the Best Rattan Garden Furniture
With everything we've just discussed in mind, we can look at the Stellahome Wicker Patio Furniture Conversation Set as an example of the best rattan garden furniture.
This set includes:
A sectional sofa to get the perfect arrangement for your garden patio.
An Ottoman/coffee table for convenience.
High-quality all-weather PE rattan.
Solid aluminum rust-free frames.
This set is priced between the mid-range and high-end of the market and would make for an excellent long-term investment for your home.
Rattan garden furniture is the best way to improve your patio.
With our tips, you'll be able to find furniture that looks great and lasts.
The best rattan garden furniture will suit your style while also being durable enough to last for many seasons.