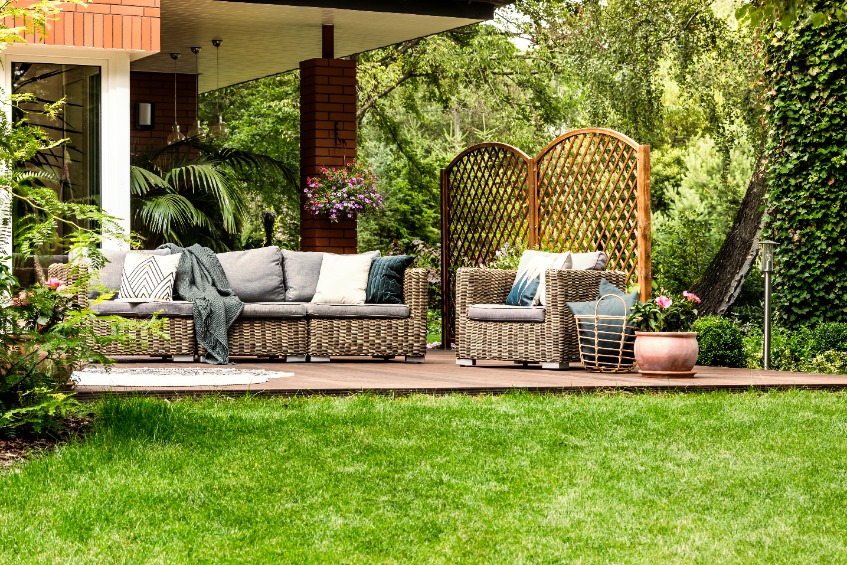 Rattan outdoor furniture is incredibly popular, thanks to impressive designs and durability for any weather.
With so many options available to buy today, it can be hard to find who makes the best rattan furniture.
The best brands combine style, durability, and comfort with competitive pricing.
You might be surprised at how even some of the best rattan furniture for outdoors is relatively inexpensive.
We've got three brands to consider, along with examples and why they make some of the best rattan furniture today.




Devoko Makes Some of the Best Rattan Furniture on a Budget
Devoko is a brand that you can't overlook when buying rattan furniture.
This company makes elegant and comfortable furniture that is cost-competitive with the wider market.
In fact, sometimes Devoko can undercut the price of some entry-level brands while still providing quality and styling that is more suited to the mid-range.
It's the brand's reliability, looks, and durability that we love.
Metal frames, weather-resistant synthetic PE rattan, and a range of configurations from patio chairs to dining sets mean that you can find the furniture you need, even if you're on a tight budget.
To see exactly what we mean, consider the affordable Devoko Patio Dining Set.
With 9 pieces including Ottoman-style cube seats and large armchairs, this could become the focal point of your patio or deck area.
It's ideal for formal dining on special occasions or casual meals with friends and family outside.
It's made from quality materials and is offered at a price far below what most people would reasonably expect.
The Devoko 5 Piece Patio Sectional Sofa Set is another example of where affordability comes together with style and durability for any weather.




U-MAX Makes Some of the Best Large Sets of Rattan Furniture
If you want to know who makes the best rattan furniture with large sofas, U-MAX is a brand to consider.
This company, much like Devoko, produces outstanding furniture at prices that would have been unthinkable just a few short years ago.
U-MAX uses synthetic rattan, which will resist wind, rain, rot, and sunshine.
Synthetic rattan won't break down like traditional rattan and it offers an overall better return on your investment.
U-MAX products are typically a little more expensive than Devoko, but the sets are aimed at a different market.
When you want big and bold furniture for a large patio or deck, U-MAX will have you covered.
The U-MAX 7 Piece Outdoor Furniture Set is an excellent example.
It's sectional, which means that it's modular and can be reconfigured to match your space.
It also includes a low coffee table that is perfect for drinks and party food.
U-MAX also makes extra accessories that could bring more style and comfort to your outdoor living space, like an Outdoor Propane Fire Pit mounted safely and securely in an attractive wicker rattan table.




SunHaven Makes Excellent Premium Rattan Furniture
When you want the best rattan furniture in the premium range, consider SunHaven.
This brand makes heavy-duty, stylish, and plush wicker rattan furniture for the high-end of the market.
The SunHaven Resin Wicker Patio Set comes with elegant and plush cushions with high-quality upholstery.
The square monolithic designs are contemporary and stylish.
There's even a large coffee table included with a tempered glass top and integrated storage.
When you get to this end of the market you will find products with 100% aluminum frames that are completely rust-proof, more complicated hand-woven wicker panels, more consistency in shape and dimensions, and a better overall feel of the materials.
If you're willing to spend extra to get the best rattan furniture possible, then SunHaven is the brand to go with.




Start with Our Three Suggestions for the Best Wicker Rattan Furniture
Who makes the best rattan furniture for your needs?
It depends on your budget and what you're looking for.
With our three suggestions from the entry-level to the high-end, you'll be able to choose the perfect furniture to suit your home and sense of style.