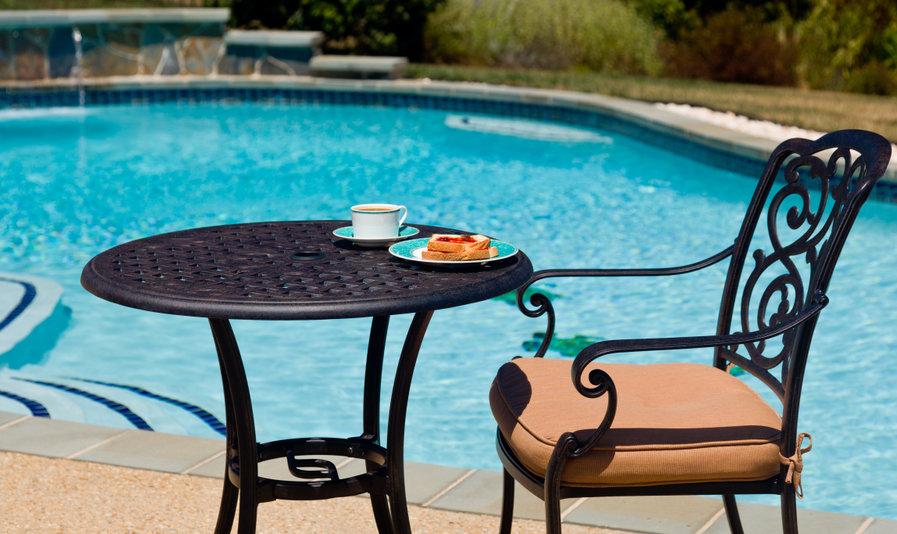 Durability is one of the most important features to look for in patio furniture.
Materials like wood, steel, and even certain plastics are known for their longevity.
There's also the option of aluminum, which is becoming increasingly popular for quality patio furniture.
Cast aluminum is a specific type of aluminum that is formed using a die, sand, or mold casting process to create solid furniture.
Is cast aluminum good for patio furniture?
We answer this question in the only cast aluminum furniture guide you need.




The Benefits of Cast Aluminum Furniture
Aluminum is an abundant material that is naturally occurring on earth. More than 8% of the earth's crust is aluminum.
The material is used in a broad range of industries to make products that you can use at home.
From high-quality cookware to grills, you probably have aluminum items at home today.
If you're looking for the best patio furniture, you'll find that aluminum often comes up.
Cast aluminum patio furniture is the best type for your home.
It is heavier duty than furniture made from thin aluminum tubes or aluminum plate metal.
The benefits of cast aluminum patio furniture are significant:
The material is lightweight, so it's easy to rearrange your patio or store your furniture when it won't be used.
The casting process allows for a diverse range of styles so that you can find the perfect fit for your outdoor décor.
Cast aluminum can be finished with a colored UV-stable coating so there are various esthetic options available.
The material is rust-free. Even exposed aluminum won't rust due to a natural patina that forms to protect against air and moisture.
Despite being lightweight, cast aluminum is incredibly durable and will stand up to even extreme weather and high-weight loads. You could invest in cast aluminum patio furniture and expect it to last for many years.
Furniture made from cast aluminum is priced to be affordable for the average household.
With all these benefits, it's easy to see why cast aluminum is a great choice for patio furniture.
Now that you understand the advantages, you can start to compare some unique sets to see how all of these benefits come together.




Aluminum Patio Furniture Options
Consider some of these aluminum patio furniture options to see how beautiful and diverse aluminum patio furniture can be.
This

2 piece set

of wrought iron patio furniture is made from cast aluminum. This set is great when

you need extra patio seating on a budget. The lattice style shows just how versatile aluminum can be.

Classic table and chair combinations can look like the elaborate furniture of yesteryear when you choose cast aluminum. This bistro set

is beautiful, elegant, and a great example of highly detailed cast aluminum furniture.

If you're looking for a complete dining set for family meals and entertaining on special occasions, you'll find a lot to like in this rectangular dining set.

From the beautiful ornate chairs to the highly detailed tabletop, this set shows how even the most elegant cast aluminum furniture can be affordable.
Is cast aluminum good for patio furniture?
The simple answer is yes.
Furniture made from this material is beautiful, durable, and surprisingly affordable.
When you want the highest quality ornate furniture for your patio, cast aluminum is one of the best materials to choose from.