Patio furniture should be comfortable for everyday use, yet durable enough to withstand harsh weather conditions.
Rattan is a material that is used to make wicker furniture.
Modern production methods using synthetic rattan improve durability while allowing for a range of beautiful woven styles.
In the past, rattan furniture was known for its fragility, especially when exposed to the elements for a few seasons.
Thankfully, modern rattan won't fall apart like the furniture of yesteryear.
Will rattan last outside? Let's explore this important question and find the answer.




Synthetic Rattan is Used for Modern Furniture
Traditional rattan is made from a palm plant native to East Asia and Australia.
While versatile for creating furniture, natural rattan lacks durability, especially when used for outdoor furniture.
Harvesting rattan is environmentally destructive and prohibitively expensive.
Today, synthetic rattan is used as an alternative.
Not just a cheap imitation, synthetic rattan outperforms natural palm fiber.
PE (polyethylene) is used to create synthetic rattan strands.
This resin is the most widely used plastic in the world, and one of the most durable.
Color can be injected throughout the material, so it resists fading in the sun.

PE won't fray or rip.

Synthetic rattan is more flexible, so it ends up being much more comfortable.

PE rattan won't rot or mold. You'll get a longer return from your investment in patio furniture.
All these characteristics mean that modern rattan furniture will last outside, even when exposed to rain, wind, plant debris, high humidity, sunlight, and other extreme conditions.
While it's always best to keep your furniture covered during the worst weather or when it won't be used for long periods, you can have confidence knowing that your new rattan furniture will stand the test of time.




How Durable is Rattan Patio Furniture?
Understanding the benefits, we can answer the key question: will rattan last outside?
The answer is yes, but durability can vary between products.
Warranty and guarantee periods typically vary between two and seven years for rattan furniture.
Though many owners find that their furniture will last for up to ten years before showing signs of wear.
Rattan will last outside, and you'll get more value when you use a quality cover.
Vented, 600D covers are best for rattan furniture, because they protect against wind, moisture, snow, debris, and sunlight.
Beautiful Rattan Furniture That Lasts Outside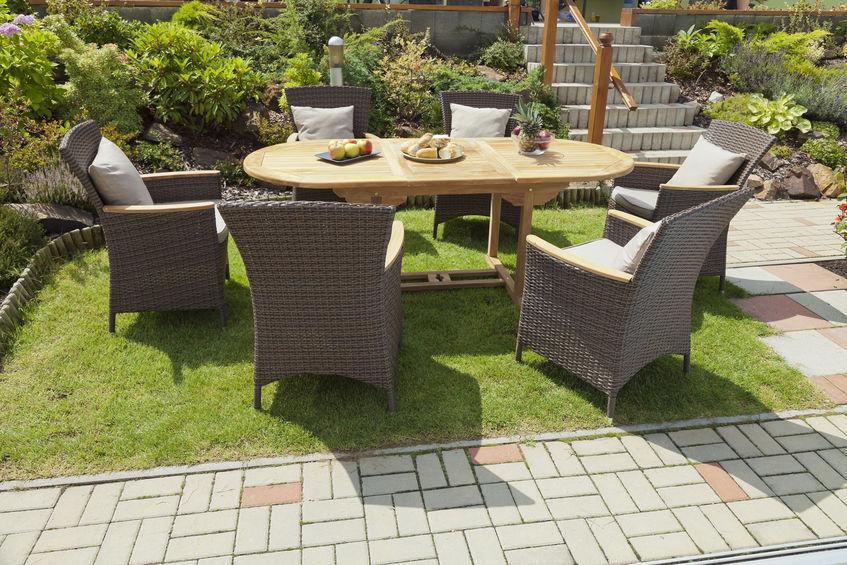 Synthetic rattan has made wicker furniture more accessible to the average household.
This

Devoko Patio Wicker Set

includes a table and two chairs with cushions and would be perfect for a porch, patio, next to a pool, or in a landscaped garden setting.

The classic wicker design is woven using synthetic rattan strands. It is durable enough to withstand rain and wind for seasons to come.

Ideal for botindoorsor & outdoor.

This beautiful

Indoor Outdoor Wicker Dining Set includes a square dining table and large synthetic rattan wicker chairs for outdoor relaxation with friends and family. The traditional design will last longer than natural rattan thanks to the use of synthetic strands.

The sturdy table is made with a tempered glass top and has a 1.5" hole that will allow you to add an umbrella. Chairs come with removable cushions are weather-resistant.

For an affordable outdoor sofa and chair set, you could consider this

 4-Piece Patio Set. It's made from synthetic rattan with a wicker weave that looks effortlessly modern. Steel frames help to add durability while resisting rust underneath. Made out of PE rattan over a steel frame, and will last longer and be more weather resistant than similar wicker furniture.
Beautiful modern rattan furniture is made to last outside.
Synthetic strands are impervious to moisture, and the cost is kept competitive, even when considering some of the best patio furniture sets.