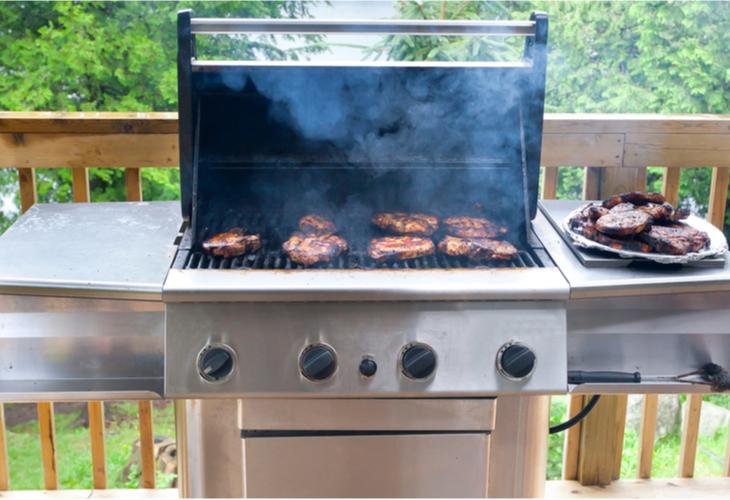 The grilling season brings family and friends together.
There's nothing quite like cooking outdoors and combining all of your favorite ingredients to make meals that rival those of the best restaurants.
The best outdoor grills can give you a sense of nostalgia for the years past.
With modern features, they make cooking easier and even more fun.
If your grill is starting to show its age, or if you're looking for the first grill for your home, you'll find plenty of options on the market.
The following grills make up the best of what's available today.
Compare the best outdoor grills for your needs, and make the most of this summer when you cook at home.
Megamaster 6 Burner 763 Square Inch Propane Gas Grill

Large, powerful, and yet surprisingly affordable, the Megamaster 6 Burner Propane Gas Grill is one of the best outdoor grills for this season and the years ahead.
If you've always wanted a large grill for family meals and parties, this is one of the first options that you should consider in 2020.
Designed to make no compromises on size or cooking ability, this grill features 763 square inches of total cooking space, with 543 square inches on the main surface.
The cooking grids are porcelain enamel to improve heat retention and provide the classic sear marks that grilling enthusiasts love.
The design also helps to prevent sticking and makes it easier to clean the grill.
With six individual burners, it's easy to create individual temperature zones or cook ingredients away from direct heat.
This is helped by the large hood that includes an accurate temperature gauge.
With two side shelves, this model offers all the space you would need for preparation.
Pros
Large cooking area for family meals and entertaining.

Porcelain enamel cooking grids and burner guards.

Large side shelves.

Battery-operated ignition makes startup easy.
Cons
Coated steel construction isn't as durable as stainless steel.

Side shelves don't fold.

The underside cabinet is fully open.
Despite a few flaws, this is still one of the best outdoor grills in its price range.
If you need quality on a reasonable budget, the Megamaster will meet your expectations.
---
Masterbuilt SH19030819 Smoke Hollow PT300B Propane Grill

Where the Megamaster goes for size and physical presence, the Masterbuilt Smoke Hollow Propane Grill follows a more compact approach.
This grill is designed for home cooks that want an efficient grilling station but don't need all of the space and features of larger grills.
The Masterbuilt grill has a single stainless steel burner with a 'U' shape layout to ensure consistent results across the 288 square inches of total cooking area.
Despite its small size, there's a chrome-coated warming rack for added convenience.
Stainless steel construction means that this grill will last for years or even decades before showing any signs of corrosion.
Even the cooking grates are solid stainless steel; a hallmark of the best outdoor grills.
The single burner control and push-button ignition make this simple to use, even if it's your first time cooking on a grill.
This is a great choice for hot dogs, burgers, and perfectly cooked steaks.
Pros
Suitable for tabletop cooking.

Can be used as a portable grill.

Integrated temperature gauge.

Solid stainless steel construction.

'U' shape burner for consistent results.
Cons
Not suited to large families or parties unless working with simple ingredients.

A shallow hood isn't suited to all ingredients with the top down.
Not everyone needs a large grill.
If you want something small but of the highest quality, this is one of the best outdoor grills for the summer or any time of year.
Char-Griller 2137 Outlaw 1063 Square Inch Charcoal Grill / Smoker


Many home cooks insist on the ability to infuse smokey roadhouse flavor into their foods.
Whether you love to slow cook with smoke or grill with the hood up or down, the Char-Griller Outlaw is a top performer.
The size of this grill is truly impressive.
Inside you will find 1063 square inches of total cooking area, allowing you to work with the largest ingredients including whole birds, large BBQ cuts, and even grilled pizzas, bread, and more.
Using charcoal as the fuel source, this grill can reach searing hot temperatures, and it's easy to add smoker chips or blocks right into the barrel design.
There's an adjustable smokestack to control ventilation and heat, and the integrated temperature gauge helps to keep things consistent.
This is a huge benefit when working with ingredients like brisket, poultry, pork, and game meat.
The body of the grill is made from heavy gauge coated steel, and the tubular frame provides stability.
Added front and side shelves make preparation easy.
Pros
Massive cooking area.

Easy to use as a smoker or grill.

Generous hood clearance for large cuts and poultry.

Cast iron grates for even cooking.

Wooden side and front shelves.
Cons
Coated steel isn't quite as durable as stainless steel but works well for a combo smoker.

Charcoal might not be convenient for every household.
If you love to grill and smoke, this oversized option is one of the best outdoor grills this year.
---
Blackstone 1554 Station 4 Burner Restaurant Grade Flat Top Grill


The choice is always a good thing when comparing the best outdoor grills. This model from Blackstone is unique in its approach, and it could be ideal for you, depending on your cooking needs.
Designed for a restaurant or professional use, this Blackstone 1554 flat top griddle station is ideal for ingredients that need searing heat from a solid surface.
Although not quite as versatile as a traditional grill, it does come with some advantages.
It can be used for ingredients that would fall through a standard grill, such as sliced and diced vegetables, smaller meat slices, eggs, and other delicate ingredients.
This is a great option for grilled breakfasts, steaks, bacon strips, ham slices, burgers, chicken breasts, hot dogs, or anything else that you have to work with.
The large hot plate offers plenty of working space, and four commercial grade burners allow for individual heat zones.
The simplicity of this grill makes it easy to assemble, and it uses industrial-strength wheels to make it easy to store at home in a shed or garage.
Pros
Best for ingredients that need a flat surface or high searing heat.

Works with smaller ingredients that aren't suited to cooking grids.

Quality steel construction.

720 square inches of total cooking area.

Commercial design can be used by professionals.
Cons
Not suited for food that needs direct flame.

Can't cook larger meat cuts, poultry, or other ingredients that need radiant heat.
Although a niche option, this is one of the best outdoor grills for people who only need a hotplate and don't mind the lack of versatility.
KitchenAid 740-0780 Built-in Propane Gas Grill



If your outdoor kitchen needs a grill upgrade, the KitchenAid 740-0780 Built-in Propane Gas Grill is an excellent choice.
This drop-in replacement could significantly upgrade your outdoor cooking experience.
With 580 square inches of total cooking area, this is the ideal grill for family cooking and larger events on holidays and special occasions.
The four commercial quality stainless steel burners can produce up to 61,000 BTU of heat, making this a real outdoor grill powerhouse.
The design is simple and elegant, with sleek stainless steel construction and soft-touch burner controls.
With a large hood and integrated temperature gauge, it's easy to get the perfect conditions, no matter what kind of ingredients you're cooking with.
There's even support for a rotisserie system with mounting points an additional ceramic burner.
Pros
Even heat distribution.

Reliable electric ignition.

Solid stainless steel construction and cooking grids.

Convenient drop-in replacement.

Large double-walled hood with temperature gauge.
Cons
Designed solely for drop-in grill installation.

Grill design allows some air through the back. Best suited to a sheltered outdoor cooking station.
A couple of shortcomings don't diminish the impressive quality or performance of this grill.
If you need a simple replacement or are building a dedicated outdoor kitchen, this is one of the best outdoor grills to consider.
---
Char-Broil  Performance Stainless Steel 4-Burner Grill


This beautiful Char-Broil Performance Stainless Steel 4-Burner Grill is the perfect choice for a home cook that values style as much as performance.
One of the first things you will notice about this grill is its striking design. It combines sleek lines with rounded edges to create a uniquely modern appearance.
It performs as good as it looks, with four main burners and a side burner for convenience.
The main burners produce up to 36,000 BTU of heat, while the side burner adds 10,000 BTU for a searing pan or pot.
The side-mounted burner can be covered to convert into a shelf for storage and preparation.
The majority of the body is made from durable stainless steel, while the cooking grids are porcelain-coated cast iron.
They provide the best combination of heat retention and spread over the 425 square inch cooking surface.
Pros
Great looking grill for a modern home.

Quality construction with premium materials.

Commercial quality burners and a large cooking area.

The side burner adds convenience and versatility.

Hood temperature gauge.
Cons
The cabinet is only semi-enclosed with an open back and sides.

Some of the elements are coated steel. The grill should be covered or stored when not in use.
This grill is competitively priced and big enough for a family of six or entertaining guests on special occasions.
Sturdy construction and versatility make it one of the best outdoor grills today.
Dyna-Glo DGB390SNP-D Smart Space Living 3-Burner Gas Grill


Dyna-Glo is a trusted name in home grilling, and this Smart Space Living 3-Burner Gas Grill is a great option for cooks who want quality and features on a reasonable budget.
The relatively compact pedestal design will look impressive outside any home, whether used poolside or on a deck or patio.
The looks are backed by impressive cooking performance, thanks to 390 square inches of total cooking space and three burners that produce up to 36,000 BTU of power.
With a large hood and temperature gauge, this is the ideal grill for low and slow cooking, poultry, burgers, sausages, game meat, or any of your other favorite ingredients.
Included side shelves make preparation and cooking simple. Rotisserie mounting points make it easy to use any universal system for some extra versatility.
This grill is simple to use and its size is ideal for family grilling on any day of the week, holidays, birthday parties, and other occasions.
The porcelain enamel cooking grates will be enjoyed if you love classic sear marks with excellent heat retention across the entire grilling surface.
Pros:
Sleek design for a 3-Burner grill.

Underside cabinet storage.

Utensil hooks and side trays for convenience.

Deep hood with an accurate temperature gauge.
Cons
Coated steel panels won't resist corrosion as well as stainless steel.

The cabinet back is fully open.
This is one of the best outdoor grills if you are looking for a mid-sized option.
---
Weber 49010001 Spirit II E-310 3-Burner Natural Gas Grill


If you have a natural gas hookup at home, you can use it to its full potential with this Weber Spirit II E310 3-Burner Natural Gas Grill.
Combining contemporary design with robust construction, this is one of the best outdoor grills for home cooks.
Weber became famous for its charcoal kettle grills.
This more modern version uses natural gas, but none of the quality or ease of use has been left behind.
There are large side shelves to help in prep and while cooking. The hood offers plenty of clearance to make low and slow cooking or top-down grilling easy.
There's even a hood temperature gauge to get the perfect conditions for everything from chicken and turkey to juicy steaks.
529 square inches of the cooking area is ideal for families of four to six, and for grilling your favorite ingredients when entertaining visitors.
Cast iron porcelain-coated cooking grates provide non-stick performance and help to improve heat consistency.
Pros
Rounded firebox for natural heat convection and easy grease collection.

Weber GS4 system for easy ignition and consistent heat.

Large grilling surface.

Flavorizer bars to vaporize juices and add flavor.
Cons
Fully open cabinet design.

Uses mostly coated steel instead of the stainless steel found on similarly priced models.
More premium construction materials would be appreciated on this model, but it remains one of the most durable options at its price point.
The Weber E310 is one of the best outdoor grills for cooking enthusiasts.
Buy the Best Outdoor Grills Online Today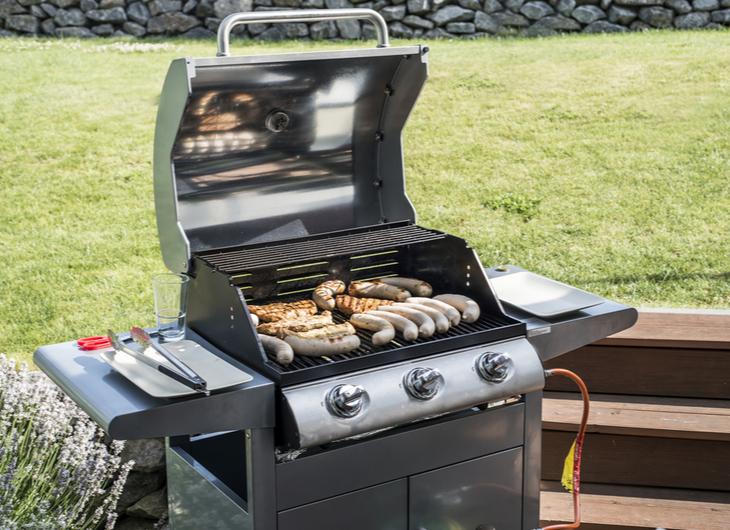 Each of the grills covered here offers something a little different. While many share features and concepts, only one will be the best for you.
Whether you prioritize the price, overall design, cooking area, or even the number of burners, you can have confidence knowing that these are the best outdoor grills for this season.
Choose one that suits your unique needs and order from the comfort of your home.
With summer already here, there's never been a better time to invest in a high-quality outdoor grill.