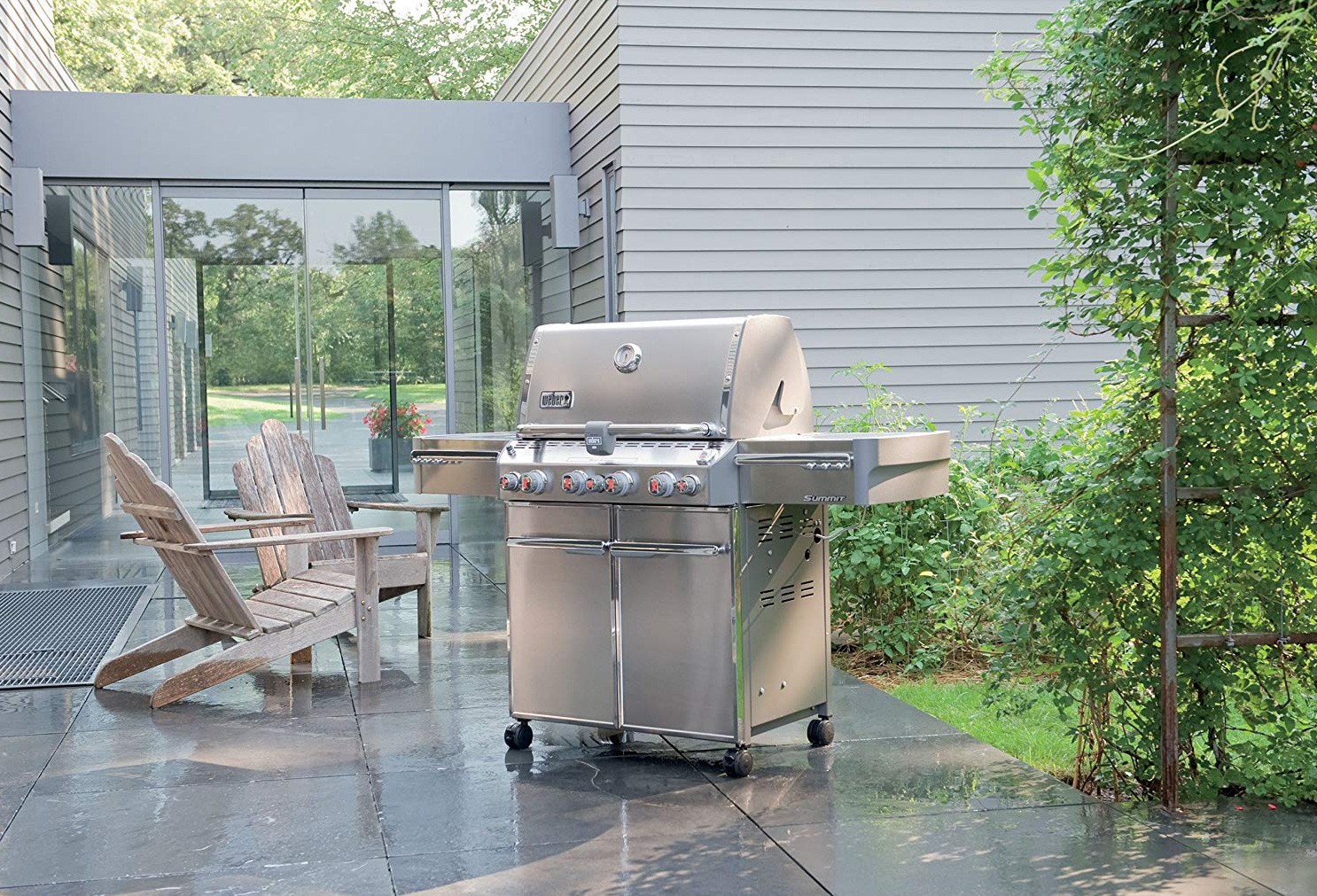 For more than 50 years Weber has been one of the biggest names in outdoor cooking.
While the company has existed since 1893, it wasn't until 1951 that the company introduced its original Weber Kettle Grill.
It's a timeless design that still influences the kettle grills of today and is so famous that it even features Weber's logo.
Of course, no company can survive without innovating and adapting, and Weber has never been the type of business to rest on its past success.
Today, Weber continues to be a powerful brand in outdoor cooking and makes a variety of charcoal, LP gas, and natural gas cooking appliances.
Here we will focus on popular modern Weber grills, which are some of the best natural gas grills on the market today.
The Best Natural Gas Grills from Weber – Our Picks at a Glance

Weber 48010001 Spirit II E-210 Best Natural Gas Grills
Moderately priced and aimed at anyone who doesn't need a large grill, the Weber 44939991 Spirit II E-210 is one of the best natural gas grills that you can buy today.
Designed for modern homes, this Weber comes in four color choices that can perfectly complement your personality and your outdoor décor.
The grill hood configuration is available in classic black, white, red, or blue.
This grill features two gas burners and 450 square inches of cooking space.
The total heat rating is 26,500 BTU, which is plenty for the needs of most families.
Although this is not the largest or even one of the mid-sized grills in the Weber range, it still provides enough space for both family cooking and entertaining.
It also has several important features that allow for excellent cooking results, even if you're new to outdoor grilling.
The first thing to note is that this grill uses cast iron cooking grates, rather than the stainless-steel grates that you would find on some high-end grills.
The material used for the cooking surface is important in any grill.
Stainless steel is used on high-end grills because it is durable and can last a lifetime.
Cast iron can also last just as long, but it also has the benefit of increased heat retention.
Cast iron takes longer to reach optimum temperature, but once it gets there, you'll enjoy a searing hot cooking surface that is perfect for burgers, steaks, chops, sausages, vegetables, and most of your favorite grilling ingredients.
The cooking grates on the Weber Spirit II E-210 are coated in porcelain enamel, which helps to prevent sticking.
The enamel coating also means that you won't need to season the grill as regularly as you would with regular cast iron.
Another feature that makes this one of the best natural gas grills is the fact that it includes Weber's flavorizer bars.
These bars cover the gas burners to improve heat delivery while also vaporizing any oil and meat juices that come into contact with the bars.
The result is food that is moist, tender, and perfectly cooked. If you're cooking with the hood down, then these bars will allow for the perfect moisture levels inside the grill.
Construction is solid although a little heftier than what you would find on other grills of this size, which is perfect if you are looking for a long-term investment.
Weber 49010001 Spirit II E-310 Best Natural Gas Grills
If you like the features and the design of the E-210 but want something that provides more space, then the Weber 49010001 Spirit II E-310 is another choice that is easily one of the best natural gas grills that you can find today.
It incorporates many of the same features as the previously mentioned model, with the added benefit of more cooking space and under-side storage.
The total cooking area is 529 square inches, and three high-quality gas burners allow you to have more control over the heat of your cooking surface.
The total BTU rating is 30,000, which is a significant upgrade over the E-210 model.
A higher overall heat rating means that this grill will be more suited for intense hood-down cooking, and you'll have more versatility for baking and roasting.
You can keep temperatures within the ideal range by using the three separate burner controls along with the built-in thermal gauge on the hood.
Like the previous Weber model, the Weber E-310's best natural gas grills are available in black, white, red, and blue.
The hood coating is covered in an enamel which allows for durability and long use without the finish degrading.
Weber is so confident in the quality of this grill that it is offered with a 10-year warranty, giving you the confidence that it will perform for many years to come.
Unlike some manufacturers, the Weber warranty on this grill covers all components, including the igniter.
This adds value to the whole package and helps to justify the slightly above-average price.
This grill can heat up quickly, so you won't notice any significant difference if you've been using a grill with stainless-steel cooking grates.
Like the previous model, it features Weber flavorizer bars to quickly vaporize oil and juices to improve the cooking conditions and flavor.
The bars also help to reduce cleanup because there is less mess collected on the underside of the grill.
For anything that doesn't hit the flavorizer bars, there's a handy grease trap underneath the grill, which can be quickly and easily removed and cleaned after every grilling session.
Construction quality is excellent and lives up to the Weber brand.
When you want the best natural gas grills with proven quality and strong brand backing, this is one of the ideal choices.
Its size means that you will never run out of room, even when you are cooking a large family meal or entertaining guests at your home.
Summer is here, and this one will be the perfect companion for this year and many grilling seasons to come.
Weber 67010001 Genesis II E-310 – One of the Best Natural Gas Grills When You Need More Room
We've looked at both two-burner and three-burner grill models, and now it's time to step up to something even bigger.
The Weber 67010001 Genesis II E-410 Natural Gas Grill has some similar design features to the previous two grills, but this time includes four gas burners and an impressive 646 square inches of cooking space.
This is one of the best natural gas grills if you love to entertain and cook large meals regularly.
There are some attractive color choices introduced with this model, including black, copper, red, and smoke.
They all look great outdoors and you'll be able to find the perfect one to match your setting, whether it's the classic black or the more subdued copper or smoke finishes.
There are two side shelves on this model, neither of which includes a side burner.
This is somewhat disappointing considering that there are similarly priced grills from other manufacturers that do have a side burner.
This makes the grill slightly less versatile, but the quality is so high that you may not even miss this feature.
Four gas burners are perfectly spaced to allow you individual cooking zones for different ingredients.
The large cooking surface means that you will never feel limited when it comes to the recipes that you can cook.
Whether you're going for classic burgers, gourmet steaks, or even large BBQ cuts, this grill will perform without problems, every single time.
The gas burners on this model are made from stainless steel, which means that they can last for decades with regular care and cleaning.
Most of the grill construction is stainless steel, combined with powder-coated steel on parts of the body.
It's a well-made grill that inspires confidence, and the 10-year 100% Weber Guarantee protects you from defects in manufacturing.
Like most Weber owners, you will likely never need to use the warranty that is offered.
Weber 68004001 Genesis II LX S-649 Natural Gas Grill
One of the largest and best natural gas grills from Weber, the Genesis II LX S-649 Natural Gas Grill is a true all-in-one outdoor cooking station.
Compared to the other grills on this list, this model steps up the presentation, uses more premium materials, and offers a huge cooking surface and versatility with a side gas burner.
On this model, you will find stainless steel cooking grates that can heat up quickly and provide industry-leading heat transfer to your food.
This allows you to achieve the perfect sear marks when you are cooking sausages, chops, steak, or even grilled vegetables.
The cooking area measures 770 square inches in total, including 228 square inches on a collapsible warming rack.
This grill features several key Weber innovations, such as an infinity ignition system that ensures lighting on the first try every time.
It also allows for an extra hot burning mode which is perfect for preheating or searing food for short times at extreme temperatures.
The side burner allows you to add a skillet or pot to extend your cooking options, and the large hood in this grill makes.
It is perfect for slow roasting and BBQ meats.
It's compatible with a Weber rotisserie kit, further extending your cooking options.
If you want a premium grill that is constructed primarily from stainless steel, then this is one of the best models available.
Not only is it one of the most premium grills in Weber's range, but it is also overall one of the best natural gas grills that you could purchase today.
Looking for an LP Gas Alternative to the Best Natural Gas Grills?


Weber 44030001 Spirit II E-210 Red LP Outdoor Gas Grill
If you don't have a natural gas hookup or if you want something convenient that can be moved anywhere outdoors, then you may prefer to go for an LP Gas solution.
The Weber 44030001 Spirit II E-210 LP Outdoor Gas Grill.
LP Gas burns at slightly higher temperatures than natural gas, but the cooking results will be minimal.
The biggest benefit to choosing an LP Gas grill is that you won't be limited to placing it near your natural gas hookup.
The downside is that you will need to refill or change canisters whenever you run out, as opposed to natural gas which will always be available from your utility lines.
Aside from the fuel source, this grill is identical to the first Weber natural gas grill that we looked at on this list. It features two gas burners and a convenient 450-square-inch cooking surface.
It is available in black, white, red, and blue, and has the same solid metal construction with stainless steel elements.
The grease collection comes from Weber's proprietary system, and there are flavorizer bars for creating the perfect cooking conditions inside.
If you want a Weber grill but natural gas is either not convenient or not available, then this is a great starting point and would be perfect for everyday family cooking as well as entertaining in smaller groups.
Choose from the Best Natural Gas Grills That Meet Your Size Requirements and Budget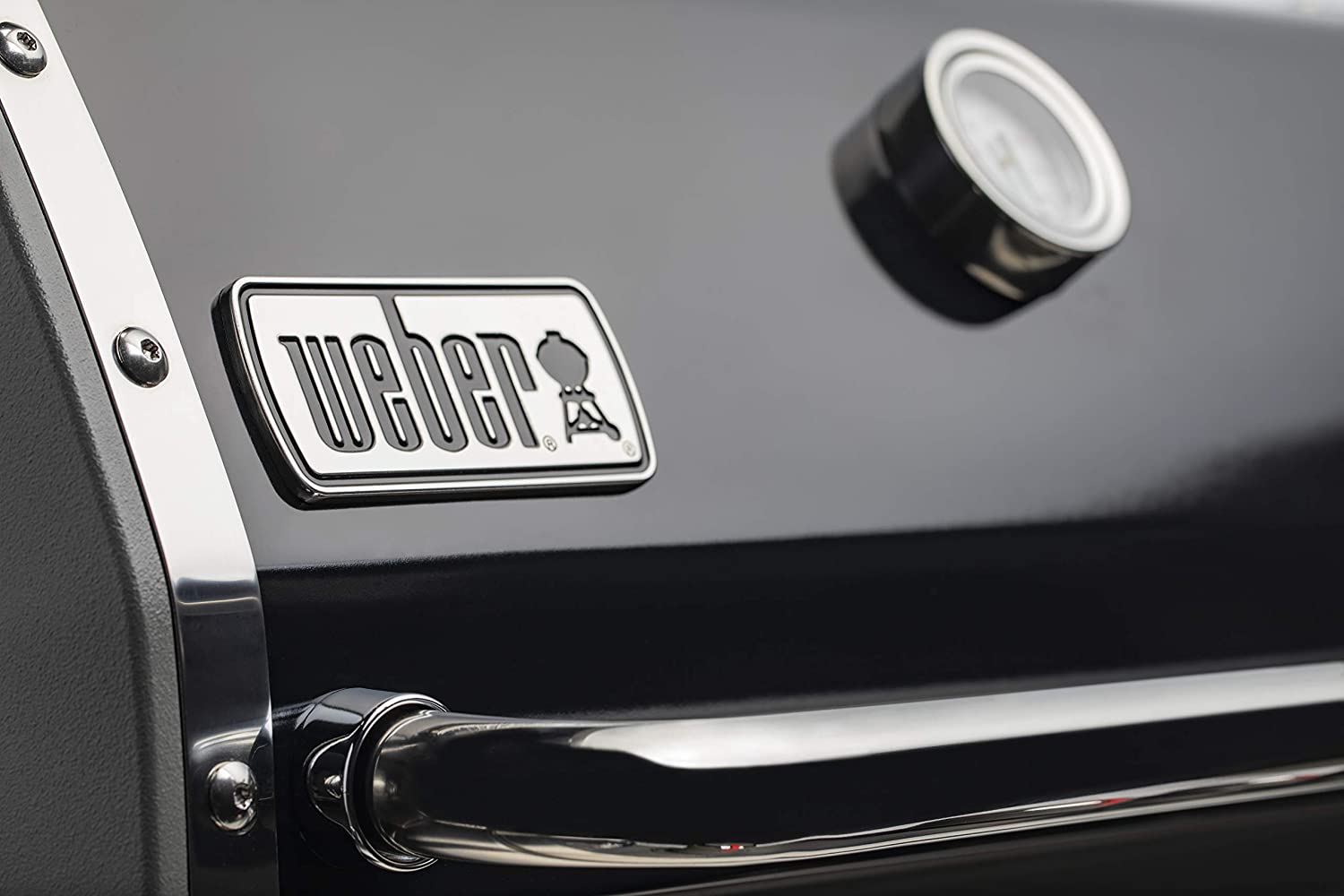 Weber produces grills across the range, so you can find something at almost every price point.
Natural gas makes sense if you already have an outdoor gas hook-up at your home, and it will be much more convenient than using refillable canisters.
If you don't have natural gas available, then we've provided an alternative in the form of the Spirit II E-210 LP Gas Grill.
Weber has a reputation for quality and every grill on this list lives up to the name.
Although Weber Grills sometimes cost more than the competition, the price is always justified by the longevity, competitive warranty, and excellent cooking abilities that are provided.
Consider your budget, and your size needs, and make your choice today with the best natural gas grills from Weber.