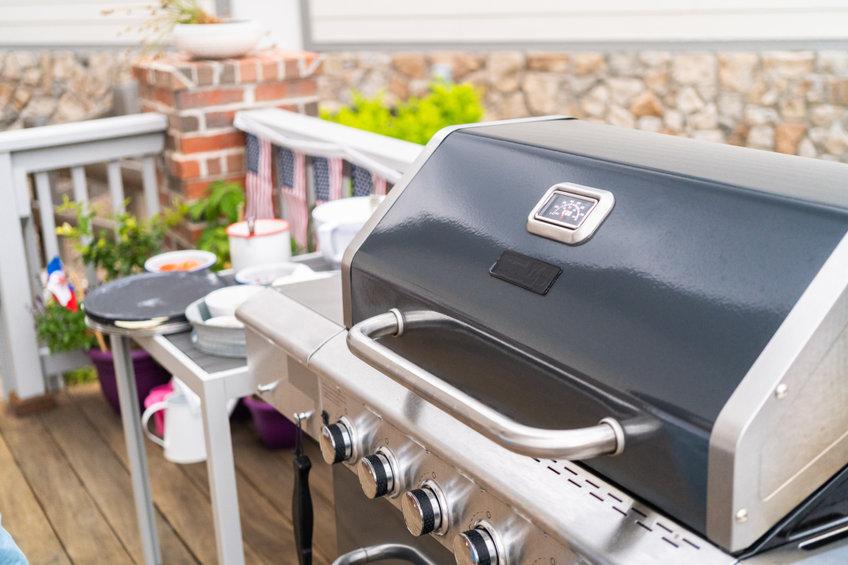 Having a natural gas hookup at home makes it easier to grill outdoors.
You won't have to worry about replacing propane tanks.
Any time that you want to cook, you can simply fire up your grill and you'll have gas for as long as the session lasts.
Natural gas is often used for drop-in grills at permanent outdoor kitchen stations.
But you can also get freestanding natural gas grills that look and work just like propane grills.
The only difference is that they're more convenient.
Here are the best freestanding natural gas grills that you can consider today.




Weber Genesis E-335 – A Great ALL-AROUND Freestanding Natural Gas Grill
Weber dominates the grill market with a reputation for quality.
The Weber Genesis E-335 is the best freestanding natural gas grill if you want great all-around performance from a reliable outdoor cooking station.
With three main burners and a total cooking area of 787 square inches, you'll have more than enough space for family cooking and preparing food for guests during parties.
There's a searing station and side burner on this grill, so you'll have more versatility to switch up your cooking style.
Whether cooking with direct or indirect heat, you'll get all the space that you need.
Weber is one of the best brands to choose from if you want consistent performance across the cooking surface.
With no hot or cool spots, your ingredients will be cooked evenly across the selected cooking zone.
Burner controls are some of the most accurate and consistent in the industry.
Weber offers a 12-year warranty on key parts of the grill and has one of the largest global service and support networks so you can be confident that the grill can be maintained well into the future.
You will love…
The large cooking area.

Accurate burner controls and consistent heat.

The versatility of a searing station and side burner.

Weber's famed warranty and support.
Napoleon Prestige 500 – Best Freestanding Natural Gas Grill for Features
If Weber is the quality king, Napoleon is the feature king. 
This grill goes all out to provide everything you could ever need from the best freestanding natural gas grill.
The Napoleon Prestige 500 has a large main cooking area measuring 500 square inches, making it perfect for large groups, parties, or a home griller that loves to work with big ingredients.
You'll easily fit large cuts of game meat, roast, whole birds, or whatever ingredients you love to cook.
With four main burners, you have the freedom to cook across different zones or with indirect heat.
This model goes a step further with an infrared side burner that can be used as a searing station or for cookware like pots, pans, and skillets.
You'll be able to create any meal you can imagine, with functionality like your oven and stovetop.
There's also a rear infrared burner so you can increase the temperature inside the grill or work with the included rotisserie kit to prepare specialty ingredients on a metal skewer system.
The quality is excellent with stainless steel construction, LED lighting on the burner controls, commercial-grade stainless steel burners, and a stainless steel cooking surface.
You will love…
An added infrared side burner and rear burner.

More versatility with more main burners.

Excellent stainless-steel materials and overall build quality.

A limited lifetime warranty for your peace of mind.
Dyna-Glo Premier – Best Small Natural Gas Grill
Natural gas grills come in all kinds of sizes, even if you're looking for something a little smaller.
The Dyna-Glo Premier 2-Burner Natural Gas Grill is a competitively priced option for your home.
It's a great grill if you want something to fit a smaller patio or deck.
Or, if you don't entertain guests often and typically cook for 2 – 4 people, this grill would be ideal.
It is made from stainless steel to resist rust and damage, and it has two main burners with a large hood and integrated temperature gauge.
The cooking surface measures 319 square inches, and with the warming rack, there are 445 square inches of total cooking space.
The Dyna-Glo performs well with powerful burners that produce consistent heat.
It doesn't have the premium feel of the first two models on our list but considering the price, it's a durable option that could provide many seasons of outdoor cooking for your family.
You will love…
The porcelain enamel cooking grates retain heat evenly across the surface.

The cart is designed with a storage cabinet.

Caster wheels on all four corners.

A large enough cooking surface for indirect cooking away from the flame.
Make Use of Your Natural Gas Hookup with a New Grill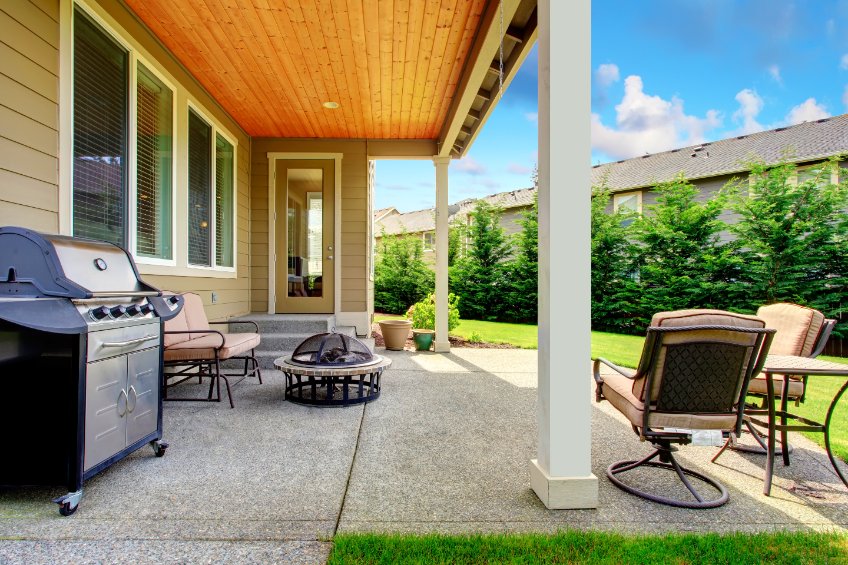 With the best freestanding natural gas grill, you can make use of your home's gas connection without having to invest in an outdoor kitchen with a drop-in grill.
With three of the best options to suit different buyers, you've got the best starting point to find your next grill.