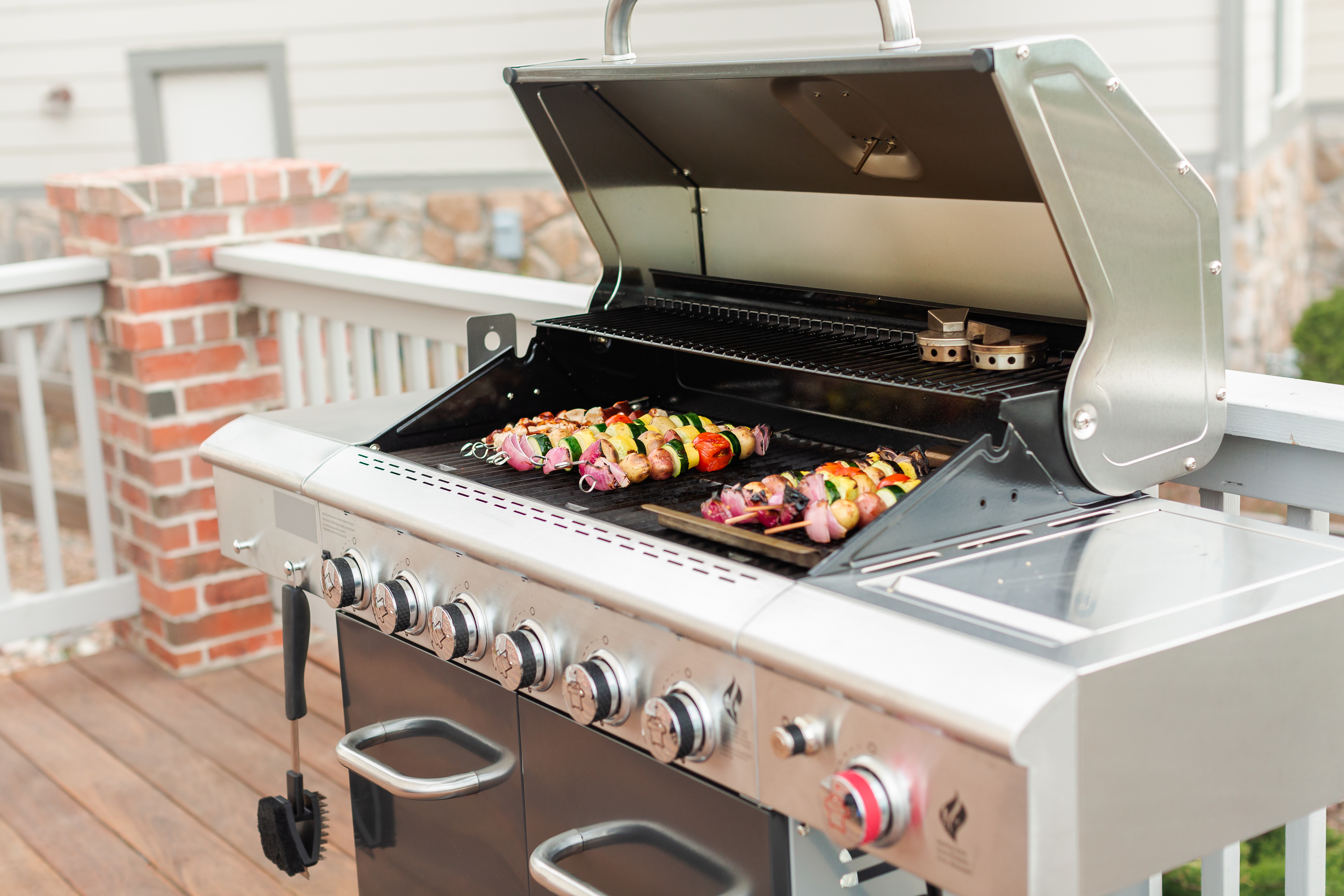 Like most big-ticket appliances, the research involved in shopping for a grill that will perform and suit your needs is usually daunting.
The moment you have already narrowed down and know what type of grill you're looking for the next step is usually in finding the best possible option within your category.
With so many grills available in the stores choosing the right one always feels overwhelming.
To help you streamline the process, we've rounded up the best top-rated grills that will help you satisfy your grilling needs.
Whether you are a serious outdoor cook or you just like to host a cookout for two, you need an efficient and reliable grill that will deliver.
These top-rated grills are some of the best on the market at just about every price point, so no matter what you are looking for, you are fully covered!
Now the only thing that's left is to break out your favorite recipes.
Master Cook Classic Smart Space Living 3 Burner Gas Grill
This Master Cook Classic Liquid Propane Gas Grill is designed for home cooks on a budget.
Despite the wallet-friendly price, it packs some impressive cooking power with versatility for a wide variety of ingredients.
The grill is made from sheet steel that has been coated with anti-corrosive paint. It won't last as long as a stainless steel grill, but it will still provide years of trouble-free use.
Three main burners produce up to 30,000 BTU of cooking power.
The cooking surface is 473 square inches, which is plenty for family cooking and entertaining friends on holidays and special occasions.
The simple cart design lacks storage, but the grill is lightweight so it's easily portable around a yard or patio.
It's easy to assemble and simple to use, with smooth burner controls and a reliable ignition system.
Pros
One of the most affordable three-burner grills on the market.

Large cooking area with a warming rack and a deep hood.

Side shelves for prep.

Easy to use with no confusing features.
Cons
Painted steel construction is not as durable as stainless steel.

Lacking cabinet storage.
This is a bare-bones grill, but its price makes it one of the top rated grills for sale today.
For people who want a great cooking experience on a budget, it's one to consider.
Weber Spirit E-310 Liquid Propane Gas Grill
The Weber Spirit series of grills is a popular choice for home cooks who want performance, reliability, and standout looks.
The Weber Spirit E-310 Liquid Propane Gas Grill is no exception.
This is one of the top-rated grills by consumers, and when considering the features, it's not hard to see why.
Weber has chosen a cart style design for this grill.
However, unlike many competitors, it uses high-quality caster wheels on all four corners.
This makes it easy to move the grill when storing it or relocating it on a deck, patio, or outdoor dining area.
The grill features three commercial-quality burners with a total power output of 32,000 BTU.
This is slightly higher than most grills of this size.
The accurate controls take the grill from low and slow, up to a scorching sear for steaks and burgers.
There's 529 square inches of total cooking area, making this the ideal grill for cooks who love to invite friends and family around for afternoon grilling.
Pros
Excellent construction quality with a combination of heavy-duty coated steel and stainless steel.

Enameled hood with temperature gauge.

Reliable ignition and burner system.

Large cooking area for group events.

Large cabinet storage area.
Cons
Priced higher than most grills of this size.

Should include a side burner at this price point.
The cons aren't major, and they don't detract from this being one of the top-rated grills.
For Weber's famous reliability and cooking performance, this is an impressive entry into the product lineup.
---
Char-Broil Signature TRU-Infrared 626 4-Burner Gas Grill
Char-Broil continues to impress with some of the top rated grills on the market, consistently offering value year after year.
This grill is large, versatile, and well-made, and its price is competitive with some models that are smaller and less feature-rich.
With four individual burners, this grill can reach high temperatures like the best charcoal grills.
Because it's a gas grill, it's easy to take the temperature right down for using a smoker box, or for cooking delicate ingredients.
The cooking surface is huge, measuring 525 square inches.
This makes the grill perfect for large BBQ cuts, whole chicken or turkey, or a combination of grill favorites.
For holidays and special occasions, this grill will cater to every guest.
Despite being relatively affordable, this grill has impressive construction with stainless steel and coated steel parts.
The caster wheels make it easy to move around, and there's even a covered side burner.
As a TRU-Infrared grill, this model also includes Char-Broil's proprietary system to increase searing temperatures.
Pros
Large main cooking area to serve a large group of guests.

Side burner and infrared system.

Heavy-duty construction with stainless steel shelves and front panels.

Reliable caster wheels make it simple to move the grill around.
Cons
Cooking grates are cast iron. Stainless steel would be better for a grill this powerful.

Difficult to assemble due to its size.
The downsides don't detract from what is one of the top-rated grills at this price point.
Power, features, and quality come together in one of the best Char-Broil grills available today.
Weber Genesis II E-310 Liquid Propane Grill
This Weber Genesis II E-310 Gas Grill is a popular choice for cooks who want maximum cooking power in a convenient package.
It's one of the top-rated grills on sale now, thanks to its combination of performance, simplicity, and durability.
Weber uses a combination of heavy-duty stainless steel and coated steel on this grill, maximizing sturdiness without inflating the price.
It's a good balance, making the grill feel both premium and long-lasting.
It's a cart-style grill but it lacks a cabinet door, so all of the storage is open.
The three main burners produce up to 39,000 BTU of cooking power, which is closer to what is usually found on a grill with four burners.
A hood thermometer keeps cooking temperatures in check, and the control knobs are highly accurate to ensure that meats, vegetables, and fish are cooked to perfection.
This grill includes Weber's grease catch system which makes cleanup easy.
Pros
Large 669 square inches total cooking area.

10-Year warranty coverage.

Heavy-duty parts and flawless construction.

High heat output for a three burner grill.
Cons
Open cabinet limits storage options.

No side burner.
Weber's warranty indicates this grill is made to last.
For reliability and performance, it's one of the top-rated grills of the year.
---
Z Grills Wood Pellet Grill and Smoker
This grill offers something a little different from most of thtop-rateded grills for sale.
The Z Grills Pellet Grill and Smoker is designed for indirect heat cooking. BBQ, smoking, and slow cooking is its specialty.
It will also bake and roast, but it can't sear like a traditional grill.
All of the magic of this grill happens in the offset pellet hopper.
Pellets are electronically released into a burner which then fills the main chamber with heated air.
Smoky richness is infused throughout the ingredients, and it's possible to choose any kind of smoked wood pellet for outstanding results.
It lacks versatility but it's amazing for smoking and slow cooking.
Pros
Efficient cooking for large cuts and specialty meats.

Cooks up to 20 hours with 20lb. of pellets.

Great for smoking.

Large 450 square inch cooking area.
Cons
No cart storage.

Doesn't cook with direct heat like a traditional grill.
This grill is unique, but it's not for everyone.
For people who lthe ove rich smoky flavor and slow-cooked meats, it's one of the best options on the market.
Weber Genesis II S-435 4 Burner Gas Grill
Feature-packed and designed for grilling enthusiasts, the Weber Genes II S-435 is one of the top-rated grills to buy today.
At first glance, the size and design of this grill will impress.
It uses plenty of stainless steel, and heavy-duty coated steel, and the two-tone design stands out.
Construction quality is impressive, like all Weber grills.
Cooking performance is equally important, and this grill gets everything right.
The four burners are commercial quality, the ignition is reliable, and there are even some special features on offer.
There's a side burner for searing or adding a pot or pan.
There's also a dedicated searing station inside the grill to increase the temperature when needed.
The cooking area is 844 square inches in total, making this an entertainer's dream.
Anyone that loves to cook outdoors will get excited by this model.
Pros
Massive cooking area with a large hood.

Infinity controls for effortless temperature setting.

Side burner and searing station.

Large storage cabinet.

Impressive construction quality.
Cons
A costly grill, but worth it considering the size and features.

Heavy and difficult to assemble for first-time grill owners.
This is a serious cooking station that outperforms much of the competition.
It's one of the top rated grills for serious home cooks.
---
Weber 44010001 Spirit II E-210 Black LP Outdoor Gas Grill
Made for every backyard and limited space areas, the E-210 series from Weber is without a doubt one of the perfect top-rated grills ideally for a small family or a beginner to the grilling game!
This 2 burner gas grill boasts olenty of exquisite features, with its iGrill feature standing out.
The iGrill allows you to pair your smart device to a grill for enhanced precision cooking.
Moreover, its small footprint makes it convenient for your balcony at your apartment complex or even the smallest patio.
The Weber Spirit E-210 comes with an Infinity Ignition switch with an electric ignitor that operates with two AA batteries.
This ensures reliable and guaranteed ignition every time you want to power on your grill.
Two burners are present on this grill, running from the front to the rear, delivering a maximum thermal power output of 26,500 BTU.
In addition, each burner receives a command from the Infinity Ignition to fire up over the 450 square inch cooking space.
This grill operates with a 20-pound liquid propane tank, although there is a natural gas model also available.
Pros
Contemporary design with classic Weber construction quality.

Reliable ignition system.

Large surface area for a 2-burner gas grill.

Comes with a 10-year Weber guarantee.
Cons
Fully open underside storage.

Uses only two wheels compared to the four wheels of older Weber models.
The spirit E-210 comes in four color options: black, red, ivory and sapphire.
This thus allows you to choose the ideal color to match your outdoor décor.
Built to last and with you along every family meal, the weber spirit is one of the best top rated grill  cooking companion!
Bull Outdoor Products Liquid Propane Outlaw Drop-In Grill
Any homeowner with a custom outdoor cooking station can consider the Bull Outdoor Products Outlaw Drop-In Grill.
This grill lacks special features, but it makes up for them with unrivaled quality.
The Outlaw is designed to last for years and is made entirely of stainless steel.
Construction quality and assembly are best in class, making this one of the top-rated grills of recent years.
From four burners, the grill produces 60,000 BTU of cooking power.
This makes it more capable than most cart-style grills.
The cooking grates are stainless steel for attractive sear marks and even heat distribution.
Pros
Flawless stainless steel construction.

Large slide-out grease tray.

Reliable ignition and accurate burner controls.

Accurate hood thermometer.

Perfect for a permanent outdoor kitchen.
Cons
No infrared or sear station features.

High cost.
The high cost might put some buyers off, but the durability of this grill makes it a long-term investment.
The cooking power and unrivaled construction quality make this a good choice for a drop-in grill replacement.
---
Char-Broil Signature TRU-Infrared 325 2-Burner Cabinet Liquid Propane Gas Grill
Looking for a high-performing gas grill with premium features with the ability to fit even into the tightest of places?
Then look no further, for the Char-Broil Signature TRU-Infrared 2-burner gas grill is your ultimate solution.
It was built for small-capacity cooking and/or use in environments where space is limited, like a small apartment deck.
The grill's TRU-Infrared technology provides better performance with greater temperature range and control and allows for even cooking.
The TRU-Infrared technology operates by combining the heat from stainless steel tube burners and a radiant surface to cook your food.
The Char-Broil Signature TRU-Infrared natural gas grill offers a temperature range between 250 and 700F, producing a total thermal cooking power of 18,000 BTUs.
Coming with Char-Broil's Surefire Electronic Ignition system, the Signature 2-Burner starts up just by the push of a button.
For lasting and durable performance, this Char-Broil grill comes with porcelain-coated cast-iron gates and top-ported 443 Stainless Steel burners.
Being dual-fuel compatible, the grill allows for easy conversion from propane to natural gas.
Pros
Great construction quality with an enclosed cabinet.

Accurate temperature gauge.

Large folding side shelves.

Compatible with a rotisserie kit.

Locking caster wheels for easy storage.
Cons
Mostly coated steel construction that isn't as durable as heavy stainless steel.

Searing heat not as high as some larger and more powerful grills.
With salient features, your grilling experience and satisfaction will be worth reliving!
Final Thoughts
All the grills mentioned  in this top rated grills review are certainly good choices.
Choosing the best grill for your home is a personal decision depending on your needs and preferences.
Whether you have limited outdoor space or plenty of cooking space for a massive grill, there are some factors you have to consider before buying a barbecue grill.
As well as whether you're the type that loves camping and tailgating or simply need a grill for your patio.
This review has got you covered regardless of what you want from a grill.
We are living in the golden age of grills and all sorts of options are currently available in the market at all sorts of price ranges.
There has been a lot of innovation regarding these must-have appliances in a short time as well.
All these advancements have made making that buying decision difficult and as such, we hope that this review of the top rated grills will help you in making that decision a walk in the park! Happy grilling!