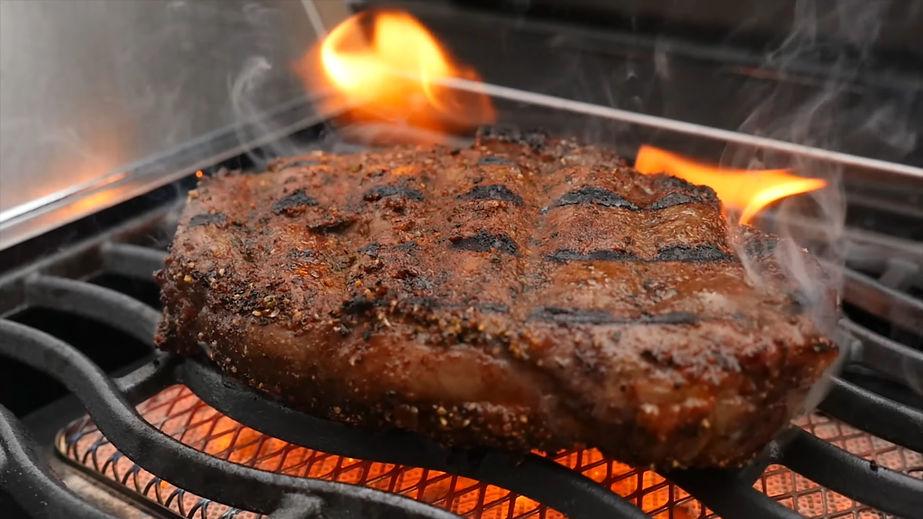 Infrared grilling is one of the latest innovations in outdoor cooking.
Grills with this technology use traditional gas and sometimes electric fuel sources to create infrared heat that can produce the perfect sear on meat and vegetables.
Finding the best-infrared grill to buy can be challenging, especially with so many options on the market today.
We've narrowed down the selection to three impressive grills that are feature-rich and reliable.
Before you buy your next grill, consider the best-infrared grills available today.
Blaze 40" 5-Burner Built-In Gas Grill


Blaze makes some of the best drop-in grills for permanent outdoor cooking stations.
This 40" 5-Burner Built-In Gas Grill is one of the best-infrared grills that you can buy today.
It has all of the features that you would expect of a premium grill.
It's made entirely from 304 stainless steel, and there are five 14,000 BTU burners so that you can easily control heat across different zones.
The large hood makes it simple to cook with indirect heat, which is ideal for barbecue and slow-cooked ingredients.
As a drop-in grill, you'll need a permanent outdoor cooking station for this model.
It carries a premium price tag, but the quality of the components make it worth the investment.
This is a grill that could last for decades or even a lifetime when properly maintained.
Of course, being an infrared grill, there's a rear 10,000 BTU infrared burner which is ideal for adding searing heat or raising the temperature for any of your favorite cooking styles.
The grill is compatible with a rotisserie system, and the infrared burner will ensure that even the largest cuts are cooked to perfection.
Char-Broil Performance TRU-Infrared 450 3-Burner Gas Grill


The Char-Broil Performance TRU-Infrared 450 Gas Grill is a large outdoor grill that offers plenty of features at a reasonable price.
There are three main gas burners on this grill, with a side burner for adding a pot or skillet pan.
The side shelves are large and help during prep and serving.
The large hood is perfect for top-down cooking and indirect cooking.
There are rotisserie mounting points on either side of the hood, making it easy to cook larger beef and pork cuts consistently.
The rotisserie also works well for fish, poultry, and game birds.
The infrared system on this grill is integrated into every burner.
The special cooking grate creates radiant infrared heat which spreads across the surface.
It's a passive system that requires no interaction from the user, so you can simply cook as you normally would and enjoy the benefits of infrared grill technology.
The unique grate design also prevents flare-ups, making grilling safer and more consistent.
Infrared technology is used on this grill to improve efficiency without adding complexity.
The price, size, and construction quality of this grill make it one of the best outdoor infrared grills for buyers on a budget.
Philips Kitchen Appliances Smoke-Less Indoor BBQ Grill 

Not every home needs a large outdoor grill.
The Philips Smoke-Less Indoor BBQ Grill is the ideal alternative for something that you can use inside on a benchtop or dining table, or even outdoors if you have a covered space and access to a power outlet.
This electric grill uses advanced infrared technology with special heat reflectors to ensure that the cooking surface gets searing hot.
The grill can get up to 446°F, which is considered the ideal temperature for meat, poultry, fish, and vegetables.
With this grill, infrared technology provides the kind of results that you would expect from a large outdoor grill.
The difference is that you can safely use it inside your home, outside on your patio or porch, or even when camping with your RV.
The non-stick surface makes cleaning easy, and the grill looks great, so it could be the perfect tabletop addition to a dinner party where guests cook their fresh ingredients right at the table.
The simplicity and versatility of this grill make it the best compact infrared grill to buy today.
The Best Infrared Grill for You
We've covered three unique infrared grill designs that all use the technology differently.
The Blaze uses an infrared rear burner to increase heat when the hood is down.

The Char-Broil is an infrared grill that uses innovative technology to evenly disperse heat across the entire cooking surface.

The Philips grill takes yet another approach, using infrared heat to reach high temperatures in a compact and safe electric design.
What's the Best Infrared Grill to Buy? The best grill for your needs will depend on how and where you use your grill.
These three options cover the most common cooking scenarios, making it easy to choose the model that suits your home and budget.