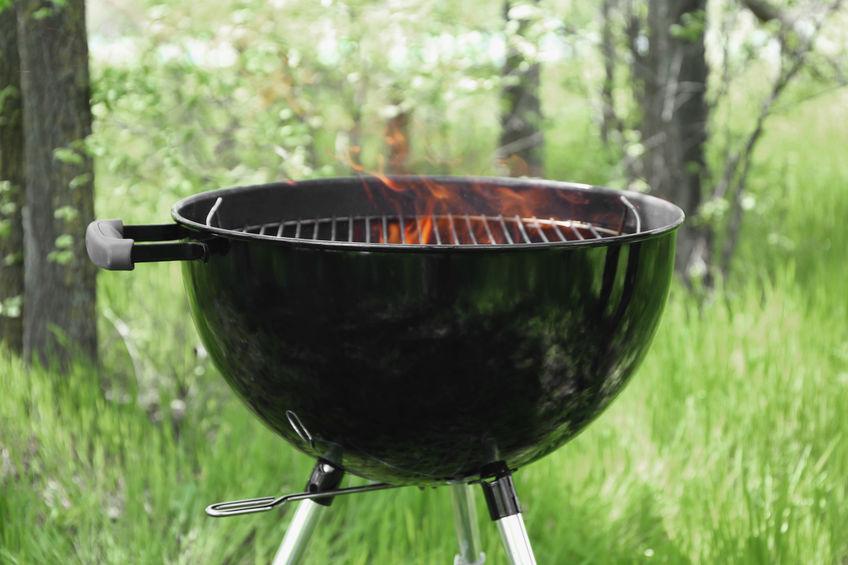 Despite gas grills offering convenience and ease of use, charcoal grills are still extremely popular.
There's something unique about the flavor when cooking with charcoal, and even the experience is something special when compared to cooking with propane or natural gas.
It's not just the enthusiasts who enjoy cooking with charcoal, many families are now turning to this traditional cooking method as their primary way to grill.
If you're interested in cooking with charcoal, you'll need to know about the best charcoal grill you can buy today.
We've put together this helpful overview of five of the top charcoal grills, providing you with the features and advantages so that you can find the perfect one for your home.
At a Glance, the 5 Best Charcoal Grills We Recommend

Char-Griller 56720 Akorn Kamado Charcoal Grill
Char-Griller Akorn Kamado Grills are unique in design, offering a fresh perspective on the traditional kettle design.
The unique acorn shape is more than just aesthetic.
Char-Griller has used this design to maximize cooking space while keeping the charcoal fuel area small and efficient.
Because the design tapers at the bottom, you will use less fuel than you would with a traditional kettle grill.
The design also helps with cooking, because it forces heat up and around the food, similar to what would occur with a fan-driven oven.
Other innovations help to make Akorn Kamado models some of the best charcoal grills on the market today.
The grill itself is insulated, which allows for excellent heat retention.
Interior temperatures will be reached quicker, which again increases efficiency when you are cooking.
The insulated design also means that the grill can be used as a smoker, and the temperature gauge will ensure that you can closely maintain internal temperatures.
The grill is mounted on a high-quality cart that is made from steel, and the body is made from 22-gauge steel for long life and durability.
The cast-iron cooking grid offers 314 square inches of cooking surface.
Char-Griller offers the best charcoal grills in various colors, which means that you can choose classic black, deep blue color, copper brown, or classic red.
If you need a grill with some personality to match your home landscaping and home exterior, then this is an option that you will want to consider.
All Akorn grills feature two high-quality side shelves with hanging hooks for your grilling accessories.
Weber 14402001 Kettle Premium Charcoal Grill
Here's a classic you don't want to miss! Weber is by far the most famous name in charcoal grilling.
The company is known for making some of the best charcoal grills in history, and its classic models are still popular today.
The Weber 14402001 Kettle Premium Charcoal Grill is a new interpretation of the classic design, offering some quality-of-life improvements that make the grill better than ever before.
Like the Char-Griller Akorn models, the Kettle Premium Charcoal Grill is offered in different colors to match your personality and sense of style.
There are classic black, copper, and unique green color that could make your grill the talking point at your next cookout.
The grill itself is made from steel, with some components using lightweight aluminum.
The finishing and quality of the components are impressive, and the overall presentation is befitting of the 'Premium' title that Weber has given to this grill.
The cooking surface is 22 inches in diameter and offers 263 square inches of total area.
The grill is convenient for private cooking at home, and large enough that you will have plenty of grilling space when entertaining guests.
One downside to this grill is that it doesn't include any side shelves.
Weber may have done this to retain their classic aesthetic, but it is disappointing to see, especially considering that other manufacturers offer side shelves on similar designs.
At the very least, Weber could offer detachable side shelves, and it will be interesting to see if they start to do this with models in the future.
With the lack of side shelves covered, there are no major negatives to this grill, and the effective design is easy to cook with and simple to clean.
The cleaning system catches all of the ash, so maintenance is minimal on this grill.
Charcoal was once messy and inconvenient to cook with but designs like this one show how far we have come.
If you want classic grilling with one of the best charcoal grills currently available on the market, then this grill is easily one of the benchmarks.
Customer feedback has been extremely positive, lending weight to the fact that this is one of the best grills you can buy today.
Dyna-Glo DGD381BNC Compact Charcoal Grill
If you're looking for a compact grill with a large cooking area, then the Dyna-Glo DGD381BNC-D Compact Charcoal Grill will likely impress you.
Despite a relatively small footprint, this grill manages to provide a primary cooking area that is 381 square inches in total size.
Combined with a 165 square inch secondary cooking area, there are almost 550 square inches of total cooking space on this grill.
The design of this grill will be something that immediately stands out.
Finished in black with some polished steel accents, the Dyna-Glo will look great on your deck or patio.
It is mounted on a stand with wheels and features a side tray, as well as a secondary tray underneath that, which will take care of your storage needs.
The closed hood design means that you can bake or roast inside the grill, which makes for some impressive outdoor cooking options.
The charcoal loading door makes this model stand out in the market.
If your idea of the best charcoal grill is a model where you can reload charcoal without losing heat, then you'll love the design that Dyna-Glo has provided here.
Dyna-Glo has a track record of grills that can stand the test of time, and this model is no exception.
Combining high-quality steel and cast iron means you will get many seasons of trouble-free grilling.
If you keep the grill stored in a shed or within a cover, then it will not be surprising to see this grill last for ten years or even longer.
Parts that commonly wear out, such as the cooking grates, can easily be replaced with high-quality generic equivalents.
Whatever it is that you love to cook, you will be able to complete the job easily on this grill.
The hood makes it perfect for low and slow cooking of BBQ meats and poultry, and can even allow for smoking when you need the functionality.
Although not as capable as a dedicated smoker, this model is a good compromise between the two.
The large ash collection tray makes this grill easy to use and clean, so you'll be able to keep it in top condition without too much effort.
Due to the complex design, the assembly can take longer than some of the best charcoal grills.
Some customers have found that assembly takes up to two and a half hours, however, your exact assembly time will be determined by your experience.
The instructions are clear and you will find all the necessary pathe rts and major components inside the box.
A unique design and a large cooking surface make this grill a great choice if you're ready to make the move to charcoal.
It's also offered for a great price, making it more than worthy of featuring on our list of the best charcoal grills you can buy today.
Char-Griller 1515 Patio Pro Charcoal Grill

Small, affordable, and well-constructed; the Char-Griller 1515 Patio Pro Charcoal Grill is worth considering if you want a smaller grill that has a unique design.
Weighing 50 lbs. and mounted on a stand with wheels, this is a portable grill that you will easily be able to bring out for your next cookout.
Although not the largest grill in the Char-Griller range, this would be a good option if you don't require a big cooking surface for cookouts and parties.
Even if you do need to use this grill for entertaining from time to time, you'll still find that the cooking surface is sufficient for a longer grilling session.
The total cooking area is 250 square inches, which is comparable to a small tabletop grill.
Although the grill is compact, it still has some features that you would usually find on larger grills. These include a single side shelf and a storage tray underneath the grill.
Construction is of a high standard, with the grill itself made from heavy-grade steel that will last for several seasons.
The design is attractive with a barrel-type cooking chamber. In many ways, this grill looks to be a retro model, but the construction quality is definitely in line with modern standards.
Powder-coated steel helps to prevent corrosion, and the cooking grates are made from cast iron.
The cooking surface can fit a whole chicken, up to six steaks (depending on size), or eight burgers. Your exact cooking will vary, depending on the size of the cuts and burgers that you are grilling.
If you are fond of cooking kebabs of vegetables and meat chunks, then you will find that you can get up to 17 full-sized kebabs onto the grilling surface.
Char-Griller is a popular brand with a long quality and customer satisfaction history.
Reviews for this model have been positive and they help to inspire confidence in the purchase.
It's one of the best charcoal grills currently available, and the price helps to make this an easy grill to recommend.
Weber 15502001 Performer Deluxe Charcoal Grill
Without a doubt, the Weber Performer Deluxe Charcoal Grill is the most premium offering on this list.
Despite being one of the more expensive charcoal grills on the market, it still comes in at a competitive price point compared to similarly-sized gas grills.
What makes this model one of the best charcoal grills that you can buy?
You could start with the looks.
This grill has a striking appearance where Weber has incorporated the traditional kettle style into a larger frame with a generous flattop shelf.
This shelf makes outdoor cooking easier and more enjoyable.
If you like the idea of a kettle grill but want some more usable space, then the Performer Deluxe Charcoal Grill will be worth a closer look.
There are some hi-tech features included in this model that you won't find on most charcoal grills.
It has an electronic gas ignition system, so some might even consider this to be a hybrid grill.
The grilling surface itself is 363 square inches across a rounded kettle surface, which will be plenty for families and even when cooking for guests.
The ash catcher and cleaning system make this grill much more convenient than the average charcoal model.
If you love the benefits of gas grills but want to start cooking with charcoal, then this is one of the best models on the market.
The grill also features an LCD timer to help you keep track of your cooking times, allowing for perfectly cooked meat, poultry, fish, vegetables, pizza, or anything else that you are cooking on the grill.
The generous hood clearance is typical of kettle grills and allows for low and slow cooking of specialty BBQ meat and other recipes.
This is a great grill to consider if you love to cook outdoors.
Plenty of Options to Suit Your Needs and Style
Although all of these grills share similarities, they are also unique in their ways.
Ultimately, the best charcoal grill for you will depend on your needs for size, price, and features.
Start by keeping your needs in mind, and then find the right fit for your budget.
If the style is a major consideration, then you will love some of the colored grills from companies like Weber and Char-Griller.
Each grill on this list will provide many years of trouble-free use, allowing you to experience the pleasure and superior flavor of cooking with charcoal.