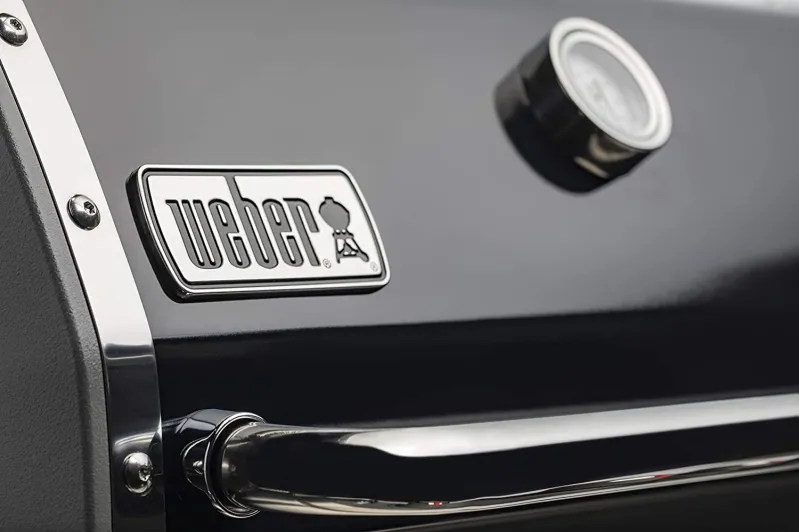 The Weber Genesis line is one of the best places to start if you're looking for a new gas grill.
Offering features and reliability, the Genesis range provides a great cooking experience with versatility for all your favorite recipes.
The Weber Genesis II E-310 is one of the most popular gas grills available today, and when you dive into the details you'll see why.
All The Burners a Home Cook Needs
The size of your grill matters.
If you want the versatility to cook a range of ingredients, you'll need space and the ability to cook with direct and indirect heat.
Having multiple cooking zones is also helpful if you're looking to cook a variety of ingredients at the same time.
The Genesis II E-310 has three main gas burners for three individual cooking zones and all the freedom that you need to cook with indirect heat away from the flame.
Weber Genesis II E-310 Key Features
Weber is known for putting as many features as possible into their grills, while still maintaining competitive pricing.
The Genesis E-310 is no exception.
The features are designed to provide a well-rounded cooking experience.
Available in Liquid Propane or Natural Gas variants.
GS4 Grilling System with reliable ignition and stainless steel burners.
Convenient grease management system for easy cleaning.
Three main burners produce 39,000 BTU of heat.
Cast iron cooking grates coated in porcelain enamel.
Large hood with temperature gauge.
669 square inches of total cooking area.
Extra Space for Family Cooking and Entertainment
The Weber Genesis II E-310 has all the space that you need, no matter how many guests you have at your next party.
With 669 square inches of total cooking area, you could cook for up to 20 people at a time, depending on the ingredients you work with.
The large cooking area is also suited to cooking with indirect heat.
With just a single burner on, you can place ingredients away from the flame for slow cooking over a longer period.
This is perfect if you're looking to cook brisket, whole turkey or chicken, grilled pizza, or any other recipe that calls for indirect heat.
This grill retains heat well thanks to its efficient hood design, and the cast iron cooking grids also aid in this area.
With three burners, you can get multiple zones for complex recipes or unique ingredients.
Set one burner to a high sear and use the other two at medium temperature for finishing or cooking more delicate ingredients.
The porcelain enamel cooking grids help by preventing sticking and making the cleanup process a breeze.
The grease catch system is designed to channel all grease and debris into a collection tray below the grill, so you'll cut down on general cleaning and maintenance.
Solid Construction for Durability
The Weber Genesis II E-310 grill is one of the most reliable gas grills that you can find today.
Weber backs this grill with a 10-Year Warranty for your peace of mind.
Grill construction is excellent, just like other models in the Genesis range.
Weber has used a combination of coated steel, stainless steel, and durable plastic designed to last when outdoors.
The entire fit and finish is something that most people would expect on a much costlier grill.
The black porcelain enamel hood looks great, creating contrast with a striking appearance that would look impressive on any patio or deck.
Cooking Performance
To get the most out of an outdoor gas grill you need to be able to rely on the burners.
Weber uses high-quality burners designed to provide even and consistent heat.
The Weber Genesis E-310 grill provides even heating across the cooking surface, helped by the choice of cast iron for the cooking grids.
Whether you're looking for a high sear, low and slow, or anything in between, you can be sure that your cooking zones will be easy to maintain throughout a grilling session.
The integrated hood thermometer is a great addition to keeping track of the grill's radiant temperature.
This model is also compatible with the iGrill 3, which is recommended if you need a reliable probe solution for tracking the temperature of meat and other ingredients.
The iGrill 3 System connects to a smartphone app to make grilling easier and more intuitive no matter the ingredients you're working with.
Weber Genesis II E-310 Grill – One of the Best All-Rounder Grills for Home Cooks
If you want a large and reliable grill with side shelves for preparation, the Genesis II E-310 is an excellent option.
It's a real all-rounder with plenty of space and features that make the cooking process easier.
Enjoy grilling outdoors with one of the best grills on the market, from one of the most trusted names in home grilling.