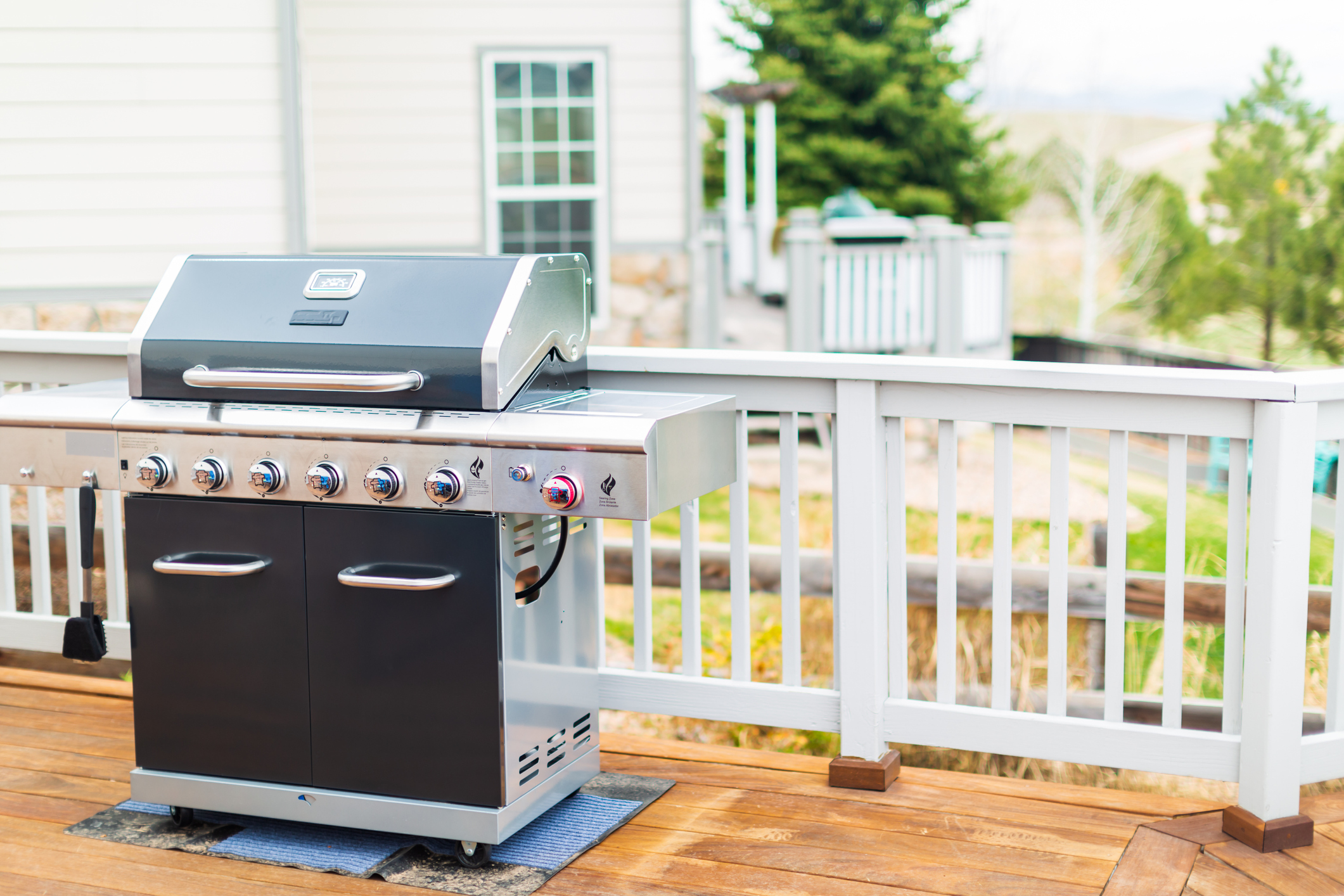 It is no surprise that gas grills have become the preferred outdoor cooking method of choice. They are convenient, fast, reliable and apart from cleaning the grate and grease tray, they are painless to use. Even better, today's best gas grills have so much versatility and so many options that make it easy to forget that you are cooking outdoors and not in a kitchen!
Today, we have some of the most impressive outdoor gas grills. Having the best gas grill will
ensure your barbecues are the talk of your neighborhood. Outdoor gas grills come in many sizes and designs and have different features, performances, and prices too.
If you love outdoor cooking but hate the inconvenience of grills which don't even last, then these best outdoor grills are a favorable option for you, as they have been made with high-quality steel that's meant to last a whole lifetime! The combination of speed, reliability, and versatility of these outdoor grills has made them a great grilling option.
When you pay for a grill, you need nothing short of the best outdoor gas grill. As such, this best outdoor gas grill review will help you in making the right choice as it gives you all the information you need regarding the best outdoor gas grills.
---
---
Char-Broil Signature TRU-Infrared 325 2-Burner Cabinet Liquid Propane Gas Grill.
Looking for a high-performing gas grill with premium features? Then look no further, for the Char-Broil Signature TRU-Infrared 2-burner gas grill is your ultimate solution.
The grill's TRU-Infrared technology provides better performance with greater temperature range and control and allows for even cooking.
The TRU-Infrared technology operates by combining the heat from stainless steel tube burners and a radiant surface to cook your food.
The Char-Broil Signature TRU-Infrared natural gas grill offers a temperature range between 250 and 700F, producing a total thermal cooking power of 18,000 BTUs.
Coming with Char-Broil's Surefire Electronic Ignition system, the Signature 2-Burner starts up just by the push of a button.
For lasting and durable performance, this Char-Broil grill comes with porcelain-coated cast iron gates and top-ported 443 Stainless Steel burners, the latter with the ability to be modified to supply elevated heat or reduced temperatures uniformly across the cooking grate.
The grill also features a 325 square-inch cooking surface. This is enough for all your grilling needs. Moreover, beneath its hood is a 120 square-inch warming rack which offers additional ample grilling and warming space.
In addition, are metal side shelves which can be folded down for simple storage and enable it to fit in even the tightest of places.
Moreover, the side shelves provide additional workspace. The cabinet also serves as an extra storage unit, housing the propane tank and grilling accessories with the available utensils hooks.
Being dual-fuel compatible, the grill allows for easy conversion from propane to natural gas. Moreover, the grill's four casters increase its mobility, with two of the casters being able to lock down, holding the grill in place whilst in use.
The grill's cover features a dual fuel and lid-mounted gauge that tracks the grill's temperature. This thus allows you to monitor all your cooking progress and make adjustments where necessary.
With these salient features, your grilling experience and satisfaction will be worth reliving!
---
Char-Broil 463377319 Performance Stainless Steel 4-Burner Cart Style Gas Grill.
Featuring a sleek stainless steel cart design for easy mobility, the Char-Broil Performance Series 4-Burner Gas Grill comes with a whole lot of grilling features.
The versatility of the Char-Broil grill cannot be overlooked as it offers ample primary cooking space (425 sq. in.) whether you are grilling for a few friends or at your backyard party. Space is ample enough for about 20 burgers.
Moreover, you can either grill or cook with the four burners and keep the heat even by just closing the lid.
In addition to the primary cooking space, the grill comes with an additional 150 sq. in. swing-away warming rack that provides a secondary cooking area, ideal for sides or toasting those buns!
The Performance grill from Char-Broil also comes with stainless steel side shelves which are durable to withstand the elements. Moreover, the shelves offer ample work and prep space.
Featuring porcelain-coated cast iron gates that are rust-resistant and easy to clean alongside four stainless steel burners, this unit was definitely built to last. Moreover, the removable, porcelain-coated grease pan makes cleaning easy.
The stainless steel burners also emit flame from the top for even cooking, offering a wide range with precise control. Moreover, the burners have stainless heat tents to protect them from dripping juices.
 The unit's push-to-start electric ignition makes it convenient and reliable for you to fire up your grill each and every time. With the Char-Broil grill, temperature monitoring and control inside the grill has been made easy with the lid-mounted temperature gauge.
Coming with a 10, 000-BTU Lidded side burner, this makes it ideal for preparing sides while grilling and upon folding the lid when not in use, additional prep space is created, in addition to protecting the burner.
This is convenient for more comprehensive grilling occasions when you are cooking more than just meat.
The grill's two 7-inch wheels facilitate easy movement of the grill while the two fixed feet keep it in place.
---
---
Pit Boss Grills 75275 Stainless Steel Two-Burner Portable Grill.
Grill on the go with the all-new Pit Boss Grills 75275 Stainless Steel Two-Burner Portable Grill. The 75275 is one of the top rated 2 burner gas grills mainly because of its size.
Moreover, it can be used both outdoors and indoors since it is portable and lightweight. It is the ideal grill for small families who are looking for a reliable and compact outdoor gas grill.
Featuring 430 stainless steel construction and 304 steel grid construction wrapped inside a sleek stainless steel exterior, the Pit Boss Grills 75275 is a grill on the go that was definitely made to last and most importantly remain rust-free!
The tabletop's gas grill light-weight allows for easy portability of the grill.
 

The Pit Boss 75275 grill comes with two independently controllable burners, each with a total cooking power of 10,000 BTUs. As such, this gas grill delivers just the right amount of heat needed for searing or grilling. It also has a 38-inch hose for a propane tank.
The grill's folding legs and latching hood paves way for easy transportability, from one place to another.
Despite its size, this Pit Boss tabletop gas grill packs a big punch with 275 sq. inches of cooking surface, alongside a push-and-turn ignition for easy start-up and a dome thermometer for monitoring the heat during grilling in a bid to ensure that it's at its optimum.
This stainless steel grill is also easily cleanable, given its size. In addition, the grease tray on the bottom of the gas grill collects the excess oil during the grilling thus facilitating easy cleaning.
At 23 pounds, this baby won't be breaking any backs. Moreover, the portable design ensures you won't have a problem tagging it around with you.
It is crystal clear that the Pit Boss portable grill is ideal for families who are always on the move. Take it along with you to tailgate celebrations, RVs or camping trips for a breathtaking grilling experience!
---
Weber 44010001 Spirit II E-210 Black LP Outdoor Gas Grill.
Made for every backyard, the E-210 series from Weber is a perfect grill for a small family or a beginner to the grilling game. This two burner gas grill boasts of plenty of exquisite features, with its iGrill feature standing out.
The iGrill allows you to pair your smart device to grill for enhanced precision cooking. Moreover, its small footprint makes it convenient for your balcony at your apartment complex or even the smallest patio.
The Weber Spirit E-210 comes with an Infinity Ignition switch with an electric ignitor which operates with two AA batteries. This ensures reliable and guaranteed ignition every time you want to power on your grill.
Two burners are present on this grill, running from the front to the rear, delivering a maximum thermal power output of 26,500 BTU. In addition, each burner receives a command from the Infinity Ignition to fire up over the 450 square inch cooking space.
This grill operates with a 20-pound liquid propane tank, although there is a natural gas model also available. Among the improvements of the Weber Spirit II E-210 Black LP Outdoor Gas Grill is the innovative grilling system from Weber, which encompasses four main constituents:
The infinity ignition which translates to ignition at any moment, high-performance burners which guarantee uniform heating of the grilling surface, porcelain-enameled flavorizer bars tailored to hold drippings and eliminate flare-ups and lastly a grease management system which streamlines cleaning, this grill boasts of impressive performance.
Also, Weber improved the grilling experience by adding reversible porcelain-enameled cooking grates to this grill. These grates make it possible to cook delicate foods on one side as well as achieving the thick sear marks on the other side.
The spirit E-210 comes in four color options: black, red, ivory and sapphire. This thus allows you to choose the ideal color to match your outdoor décor.
Built to last and with you along every family meal, the weber spirit is your ideal outdoor cooking companion!
---
---
Kenmore 3 Burner Outdoor Patio Gas BBQ Propane Grill in, Mocha.

The last on our list for best outdoor gas grills is the Kenmore 3 Burner Outdoor Patio Gas BBQ Propane Grill is the smallest freestanding model from Kenmore. The grill is both spacious and ultra-modern. This patio grill is designed for small capacity cooking and/or using in environments where space is limited, like a small apartment deck.
It comes mounted on a pedestal on four casters, with the pedestal having an enclosure for storage of the LP tank. Moreover, the pedestal come in the color of your choice of black or mocha.
With its 522-square inches of cooking space-408-square inch primary and 144-square inch secondary-this grill has enough space for your cooking and grilling needs. The generous side shelves fold down for compact storage when not in use making this grill from Kenmore suitable for smaller places.
Featuring an electronic ignition, lighting up the burners has been made easy and convenient. Moreover, the 3 burners team up to produce a total thermal power of 30,000 BTUs, enough to heat the porcelain-coated cast iron cooking grids for those sear marks that you have been craving!
The grids porcelain and cast iron also make them durable as well as ensuring exceptional heat retention and uniform cooking. The lid is porcelain-enameled, with a stainless steel handle for durability as well.
This 3-burner patio grill has plenty of shelf space, which comes in handy for food preparation. The sleek base houses an enclosed cabinet for storing the propane tank. Its 6 tool hooks enable you to access cooking accessories with ease.
In addition, the grill's 2 wheels and a push bar facilitate easy maneuverability, with 2 adjustable feet for additional stability once the grill is set to place in your desired location. The easy-to-clean grease tray and cup that with this grill make cleaning convenient.
This 3-burner grill from Kenmore is an attractive option for smaller outdoor patio spaces. When your meats need some heat, this Kenmore patio grill will get the job done perfectly and with ease.
---
Shopping for an outdoor gas grill should be exciting experience because it's part of putting your outdoor kitchen together. However, most people tend to find it difficult because of the many available options out there.  This makes choosing an outdoor gas grill a complicated and arduous task.
They are now made from a large variety of materials, have different number and types of burners, varying cooking area sizes and grates made from different types of material. Needless to say, there are just as many price points.
This review, however, juggles all these factors and choices in the compilation of the best outdoor gas grills to give you a clear picture of what you need and prefer.
Moreover, this review narrows down your options to the best outdoor gas grills, focusing on grills that offer all the features you will need to make the most of your outdoor kitchen!
There really is something for everyone on this list, no matter your level of grilling skill or budget. moreover, you just might find the grill that you never thought you really wanted.
Just remember to pick the grill that best suits your needs, both short-term and long-term!