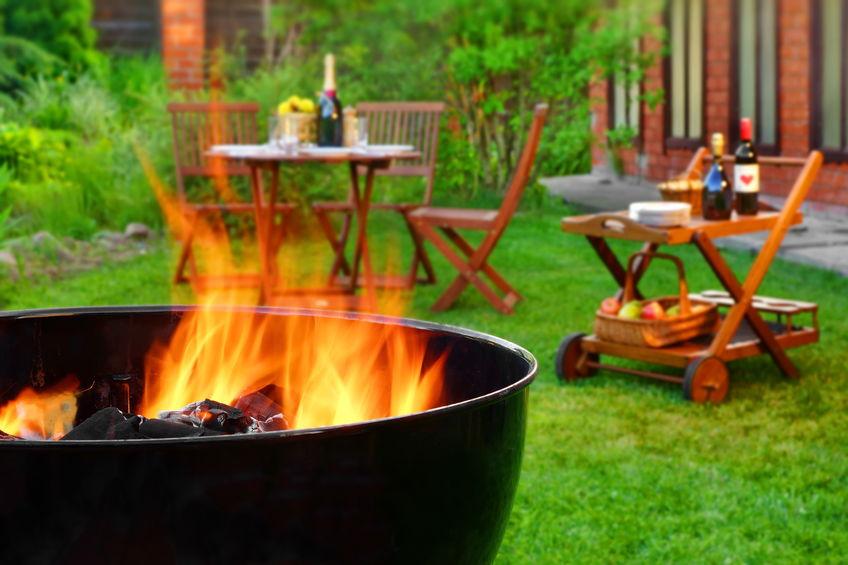 Immediately the celebrations marking America's Memorial Day weekend die down, all outdoor cooking junkies kick off perhaps the most famous outdoor cooking season in the US.
These fervent lovers of grilled and barbecued dishes straightaway begin experimenting with their culinary skills, seemingly eager to outsmart their peers.
It is the season of what is popularly called the All-American tradition, whereby backyard grilling comes alive and, more so with gusto.
For those who are passionate about cooking over open fire, the season arrives with more goodies and opportunities.
Everywhere from the patio, lawns and walkways to the backyard become a beehive of activity with BBQs, white smoke and the smell of burning steak filling the air.
If you have a BBQ grill and a sizeable outdoor space, the chances are that you will host your family and friends this summer when the popular outdoor cooking season starts, basically backyard grilling will happen !

Why Cook Outdoors?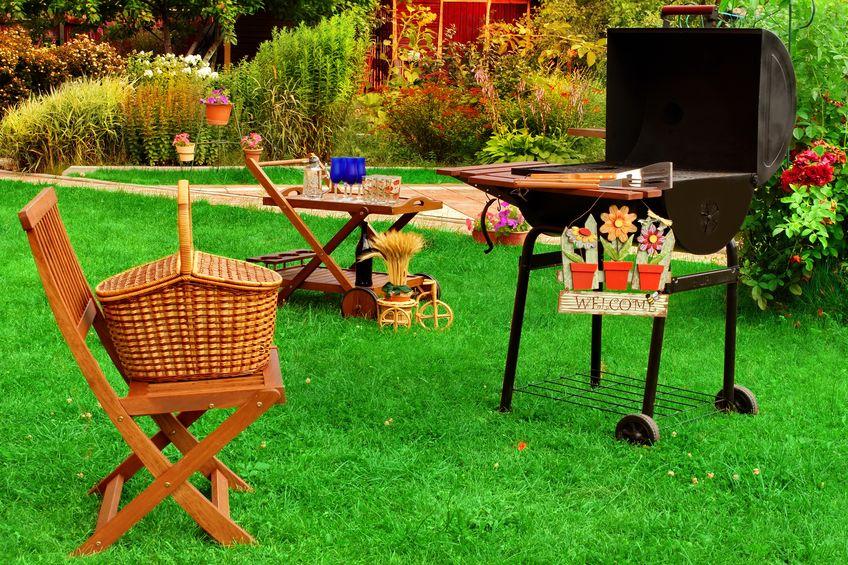 Well, according to some interesting facts, more than 75% of all American adults own a BBQ pit.
Again, a huge majority of them use their grills all-year-round with some even extending the norm through winter.
But those are not the real reason why you should cook outdoors this summer.
The main reasons to backyard grilling and barbecue outdoors mainly dwell on the fact that when a steak is 'smoked' outdoors, the flavor is enhanced and the whole experience of dining outdoors after a long wet winter is much more enjoyable.
Others also find the activity purely enjoyable, especially when the well-cooked piece of meat is savored with one's family and friends.
Backyard Grilling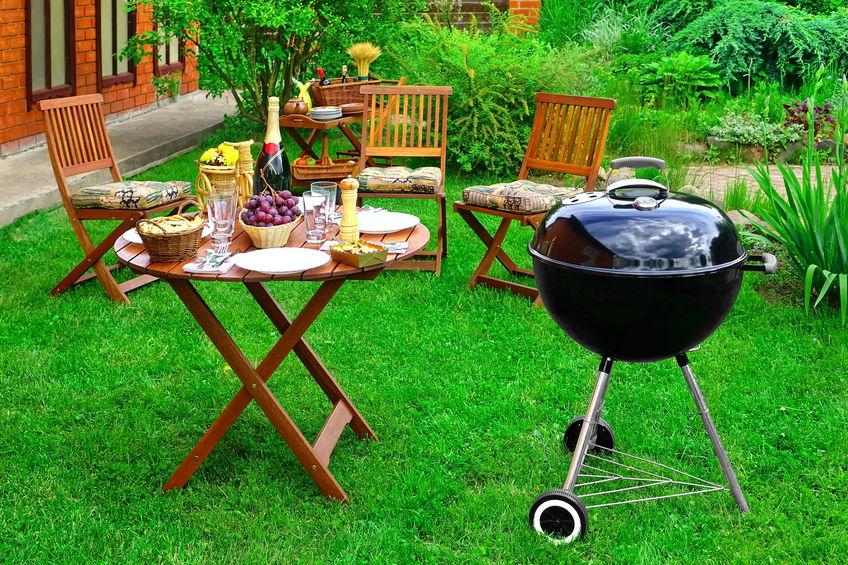 The world of Barbecues has been significantly evolving, and that's very much explained by the huge list of rotisseries, infrared grills, BTUs, and the many others that we're probably yet to hear about.
Indeed the scene is confusing although pundits consider all the bewildering inventions as a blessing rather than a curse in the world of barbecue grilling.
But before you pack the right accessories, here's what you need as a guideline if you are to actually buy the right type of outdoor grill.
Charcoal Grills are Amongst the Favourite for Backyard Grilling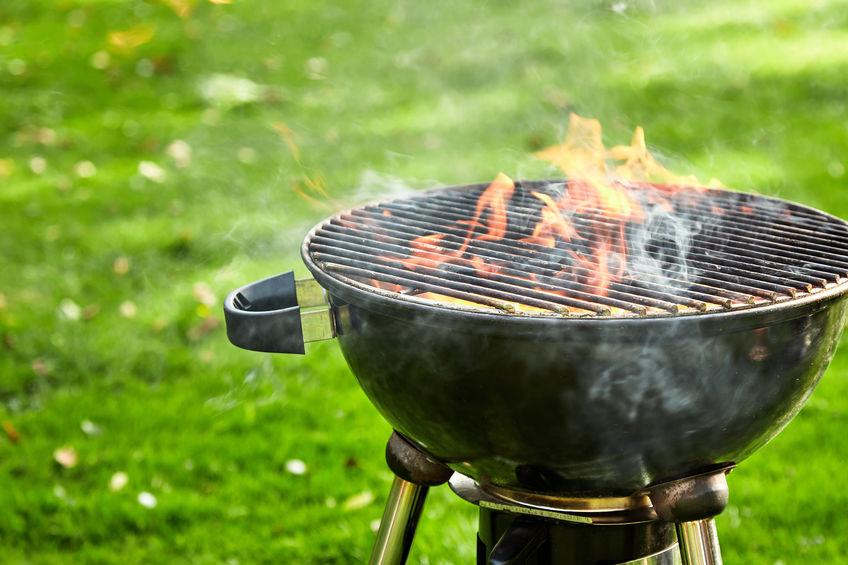 Always an ideal option for many, charcoal grills are versatile and bring a certain innate and authentic flavor to a grilled dish.
Added to that is their simplicity – it could be a sizeable steel bowl with smoldering coal balls.
For purists, charcoal grills are the best, despite the long period involved in having them lit and the additional cleaning process once barbecuing is over.
Many grill enthusiasts swear by charcoal grills, and it's not hard to understand why.
Charcoal grills are simple to use, they provide plenty of heat for your favorite food, and they can be taken almost anywhere, without needing to worry about a gas tank.
Another reason why charcoal grills are popular, is because of the unique flavor that they can provide
.Using charcoal, or even combining charcoal with wood chips, can allow for a unique smoky flavor in meats and vegetables.
Many describe this as the most authentic grill flavor, but it often comes down to personal preference.
Charcoal Grills
Charcoal grilling is the most traditional form of outdoor cooking and backyard grilling, and it allows for a unique flavor that is simply not possible with gas or electric powered grills.
If you want to start cooking with charcoal, then you don't need to spend a lot of money.
There are several compelling options, even when you are shopping for the best charcoal grill.

There's no real 'best' grill for everyone, instead, there are a few different options that could be best depending on your unique needs.
Electric Grills
Just like they're called, Electric grills require lots of power to cook food.
Meats cooked using electric grills do not have the savory flavor associated with smoked ones.
However, the fact that electric grills perfectly suit urban apartment dwellers means that they are better than their charcoal counterparts.
Natural Gas Grills
Right from installation to the entire cooking process, these types of grills are quite distinct from the conventional ones.
Firstly, the process of installing a dedicated gas line is only done by an expert.
And once everything is set and ready, cooking starts with turning on the natural gas so that heating of the porcelain briquettes starts.
When it heats up, this grill can let you roast, fry, bake or braise.
However, unlike the purist's option above, this one adds no savory, smokey flavor.
Propane Grills
They are perhaps the most popular and widely used rack types, and that's mainly because they are tolerably easy to use and require little cleaning compared to charcoal BBQs.
Propane grills are simple to operate, and given that propane isn't expensive, the reason for their popularity isn't a wild guess.
But remember, all cuisines grilled using propane BBQs as this one have no authentic flavor.
 Buyer's Guide – Barbecue Grill
When buying a barbecue grill, therefore, one of these types above will undoubtedly be on your rudder.
Other important considerations include:
The size of your potential BBQ grills vis-à-vis the available space.

What it is extensively made from and if it is durable.

The cost of the grill with respect to your budget.

Accessories that would improve the way your summer grill works.

Ease of use

Portability

How versatile are the controls?
So Which kind of Barbecue Grill Suits You Best?
Gas BBQs and grills are easily the only favorites amongst all ardent lovers of barbecued meat, and that boils down to their convenience.
In fact, over 62% of all households own at least one, despite the hugely successful assertion amongst pundits that charcoal grills yield flavorful portions of meat.
Charcoal grills and barbecues are revered for being the cheapest of all types, and that's huge because charcoals aren't expensive to acquire.
They also fill the ribs with a uniquely tasty and Smokey flavor. However, their major demerit is their inconvenience that includes taking a bit more time to be ready for cooking.
However, given that propane grills are superior and perform well then perhaps charcoal grills could be a far much better alternative.
With that being said, therefore, if you could try to barbecue or maybe grill for your family this summer, first make sure that you either have propane BBQ or a charcoal one.
Do you have a Meat Thermometer?
I bet nobody would love to have a half-cooked or a burnt meatball for lunch.
A meat thermometer is a unique device that's designed to guarantee the confidence and convenience of only serving grilled meat when it is ripe.
There's a huge list of them out there, but as it turns out, the best meat thermometer should come with a receiver so that everything is monitored remotely – at a distance.
The latest trendy assortment includes ovenproof thermometers with a pair of probes to be stuck on the meat before grilling and after the process is over and the grilled meat is ready.
Some others are designed to allow selection of the type of meat currently cooking.
But regardless of what you opt for, one thing is for sure – a meat thermometer is an absolute must-have.
How about a Chilled Drinks Container?
In America, BBQ with some chilled beverages are a match made for each other, especially when it is a cold, carbonated drink. 
When looking for an excellent chilled drinks container to buy, do consider purchasing a portable alternative that can hold a sizeable amount and still allow sharing.
Essentially, all stainless steel containers that can carry chilled beer during summer and hot coffee during the cold winter period are the best.
In fact, expert reviews seemingly agree that bottles made using high-grade stainless steel and have no liners never disappoint.
The bottle's overall design is of little or no significance provided that it can serve its purpose well.
However, always remember the rule of the thumb – reviews from legitimate sources are gold!
Carry Your Favorite Barbecue Rubs, Marinades, and Sauces
For some extra thrill and nuance on your well-cooked meatballs and meatballs, also have a couple of dry rubs and sauces ready.
Marinades add more sparks to your menu and make the whole delicacy more savory.
Rubs work best when the meat portion is left to dry and absorb the dry marinade's nutrients.
However, marinated pieces can be grilled or barbecued almost immediately after dipping in the solution.
Marinades, sauces, and rubs differ, and they can enhance the taste of your meat bite.
Bring a Bigger Set of Multipurpose Plates
Quite certainly, balancing a plateful of grilled chicken legs, fries, and salad in one hand and a chilled cold drink on the other is never a mere feat.
But as much as many of us know how it can be perilous to carry them on both hands, a set of multi-purpose plates with a cup holder in the middle of the place seem to have solved the risk.
Guests are free to load up their food and walk straight to the seat without any worries at all. So do not stock up on them.
Bring Some Mosquito Repellants
If camping in the middle of nowhere with your group of friends is your favorite pastime this summer, then you might need more than just that perfect charcoal grill.
Out there, before that bonfire and the twilight lighting the whole place, mosquitoes would be lurking somewhere, looking to suck your blood.
However, if you have a repellant trust me, your vacation will be a calm one.
Final Thoughts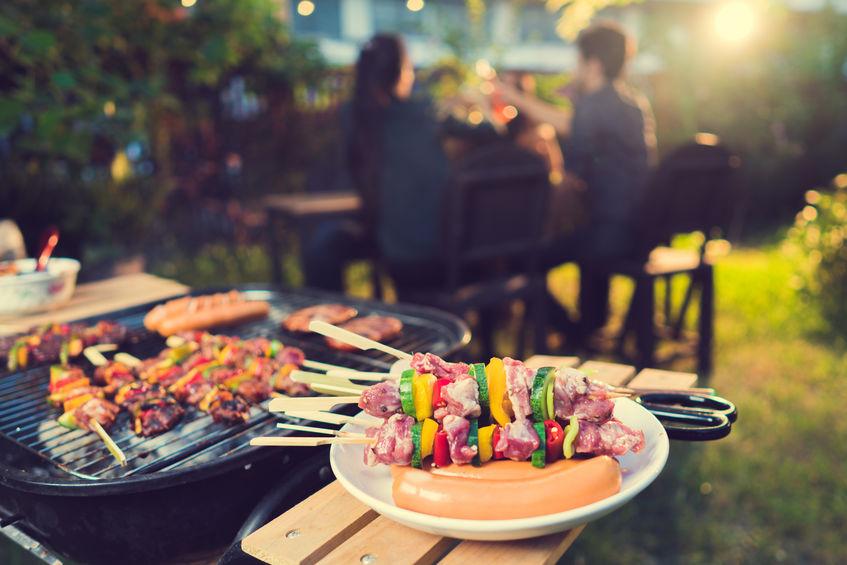 Once the weather gets warmer, nicer, and welcoming, gather your family and close friends and prepare backyard grilling.
If possible, hold the outing at an exotic location, far from the city's usual hustle and bustle.
Just make sure that you observe as safety tips associated with BBQs and Grilling.
Again, don't forget to carry each of the above accessories along with the other important ones.