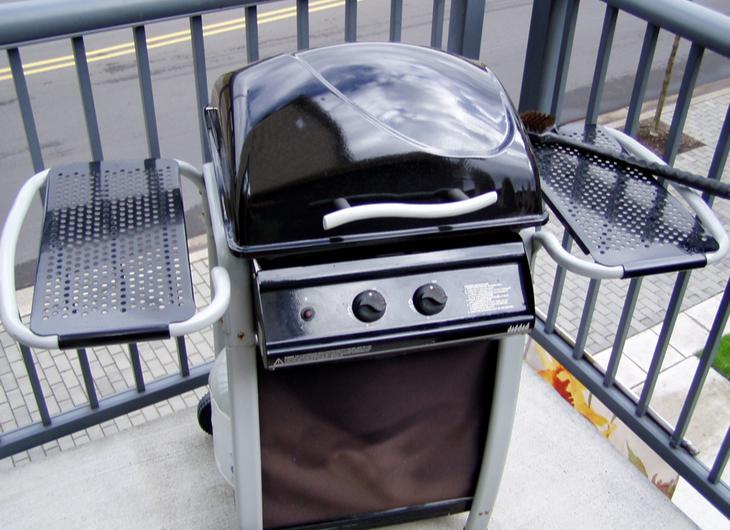 When you live in an apartment or a house with limited space, barbecuing can be difficult.
Aside from a griddle pan-which does not offer the same experience-there used to be a limited number of options for grilling.
There is nothing that matches up to the flavor that you get when you cook on a gas grill.
Gas grills, regardless of their size, usually offer you an all-year-round solution for getting good food cooked fast and even.
The availability of small gas grills has been on the rise lately, serving as a great option for people who live in condos, apartments, or other various places that simply do not have a big enough patio.
These small and compact gas grills have completely made an overhaul in the market, as they offer a great barbecue cookout in a much smaller form.
If you love to grill but have limited space for a traditional-sized grill, or you're a small family, the best option is purchasing a small gas grill.
With a flooded market of small gas grills, this review explores in detail some of the best small gas grills available on today's market.
Read on to find out more about the products that will give you the amazing taste of barbecue alongside the portability, compactness, and convenience that you desire!

Weber  Spirit II E-210 2-Burner Liquid Propane Grill

In terms of price and performance, the Weber Spirit II E-210 is one of the best small gas grills that you can buy today.
With a relatively compact two-burner design, it provides the option for on and off-heat cooking.
A large hood is perfect for larger cuts of beef and pork slow-cooked to perfection, and you'll even find it to be a great grill for poultry, fish, and even baked ingredients.
Weber is a brand known for its quality and this model is no exception.
Made from durable powder-coated and enameled steel, this will weather the seasons for years to come.
The convenient cart design is attractive although it lacks a cabinet for storage. The side shelves are perfect for prep and serving.
Weber also has one of the best grease-catch systems in the industry, making this an easy choice if you're exploring the smaller end of the market.
Pros
High-quality construction with porcelain enamel cooking grates.

26,500 BTU from two steel burners.

450 square inches of cooking area.

Hood temperature gauge.
Cons
No storage cabinet.

Could use more stainless steel at this price point.
An excellent starting point for a first grill or a replacement grill in a new home, Weber has combined powerful performance in a small package with this model.
---
Royal Gourmet GG2101 2-Burner Cabinet Liquid Propane Gas Grill

When comparing the best small gas grills, Royal Gourmet is a brand that must be considered.
This 2-Burner Cabinet Liquid Propane Gas Grill is a good choice for a smaller home where patio, deck, or yard space is limited.
With a 450 square inch cooking surface, this grill is more than enough for a family of four and can even be used for parties and gatherings on holidays.
It features two stainless steel burners that produce up to 24,000 BTU of cooking power.
The hood is large enough for regular top-down cooking, and the temperature gauge helps to keep everything within an ideal range.
Great for low-and-slow cooking, this grill is compatible with a universal rotisserie.
Pros
Compatible with a rotisserie system.

Large cabinet.

Side shelves.

Large cooking area.
Cons
Not as powerful as some two-burner models.

The storage cabinet is open at the back.
Even with a couple of downsides, this is a high-quality and budget-friendly option for home grilling.
Weber 51040001 Q1200 Liquid Propane Grill

This Weber Q1200 Liquid Propane Grill is another option to consider if you want the most compact grill possible without sacrificing quality.
Designed for tabletop use, this model features a single 8,500 BTU burner and 189 square inches of cooking area.
While it's not the best choice for large cuts, it's great for steaks, chicken pieces and breasts, burgers, hot dogs, sausages, and other smaller ingredients.
Finished in an enamel coating, this grill will resist rust for years to come.
Weber has included side shelves on the Q1200, making it unique in its category and a good option for the main grill if you only cook for one or two people.
Pros
Unique design will look great outside any home.

Cast iron cooking grates offer excellent heat retention.

Simple to set up and use.

Great for portable grilling.
Cons
Small cooking area won't suit large families.

Needs a cart (sold separately) to be used as a standing grill.
This is one of the best small gas grills if you only need a small cooking area and don't mind cooking on a tabletop.
---
Weber Q3200 Liquid Propane Grill

Weber's tabletop grills have become incredibly popular in recent years, leading to the design of a larger model that includes an integrated cart.
This Weber Q3200 is a good choice if you want a stylish outdoor grill that has enough cooking area for the whole family.
With a surface of 393 square inches and two stainless steel burners, this grill is suited to a family of four.
It's also a good choice for entertaining when guests are around.
The curved body creates natural heat convection which is ideal for top-down cooking.
The only downside to this grill is its relatively low power output, but most will find it to be just right for popular ingredients like burgers, steaks, chicken wings, and vegetables.
Pros
Popular 'Q' design for natural convection and easy cleaning.

Large cooking surface.

Side shelves for prep.

Lightweight cart design for easy portability at home.
Cons
No underside storage.

Only 21,700 BTU from two burners creates a low searing heat.
With more power, this might just be the perfect portable cart grill.
As it is, it's still one of the best small gas grills you can buy today.
Pit Boss Grills 75275 Stainless Steel Two-Burner Portable Grill

If your idea of the best small gas grill is a tabletop option for home and portable use, the Pit Boss could quickly become your favorite.
This grill is made to the highest standards using a full stainless steel body.
This is one of the most durable grills of its size, and could potentially last for decades when properly cared for.
Despite its small size, it produces 20,000 BTU from two burners, which is perfect for the 276 square inch cooking area.
The hood is relatively shallow but it does include a temperature gauge, which is great for smaller pieces of chicken like thighs, drumsticks, and wings.
This grill excels with steak, chops, and burgers.
Pros
Portable with folding legs.

Suited to home, camping, tailgating, etc.

Exceptional quality and design.

All-stainless steel body.
Cons
Small cooking surface isn't ideal for larger groups.

Not compatible with disposable gas canisters.
If you need the best small gas grill to use at home and take on the road, the Pit Boss will not disappoint.
---
Fuego F24C Professional Propane Gas Grill


Most of the best small gas grills follow a similar cart or tabletop design, but the Fuego stands out from the rest.
This impressive and incredibly unique grill offers plenty of grilling space from a relatively small footprint.
The cylinder pedestal design is topped by a 415 square inch round grilling surface.
The circular grate is made from high-quality porcelain enamel iron, offering excellent heat retention.
The grill can reach 500 degrees in minutes, giving you the perfect searing conditions for your favorite ingredients.
The construction quality, fit, and finish on this grill are excellent. Use this for solo cooking, family meals, or entertaining. It's big enough and versatile enough to do it all.
Pros
Fast heat-up time.

Excellent construction quality.

Large cooking surface with hood.

Circular design maximizes usable space.
Cons
No shelves for prep.

No storage.
Although you lose a couple of common features, the size and cooking power of this model makes it one of the best small gas grills today.
 

Char-Broil Signature TRU-Infrared 325 2-Burner Gas Grill

Easily one of the best small gas grills for home use, the Char-Broil Signature TRU Infrared 325 offers a reasonably large cooking space, a full cabinet, side shelves, and one special trick that is often missed at this price point.
The two burners on this grill are made from 442 stainless steel and can provide up to 18,000 BTU of power.
While this might seem like a low figure, cooking is fast and consistent thanks to a passive TRU-Infrared cooking system.
This exclusive design creates infrared heat within the grill, increasing temperatures quickly and efficiently.
The main cooking area is 325 square inches and is paired with a warming rack.
Pros
Stainless and powder steel construction.

Large hood with temperature gauge.

Folding shelves.

Enclosed cabinet.
Cons
Infrared cooking can produce heavy smoke.

Low searing heat with infrared spreader removed.
If you want high-temperature searing on a reasonable budget, this is the best small gas grill for you.
Final Thoughts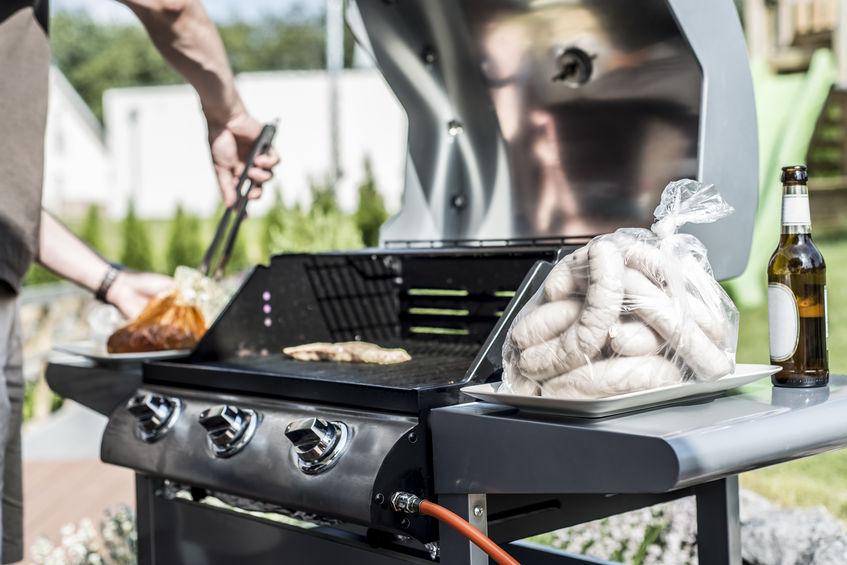 These grills are smaller in size, more compact, and generally more portable.
So, if you are the kind that enjoys RV camping or outside meals, then some of these compact grills are the perfect choice to make your outdoor activities worth reliving!
Most of them can be easily folded and easily placed in the backseat or trunk of your car.
The majority of them also come complete with substantial heat distribution and temperature control through their lid temperature gauges and dials.

These grills have good temperature controls and are easy to ignite, they also encompass all these features and are worth the cost, and are likely to last you for the seasons to come!
A great deal of them come with features that other larger and more expensive grills have to offer.
There is nothing that beats perfectly cooked, full of flavor, and tasty grilled meals enjoyed with your friend and family!