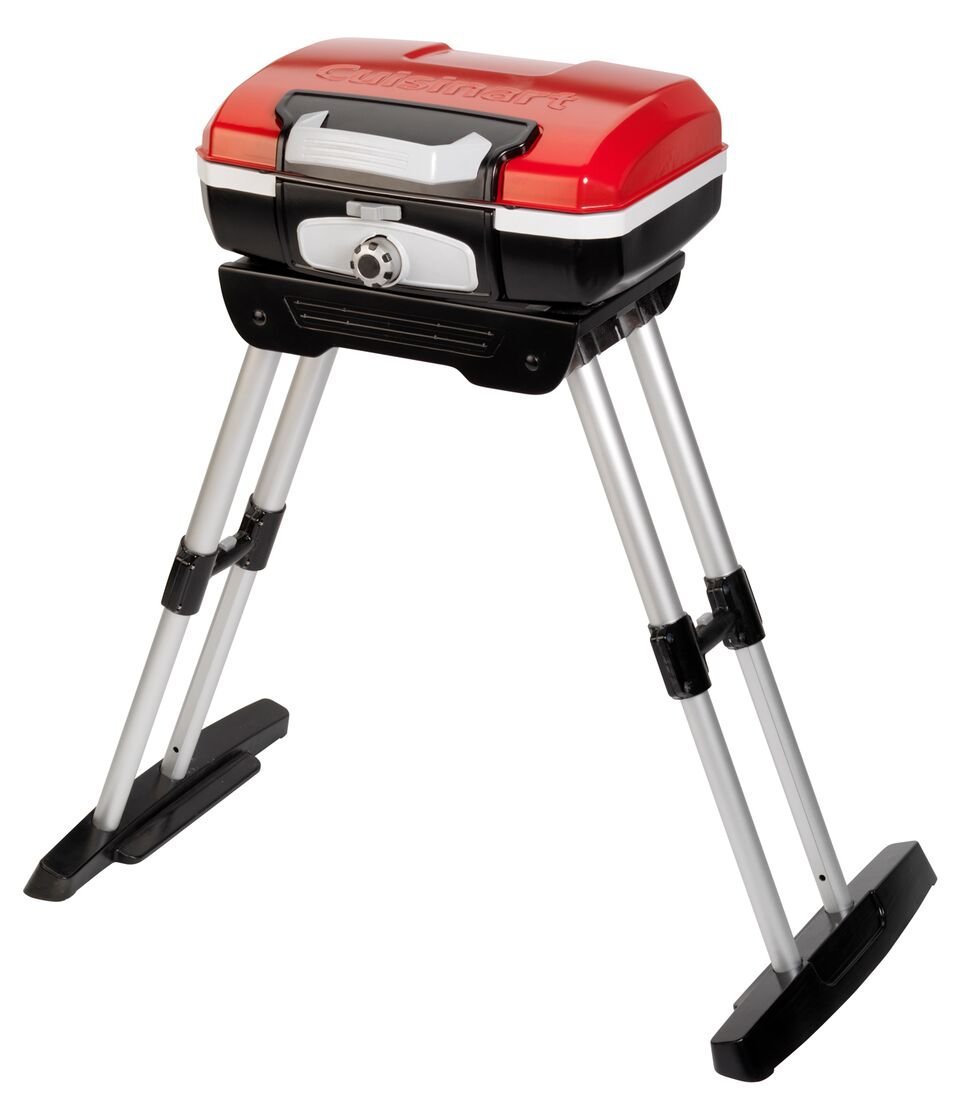 They say when you want something that has great quality and is worthy of the price tag, you should first look at the brand's origin rather than its present.
A brand's history can tell you a lot about how it has fared in the market.
So here's a little history: Cuisinart is the origins of the household food processor, which was discovered in 1973 by Carl Sontheimer, the founder of Cuisinart.
Today, the brand is so popular that it is endorsed by famed culinary connoisseurs like Hubert Keller and Jacques Pépin.
They cover a broad area of kitchen hardware and appliances—from bakeware to grills, espresso makers, and blenders, to glassware, hand mixers, slow cookers, etc.
They also have unique designed can openers.
This grill was ranked by the" Outdoor Gear Lab as the "Editors' Choice Best Grill ". You cannot argue with that now can you? The grill is a small piece of art that is pretty easy to operate and has all the basic features that one requires for grilling.
What does one look for in a grill?  It must have a large cooking station that can accommodate a family meal complete with sides, a high BTU burner, a sturdy stand, and easily cleanable grates.
The grill is perfectly sized for a small family that can be placed indoors, as well as outdoors.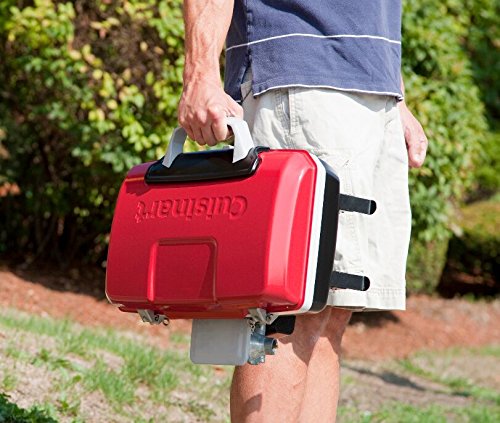 You won't find a more portable grill than this. Once assembled, you can easily set it up anywhere you want. I mean it, any corner will do!
You don't even need any help to maneuver it around. You might find a little trouble in placing the porcelain enameled cast iron grates but other than that, it's a smooth ride.
The grill weighs 17lbs, which includes the stand.
It folds in like a briefcase and you can carry it anywhere. This grill comes in real handy as long as you are sticking to the small stuff such as the baby ribs, a medium steak, and some veggies, you can cook it perfectly and in less time. In total, you can cook around eight steaks, whatever way you want.
Now let's get critical with the features.
Cooking Capabilities – Porcelain Enamelled Cast Iron Grates
So, as I mentioned earlier, don't try to cook a masterpiece. Stick with the hamburgers, chicken breasts, small steaks, and hot dogs. The cooking area is 145 sq inches and works best when the food is evenly spaced.
You might read reviews about how you can stuff whatever you want on the grates, but I suggest you place as minimum food as possible. You might not get that sear you were hoping for but it does cook the food perfectly.
Like all the other grills, the Cuisinart CGG-180 Petit Gourmet Portable Gas Grill with Versa Stand also has porcelain-enameled cast iron grates. It gives these nice lines on your steak, which makes picture-perfect food.
The grate keeps the flavor in the food and does not create a mess. This is one of the features worth mentioning because there is always less grease because of the less cooking space.
I can't stress enough but you will be disappointed with this grill if you are thinking of it as a high BTU grill that will work wonders within minutes.
Stainless-Steel Burners
The grill has a single burner, which is more than enough for the small space. While some might see this grill's features as not that good, I need to say this, "It's made for a small family and outdoor trips!"
It has a single stainless steel knob that does not require an ignition button to start. The ignition is built and lights up immediately. It has a loop burner that covers the entire surface of the grate and has 5,500 BTU.
Cuisinart Grill takes about five to ten minutes to get the temperature to 500° F and then you need to wait a few minutes more for the cast iron to get hot. It might feel like the grates are not hot enough to cook but they will do the job in a reasonable time.




Cuisinart Grill: The Box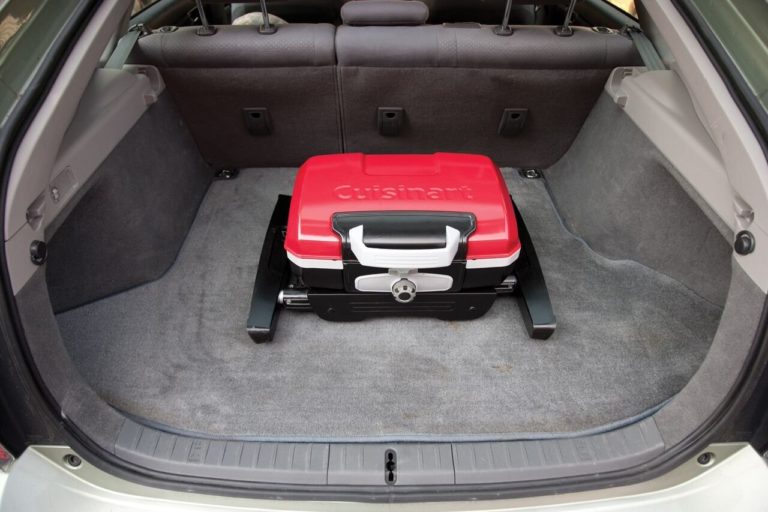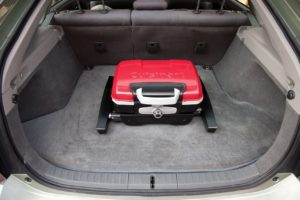 As mentioned earlier, the grill is folded into a briefcase that you can carry place anywhere.
The Box lid is made of painted stainless steel that retains heat quite well and due to its small size, there's no heat loss.
The grill is covered with a stainless steel lid from both sides and has a plastic latch. The plastic latch is where Cuisinart made a big mistake.
Cuisinart Grill: The Versa Stand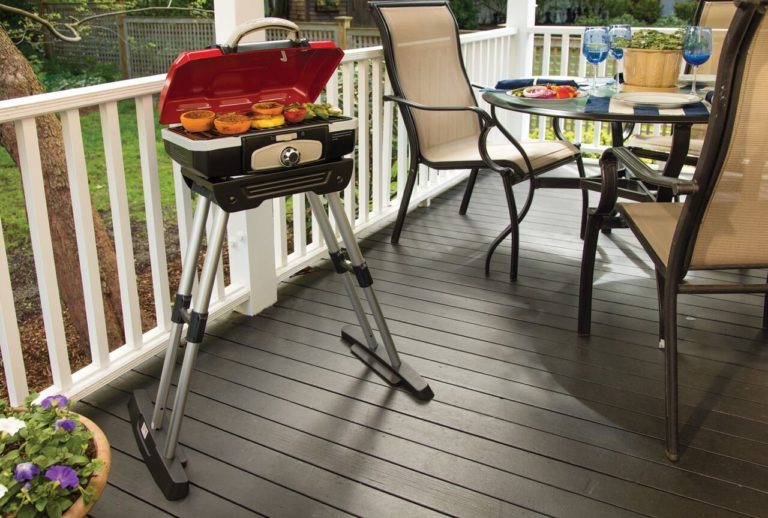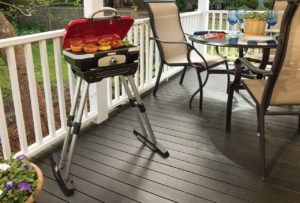 The legs of the Versa stand are made of aluminum and are quite easy to open.
You will see the legs horizontally placed beneath the grill when you open the box.
Pull-on both sides until the legs are extended. Now, hold the grill from the top and let the legs slide down.
Once they are down, try to push the legs together to see if they are locked in place.
The closing mechanism is quite easy too. All you need to do is put pressure on the legs with your feet. Now, grab the grill from the top and let the legs close.
Bring the legs back into the same horizontal position as you did when you were opening it. Now, hold the release button and push in the legs.
Grease Management
It is not the best grease management system but for a small, portable grill, it works quite well. The grease management system consists of a single tray that catches the drippings and food debris.
You can remove the tray and clean it with water. The tray is dishwasher safe and can be washed with dishwashing liquid.
As for the porcelain enameled cast iron grates, here's how you clean them:
Make sure the grill is warm to the touch (a cold grill is hard to clean because the leftover food can get stuck between the grates)

Pour a little warm water on it and scrub it with a mildly abrasive pad

Make sure you dry the grates by lighting the grill once again to check there's no grease on it




Note: The Cuisinart CGG-180 Petit Gourmet Portable Gas Grill with Versa Stand grate's size is small enough that you can take it off from the grill and soak it in the kitchen sink overnight.
If you have a wire brush, then that will do the trick too but I found out that a soft bristle brush cleaned the grill better.
You can even use a cloth dipped in warm water to clean off any residual grease. Just make sure that the surface of the grates does not get scratched.
The body of the grill can be cleaned with a dishcloth and warm soapy water. The area that is hard to reach is underneath the burner.
You will find instructions in the manual on how you can clean that area. However, it's a long process because you will have to remove some parts.
Fuel Requirements
You can expect a 16.4 oz propane gas tank to last around three hours that is if you run it on the highest setting.
Keep a 14.1 oz as a backup. You don't need a specific hose for connection as the output is pretty flexible.
Here's a list of pros and cons list for the Cuisinart CGG-180 Petit Gourmet Portable Gas Grill with Versa Stand:
Pros
Portable

Perfect for a small family

Can be set up anywhere

Easy storage

Lightweight

Can be set up as a standing grill or a tabletop grill
Cons
Flimsy latch (gets loose with use and can pop anytime)

Cooking surface is low at about 29 ½ inches

The box handle is made of plastic, which can melt if you close it when grilling
The pros far outweigh the cons but there are some things that you need to keep an eye on like the latch and the lid handle. Say you are grilling and you need to move away for a minute. You close the Cuisinart grill so that your kid does not touch it and burn himself.
However, what you don't know is that the handle has heated to such a level that it is ready to melt and might burn your hand when you try to lift the lid. This is the only area that you need to be concerned about.
Final Word
The CGG-180 Petit Gourmet Portable Gas Grill with Versa Stand is definitely worth the price if you are a beginner.
The single knob and the easy grease management system allow you to cook and clean easily.
Of course, you are going to compare many grills to this one but trust me, this is a really good Cuisinart grill for a small family and outdoor activities.