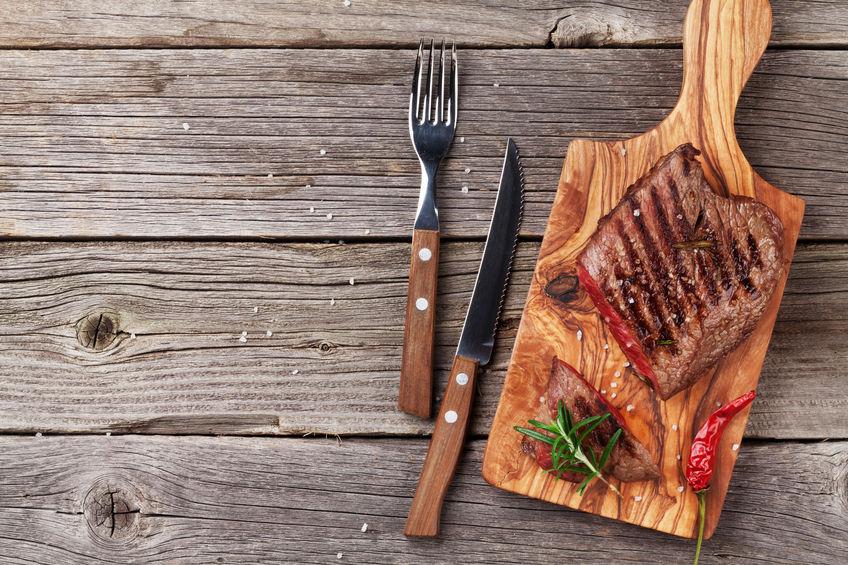 Every home needs a set of quality steak knives.
Whether you love to grill, smoke, or roast meat at home, a steak knife can make all the difference when it comes to sitting down and enjoying a quality meal.
It is surprising to learn that many homes don't have a set of steak knives, and instead rely on standard tableware.
When you are forced to hack at your meat just to get the perfect cut, it makes the meal much less enjoyable.
There are many reasons why people don't invest in steak knives.
Some simply aren't aware of how useful they are, while others assume that they are prohibitively expensive.
Steak knives do cost more than the average set of table knives, but not so much as to make them unaffordable.
If you want to upgrade your kitchen and provide the best possible eating experience for your family and guests, then these steak knives sets should be considered.
Equinox 8-Piece Stainless Steel Steak Knives Set

Is your home is currently without quality steak knives?
Then consider replacing an aging set with an Equinox 8-Piece Stainless Steel Steak Knife Set.
This is one of the most affordable ways to get great knives for your home.
At less than $15, this is without question one of the most affordable sets on the market today.
For such a low price, you might be wondering whether the knives are up to the task of regular use.
The answer, quite surprisingly, is yes.
How can a knife set get so affordable?
One of the ways that Equinox has been able to keep the price down is by using stamped steel rather than forged steel.
A forged knife is molded (either by hand or machine) from a single piece of steel.
Stamped knives are cut from larger pieces of steel and are typically not as strong.
But they still can be treated to provide similar qualities to forged knives.
The Equinox knives, being stamped, are much more affordable to produce.
They are still very hard and won't easily break or bend when used in a normal kitchen setting.
Because steak knives are smaller than most typical kitchen knives, the construction method is not as critical.These knives will stand up to everyday use.
They could even be used in a commercial setting at a casual restaurant or at a bar that serves a basic menu.
The Equinox blades have been serrated to allow for excellent cutting performance.
Serrated blades don't need to be sharpened and can provide a lifetime of usage under normal conditions.
The blades are full tang, so the steel runs along from end to end using a single piece.
This eliminates any snapping of the blade that can occur with the most budget steak knives.
The handles are made from ABS plastic to keep the price down, and this material also serves some practical benefit.
ABS won't discolor or degrade easily, so these knives can look good for many years to come.
They are dishwasher-safe; however, hand washing is recommended to keep the knives looking their best.
Spending such a small amount of money on a large set of steak knives would be unthinkable just a few decades ago.
Today, manufacturing methods have made it much easier to get quality on a budget.
Although this set costs only a little more than a set of standard kitchen knives, it will outperform them any time that meat is being served.
If you simply want the lowest possible price but you still want something that is of reasonable quality, then this is the set for you.
---
Amazon Basics Premium 8-Piece Steak Knives Set

Amazon is more than just an online retailer.
The company offers many of their own products for discerning consumers who need to shop on strict budgets.
Their products are designed to compete with established industry names, offering a high level of performance and longevity.
The Amazon Basics Premium 8-Piece Steak Knives Set is a high-quality collection of knives that would be suitable for use in any home.
These knives are attractive, they are well balanced, feature quality forged steel with full tang, and they use triple riveted handles to ensure that they will last for years.
The Amazon Basics steak knives set has been warmly reviewed by consumers, thanks to the excellent combination of price and performance.
The serrated edges are perfect for steak and meat, and like all the knives on this list they will not need sharpening, even after prolonged use.
The style of these knives is classic, and they would be suited for home use or for commercial use when purchased in large quantities.
Get this set if you're looking for a timeless design with quality stainless steel knives that won't fall apart like the absolute bottom-end knives on the market.
Bellemain Premium Steak Knife Set of 4

If you're looking for an attractive set of steak knives with a modern design, then the Bellemain Premium Steak Knife Set of 4 Stainless Steel Knives would be a great choice.
This set is affordable but doesn't make any significant compromises when it comes to quality.
Bellemain uses surgical grade stainless steel in their knives to ensure long lifetime and excellent cutting abilities.
The knives feature serrated edges, so they will never need to be sharpened, and they could retain their edge for years.
The blade serration has been designed primarily for steak, but will work with other similar red meats, including game.
These would also be good table knives for use with poultry, fish, or any other suitable food such as cruciferous vegetables and even some types of fruit.
These steak knives have an attractive design with full tang construction.
Because the blade and handle are molded from the same piece of stainless steel, there's no chance of breakage with these knives.
They could easily last a lifetime, especially considering that they don't require sharpening.
The steel has been ice tempered at absolute zero, which is the most effective known way to harden stainless steel.
Bellemain knives are marketed as being some of the most beautiful that you can by today.
When considering this steak knives set, we can agree with that claim.
The knives have elements of both classic and modern design, so they would look great in homes that use either classic or contemporary styling.
The black accents on the stainless steel handles make the knives look premium, and they wouldn't be out of place at an elegant table setting.
Whether you are using these at home or even for commercial use at a restaurant or bar, they would be perfect.
The knives are incredibly well balanced, and the serrated edge is created using a hollow ground method.
The knives won't become stuck in meat like some inferior steak knives, and the performance is on par with other sets that can cost two or three times as much.
If you demand absolute quality but want to keep within a reasonable budget, then this is one of the best sets to choose.
Even if you need to buy two sets, you'll remain comfortably below the price of some of the mainstream knives on the market.
---
J.A. Henckels International Stainless Steel 8-Piece Steak Knives Set

Henckels is a brand that is famous worldwide, and it's one of the most important names in the history of knifemaking.
Some of the highest quality knives in the world are made by Henckels in Germany, but they're also some of the costliest.
To appeal to a wider segment of the market, the company also markets knives under the 'J.A.' Henckels brand, of which this set is part of.
Although the cost is drastically reduced when compared to Henckels made in Germany, these knives are still of high quality and would be perfect for your home.
This J.A. Henckels International Stainless Steel 8-Piece Steak Knives Set includes some of the highest quality knives that you will find under $50.
The knives are made from high grade stainless steel and feature a full tang design.
The blade and handle are part of the same piece of forged steel, which makes for excellent strength and longevity.
The knives have been designed in a way to provide optimum comfort and balance. They always allow the best possible dining experience.
The knives have serrated edges, which means that they will never need to be sharpened.
The serrated design is perfect for forward, reverse, and straight down cutting.
Whether you are enjoying a grilled steak or a cut of pork, these are the perfect knives to make the meal more enjoyable.
One of the best things about buying Henckels steak knives sets is that you will receive a lifetime warranty with your purchase.
These knives are made to such a high degree of quality that you will likely never need to use the warranty.
It's good to know that it's there to protect you from defects and any future failing of the knives.
This set is amongst the best selling out of all steak knives sets and is regularly awarded high scores in online customer reviews.
Currently, there are more than 700 customer reviews online with an average score of 4.6/5 stars.
Although there are cheaper sets available, they won't provide quite the same level of quality.
If you want to step up in price to get something that could potentially last for a lifetime, then this steak knives set should be one of the first that you consider.
Deik Knife Set with Super Sharp Steak Knives

Steak knives can complement your existing knife set. If you don't already have a quality set, then it makes more sense to get everything in one package.
The Deik Knife Set includes a modern acrylic knife block stand and has 14 pieces, including a steak knives set.
This set is both attractive and modern and stands out from most other knife block sets on the market.
Most companies today use wooden knife blocks.
This is a timeless design and makes for a long-lasting block.
However, wood is an inherently costly material and can unnecessarily raise the price of the steak knives set.
In some cases, you may simply prefer a more modern design for a contemporary home.
The acrylic knife block in the Deik Knife Set uses a transparent base which makes the knives stand out .
The beauty of this set is that you get all the essentials for your kitchen.
If you are moving into your first home, then this would be a great addition.It will  allow you to get the most out of your kitchen.
Inside the set you will find an 8" standard chef's knife, an 8" carving knife, an 8" bread knife, a convenient sharpening steel, a pair of kitchen shears, a 5" utility knife, a 3.5" paring knife, and six-piece steak knives set.
You can perform almost every form of cutting and chopping necessary in a kitchen with this set.
Although it lacks some specialty knives that are found in other, you will still be able to adapt with a combination of the utility knife and chef's knife used in most situations.
This is a great starter set if you are just learning to cook and haven't completely perfected your technique yet.
Each knife in the set is made from a single piece of stainless steel, which means there's nothing to break. Even the handles are forged from stainless steel.
Despite being affordable, the quality of this set is impressive, and the steak knives are perfect for enjoying classic steak and any of your favorite meats.
---
You Don't Need to Spend A Lot to Get Long Lasting Steak Knives Sets
As you can see from the suggestions on this list, getting quality knives at home can be affordable.
No matter what your budget is, you'll find options that can give you superior cutting performance to enjoy your favorite foods.