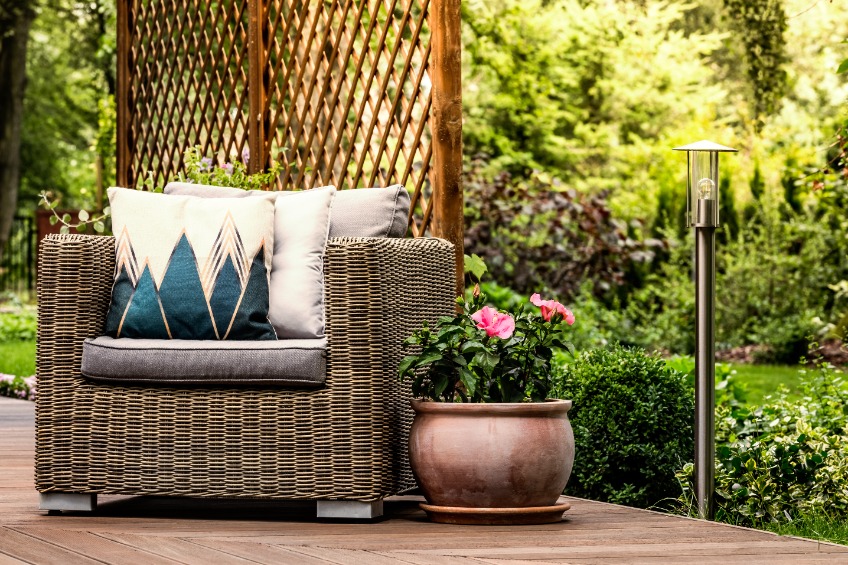 Synthetic rattan furniture is one of the most popular patio and outdoor furniture types for modern homes.
If you're looking for comfort, style, and durability, rattan wicker is one of your best choices.
Most rattan furniture, even budget furniture, is designed to last for several years when kept outside.
Mid-range and premium furniture could last ten years or even longer.
Let's find out how long does rattan furniture last outside, and the properties that make it so durable.




Natural vs. Synthetic Rattan
Natural rattan is made from a palm that grows natively in East Asia and some regions of Australia.
Its harvesting is environmentally destructive and only moderately sustainable.
The material, being natural, is vulnerable to rot, insect infestation, and deterioration over time.
Unsurprisingly, natural rattan lasts only a few short years before it starts to break down.
Modern rattan is made from synthetic plastic strands that can be woven into traditional wicker patterns.
It's much more durable because it's impervious to moisture and insect infestation.
Synthetic rattan won't fade like the traditional material and can hold its color for five to ten years, or even longer in most cases.
Even when it does fade, the process will be slow and consistent so the furniture will still look good even if it isn't quite as dark as the day it was unpacked.
In short, synthetic rattan is the best choice for your outdoor furniture.
It will withstand the elements and provide years of use and a strong return on your investment.




How Long Does Rattan Furniture Last Outside in the Average Temperate Climate?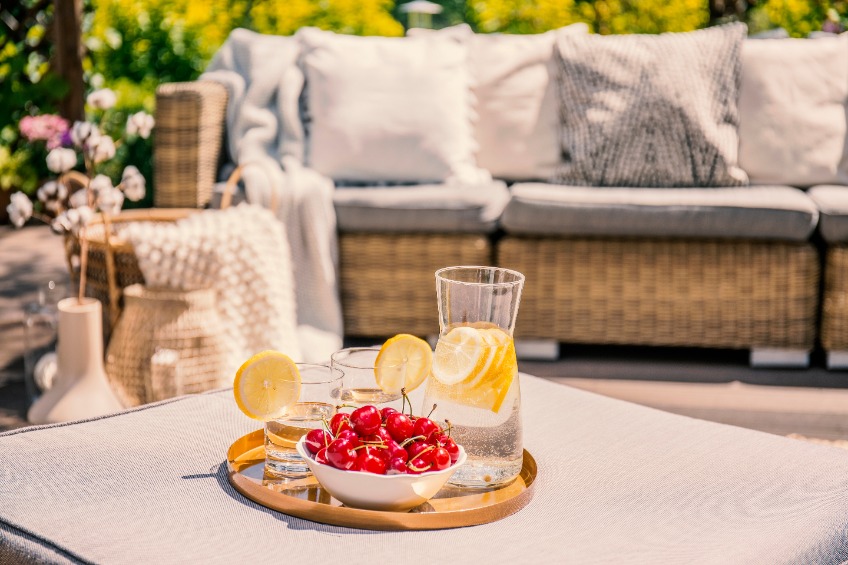 Temperate climates with distinct seasonal changes can strain some outdoor furniture.
Hot days with strong direct sunlight, strong winds, and periods of rain or snow can all damage natural materials.
Rattan withstands the elements in a few unique ways:
The waterproof material of synthetic rattan isn't compromised by rain or humidity.
UV stable colors resist even the harshest sunlight.
Rattan furniture uses steel or aluminum frames to prevent it from moving around in strong wind.
Snow and ice aren't likely to damage waterproof synthetic rattan.
Hail has little effect on high-quality synthetic rattan because the material is strong and flexible.
In most cases, when asking how long does rattan furniture last outside, the shortest estimate would be five years.
Spend more on a premium set and you'll get at least ten years from your rattan furniture.
It's not uncommon for some rattan furniture to last for fifteen years or even longer, especially if it is stored during the harshest weather or kept undercover.




Synthetic Rattan Furniture Options to Consider
You've learned that rattan is one of the most durable furniture options for your patio, deck, or garden.
Now it's time to consider some furniture sets that you could buy today.
If you're looking for a simple two or three-seater set, consider this beautiful Patio Wicker Sofa made with synthetic rattan.
If you need a full dining set, this impressive Tangkula Dining Set combines acacia wood with synthetic rattan wicker.
Rattan furniture is a worthwhile investment with a contemporary style that would suit most homes.
With comfort and durability, synthetic rattan is one of the best choices to improve your patio or any outdoor entertaining area.