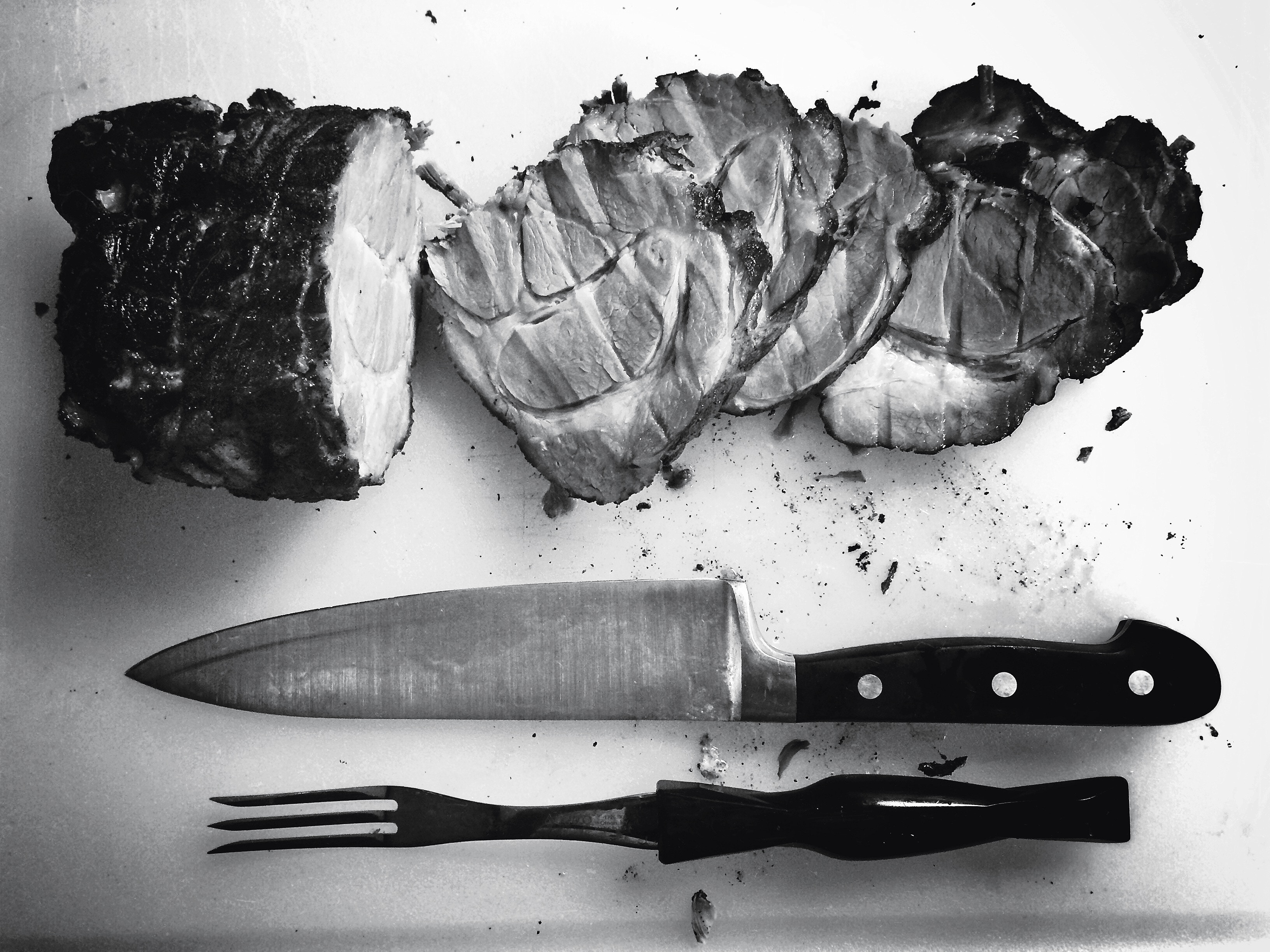 There's nothing quite like having quality utensils to use in your dining room.
Whether you are enjoying a meal with family, or entertaining guests, your utensils can make all the difference.
If you are using low quality utensils, such as standard table knives, then you could struggle to cut your food, particularly certain vegetables, and especially meat like steak, lamb, poultry, and pork.
A set of steak knives is something that every home should have, and you will be surprised at just how affordable it can be to get high quality blades.
When it comes to steak knives, you'll have to choose between serrated and non-serrated.
Both varieties have advantages, with serrated knives being low maintenance and a decent option if you want good cutting without the need for sharpening or maintenance.
However, if you want the very best cutting and don't mind about maintaining and sharpening your knives, then non serrated blades are the better choice.
With the best non serrated steak knives, you could make an investment that lasts throughout the lifetime of your home.
If you're ready to upgrade the utensils in your kitchen but don't know where to start, then this is the guide for you.
We will explore some of the different uses for steak knives, how they are produced, the materials that are used, what to look for, and then we'll discuss some specific examples of the best and most affordable knife sets that you can buy today.
Chefs Rely on Their Knives, So Should You!
Professional chefs always insist on the highest quality knives. In the kitchen, a good knife can make the difference between struggling with a recipe and pulling it off to perfection.
In the dining room, quality knives are equally important.
Without a good set of knives, you could struggle with your meals, particularly with food like thick cut steaks and even smoked barbeque meats.
If you want your family and guests to have the best dining experience, then non serrated steak knives would be the perfect investment.
Like most things in life, not every steak knife on the market is created equal.
The quality of the steel, the balance, and even the design will all have a significant impact on your dining experience.
Before you compare some of the best non-serrated steak knives that you can buy today, you'll first need to understand all of the different elements that could make a certain style or design perfect for your needs.
Understanding the Different Methods of Steak Knife Construction
Steak knives, from the most affordable right up to those of premium quality, are all produced using different construction methods.
These can result in cosmetic changes, as well as in fundamental changes that alter the way that a knife performs.
Computer Controlled Laser Cut
In your research, you may have come across knives that are marketed as being laser cut.
This construction method uses a computer-controlled laser to cut blades from a single sheet of steel.
These knives are sometimes marketed by manufacturers as having blades that will retain their edge for a lifetime. Laser cut knives have serrated edges, which does help to minimize dullness, however, there are still downsides.
Despite all the marketing claims, the serrated edges will eventually go dull, and there will be no way to sharpen them.
If you are only using the knives a handful of times every year, then they could last for ten years or even more.
If you are using them weekly, then you could find that they need replacing within twelve months.
Serrated blades saw or hack rather than slice cleanly through food, and this will become more apparent as the blades dull.
When you want an investment that will last a lifetime, non-serrated steak knives are the better option.
Stamped Steel
Another popular knife type is stamped steel.
You can often find this construction method used for standard table knives and other types of inexpensive cutlery.
Stamped steel can be made from quality stainless alloys, but the actual result leaves a lot to be desired. Stamped blades are die cut out of a large sheet of metal.
With this method, manufacturers can cut down the time it takes to produce knives, and they can make more efficient use of the metal that they have.
While this method is perfect for cost saving, it doesn't result in the best quality blades.
Stamped pieces are typically thin with poorly sharpened edges.
Because the blades are cut from a single piece of uniform metal, they cannot be properly balanced, so they don't feel great in hand.
For some basic knives and other utensils, stamped can make sense. For quality steak knives, you'll need to choose a better option.
Forged Non Serrated Steak Knives
Forged knives are the top of the range when it comes to construction quality, performance, and even balance.
Forged knives are made per-piece, in a time intensive process where the material is heated and hammered into shape.
Some methods, including Damascus steel forging, result in extremely high-quality blades that are continually folded to remove imperfections.
This can also result in a particularly impressive finish where you can see the individual layers on the blade itself.
Because forged non-serrated steak knives are made individually from single pieces of steel (or folded steel), they can be shaped and balanced perfectly.
The blades and the handles don't need to be the same thickness, like they would be on stamped steel knives. Balancing makes a knife feel better in hand, and this can also aid in safety.
Forged knives have a pleasant weighted feel which indicates that they are of excellent quality.
When you want the best for your home, for your family, and for your guests, then forged knives should be your benchmark.
Ensuring Your Steak Knives are Made from High Quality Steel
Construction method is important, as a forged blade will always perform better than a stamped blade, and a quality non serrated blade will always outlast a laser cut serrated blade.
However, there's more to consider if you want to be 100% sure that you're getting the best quality knives for your money.
Material is just as important as the construction method itself, and not all steel is the same.
Steel is an alloy of iron, carbon and other key elements.
To make steel, iron is smelted, and contaminants are removed.
Carbon is added to make steel stronger, and the highest quality steel uses a higher amount of carbon than low quality steel.
Other elements such as chromium can be added to improve the shine or add stain resistant properties.
Stainless steel is the most common type of steel used for knives and other kitchen utensils like spoons and forks. To make this type of steel, at least 10.5% chromium is used as an alloy. The chromium adds a high-quality sheen and it also helps to prevent corrosion from developing. Stainless steel is not technically 'stainless', but it will resist staining from water and acids that are found in food. Stainless steel knives can typically be washed in a dishwasher without causing damage to the metal.
Carbon steel is any type of steel with a high amount of carbon added during the production process. Carbon results in a stronger metal that can be sharpened to a fine edge. Standard carbon steel isn't stain resistant and it will corrode and rust if not carefully washed and dried after use. Carbon steel is less common in modern non-serrated steak knives.
High carbon stainless steel is similar to standard carbon steel, with chromium added in the production process to provide stain resistant properties. In addition to this material being less susceptible to corrosion, it also has more luster and makes for highly presentable tableware.
VG10 steel is a type of stainless steel with a high quality rating. This steel originates from Japan, it's high in carbon and vanadium, and it is stain resistant. Different gradings of VG are available. The 'G' in the name refers to Gold Standard, so if you ever see a knife made from VG steel, then you can have confidence knowing that it is of the highest quality.
Wooden Handles or Composite Resins?
When choosing the best non-serrated steak knives for your dining table, you will have to decide between wooden handles and composite resins in most cases.
Composite resins are made from plastics and binding materials that are molded and formed to the hilt of the blade. They are hard wearing and will resist damage from heat and moisture.
Some of the most expensive steak knives on the market use resin handles.
If you want maximum durability then this is the choice for you, however, that durability does come at the cost of aesthetic, depending on your preference.
If you want a more traditional steak knife that feels handmade, then a natural wood handle would be the best option.
These are comfortable in hand, feel premium, and wooden handles have a classic aesthetic that will be appreciated by those who respect tradition.
Wooden handles are typically riveted into place, so they are sturdy, however, they may not last as long as resin handles if they aren't properly cared for.
Knives with wooden handles should be hand washed and dried quickly to prevent moisture from damaging the wood.
Dishwashers are likely to damage steak knives with wooden handles.
Wooden handles can be replaced by an experienced knifemaker, although the cost can sometimes be more than the purchase of a replacement knife set.
Always follow the manufacturer care instructions for wooden handled knives to ensure that you get the maximum lifetime from them.
Consider Some of the Best Steak Knives on the Market Today
Now that you know about the metals used in steak knives, the handles, and the different types of steak knives, it's time to find the non serrated steak knives set that is perfect for you.
The following sets have all been selected based on price, material, and overall quality.
You will be surprised at just how affordable a quality set of knives can be, allowing you to get great utensils for your home, even when you are on a budget.
Of course, if you want to spend more for premium products, then that is also an option.Here are seven of the best sets you'll find today .
Xinhua 6 Piece Non Serrated Steak Knives Set
When you simply want a high quality set of knives for everyday use, you should take a close look at the Xinhua 6 Piece German Steel Non Serrated Steak Knives Set.
The knives are made from the highest quality German stainless steel. Known as 5CR15MO steel, this material will resist corrosion while offering an excellent edge that can be sharpened when necessary.
Because these are non-serrated steak knives, you will be able to maintain them over many years. With the right care, this set has the potential to last for a lifetime.
In addition to materials, the size of steak knives is also important. For knives that you can use every day and with ingredients other than steak, 5.5 inches is a popular length.
The knives have an incorporated wooden handle that is both comfortable and grippy.
Most importantly, these knives are extremely well balanced, so they'll feel comfortable whenever you are using them.
For such a low cost, you will be pleasantly surprised by the quality of these knives.
The low cost also means that they're great when you need more than one set.
If you purchased two sets you would have a collection of 12 top quality steak knives, and your total spend will be below $60.
These knives are made in China which could be seen as a negative by some buyers.
There are some Chinese brands that cut corners on knife production, but Xinhua is not one of them.
You can have confidence knowing that you're getting a high quality product that will provide excellent reliability and durability.
As a first steak knife set, there are not many better options out there.
Xinhua offers a 100% money back guarantee, which will allow you to return the knives if you are not satisfied with them for any reason.
This shows how much faith the manufacturer has in their product, so there's really no risk at all if you choose this set for your home.
Xinhua 6 Piece Non Serrated Steak Knives Set with Pakkawood Handles
Another option to consider is this affordable German Steel Xinhua 6 Piece Steak Knife Set with Pakkawood Handles.
This is another set from Xinhua with similar pricing to the previous set.
Online prices will sometimes fluctuate, so it's a good idea to compare the latest price on both sets before you buy.
Like the first knives we looked at, these are made from German steel that has a high carbon content and is resistant to stains and corrosion.
They are made from the same 5CR15MO steel that is found in most top quality Xinhua knives.
While you might not be familiar with the brand name, Xinhua actually has a large presence in China and many other Asian marketplaces.
The brand is a subsidiary of the Yangjiang cutlery company, which has an extensive history of creating some of the finest kitchenware on the Chinese market.
If you are concerned about purchasing a brand that you are not familiar with, then you can have confidence knowing that Xinhua does have a well-established market presence and a reputation for quality.
The knives in this set are larger than those in the previous Xinhua set, measuring just over 9 inches.
Although we do consider both sets to be interchangeable, this is only if you're comfortable with both sizes.
If you want a smaller steak knife set, then choose the first set mentioned in this overview. If you don't mind extra length or if you prefer a more substantial knife, then choose this set.
With length comes more weight and a different feeling in the hand. Smaller knives are more delicate and precise, whereas larger knives will feel more comfortable when cutting the largest pieces of meat.
If you are a barbeque enthusiast and will use these knives primarily for grilled food, smoked meat, or roasted and braised dishes, then these knives would be absolutely perfect.
They feature a natural pakkawood handle that is both comfortable and hard wearing.
It is finished with a deep black stain that makes the knives look modern and highly presentable.
Due to the quality German steel, these knives will easily retain their edges, and they can be sharpened after multiple uses.
Foxel German Stainless Steel Steak Knives
Foxel Black Set of 6 Steak Knives are made from quality metal and have a classic design that could be perfect for your dining room.
These knives feature straight blades with no serration, a full tang design, beautiful handles, and they're made from German stainless steel.
Design can be just as important as quality for some people.
The way a product looks is a huge part of the purchase decision process, and there will be times where some knives just don't look right for you, despite having excellent materials and overall quality.
The Foxel non serrated steak knives feature a modern design that is perfect if you don't like the traditional shape or overall look of some other knives on the market.
The blade is slightly curved, the handle is ergonomically shaped, and the metal combines polished parts with brushed elements for a two-tone finish.
If you want something that looks impressive but is still reasonably priced, then this would be the set for you.
When it comes to quality, these knives cannot be criticized.
The steel is some of the best that you can get, the handle is perfectly incorporated with smooth joins and edges, and the balancing is impressive and suitable for fine dining.
Choose this set if you want a noticeable step up in overall finishing and design.
These knives would be perfect for any dining table when you don't want to make compromises on either styling or cutting capabilities.
Zelancio Kitchen Knife Set of 4 Non Serrated Steak Knives
If you want to step up in quality with Japanese folded steel, then you could consider the Zelancio Kitchen Non Serrated Steak Knives Set of 4.
Although you will only receive four knives in this set, they are of exceptional quality and feature beautiful Damascus blades that will impress your guests whenever you are serving dinner.
Damascus steel is a name given to metal that is produced by continually folding and hammering layers into shape.
The name comes from the city of Damascus, where a similar steel was made as early as the 3rd century AD.
The base steel used in these knives is VG-10 high carbon steel from Japan.
The steel in the center of the knife is extremely hard, while the folded layers on the outside are slightly softer and easier to sharpen.
This type of composite steel is time intensive and difficult to produce, which is why you will pay a price premium for anything that uses Damascus style steel.
The big question is whether it's worth it. In the case of this Zelancio non-serrated steak knives set, the attention to detail will definitely impress you.
The knives look great with the folded layers visible on the blade, while the hardened core allows for a stronger knife with a razor sharp edge.
The quality of these knives is similar to sets that cost two times as much, so you will be getting an impressive bargain if you choose Zelancio.
Because these knives feature a straight edge rather than a laser cut serration, they can be sharpened time and again, and would easily last for a lifetime.
Note that the knives in this set are not dishwasher safe. You will need to handwash and quickly dry this special steel if you want to keep the knives in top condition.
Fortessa Provencal 4 Piece Non-Serrated Steak Knives Set

Presented in a beautiful gift box is the Fortessa Provencal 4 Piece Non Serrated Steak Knife Set with Dark Wood Handles.
If you want something of display-quality for your home, or even if you want to give a set as a gift for a birthday, wedding, anniversary, or other special occasion, then these Fortessa knives could be perfect.
Made from 18/10 stainless steel, these knives will retain their look for years without being damaged by water, food acid, or any other material that could easily stain lesser knives.
The design used for the Provencal set is a traditional European one, with a thin and sleek handle that offers great balance and ease of use.
While the style might not be for everyone, it could turn these knives into conversation pieces at your next dinner party.
You'll receive four knives in this set, each one with an impressive wooden handle secured by three rivets.
The knives are 9.25 inches in length, so they're perfect for most food types, but will be especially useful when slicing steak or other gourmet meats.
If you enjoy game or barbecued food, then these knives could be exactly what you're looking for.
The set comes in a magnetically sealed presentation box which is perfect for storage. If you choose to give these knives as a gift, then the box will be especially impressive.
The timeless design of this set, reasonable price, and the quality of the knives makes this a good option when you need a set that won't let you down.
Fortessa Provencal Non Serrated Steak Knives
Another option from Fortessa is this set of 6 Provencal Non Serrated Steak Knives. This is a premium choice when you want a classic and attractive design.
If four knives aren't enough for your dining room, then you could consider this set of 6 Fortessa knives for your home.
The knives feature a long 9.25 inch design that is perfect for meat, but would also suit other ingredients like breads and vegetables.
18/10 stainless steel will prevent rusting while ensuring that you can continue to use these knives for many years to come.
The knives come out of the box with an extremely sharp edge, so they should be handled carefully and kept out of reach of children.
For safety when dining, these knives are not recommended for children who are not already proficient with a standard knife and fork.
The blades can retain their edge for years, and when they do become dull after many uses, it will be a straightforward process to sharpen them using a ceramic whetstone.
One feature that makes Fortessa knives perfect for home use is that the blade is mostly straight with only a slight curve at the end.
This makes sharpening much easier when compared to steak knives that have a heavily curved design.
You will find the balance on these knives to be perfectly comfortable, which will make cutting and enjoying your food much easier.
The slim handle may look unconventional if you aren't familiar with traditional steak knives, but the design makes a huge difference in terms of comfort.
Do you want some of the best steak knives with quality steel, wooden handles, and a design that is timelessly elegant? If so, then this Fortessa set could be perfect for you.
Fortessa Vaquero Non Serrated Steak Knives Set

This set of six Fortessa Vaquero Non Serrated Steak Knives is for the true connoisseurs of fine steaks and other cooked meats.
Big in size and big on quality, this set might be perfect if you're looking for some of the best stainless-steel steak knives on the market today.
This last set to consider is the priciest on our list, and the knives are some of the very best that you could purchase.
While we've looked at some unique shapes and even highly detailed Damascus blades, the Vaquero knives can appear understated in comparison.
Shape and design are both contemporary and practical, and the steel is quality 18/10 stainless, without any trace of etching or folded layers.
What this knife set lacks in flashy design, it makes up for in overall quality.
The first thing to note is that these knives are large, measuring 10 inches from the tip of the blade to the end of the handle.
They are similar in length to most chef's knives used for food preparation, so they carry some serious weight and heft.
These knives would be perfectly suited if you are looking for a set that can be used with the juiciest thick cut steaks, lamb, pork chops, poultry, ribs, smoked barbecue, or any game meat that you can think of.
These knives may appear to be costly, but this is because each knife incorporates a significant amount of steel to get the size and weight just right.
While the knives are heavy, they are well balanced, so guests won't feel uncomfortable when you place these on your dining table.
When you want large knives for large cuts of meat, with excellent quality and a contemporary design, the Fortessa Vaquero set would be a great option.
Choose the Steak Knife Set That Appeals to You
There's no single set of non-serrated steak knives that would be perfect for every consumer.
You have unique needs and a unique sense of style, so make sure that you take the time to select a set that appeals to you.
Always insist on stainless steel (or a higher grade such as VG10) and remember that a non-serrated steak knife will often last much longer than a serrated equivalent.
With the knowledge that you've developed from this guide, you'll be able to choose the perfect set of knives to ensure that you enjoy your favorite foods without struggling on the main course.