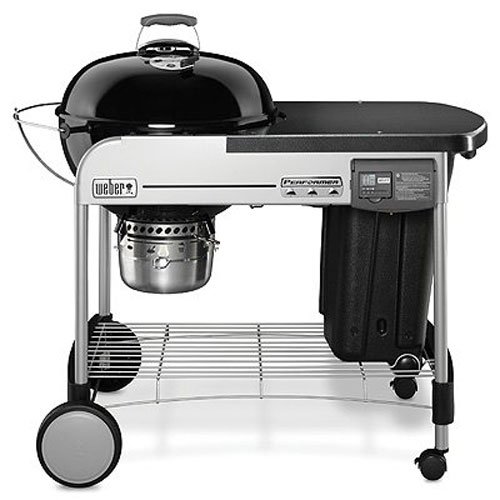 When it comes to grilling, having the best charcoal grill that you can afford is naturally very important.
With the right kind of grill, you can be much closer to finding success and support throwing outdoor parties and events.
However, finding the right grill can be a bit of a challenge.
With so many options on the market today, you can spend more time looking around at potential options than actually doing any cooking.
The Weber Performer Deluxe Charcoal Grill
For many though, the best charcoal grill is the Weber Performer Deluxe Charcoal Grill.
Known for its excellent versatility, ease of use and simplicity of control, this is one of the best products on the market for this kind of cooking
If you have been looking for a grill that can give you unprecedented strength and consistency when cooking, then this is definitely a pretty good place to start with. Not only is the Weber
The Weber Performer Deluxe Charcoal Grill a versatile and effective piece of kit, but it's more than big enough to ensure you have the opportunity for some gourmet grilling.
What, though, makes the Weber Performer Deluxe Charcoal Grill such a popular model to go for?
With so many on the market to pick from, let's take a look at why this particular charcoal grill stands out so much.
Is there a reason why, for so many people, this is a must-have piece of summer equipment that can make a lasting and genuine impression?
If you are interested in picking one up, hopefully this guide will help you see just why Weber and their products are so popular.
First, though, let's take a look at the manufacturers themselves and why they have become a bit of a household name in the industry.
About Weber
As one of the most respected names within the grill and BBQ industry, Weber, or Weber-Stephen as they are known, come with a reputation for performance-driven BBQ solutions.
With accessories in abundance, too, they are one of the most reliable companies to buy from when you need first-rate hardware that gets the job done.
Known for their clean and crisp cooking, these make sure that you have an easy time of it whether you're a newbie or a pro.
They are such a known name worldwide, though, as they make spacious, solid, versatile and reliable solutions that you can turn to time and time again.
It's for this reason that you can enjoy a deeply improved BBQ service over other manufacturers.
Founded in 1952, they've been on the go ever since and have been delivering outstanding quality and detail ever since.
A family owned business, they invested alongside BDT Capital Partners of Chicago to significantly boost their output.
While the company has increased its market share and become increasingly more important across the grill world, they've never allows their quality to drop or divide.
This is why Weber-Stephen will always be known as one of the most reputable companies in the grill industry.
They've got decades of experience and know how ahead of most of their competition.
Given that they offer you a cost-effective solution relative to the price, too, they are a very popular brand.
So, with all of this in mind, where does the Weber Performer Deluxe Charcoal Grill fit in?
The Weber 15001001 's Major Features



This is a real powerhouse of a piece of kit.
Designed to offer you a lasting and effective range of features, the Weber Charcoal 15501001 charges ahead of most of the conventional options on the market.
Not only is this modem known for their strength of design and their long lifespan, but the Weber Performer Deluxe Charcoal Grill is also recognized for offering major features such as:
 

A 363-square-inch cooking solution. This gives you all the space and solidity that you could possibly need to get that world-class grilling experience on the go quickly and easily. With this, you can enjoy a much more consistent grilling experience.
It also come with the Weber-Stephen classic Gourmet BBQ cooking grate. This is very important, as it is a grating system with plenty of space and solidity. It also ensures that you can very easily appreciate how easy it can be clean, especially if you are used to less reliable models.

 

An excellent and easy to use gas burner with a push-button to ignite. Now you can get the charcoal going nice and quickly to get that excellent taste shining through into your food. Many other systems like the Weber Charcoal 15501001 can offer nothing like the same versatility and consistency that this push-button offers.

 

Want to keep an eye on those foods and ensure that they are going to get charred? This has a digital cook timer. This can be removed, though, if you prefer to just cook by eye and like the challenge. Either way, you can find it much easier to manage your BBQ with the Weber Charcoal 15501001.

 

A porcelain, powder-coated steel lid is included alongside a fire bowl. This adds much-needed protection to ensure that those heats are never going to leave you with a fire risk. Cook with complete safety and confidence as this offers the simplest and most effective of solutions moving forward.

 

Aluminium vents are used to help make sure that it's easy to clean. Ash also is caught up to avoid you having a massive clean-up job on your hands every time that you enjoy a BBQ with your friends and family.
You get a large, plastic charcoal bin which is grand for storage, too. Now you can keep all of your charcoal in one clear place, making sure that you can give yourself all the help that you need in staying organized and on-point when it comes to getting your BBQ started.
It also has two large aluminium charcoal baskets included which can be used for a touch of indirect grilling, if you would prefer. A useful add-on for those large-scale events that you feel need a bit of extra space to cook with included.
As you can see, then, this is a grill that takes all of the most-important features that you would expect.
It gives you access to just about every essential feature and add-on.
With this, you get to see a much more comfortable and engrossing experience moving forward.
If you are looking for a grill that can be easily used for just about any kind of grilling experience, then this makes a pretty fine starting point.
It's easy to work with, it has plenty of space for usage, and it provides you with enough features to stay safe.
Overall, it's the perfect home grilling system.
How To Use
Another part of the Weber Performer Deluxe Charcoal Grill that makes it so useful is how easy it is to use.
Simply open it up, place down the ingredients that you wish to grill, and hit the simple touch-and-go button to ignite the gas.
So long as you provide it with enough gas, this can cook for as long as you need with the press of a few buttons.
It's very easy to work with, offering a simple one-touch system that is going to allow for easier cooking than before.
Add in the ash catcher, too, and even clean-up becomes a formality.
Really, the main reasons for using are purely if you are looking for a simple, easy to work with and very clean situation.
Many grills can become an exercise in frustration when it come to the clean-up, which this avoids with ease.
Therefore, it makes a good choice when you are doing a lot of cooking for a large group and need help in getting it all managed without the huge clean-up time spent at the end.
It's made to be efficient and easy to work with, which is certainly the case.
Also, it offers a simple and steady way for you to stay on top of your overall cooking process thanks to the large, spacious site.
With all of the space that you need to make cooking nice and quick, you can easily manage a large amount of cooking than you would on a normal grill.
The Weber Performer Deluxe Charcoal Grill offers a good way for management, thanks to the large size and the excessive level of space that it offers you.
It's got plenty of room for getting your cooking started nice and easily.
Why Use Weber Performer Deluxe Charcoal Grill?
The main reason to use the Weber Performer Deluxe Charcoal Grill ,though, stems from the brand that it hails from: for over six decades, Weber-Stephen have produced such excellent quality.
This model merely exemplifies that quality and consistency, giving you a project that is so easy to love and get to grip with using on a regular basis.
It's become a main stay for many people who are looking for an easier time with grilling, just because it's so large and spacious.
With the ease of management of your foods when they are cooking, too, it offers the stability as well as the space desired.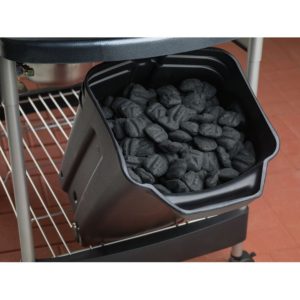 Everything is powered using the little disposable propane bottle that comes with it – you can replace that easily when it runs out.
All you do is fit this container and then add in the charcoal that you intend to use.
When this is done, you hit the gas and fire up the ignition – voila.
Charcoal takes less than 10 minutes to prepare, as well, making it a very useful solution on that front.
Cooking can commence once the charcoal is ready, and then you can merely turn off the gas and grill as normal.
So, this offers a simple and easy to use cooking solution that is definitely going to make it simpler to cook large-scale collections for the whole family.
If you are having everyone to yours for a night, then this can be the perfect way to make that much more enjoyable for all!
In fact, this even makes a fantastic pizza grill if you so choose.
The Weber Performer Deluxe Charcoal makes a fine choice for cooking stone bake pizzas if you add in a pizza stone to the removal center, you get all the help and assistance that you could possibly have required.
So, for a versatile choice that is bound to make sure you have total and complete control over your cooking, the Weber Performer Deluxe Charcoal Grill makes a good place to start.
It's a premium grill that can be easily managed whether you are using the gourmet cooking grates provided or a pan of some description.
The options are yours for doing as you wish: you'll just find that this makes it so much easier to enjoy a more versatile form of cooking.
So long as you grab some of the extra accessories out there, you can make your Weber Performer Deluxe Charcoal Grill even more versatile!
Pros and Cons
This is one of the most fully featured and detailed grill programs on the market. With the help of this Weber brand kettle grill, you can make it easier than ever to cook for everyone and anyone. It offers the simplest possible choice for an engaging, easy-going experience.
The extensive and large grilling surface ensures that you have all the help that you need in cooking with ease. If you are trying to get a large spread on for everyone, then this makes it very easy for you to do just that, offering extensive space to work with.
The gas-powered charcoal ignition makes this a fine choice for newbies, too. With this, you get a gas-powered solution that can be more likely to give you the power that you need to keep those foods coming. Don't let production stall: use this instead to make sure everyone gets fed.
By the same token, this offers you a very effective solution for keeping check on everything. From the timer to the thermometer, this offers plenty of space inside for you to do with as you please. Now you can mingle and have a laugh with guests while keeping everything ticking over just fine!
Also, you can add in the fact that this offers a versatile option for cooking on. With the right appliances you can do a bit of pizza baking, a touch of light grilling and even some frying. Just about any kind of conventional cooking can take place on top of this.
    However, it's digital cooking timer is a little bit of a nightmare to work with. It's merely a 99-minute egg timer which means that it lacks the level of detail that it probably should have had included in the first place, meaning it requires regular supervision.
Conclusion
So, with all of this in mind, you can hopefully see why so many people decide to turn to the Weber Performer Deluxe Charcoal Grill.
It's a powerful charcoal grill that gives you access to a reliable, effective and deluxe-quality option.
If you are trying to get some high-end cooking on the go and you want to make sure it is a success, this makes it much easier for you to do just that
.Out of all the options on the market at the moment for a similar price, few – if any – can compete with the exceptional quality of the Weber Performer Deluxe Charcoal Grill.
It's cost-effective and it's going to last you for many years, as the sheer weight of versatility that it provides is exceptional.
If you are looking for a way to make your grilling experience even more enjoyable in the future, this is going to be the perfect place to start.
Whether you are a cooking expert looking for the most powerful tool in your budget, or a newbie starting out, this is easy to work with.
Experts will find it refreshingly easy and newbies can master it without too much effort – the perfect balance for the ideal grill!